This post may contain affiliate links. Read my disclosure policy here.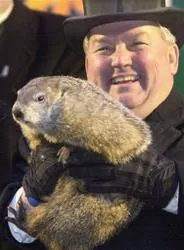 Well it's Groundhog Day, so Happy Groundhog Day to you all.
In case you missed the news, Punxsutawney Phil saw his shadow and declared six more weeks of winter. I am not too thrilled with today's results. I am definitely ready for sunshine.
Do you do anything special on this day that is devoted to the rodents of the world?
I found some fun Groundhog Day links for you to share with your children.
Your children can also celebrate with the rodents they have come to know and love. It's the perfect day for watching Mickey Mouse Clubhouse or Pixar's Ratatouille. There is also the lovely Chipmunk trio Alvin & The Chipmunks, who are sure to get everyone dancing.
In celebration of rodents everywhere, we have a fun Groundhog Day giveaway just for you – Alvin & The Chipmunks: The Squeakquel video game for Wii and Nintendo DS.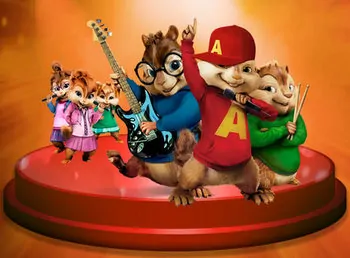 "Alvin and The Chipmunks: The Squeakquel lets you play as Alvin and The Chipmunks or their girl-group counterparts, The Chipettes, in a variety of pulse-pounding concert locations that will challenge your rhythmic skills to the limit. Feature in a dramatic finale performance to win the hearts and minds of fans at Hollywood's Super Duper Dome.

Features hits songs from today and from the Alvin and The Chipmunks library. Each song's difficulty is based on such things as tempo and complexity.
Jet across the world and rock the house in 1 of 25 concert locations in cities like New York, London and Sydney.
2 global modes of difficulty, Normal and Expert, are available for replay and can be changed anytime during your game.
Multiplayer Party mode lets you play as your favorite Chipmunk or Chipette and compete with up to 2 friends Play your favorite unlocked songs while watching the music videos in Jukebox Mode."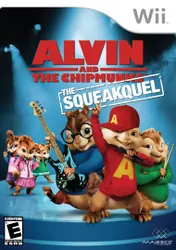 My daughter loves Alvin and The Chipmunks: The Squeakquel because of its introduction of Brittany, Jeannette, and Eleanor, The Chipettes. I knew she would be thrilled to have the chance to review this game for the Wii.
I was right, she has been loving it. I have even been having fun watching her play the game, because she gets really into it. It is quite entertaining. It almost reminds me of Dance Dance Revolution. She has to get into the rhythm and move her arms to the pattern of arrows on the screen. It can get a bit challenging, which is nice. I like it when games help to teach my kids that practice makes perfect. My boys had fun right along with her as they danced around the living room to the game's soundtrack.
We want to share the fun with you. In celebration of Groundhog Day, We have two copies of Alvin and The Chipmunks: The Squeakquel video game to give away. One is for the Wii, retail value $39.99, and one is for the Nintendo DS, retail value $29.99. Please let us know in the comments section which game you would like.
You may earn additional entries for the following:
Spread the word to your friends via your blog, twitter, etc. One blog link and tweet per giveaway.
**NEW** Start or Reply to any video conversation at
Say It Face To Face. Then leave a comment here with the link to your conversation or reply on Say It Face To Face.

Your video conversation or reply can be about ANY topic.
If you are already subscribed and are on our newsletter list, you qualify for those two additional entries. Go ahead and leave your additional comments below.
This giveaway is open to US shipping addresses only and will close on Friday, February 19th. We will announce our two winners on Saturday, February 20th.
Due to legal restrictions, this promotion is void where prohibited. Please see our site's Terms and Conditions of Use for a complete list of our Contest and Giveaway Rules.
One copy of Alvin and The Chipmunks: The Squeakquel video game for the Wii was sent to me for review purposes. Additional copies for the Wii and Nintendo DS are being provided for prizing.
Written by 5 Minutes for Mom contributing editor, Erica.