This post may contain affiliate links. Read my disclosure policy here.
This is the sixth contest in our Mother's Day Giveaway. To enter to win, leave a comment at this post. If you are new to the Mother's Day Giveaway, head over to read the rules in our sticky post and find out what other fantastic prizes you could win.
Cute and convenient…
Mommy Cards make planning play dates or getting together for coffee easy.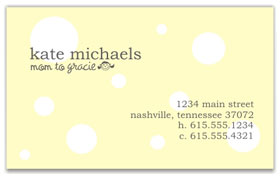 How often have you been stuck without a way to record a new friend's contact information as you try to corral your kids into the car after school or sports? In the middle of playgrounds and parking lots, without business cards to quickly hand over, we moms are constantly scrambling for a scrap of paper and a pen.
But now there is no reason to search for a pen or paper to jot down a new friend's name and number. You can have your child's and your contact information on a business card designed just for you! Welcome to the new rage of Mommy Cards!
With all the info your new friend needs to contact you – and to remember your child's and your name – you can quickly hand over your Mommy Card and work out the details for getting together later. (I included my email address on mine as well.)
And if you are a working mom who already uses business cards, Mommy Cards give you an alternative to handing over your business information (while trying to quickly scratch your home number on the back of your business card.)
These are so smart – why didn't someone come up with them years ago?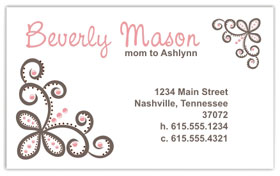 Fruition Designs, a full-service graphic design boutique specializing in custom and handcrafted invitations and announcements, carries a wonderful selection of these clever cards. And this Mother's Day, Karla from Fruition Designs, is offering one of you a set of 100 one-sided Mommy Cards.
I received my sample this week and I was thrilled with the durable 14 point card stock and the high quality printing and design. This card rivals any top quality business card I have seen. It won't crumple or tear in your purse or pocket and it looks stunning!
You will love Fruition Designs' fabulous Mommy Cards.
If you want to win a set of Mommy Cards – just leave your comment. (This contest is only open to US shipping addresses.)
Good Luck Mommies!