This post may contain affiliate links. Read my disclosure policy here.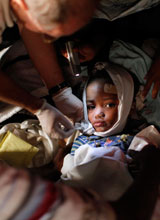 The news in Haiti is horrible. Simply awful. I have avoided news about it. I don't click on those yahoo links as I go in to check my email, but it doesn't make the disaster go away.
My daughter Amanda's best friend's mom is from Haiti. I haven't been able to talk to her, but I know that her heart is broken.
I also can't help but think about the Compassion staff and children who are in Haiti. When I went on the trip to the Dominican Republic with Compassion, we were very close to the Haitian border, and my sponsored child Chino, lives not too far from the border.
But does it matter how close or far we are? This Compassion video about the work in Haiti is a powerful reminder that poverty affects us all. The video was made when the only disaster in Haiti was extreme poverty. They need our help even more now if they can hope to recover.
I have chosen to do something. I'm still not overwhelming my mind and heart with the images, but I have chosen to give to Compassion's Haiti earthquake relief fund, and I invite you to consider doing the same.
What's more, in order to honor the tender and generous hearts that so many children have, my husband and I are going to match donations that come directly from children, up to $500. Please read the post on my personal blog Snapshot if you'd like more details about why I trust Compassion's financial integrity and about the matching fund.
Please consider making a donation now. The need is urgent, and time is of the essence.
Written by Jennifer, 5 Minutes for Mom Contributing Editor