This post may contain affiliate links. Read my disclosure policy here.
We aren't skipping a beat – here is our second contest for the Mother's Day Giveaway.
Two weeks ago, I introduced you to a fellow work-at-home mom, and a "hero" to me – Jennifer Sprague, owner of All Natural Mommies.
Jennifer is a single mom with two children. Amazingly, despite parenting on her own, Jennifer runs her own business, hand making incredible natural parenting products such as baby carriers (all different kinds,) shopping cart covers, nursing blankets and more.
Jenn is an inspiration to me and I am thrilled to let you all know more about her mom-owned business, All Natural Mommies and offer one of her beautiful Mei Tai's for our next Mother's Day Giveaway contest. (The winner can choose either a Mei Tai or a gift certificate to All Natural Mommies of an equivalent value of $52.95.)
Jenn is also offering all our readers a 10% off discount at All Natural Mommies. Just let her know you are there from 5 Minutes for Mom and she will apply your discount. (You can reach Jenn at [email protected])
So – what exactly is a Mei Tai? Personally, I had no idea. It sounded like something with a pineapple skewer that I would sip while I suntanned by a pool.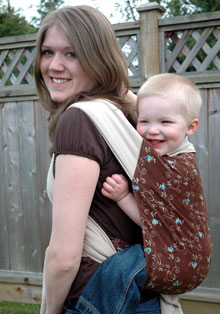 But it actually is a baby carrier that originated in Asia and is sometimes referred to as an ABC – an Asian Baby Carrier.
Jenn sent me one to try out. Here is a photo of my friend Crystal and her two year old son in my new Mei Tai. Crystal instantly fell in love with this gorgeous Mei Tai and immediately decided she wanted one too! (I had to lend mine to her for a while, cause I didn't have the heart to take it away from her!) Jenn's handiwork is wonderful and you get to choose what fabrics you want. Jenn offers a wide assortment of gorgeous fabrics – I chose this wonderful brown suede. It is so soft and luxurious – not your average baby carrier that is for sure!
The Mei Tai is actually quite easy to get on and get used to. Jenn is so awesome – I phoned her in a panic asking how to put it on and she directed me to her detailed online directions (complete with step by step photos) and walked me through it. It really was super simple.
You can wear your child in many different positions, such as in front, on your back, or on you hip, depending on the age of the child. (Mei Tai's can be used from infancy up to 35 pounds.)
I was also surprised at how comfortable wearing it was. I put Julia in it and it held her 22 pounds beautifully.
I am totally in love with my Mei Tai and can't wait to use it with my new baby.
Whether you are new to baby carrying or are an experienced baby-wearer, you really must check out Jenn's assortment of carriers. And if you are looking for a gift for a mom with young ones, All Natural Mommies is a great place to shop. (Plus, by shopping at All Natural Mommies, you are supporting a work at home mom!)
To win a customized Mei Tai (or an equivalent value gift certificate) just leave a comment at this post and follow the directions in our Mother's Day Giveaway post.
If you are already linked up to our Mother's Day Giveaway post with a button on your site, just leave a comment here at this contest and you are good to go. If not, head over to get your code and read the rules of our Mother's Day Giveaway.
(Note – you are still more than welcome to let your readers know about Jenn and All Natural Mommies! I know Jenn would really appreciate some link love!)
One more thing – Jenn is running a fantastic contest of her own this month – with daily prizes and a grand prize worth over $450!!! Head over and check it out – it is tons of fun too! 🙂
(And of course Jenn is a blogger! You can find her at Natural News by All Natural Mommies.)
Good Luck! 🙂
edited to add: Canadians may enter, but please remember that there may be duties or taxes you need to pay when the item crosses the border.