This post may contain affiliate links. Read my disclosure policy here.
(This is a comment and win post, read on to find out how to win a limited edition gift set.) edited to add: Canadians are welcome to enter!
Angie the Ant and The Bumblebee Tree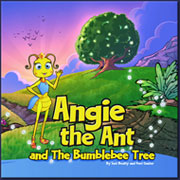 The book was sitting on my coffee table when it caught my son's eye. I was busy flying around the house, trying to get us ready for the day, and barely noticed my five-year-old son sitting on the couch. He was totally engaged with this new book, Angie the Ant and The Bumblebee Tree, slowly turning the pages and imagining the storyline through the colorful, exciting artwork.
"Mom can you read this to me pleeease…" my son begged.
"Not right now sweetie, you are going to be late for school. I promise I will read it to you tonight."
But my son couldn't wait. He whined and begged and continued to look at the book. Now I was getting really interested. This book sure had captured his attention. But I couldn't give in – so I picked up the new, magical book, put it back down on the coffee table and shooed Jackson out the door.
Later that day when Susan was over, Jackson cornered her to read him the story. He loved it and later that night had me read it to him again. It has become one of Jackson's favorite books and is in our regular repertoire of beloved stories. By now all of us are very familiar with Angie the Ant and her courageous journey to break free from the Fleavils and make it to the glorious land of Antamar.
What is it about Angie the Ant and The Bumblebee Tree that won Jackson over?


I think it is the combination of engaging artwork, exciting storyline and of course a young hero that saves the day! With fun lingo like "dudette" and "chico," and hip "surfer dude" characters, the writing also makes Jackson laugh and relax. The story also allows Jackson to delve into the concept of freedom and we get the chance to discuss together what it means that we live in a free country.
Angie the Ant is the official mascot for Prevent Child Abuse America
Susie Beatty, creator of Angie the Ant, and her co-author Keri Gunter, are committed to raising awareness and funds for worthy causes and hope to help prevent child abuse through Angie the Ant. "The more we talk about preventing child abuse, the less power it will have as a silent plague on our society."
In addition to raising awareness, 50% of all profits from the sale of Angie the Ant and The Bumblebee Tree will be donated to organizations that work to prevent child abuse.
The Online Community
Susie and Kari have also just launched a new online community Team Angie at the beginning of April. It's still in the beta phase, but make sure you click over to check it out.
Susie and Kari say, "The purpose of the site is to focus on all the good things happening in this world while providing a forum for support and resources necessary to prevent abuse. All in all, our message is that abuse prevention is a positive story, and Angie the Ant lends a friendly face to the topic of prevention."
Our Contest
We are giving away one limited edition set of Angie the Ant and The Bumblebee Tree with a stuffed plush Angie. Each set is signed and numbered, and only 150 exist! (This limited edition set, along with individual copies of the book and Angie the Ant apparel, are sold through their website. 50% of the profit of this limited edition set is donated to Prevent Child Abuse America.)

If you want to win this limited edition set, just leave a comment before 12:30pm Eastern, Tuesday May 1st. We will announce the winner Tuesday afternoon. Canadians are welcome to enter!!!
You are not required to link back to this contest, but of course you might want to so your readers can hear about Angie the Ant and have a chance to enter to win.
Good luck!