This post may contain affiliate links. Read my disclosure policy here.
It's fun! It's sizzling! It's incredible! Burn The Floor is HOT!
I am a lover of musical theatre. I love to sing and act and have done my fair share of plays as a child and young adult. When I was planning my 30th birthday celebration in NYC, I began looking into the various Broadway shows that I could attend.
At that time, Burn The Floor was not on my list. I seemed to be drawn more to your typical Broadway play and Burn The Floor seemed more like a dance recital of sorts. At least that's what I thought!
But then our writer, Jennifer Donovan, attended a performance of Burn The Floor and posted about it here at 5 Minutes for Mom. Her post definitely piqued my curiosity. I checked it out online, read reviews, watched some of their promotional videos and decided that Burn The Floor was not to be missed.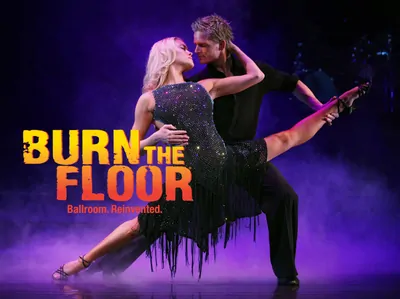 So this past Saturday, my two girlfriends and I headed to Longacre Theatre to see Burn The Floor. What a treat it was! The dancers were amazing, actually that is an understatement! The dancers were INCREDIBLE, and what endurance they have. WOW! I was BLOWN AWAY!
I was impressed by how well the dancers told a story and drew all of us in to each number. The energy and passion displayed by the cast was contagious. I made it a point to observe the audience throughout the show. The younger women were dancing in their seats and cheering on the attractive male dancers, the older gals were moving their heads and hands to the music and every single man in the audience looked very entertained. The entire audience had one heck of a fun time.
It's no surprise that Burn The Floor has broken the Longacre Theatre box office record and has announced an extension to February 14, 2010.
There isn't much time left to see this incredible show! If you haven't seen Burn The Floor yet, what are you waiting for? If you aren't too far from the city, or if you are headed there before the 14th of February, you should make it a point to get a ticket to Burn The Floor. YOU WILL LOVE IT!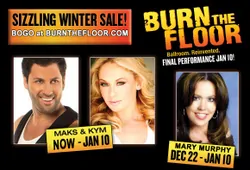 If you are a fan of Maks and Kym from Dancing With The Stars, then be sure to get to Burn The Floor soon. Their last guest performance with Burn The Floor will be on January 10th.
If you or someone you know is going to be in the New York City area January 5th – 8th, 2010, then we have a giveaway just for you! We have a 4-pack of vouchers to a show of our winner's choice January 5th-8th. (Some limitations may apply.) This is a quick giveaway and will end on Wednesday, December 30th. We will announce our winner on Thursday, December 31st. Due to legal restrictions, this promotion is void where prohibited.
To enter please leave a comment below.
You may earn additional entries for the following:
If you are already subscribed and are on our newsletter list, you qualify for these two additional entries. Go ahead and leave your additional comments below.
Spread the word to your friends via your blog, twitter, etc.
Please see our site's Terms and Conditions of Use for a complete list of our Contest and Giveaway Rules.

BURN THE FLOOR is created, directed and choreographed by Jason Gilkison. Its cast is composed of award-winning international dancers from around the globe and include Australian Ballroom and World Latin American champions. They collectively hold more than 100 dance titles.
I received promotional tickets to attend Burn The Floor with two of my friends. A 4-pack of tickets is also being provided for this giveaway.
Written by 5 Minutes for Mom contributing editor: Erica