This post may contain affiliate links. Read my disclosure policy here.
I love Broadway. I had seen a couple shows on visits before moving here to Connecticut, but in the last five years, I've seen at least two shows each year. Every show is different, but there's one yardstick by which I measure my experience: entertainment. When I'm watching a show, there are times that my mouth is stretched tight in a grin or that I can't help but burst into applause at the end of a number.
Burn the Floor scored high on this yardstick. My eleven-year-old daughter and I loved it. And to be honest, I wasn't sure that we would, since we are not followers of the types of shows that opened the door for Burn the Floor to come to Broadway (Dancing with the Stars, So You Think You Can Dance). If you are a fan, Anya and Pasha are now starring in the show (and Pasha was very nice, talking to us and other fans for quite a while after the show at the stage door exit).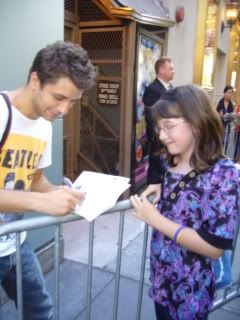 Most of the numbers were upbeat and face-paced. The few short traditional Viennese waltzes were always sandwiched with more contemporary dances featuring cha cha, jive, swing, or samba. That said, the grace and beauty and drama of those traditional dances had some people around me gasping in delight and awe.
By the end of Act I, I was ready for the dancers to go have a breather during during intermission to towel off and dry their hair. The sweat was literally flying up there. They were working hard, but they were having fun as well — and the fun transmitted right into the audience.
As I said, I was surprised that Amanda and I liked this show so much, but we loved it. Some men might balk at seeing a "dancing show," but I can guarantee that most red-blooded males wouldn't be complaining as they trained their eyes on the beautiful dancers onstage in their sometimes-skimpy costumes as their hips swiveled. Because the show is billed as being "sensual," I had wondered if it would be appropriate for my daughter. She is in the full-on "Embarrassed tween don't-even-think of talking to me about sex" phase. And she wasn't uncomfortable at all. Like I said (did I say this before?) — we both loved it.
The group numbers were my favorite for their energy. It was also exciting to occupy orchestra level seats, because several times during the show, they were literally dancing in the aisles right beside us!
Not only did I enjoy this show, but I'm giving three of you a chance to win a pair of tickets to Burn the Floor on Broadway. This contest is open to anyone, but you have to be able to get to New York City between now and November 22. Blackout dates may apply, but the show coordinator will work directly with the winners to find a time for you to see the show between September 22 and November 22.

Just leave a comment to enter. Please make sure that you are available to see a show in New York City between September 22 and November 22. The winners will be announced on Saturday, September 19.
As always, don't forget to earn more entries: subscribe to our Feed, sign up for our 5M4M Newsletter, add our 5M4Giveaways button in your sidebar.

Especially if you are in the NYC area, or have friends who are, write a post and link back to this contest on your blog, and spread the word via Facebook, Twitter (using #NYC tag), or email. These will earn you an extra entry as well.
Please see our site's Terms and Conditions of Use for a complete list of our contest and giveaway rules.
Written by 5 Minutes for Mom Contributing Editor and 5 Minutes for Books Managing Editor Jennifer Donovan. Since she lives in Connecticut, she's thrilled at the opportunity to represent 5 Minutes for Mom at New York City area events, such as this one.