This post may contain affiliate links. Read my disclosure policy here.
Meet Nella the Princess Knight! She's Nickelodeon's brave young heroine who transforms into a princess knight and courageously defends her kingdom.
Hi, I'm Jennifer, a mother of three young children and a regular contributor here at 5 Minutes for Mom. My daughter and I recently had the opportunity to view some of Nella's adventures on DVD and make a necklace craft inspired by this unique princess.
This post is sponsored but as always our opinions are our own.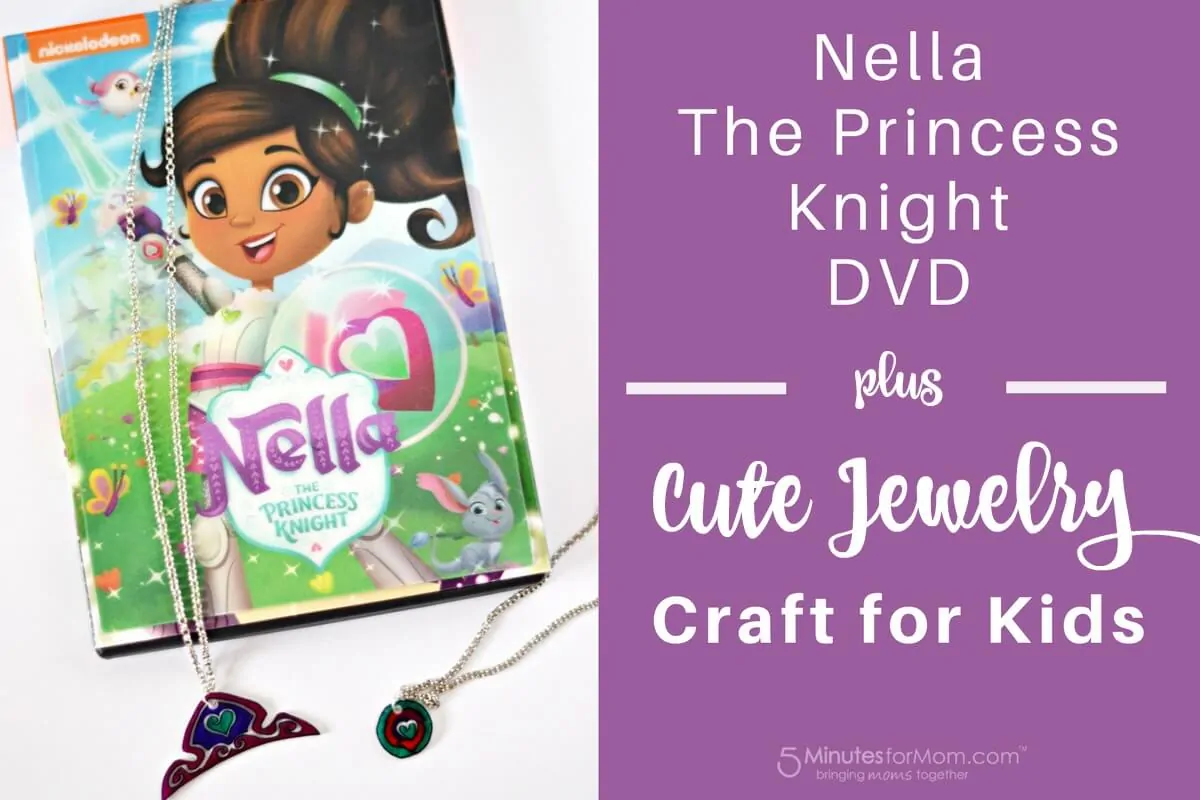 Eight of Nella's exciting adventures from the first season have been compiled onto a DVD produced by Nickelodeon Home Entertainment and distributed by Paramount Home Media. A big thanks to Nickelodeon for sponsoring this post and partnering with us to share information about the new Nella DVD which is 88 action-packed minutes of Nella's daring quests.
Eight-year-old Nella's brave adventures offer something for the whole family to love. My 8-year-old daughter was captivated by the colorful animation and Nella's stylish unicorn Trinket. Her younger brothers rooted for Nella's knightly friend Sir Garrett and his trusty steed Clod. It was the sweet and subtle lessons of kindness, courage, and determination that won me over. Whatever new quest Nella embarks on, she's also ready to lend a helping hand and stand up for what's right. And, as parents, aren't those examples we want our own young princesses and knights to follow? Absolutely!
It's no secret over on my personal blog that my kids and I love crafts! Our love of crafts combined with our Nella viewing party prompted my daughter and me to come up with a fun craft that's perfect for Nella fans.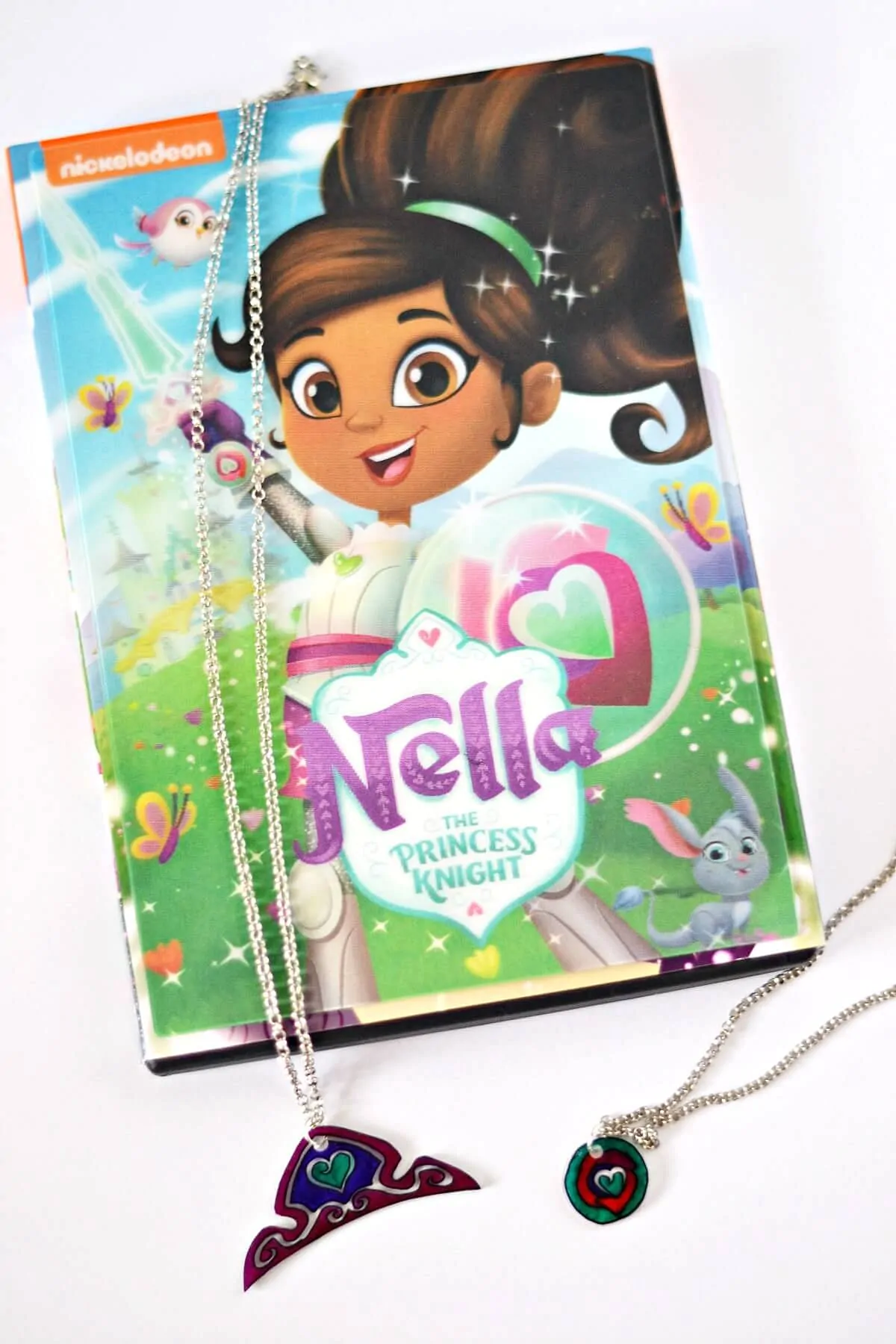 Every princess needs an amulet, so we made fun, shrink plastic charms and turned them into necklaces. Want to make this Nella-inspired necklace craft?
Here are all the details…
Nella the Princess Knight Shrink Plastic Jewelry Craft
Supplies: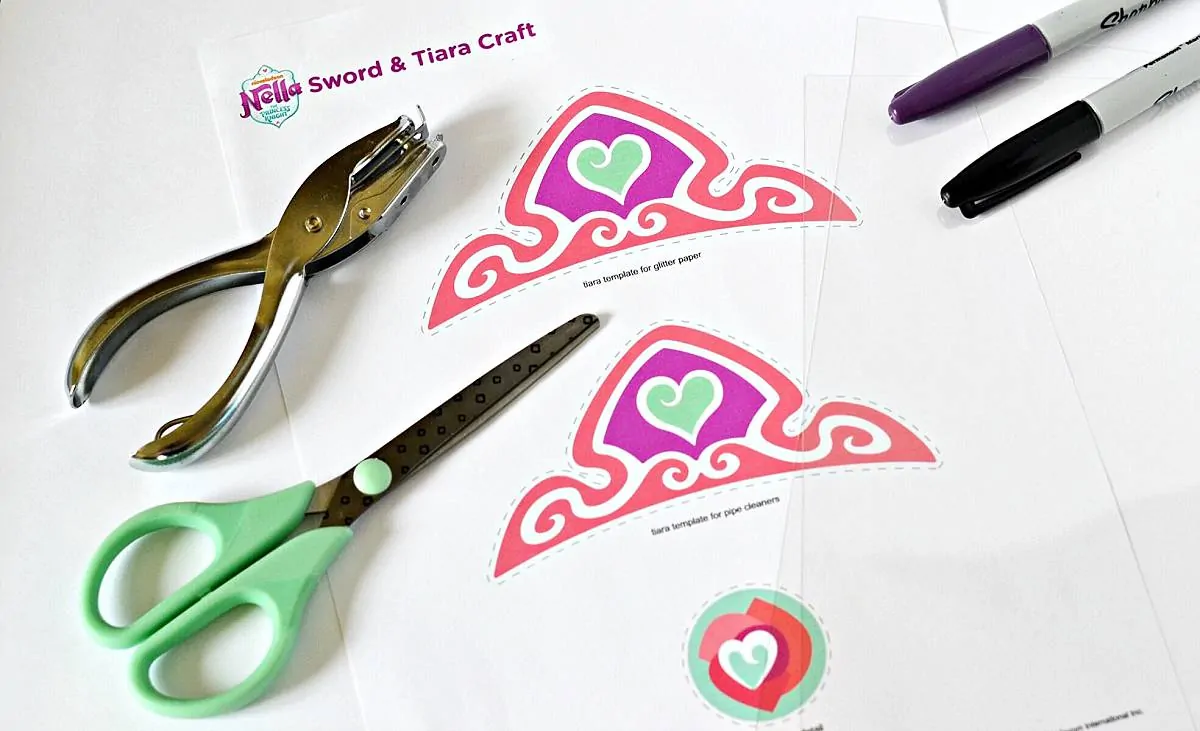 Directions:
Print off a graphic to trace. For this necklace craft, we printed Nella's crown and emblem from the Nickelodeon Parents website.
Place a shrink plastic sheet over the design.
Trace the image onto the plastic and color it in with permanent markers.

Cut the design out from the plastic sheets.

Use a hole punch to make a small hole in the top of the colorful plastic design you've created.

Line a baking pan with parchment paper. Place your colored design onto the prepared pan.
Preheat the oven to the temperature on the shrink plastic's direction page. Follow the package's other instructions to bake and shrink your design. In the oven it will curl, shrink, and then flatten. Don't forget to watch this step. It's so fun!
Remove the pan from the oven and allow your shrunken plastic design to cool completely. You now have a fun plastic charm that you can turn into a necklace.

Place a jump ring into the hole at the top of the colorful charm.

Thread a necklace chain through the jump ring and enjoy wearing your new creation!
Share Nella with Your Kids!
Now your young princess can make and wear a necklace that's inspired by Nickelodeon's brave princess Nella! Mix up a big bowl of unicorn popcorn for a fun movie night. You can also tune into Nickelodeon or buy the Nella The Princess Knight DVD to view her exciting adventures.

Pin it for Later

Disclosure: This post is sponsored, so extra thanks for reading and sharing.
Written by Jennifer Dawn, contributor here at 5 Minutes for Mom, and the blogger behind The Life of Jennifer Dawn.
Talk with us: @5minutesformom and Facebook.com/5minutesformom
Pin with us at pinterest.com/5minutesformom