This post may contain affiliate links. Read my disclosure policy here.
We humans aren't the only ones affected by winter's chill — our pets need protection from the cold too. Here are eight tips from the pet experts at Petcurean to help keep your pet safe and comfortable during the winter months. This post is part of our ongoing partnership with Petcurean.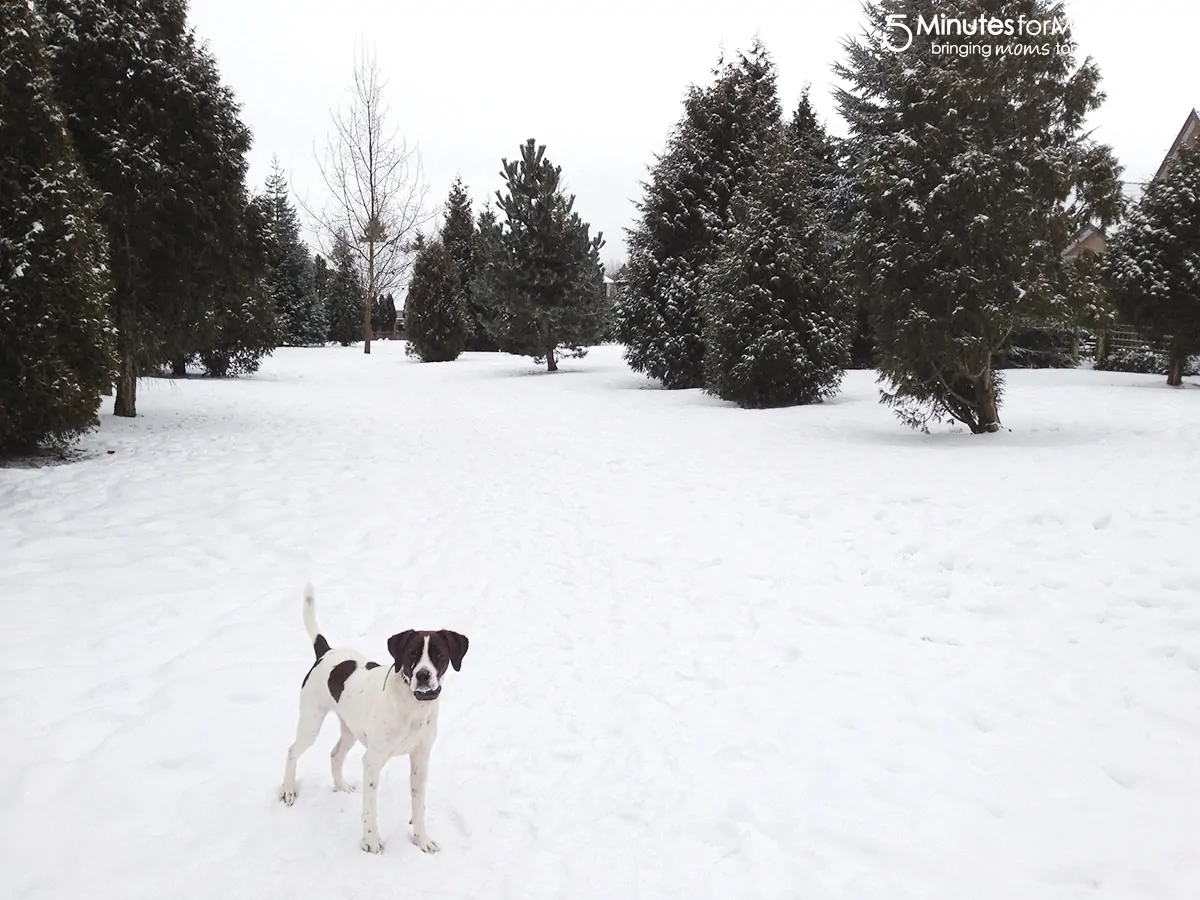 In rain, sleet, or snow, our dog AJ is always ready to play outside. He is a tough little mutt. Winter weather isn't going to keep him from enjoying his daily walks and trips to the park.
But over the years, I have noticed that he needs some help keeping safe in the cold.
One thing that is a regular issue for AJ is rocks of salt getting caught in his paws.
When we go for walks in the winter, the salt on the roads and sidewalks can hurt his paws and even get stuck in between the pads of his paws. I have to be careful to avoid the salted areas and clean his paws during and after our walks.
While AJ is a short haired dog, we don't usually put a coat or sweater on him.
He doesn't seem to enjoy having his Montreal Canadiens sweater on as much as we enjoy looking at him with his sweater on — I mean, come on, how cute is he!?!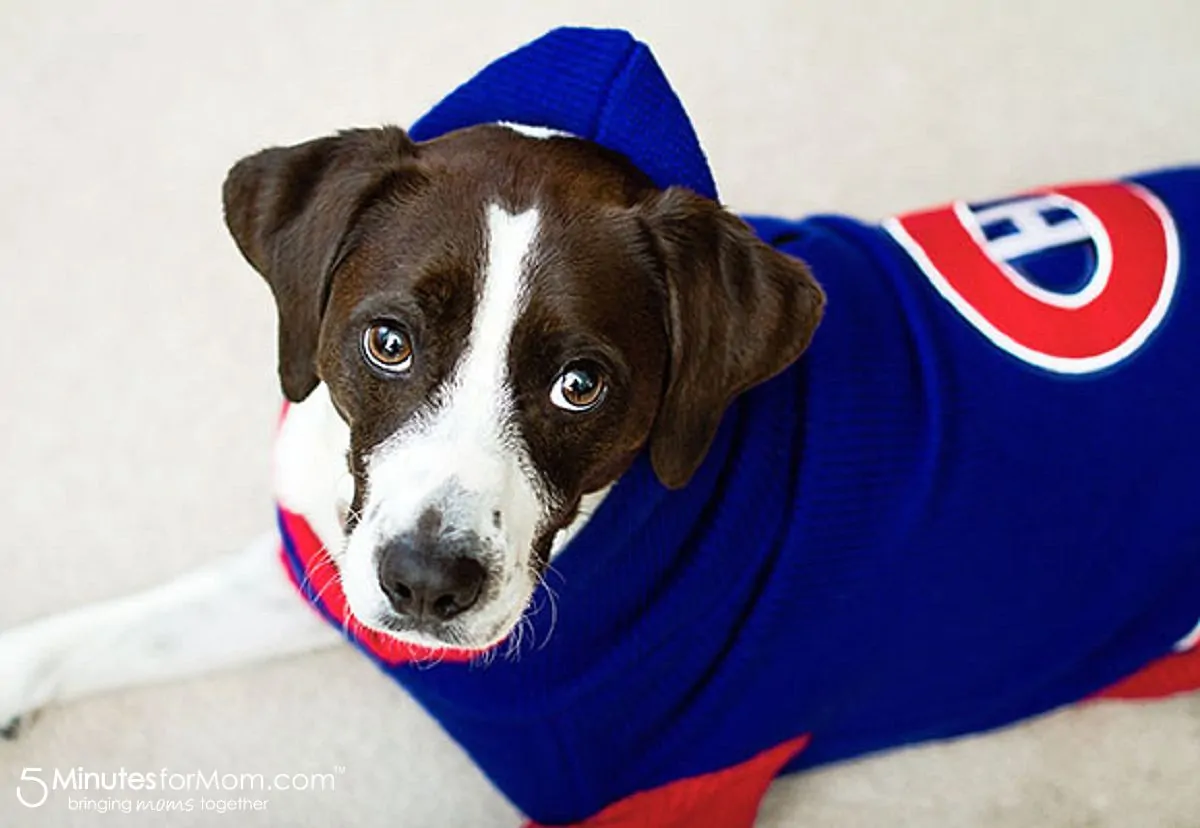 Here on the pacific coast it doesn't get extremely cold and we haven't gone for extended hikes or trips in the snow with him.
But if this winter is as cold as last year and we plan to head out for longer trips in the snow, I think we will have to invest in some more comfortable and water-proof outdoor gear for him.
If you want to make sure you are doing everything you can to keep your pet comfortable and cozy this winter season, here are some tips from the pet experts at Petcurean…
1. Use a humidifier
Cooler weather usually brings dry air, so using a humidifier will help to keep the noses and throats of our dogs and cats from drying out. It's the same for their coat and skin.
2. Use pet-friendly snow melters
Choose pet-friendly ice and snow melters that won't irritate paws or stomachs, especially if your dog or cat licks its paws after being outside.
3. Show them extra love with Tasty Treats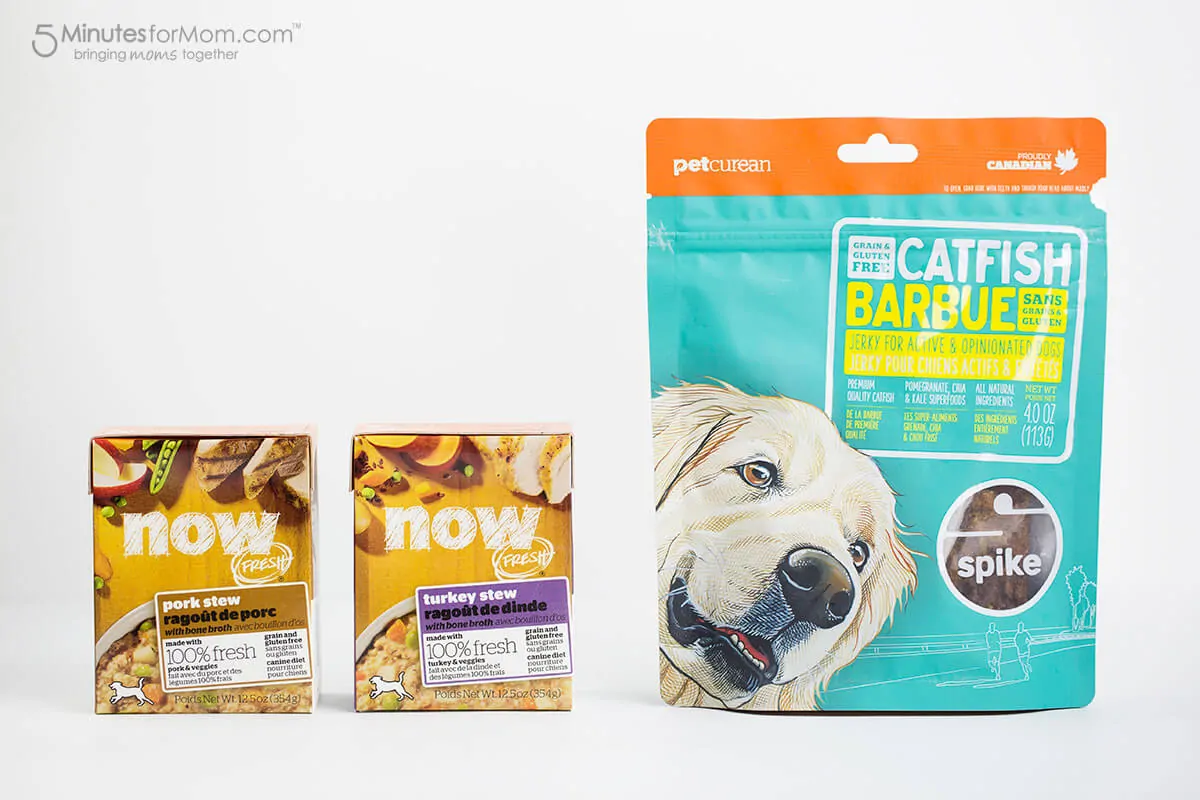 The holidays are all about showing love and appreciation so give your cat or dog some extra belly rubs and treats to make up for the chilly weather and any cold shoulders you may receive due to holiday travel. Petcurean's SPIKE treats for dogs are great because their packed with superfoods like Chia Seeds, Pomegranate and Kale, plus they're portable. For Cats, try Petcurean's new NOW FRESH Stews and Pates, you can feed these as a complete meal, but they're also perfect as a topper or served as an extra treat. Added bonus – they're made with 100% human grade, fresh ingredients including turkey bone broth, sweet potatoes, peas and carrots, and feature zero grains, gluten, wheat, beef, corn or soy.
4. Paw protection
Protect your dog's paws with a wax product designed for this purpose that forms a dense, breathable bond, which helps prevent snow buildup during outdoor exercise. After walks, wipe away any snow or ice from your dog's feet, legs and belly.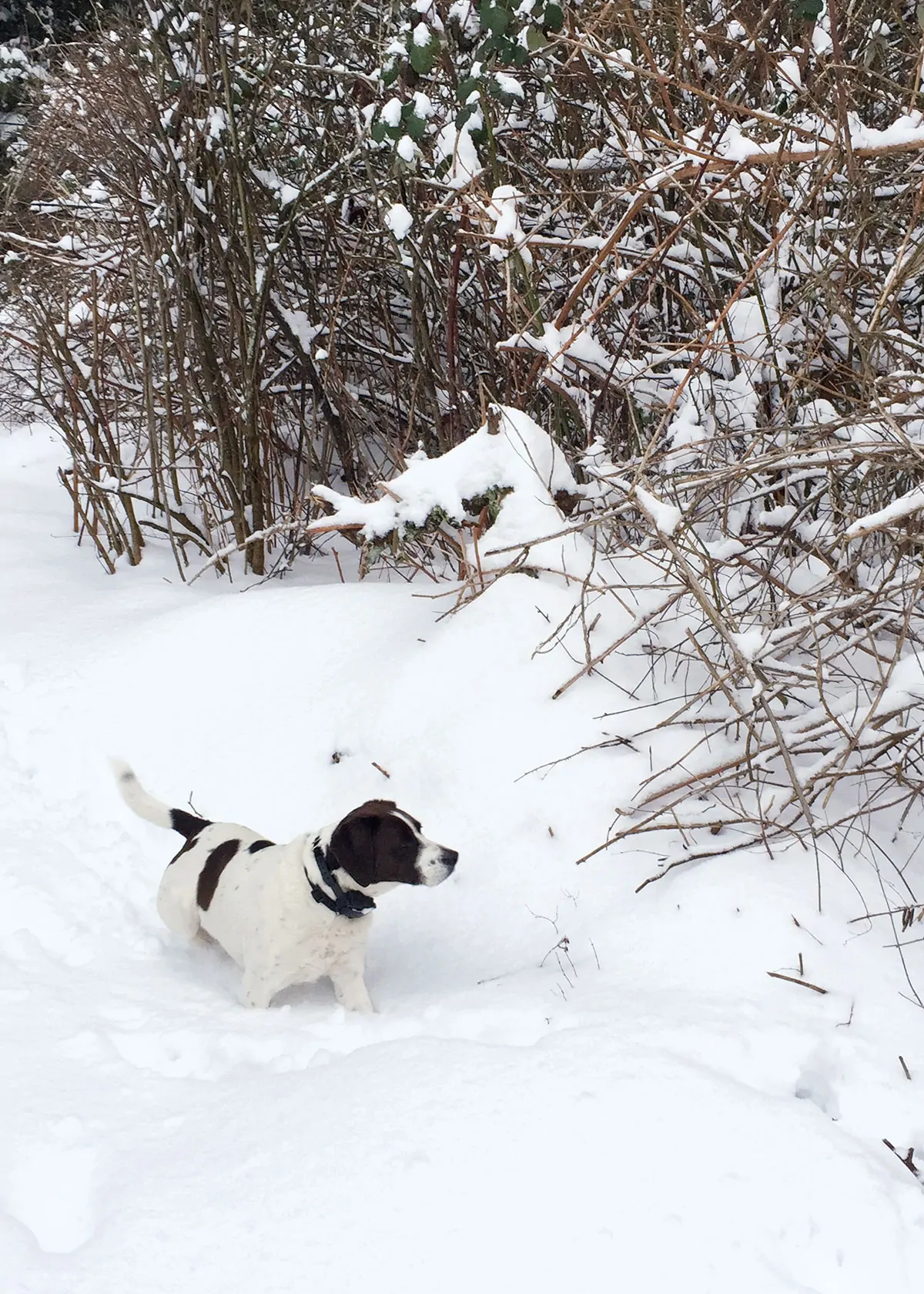 For extended periods outside, you can purchase boots for your pup's paws. The first time you put them on your dog, there may be a comical reaction. Some dogs decide they simply can't move with those things on their feet. Others walk around lifting their feet up exceptionally high like a prancing pony. But don't worry, it doesn't take long to get used to the boots! Distract your dog with treats or a fun activity while he is wearing his boots and soon he will forget all about them. You could also try putting socks on your dog before you introduce the booties so he feels comfortable with something on his feet. Make sure the boots don't fit too tightly so as to cut off the circulation and invite frostbite.
5. Be safe and alert when walking at night
Poor weather and decreased daylight may cause limited visibility for drivers at night, so take extra precautions when walking your pets and make sure you use a leash. Nowadays there are all kinds of reflective aids to help drivers see you in the dark. Reflective collars, leashes, harnesses and vests for both you and your dog are great ways to stay visible.
6. Coat or no coat?
If you live in a particularly frigid zone, you may want to consider a jacket for an extra layer of warmth for your pup while outside. Cats generally don't fare well in jackets but dogs who don't have a 'double coat' may benefit from wearing a jacket while outside for their walks. There is a huge variety available, from a simple sweater to a full-blown waterproof jacket with hood. However, do reserve the wearing of such warm apparel only for when you are outside.
7. Provide shelter
Some pets spend a lot of time outside, either by their own choice or by necessity. If your pet still prefers to be outside despite the temperature drop, ensure they have the shelter they need to stay warm. No matter what the reason, a warm, dry, cozy shelter is a must for dogs who are outside on their own in frigid temperatures, rain or snow.
Place the shelter out of the wind, under shelter if possible, and up off the ground. Provide some type of bedding; old blankets or even a deep layer of straw will help insulate. It is key to check the bedding in the shelter daily. Wet bedding will only make your pet colder. Fresh water is also necessary and if the water freezes where you live, inexpensive water bowl heaters are available.
8. Keep them inside
Lastly, if it is cold enough outside that YOU don't want to be out in it, you should assume the same for your pet, especially the very old, the very young, or the sick. Keep them inside with you.
Pin it for Later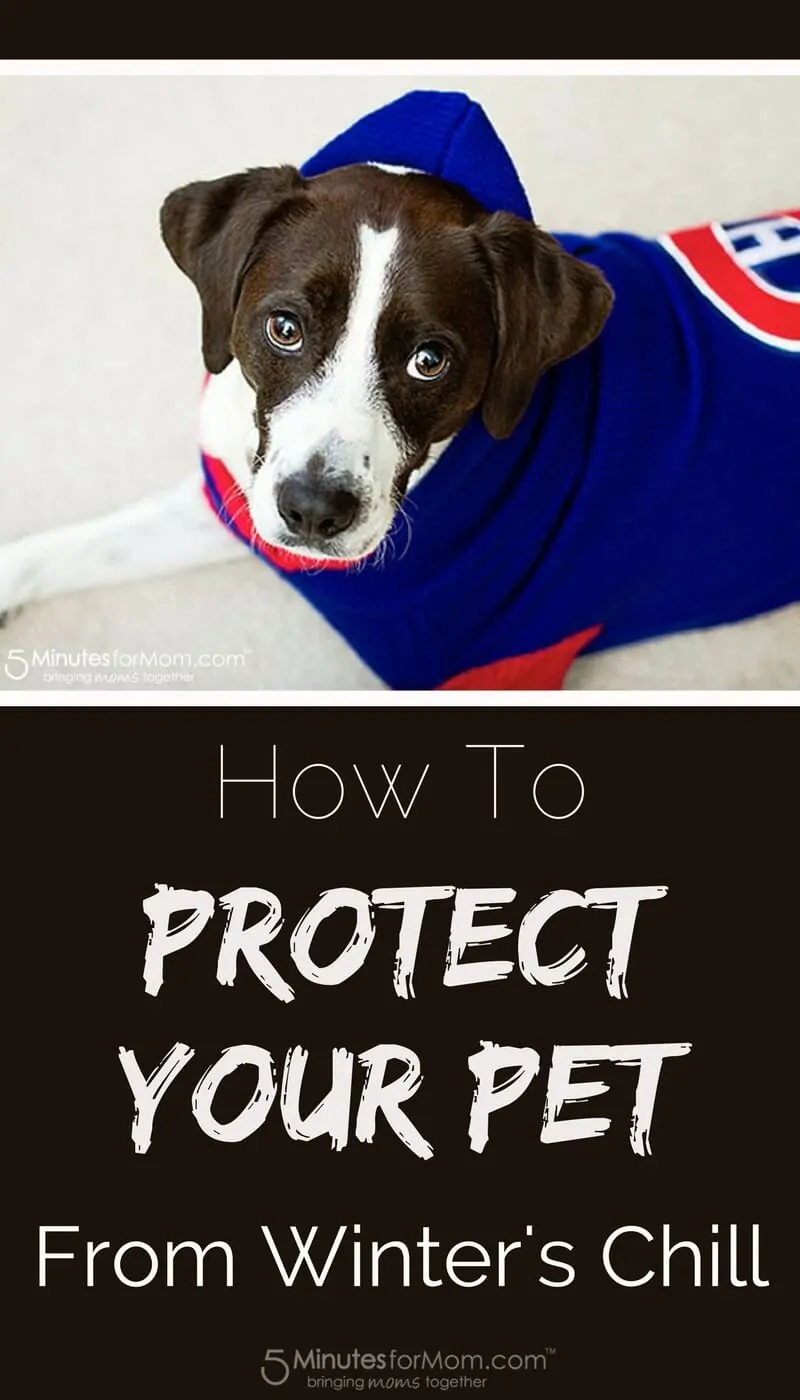 Disclosure: This post is sponsored, so extra thanks for reading and sharing.
Written and photographed by Janice Croze, co-founder of 5 Minutes for Mom
Talk with me: @5minutesformom and Facebook.com/5minutesformom
Pin with me at pinterest.com/5minutesformom