This post may contain affiliate links. Read my disclosure policy here.
We're excited to share with you a fabulous series of giveaways being hosted by our friends at Bump Boxes. There are new giveaways starting each week and running from April 1st until May 12th. This post is sponsored, so extra thanks for reading and sharing.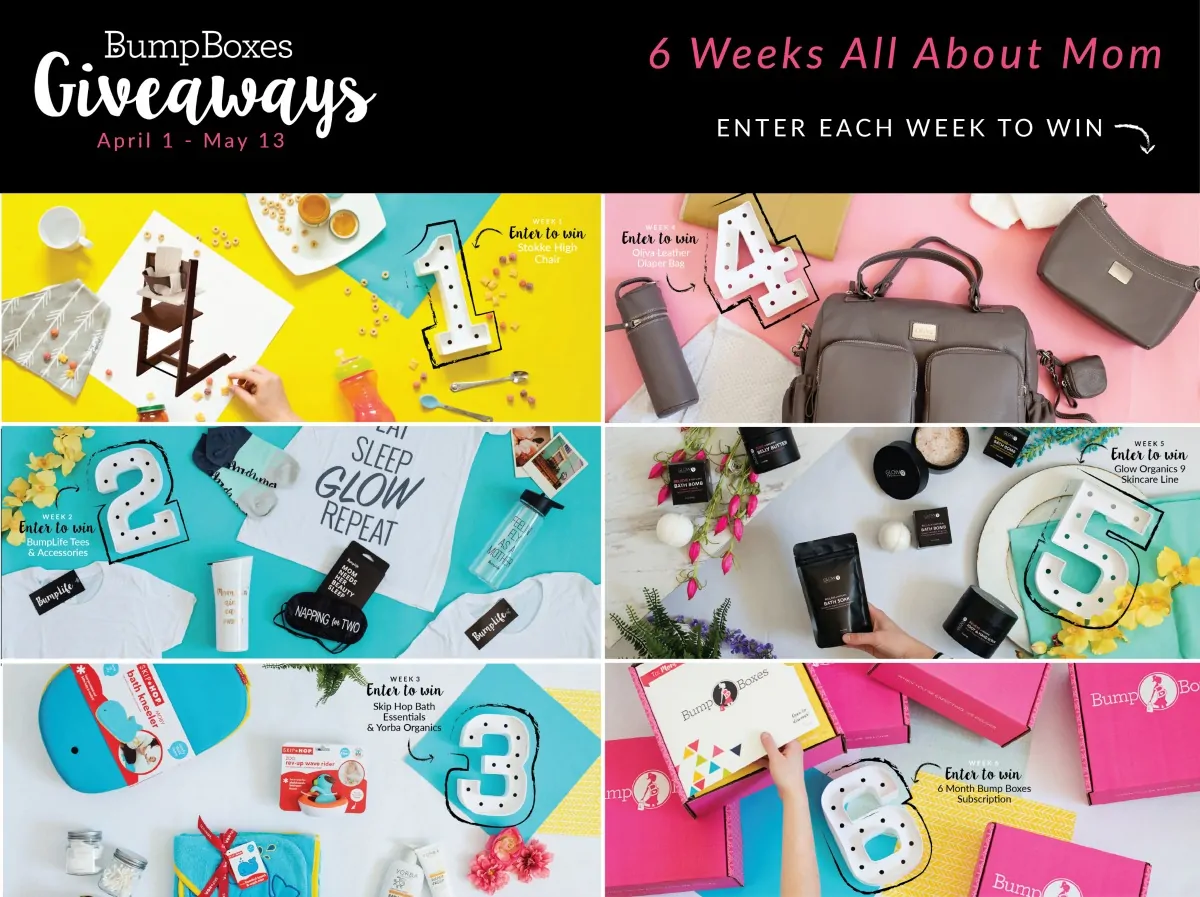 To celebrate everything amazing about being a mama, Bump Boxes are having six weeks of awesome giveaways! You heard us-six separate giveaways that are perfect for mom. Check out their Facebook or Instagram for constant updates or subscribe to their email list and be the first to know! Mother's Day is just around the corner and they want to gives thanks to all of the mamas out there. You rock!

Week One April 1st-7th: Stokke
Enter to win your own Stokke High Chair that retails for $249 during Week One of our "All About Mom" giveaway! The best part about the Stokke High Chair is that it makes it easy for your little one to sit at the dining table with you. This piece is a classic and a must-have in any mama's home.
Entries open April 1 – bumpboxes.com/mom-giveaway-week-one/
Week Two April 8th-14th: BumpLifeCo
One lucky mom will win two BumpLife shirts of their choosing (Check out their designs at www.BumpLife.co!), a "Fly as a Mother" water bottle, a "Napping For Two" sleep mask, a "Mommin' Ain't easy" Travel Mug, and a pair of "Inhale, Exhale" socks. Pretty cool, huh? The winner of this week's' giveaway will be stylin' and profilin'!
Entries open April 8 – bumpboxes.com/mom-giveaway-week-two/
Week Three April 15th-21st: Skip Hop and Yorba Organics
To add some more excitement to bath time, we are giving away a few of our favorite bath products! One lucky mama will win:
Moby Towel and Mitt Set
Zoo Rev Up Wave Rider
Whale Bath Mat
Yorba Organics Baby Wash/Lotion
Make bath time even better and don't miss out!
Entries open April 15 – bumpboxes.com/mom-giveaway-week-three/
Week Four April 22nd-28th: Oliva
Week Four's winner will score a stylish Oliva Diaper Bag. Made in Florence, Italy (yes ladies, this is genuine Italian leather we're talking about here), this bag doesn't just serve as a bag to store all of your little one's belongings… it's a handbag, travel bag, laptop bag-all in one. Whether you want to wear it as a satchel, across your body like a messenger bag, or keep it attached to your stroller: This bag is highly functional and retails for $690!
Entries open April 22 – bumpboxes.com/mom-giveaway-week-four/
Week Five April 29th-May 5th: Glow Organics 9
The latest skincare line in the pregnancy world, Glow Organics 9 offers moms an all-natural solution when their skin needs a bit of a pick-me-up. Each and every product is formulated and completely safe for pregnancy and beyond! For this giveaway, you have the chance to win: Balance Foot Soak, Pure Belly Butter, Relieve Foot & Hand Scrub, Relieve Bath Bomb, Relax Bath Bomb, Energize Bath Bomb, and Relax Bath Soak retailed at $75.
Entries open April 29 – bumpboxes.com/mom-giveaway-week-five/
Week Six May 6th-May 12th: Bump Boxes
For the last week of giveaways we are ending with a bang! Enter during Week Six for your chance to win a six-month subscription to Bump Boxes. Each Bump Box is tailored to mom's due date or baby's birthday with handpicked lifestyle products that are fun and healthy to use. Pregnancy is an unforgettable journey, which is why we want to take as much stress as out of it as we can!
Entries open May 6 – bumpboxes.com/mom-giveaway-week-six/