This post may contain affiliate links. Read my disclosure policy here.
Still Time to Believe…
"Mom… is Santa really real???" my seven year old son keeps asking me as the magical season gets closer and closer.
I answer him with questions, "What do you think?" or "Why do you think he isn't?"
"Well, I know Santa is real — but reindeer can't fly…" he tries to work it out in his mind.
The sweetest part of it all is how much he still WANTS to believe.
And because I can still see that innocent child looking back at me, the precious little heart that wants magic to be real, I don't crush his hopes. I am going to let him be a child for at least one more Christmas.
Cookie Crumbs, Empty Milk Glass… and Photographs???
Every year, we plant the proof: cookies – check. milk – check. carrots for hungry reindeer – check. And then when the kids finally give in to sleep, we play Santa, pulling presents from hiding spots and devouring cookies while making sure to leave some crumbs.
But this year, you have one more SPECIAL step to make your Santa-performance complete: Capture the Magic!
Yes, after your house is decorated and ready to go, you grab your camera, take a few photos and then log in to Capture the Magic.
Within a few minutes, you will photographic proof of Santa's very special visit.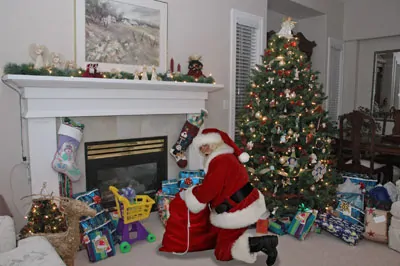 This is a shot I had of our house a couple years ago at Christmas. I can't believe how well Capture the Magic works!
Your kids will be giddy with excitement and you will get to watch as their minds light up with the possibility of magic!
Oh… and Santa has a Present for YOU too this Christmas Eve
Did I forget to mention Capture the Magic has a great affiliate program too?
So, the "magic" doesn't have to end with a photo.
You can sign up as an affiliate, spread the word about Capture the Magic to your friends and/or readers, and earn some extra money this Christmas!
This post is sponsored by Capture the Magic. We are affiliates and are running an advertising campaign with Capture the Magic.
Written by Janice Croze, co-founder of 5 Minutes for Mom.