This post may contain affiliate links. Read my disclosure policy here.
The welcome mat is out — come on in and take a tour of the HGTV® Dream Home 2017.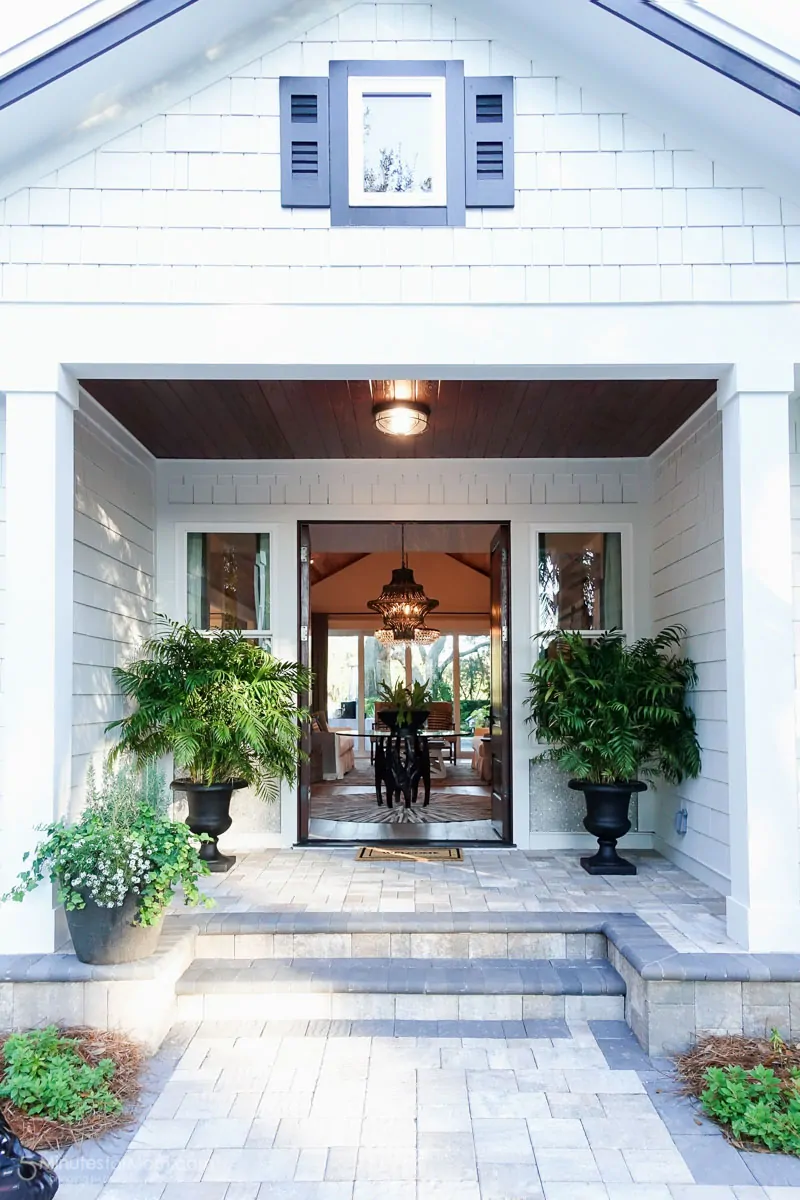 Are you dreaming about it?!?
When you close your eyes, do you feel the Georgian sun warming your face as you lean back in your pool-side lounge chair? Do you hear the wind moving through the moss draped live oak trees that frame the dock in your backyard? Does your stomach growl as you smell steaks grilling on your sparkling new barbecue?
Yes, HGTV® is creating coastal Georgian dreams for millions of us.
Last week, I had the incredible opportunity to travel to St. Simons Island with HGTV to tour the HGTV Dream Home so I can share it with you.
So, come on in — welcome to the HGTV Dream Home.
When you walk in the front door, you enter the great room which includes the living room, the kitchen and the informal dining area. The room is flooded with light from the doors that open to the backyard.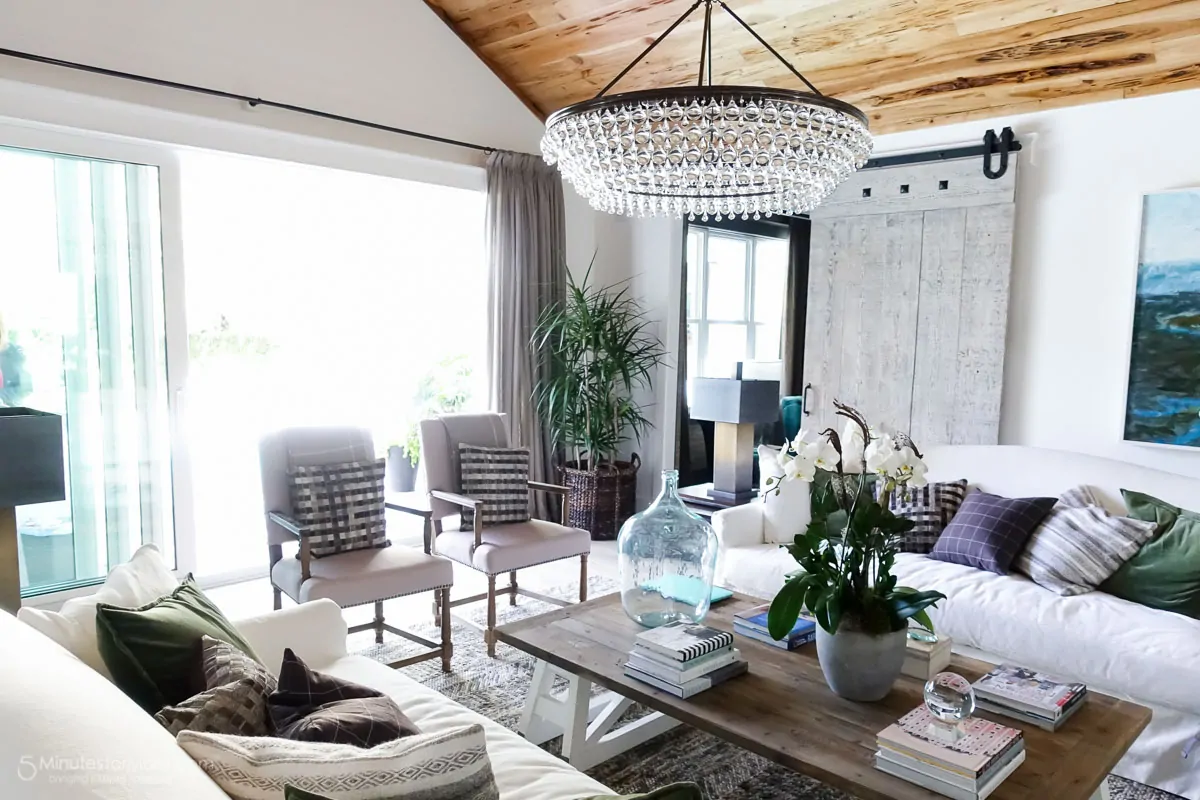 The kitchen is bright and inspiring, with an open layout that allows you to enjoy your time in the kitchen while still being in the middle of the party.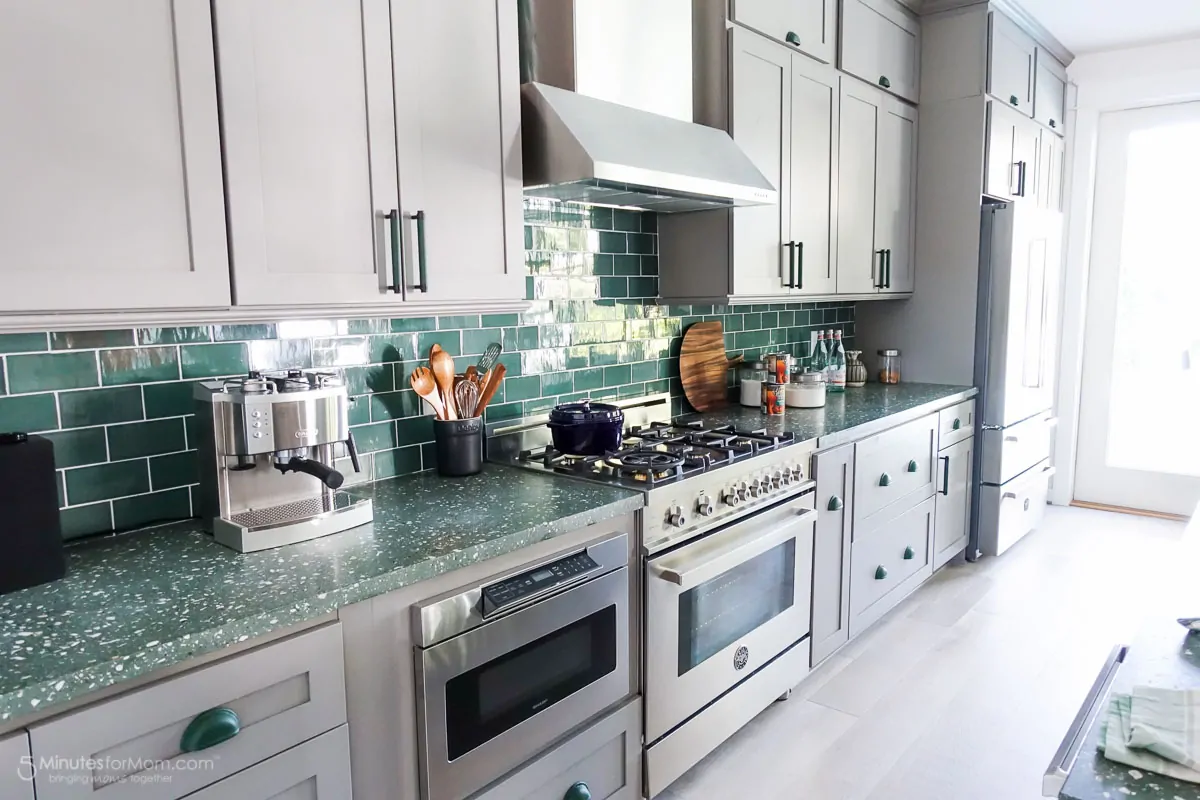 Along with the doors that open from the living room to the backyard patio, there is also a door that opens from the kitchen to the backyard patio, which means even more light and convenience when hosting guests by the pool.
Brian Patrick Flynn, who designed the HGTV Dream Home, used the colors of the landscape for the decor in the home.
One surprising, but delightful color choice is the forest green in the kitchen. With green subway tile, green accents on the cabinets, and green countertops made with concrete and shells, Brian infuses the kitchen with the rich green hues of the trees and foliage surrounding the house.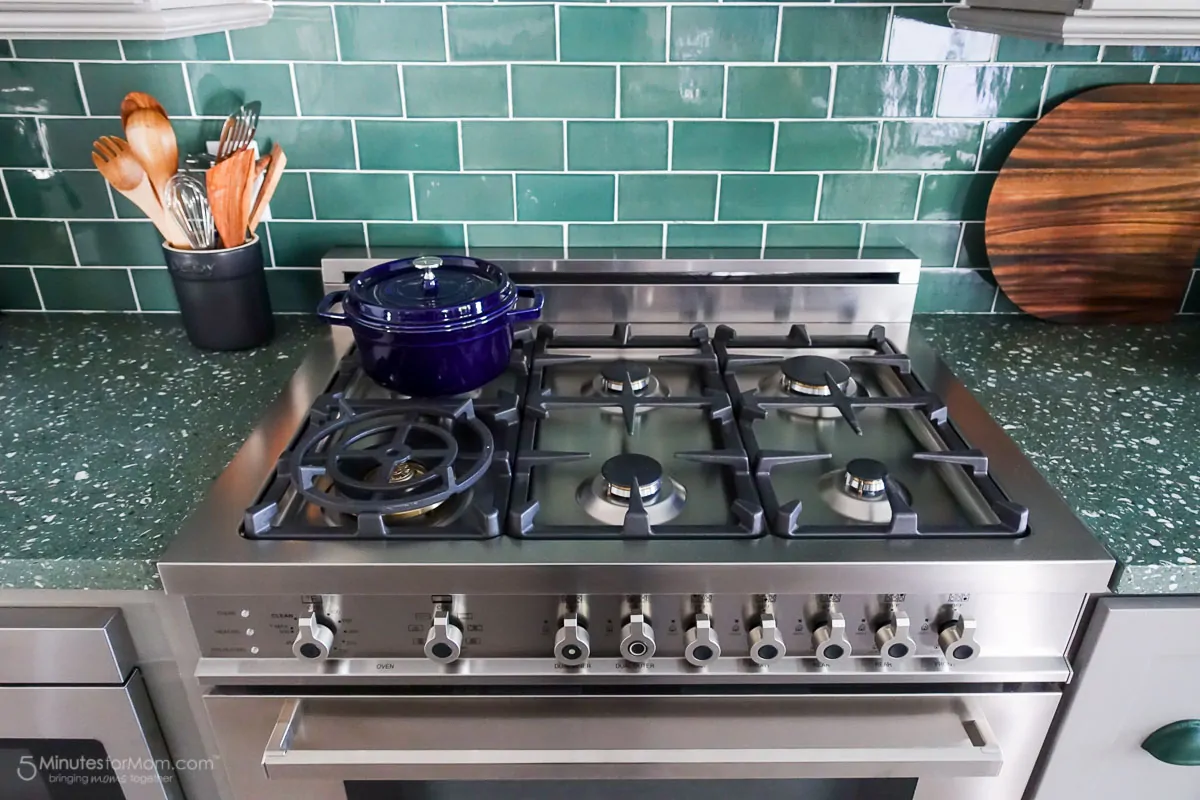 He pairs the bold green with a muted grey for the cabinets, a combination that reflects the Spanish moss draping from the live oak trees. The colors work as perfectly in the house as they do in nature.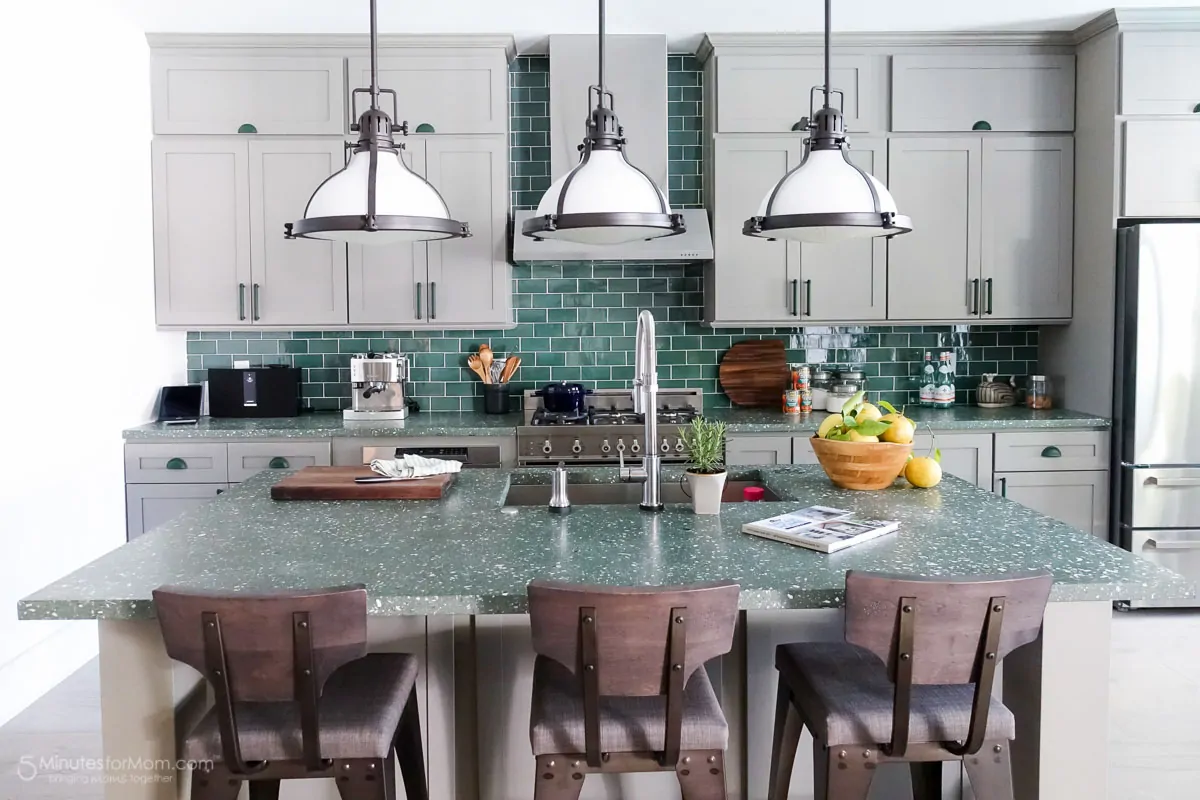 I love how Brian has the backsplash tiles extend all the way to ceiling, as you can see here in this shot of the bar off to the side of the kitchen.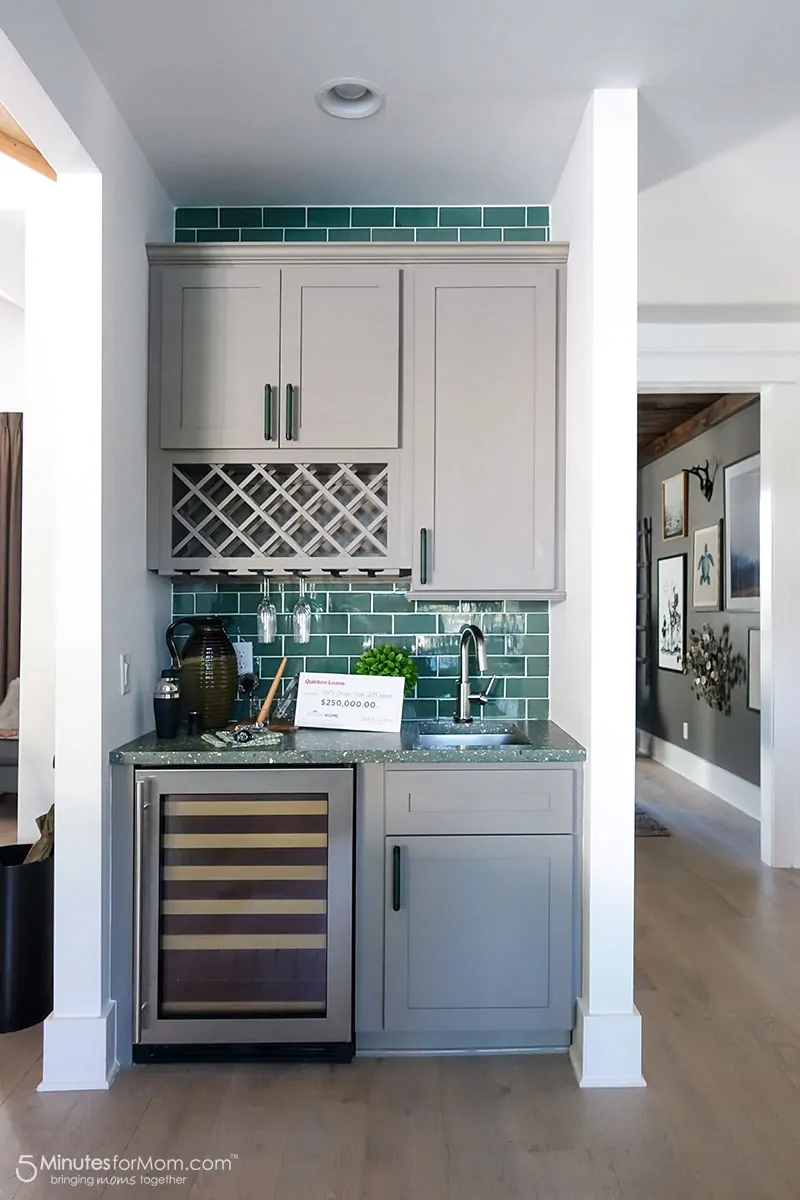 Since we are facing the dining room, let's walk through and visit that room next.
The formal dining room is unique and funky. While the rooms that face the backyard are bright and airy, in this room Brian has purposely gone dark, creating an intimate and moody feel.
Along with strong pieces like the heavy dining room table, Brian has used several fascinating accent pieces to create a truly original space. I am generally a fan of light, open rooms, but I am in love with this room as well.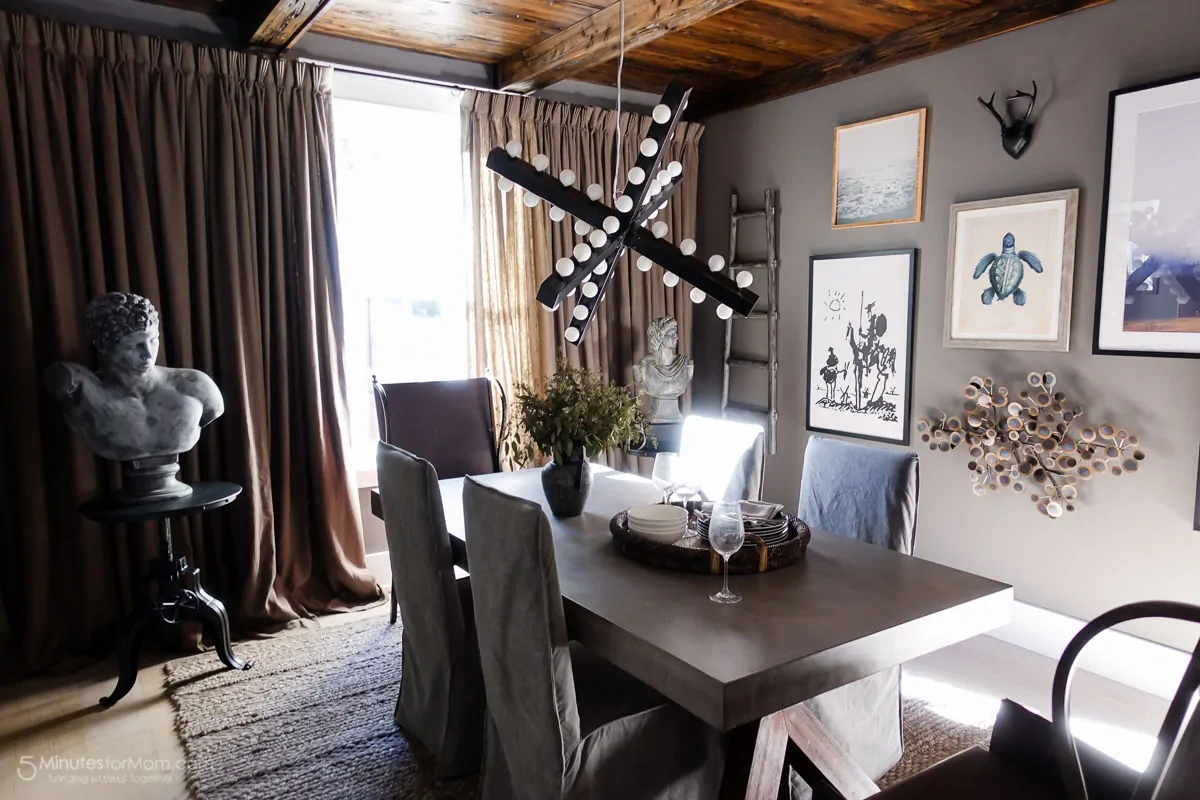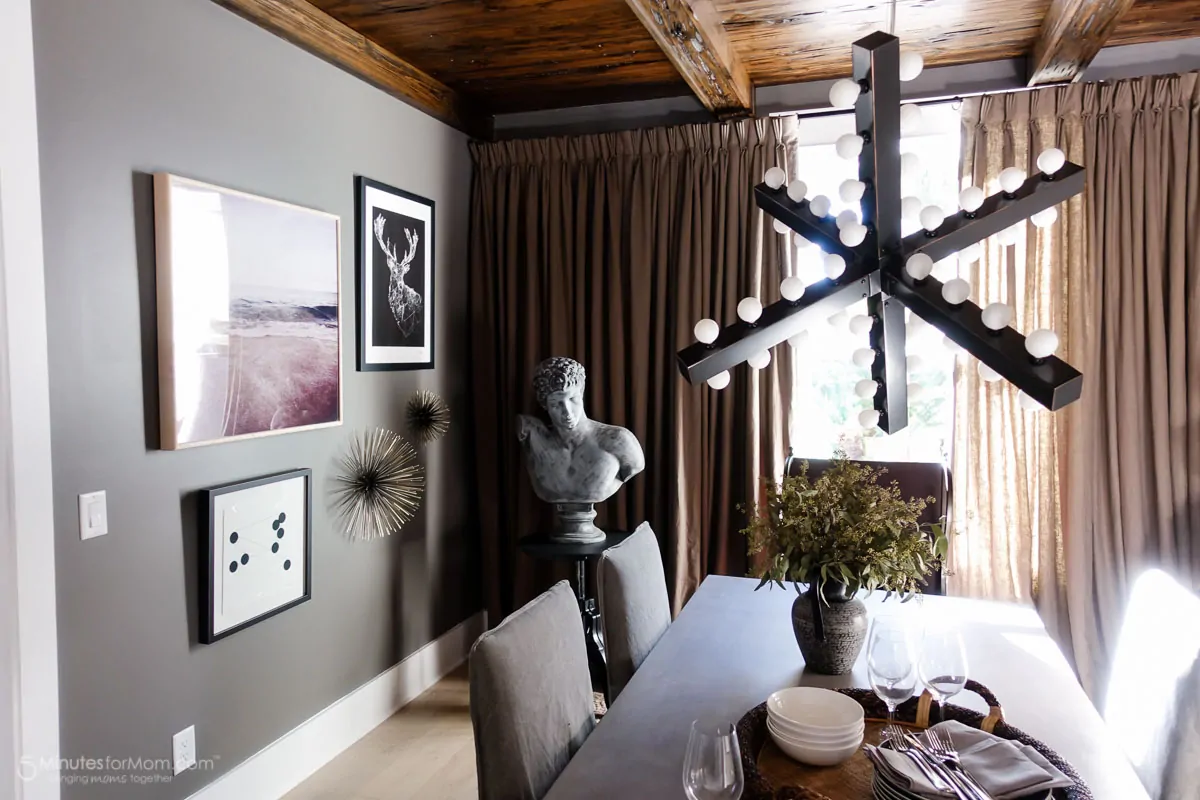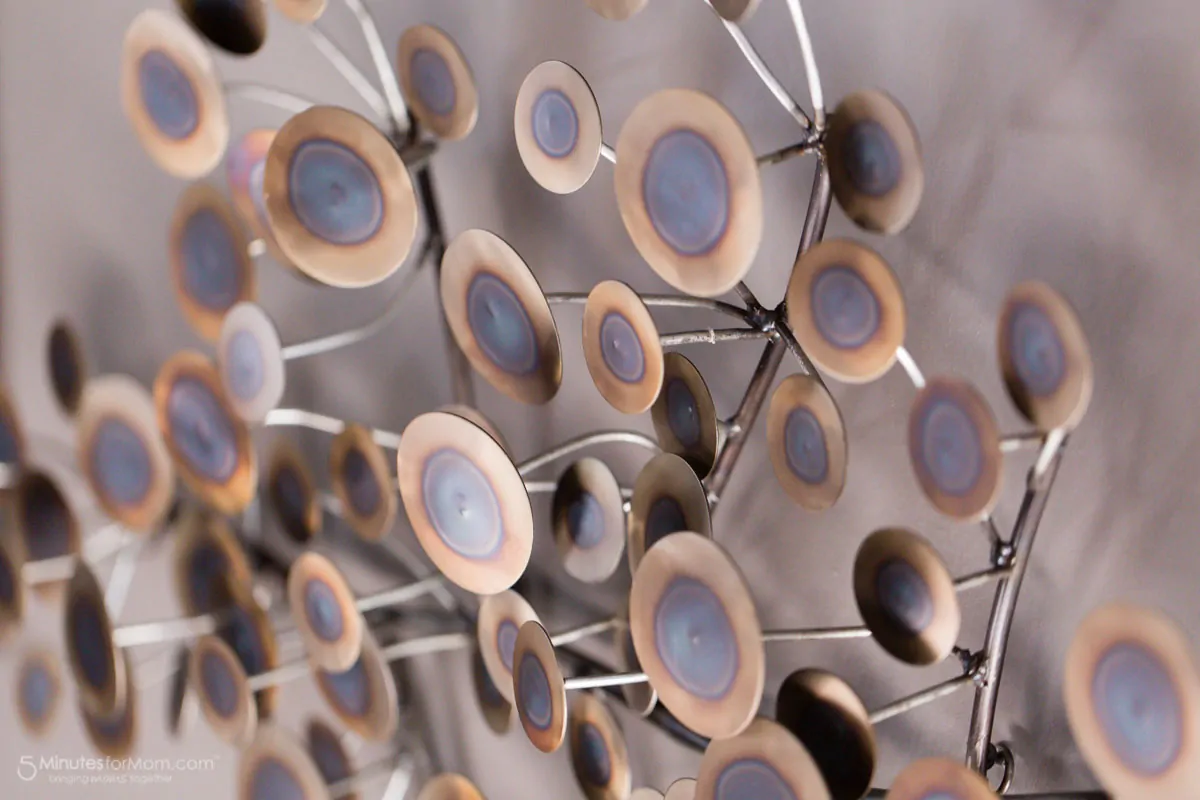 Next, let's head over to one of my favorite rooms in the house — the master bedroom.
While I would never think of painting a bedroom navy, including the ceiling, this room has so much light pouring in from the windows, that it works beautifully. Brian has created a calm, soothing room that makes me want to curl up and stay in bed all weekend long.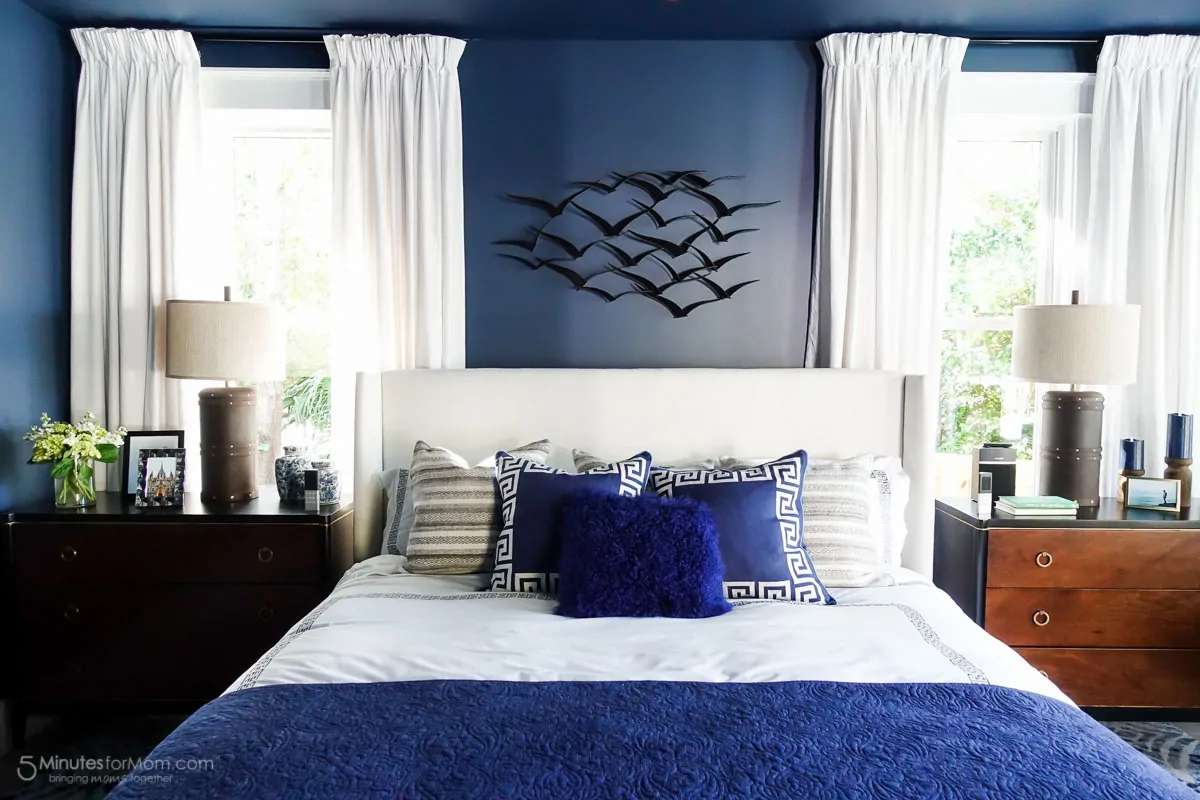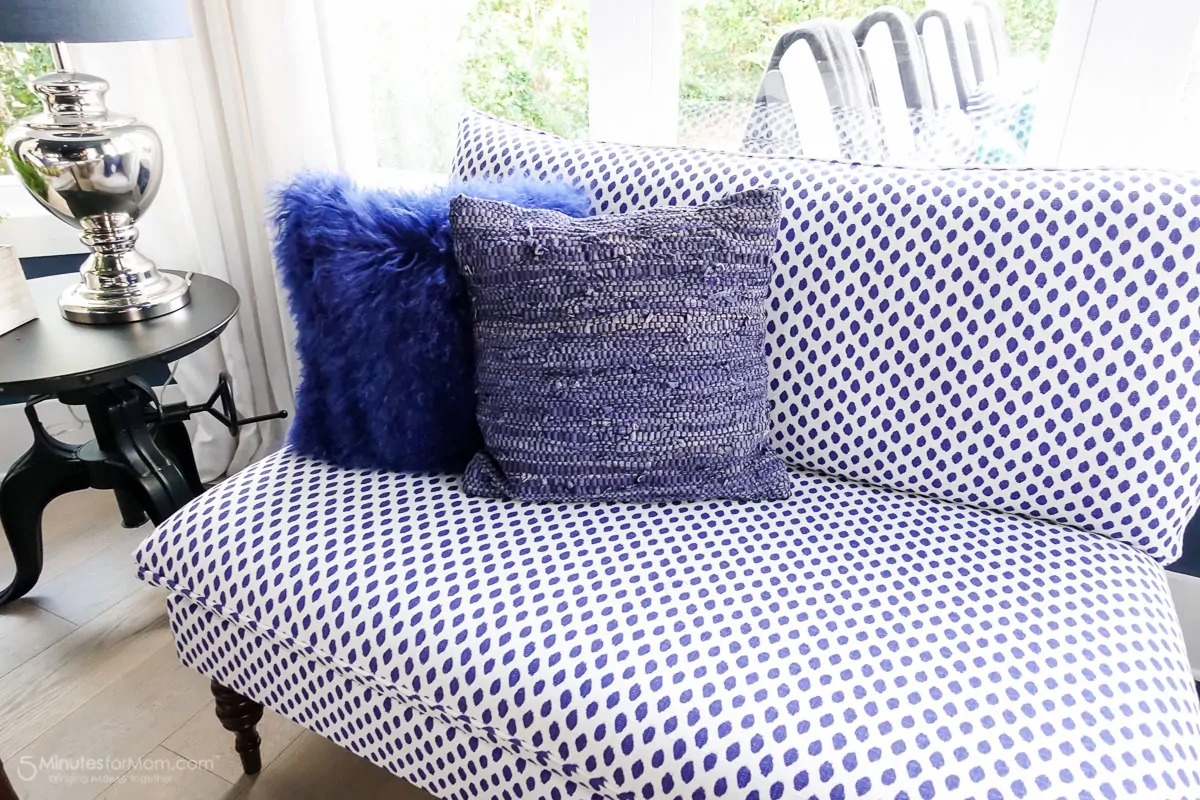 The main bathroom is simply beautiful. The light blue walls, the grey floor and the white accents create a room that both wakes you up and soothes your stress. (Not showing in this photo is a large walk in shower on the opposite wall.)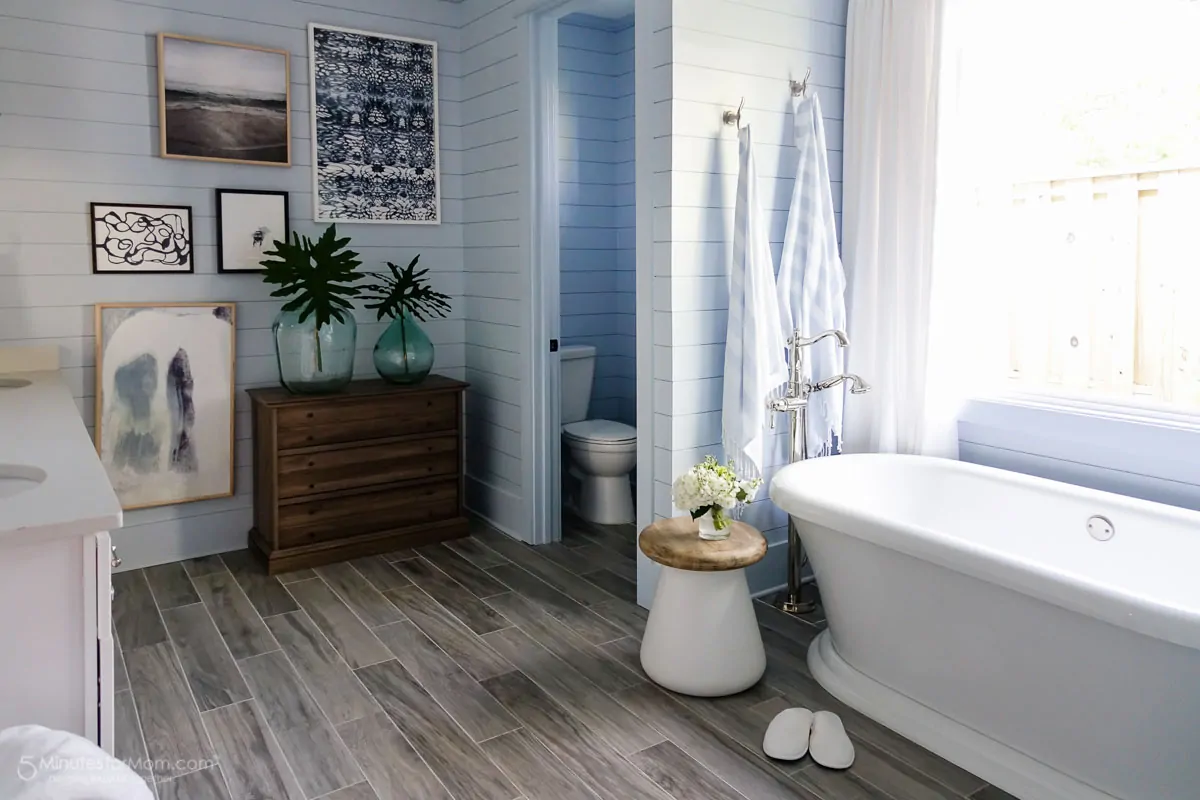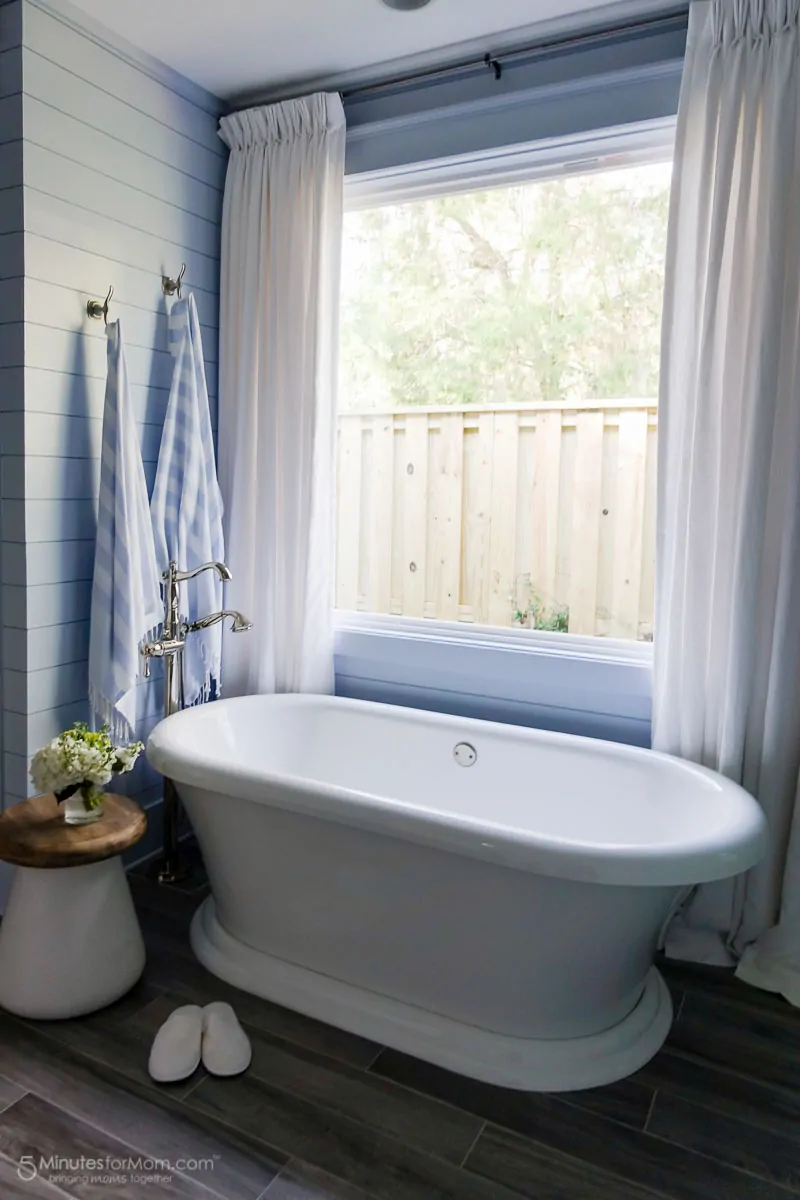 Who doesn't want a huge closet with tons of room to keep all your clothes and shoes super organized. The dresser as an island is a fantastic way to increase storage area — oh if only I had a closet like this!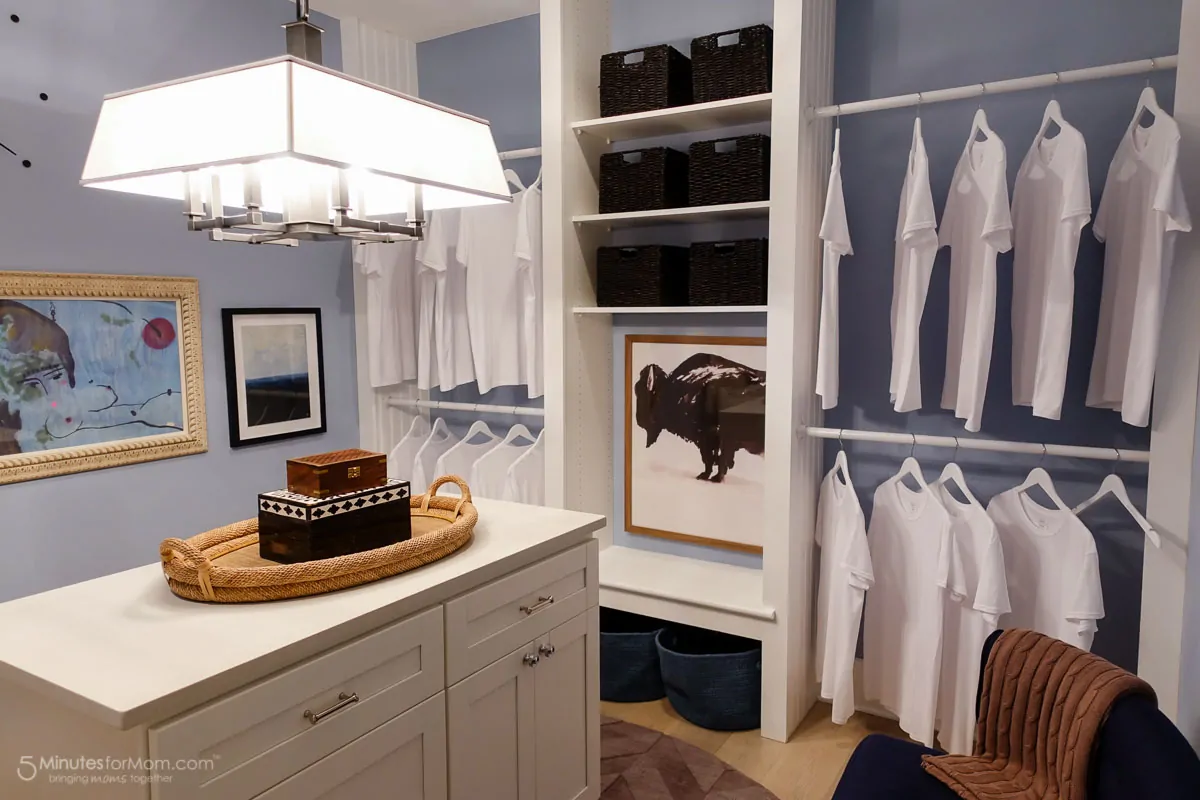 As we head back to the rest of the house, let's pop our heads into the mud room/laundry room.
This fabulous feather wall paper is a brilliant way to add personality and fun to this functional room.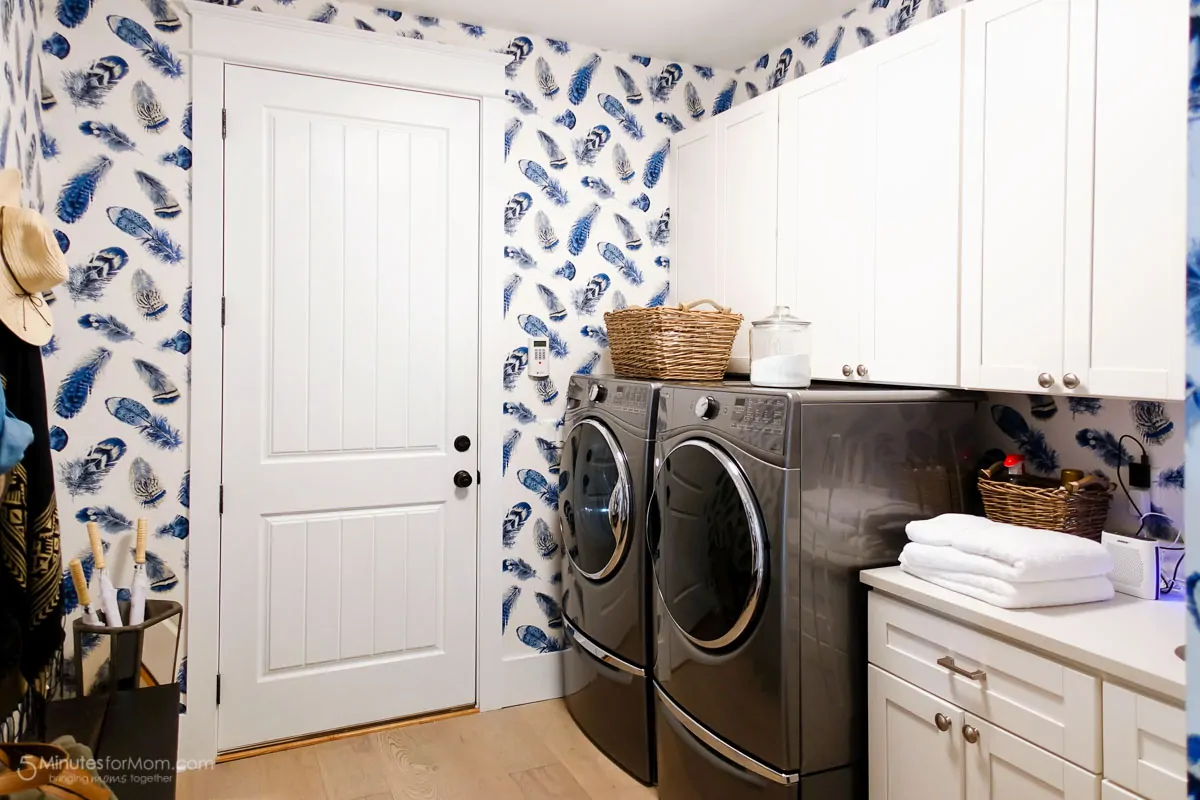 Next up is a "boy's" bedroom or perhaps a "guest" bedroom.
While Brian says that he has received the most criticism from this plaid room, I think it is an appealing design that pays homage to the outdoors-men of the south and to the informal southern coastal lifestyle.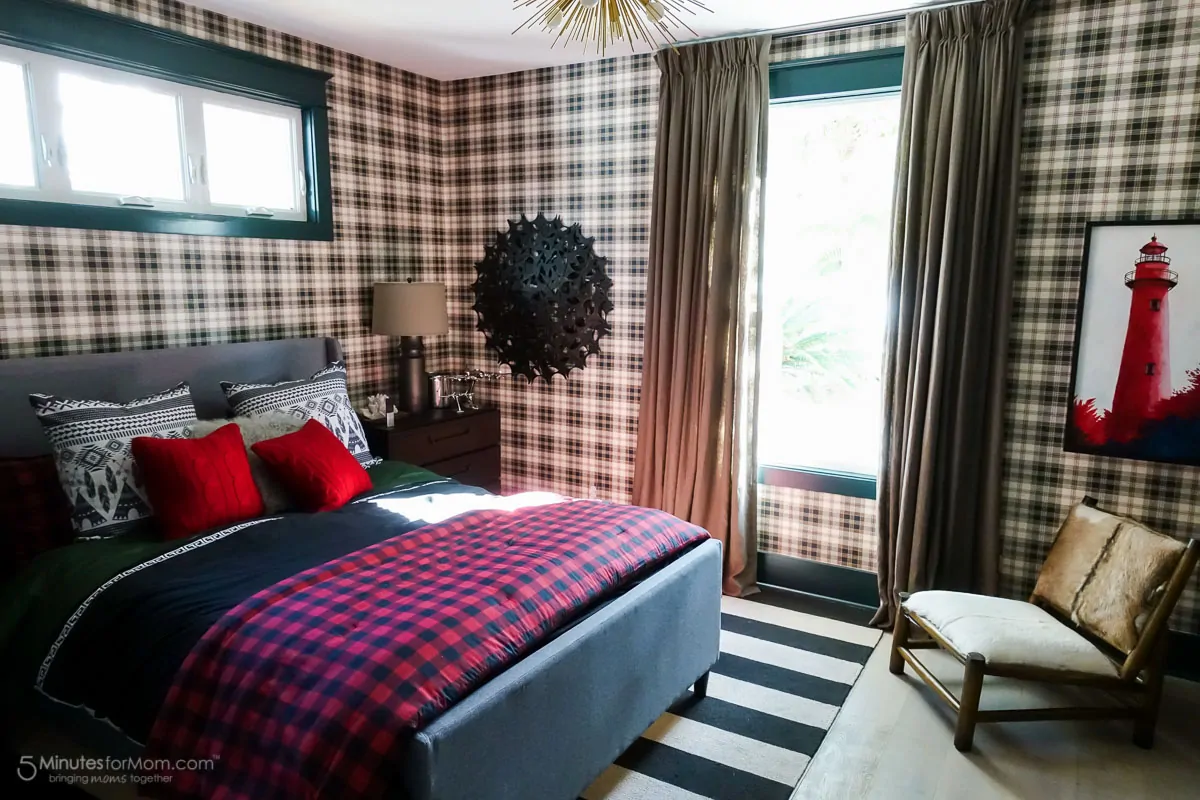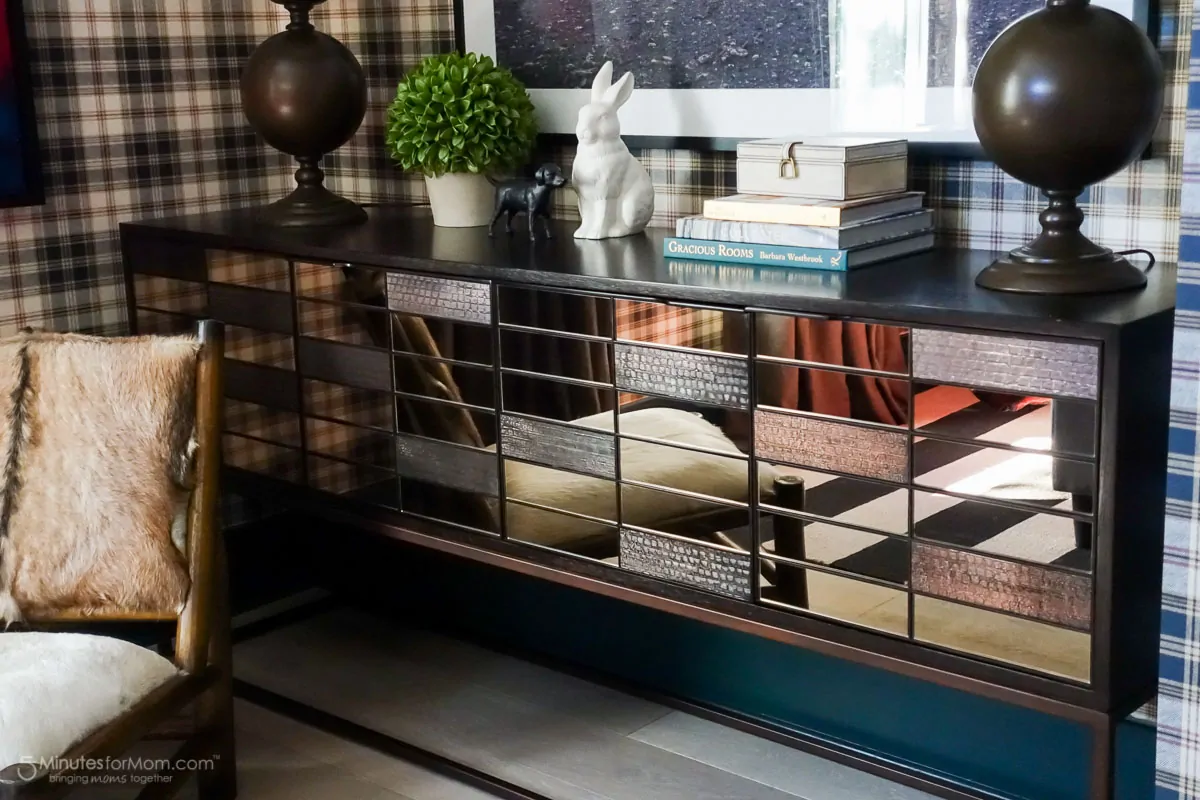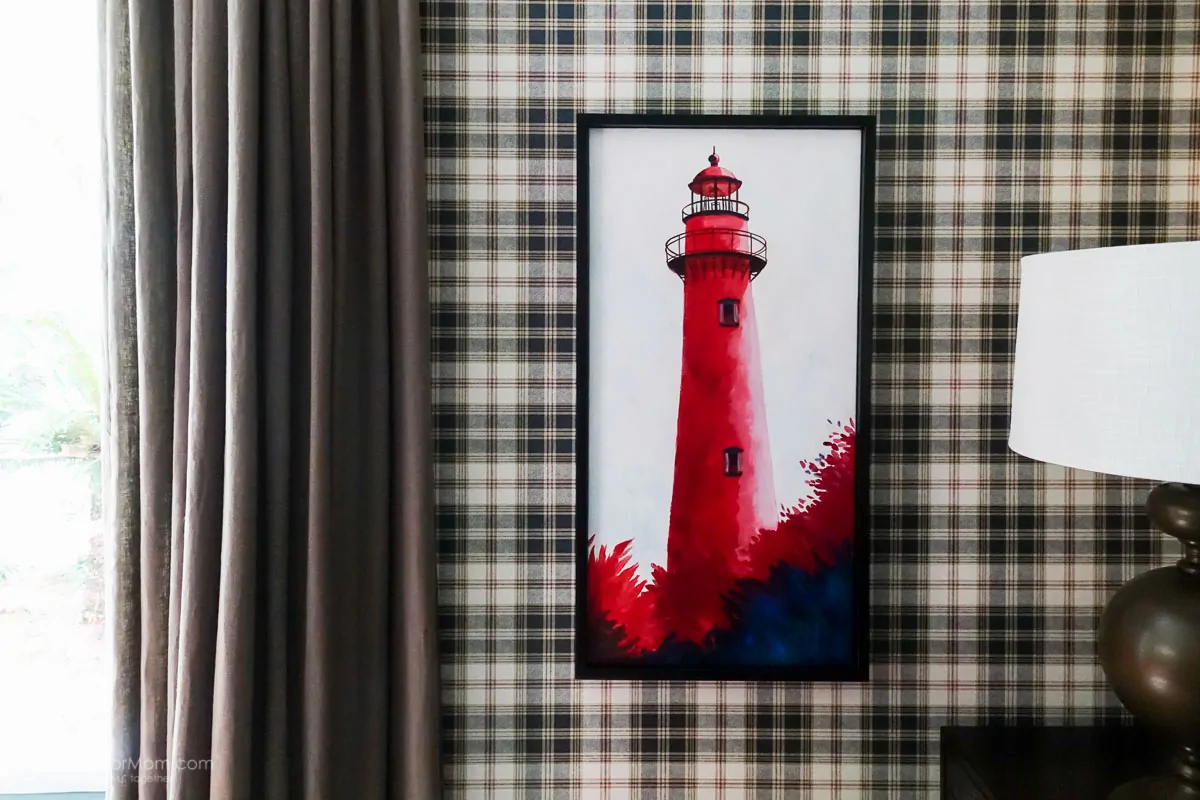 After we leave the plaid room, let's visit this unusual space that provides both a place to work out and a lovely sitting area.
The great part of this room is that while working out, you have the beautiful view out the window, with the gorgeous green chairs making you feel like you aren't in a gym at all.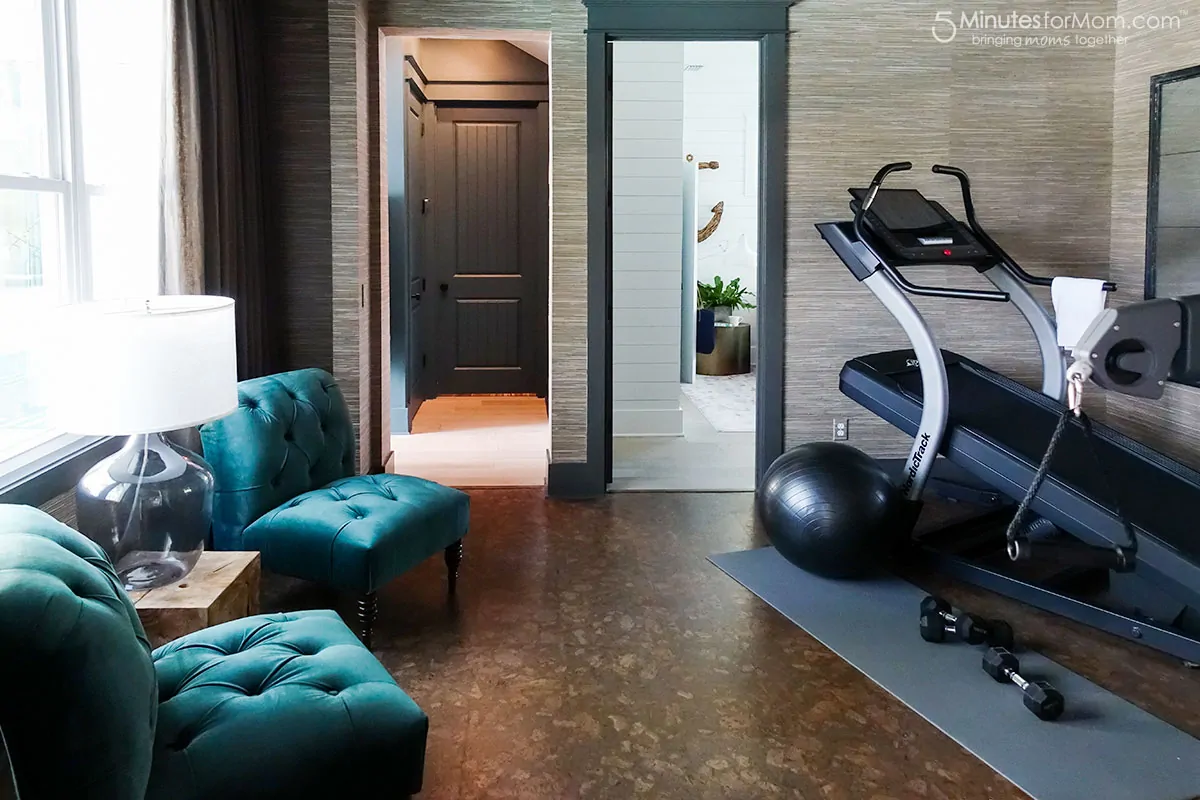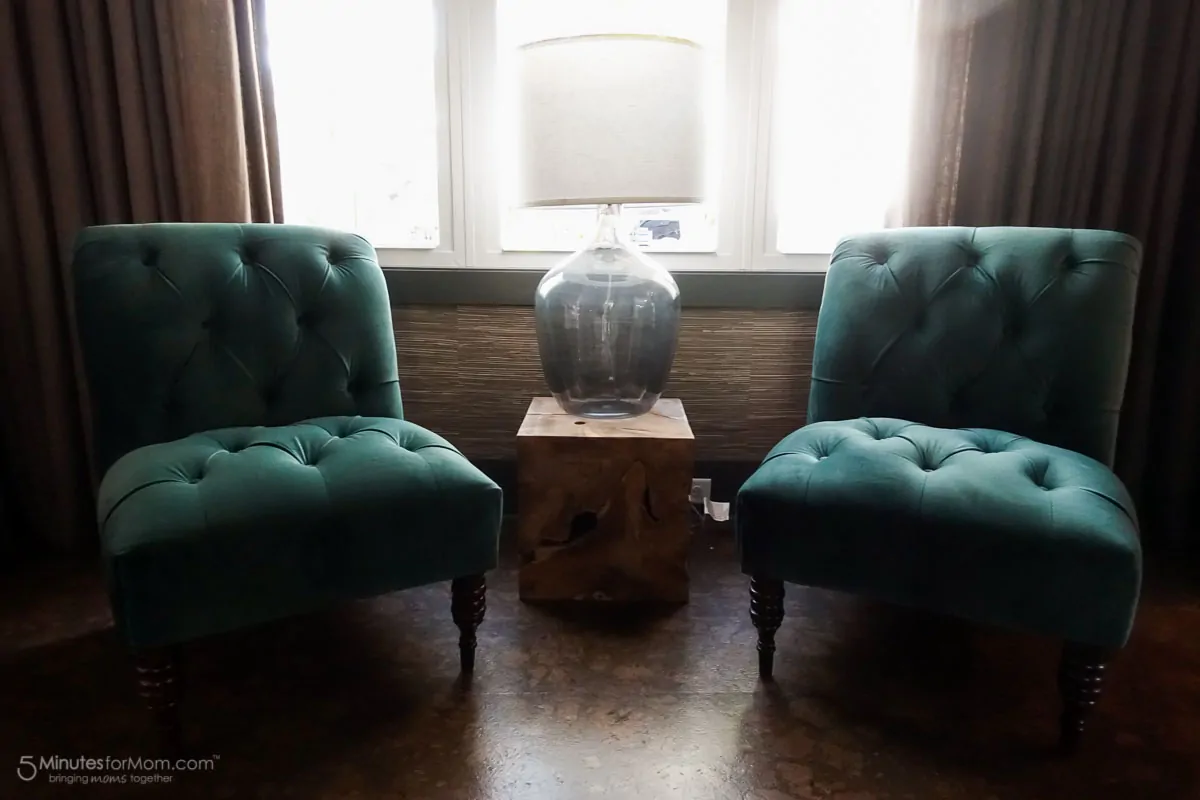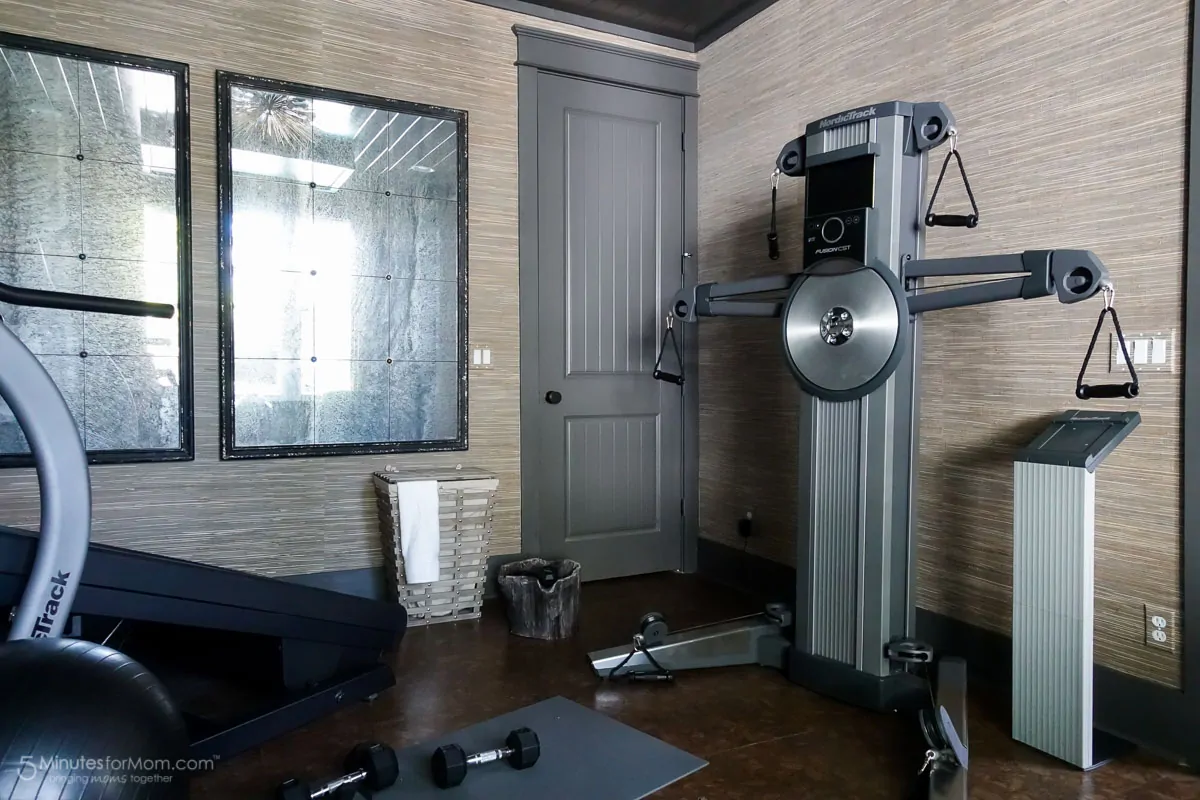 This next bedroom is bright, cheerful and packed with wonderful details.
I love the walls, the rainbow of colors, the framed art pieces, and that fuzzy chair!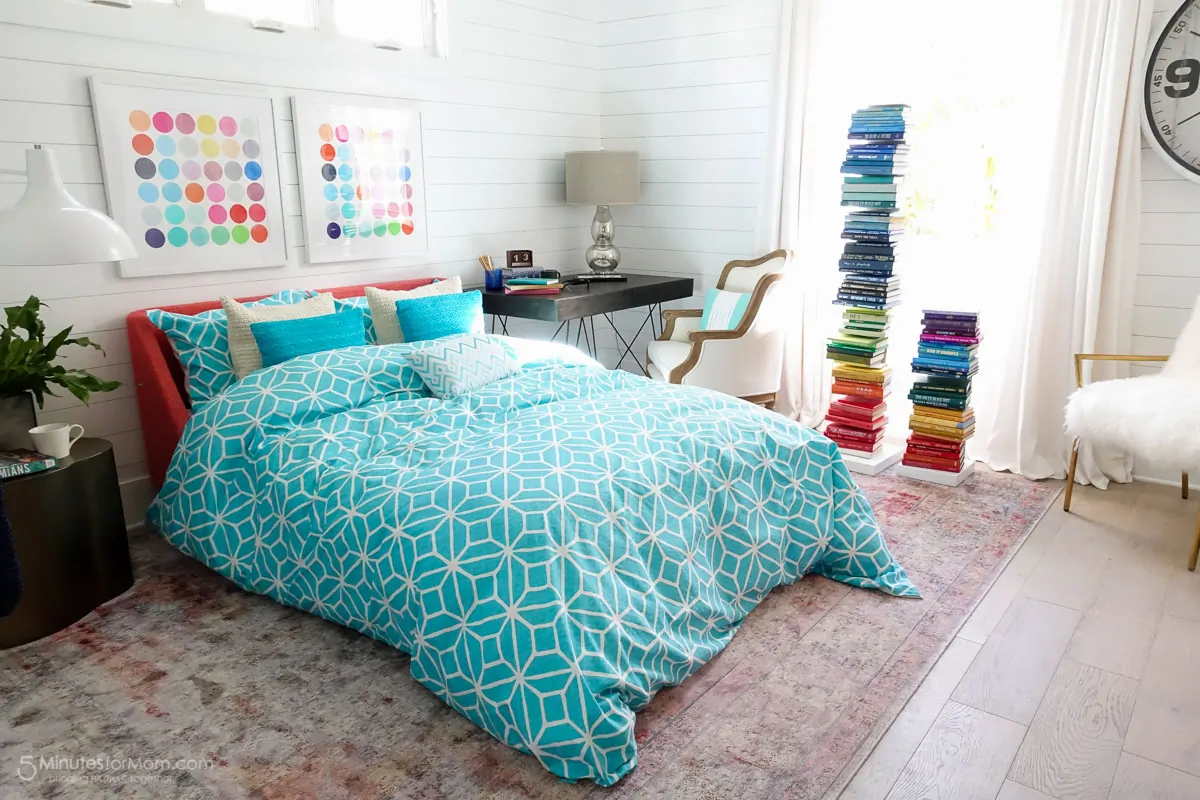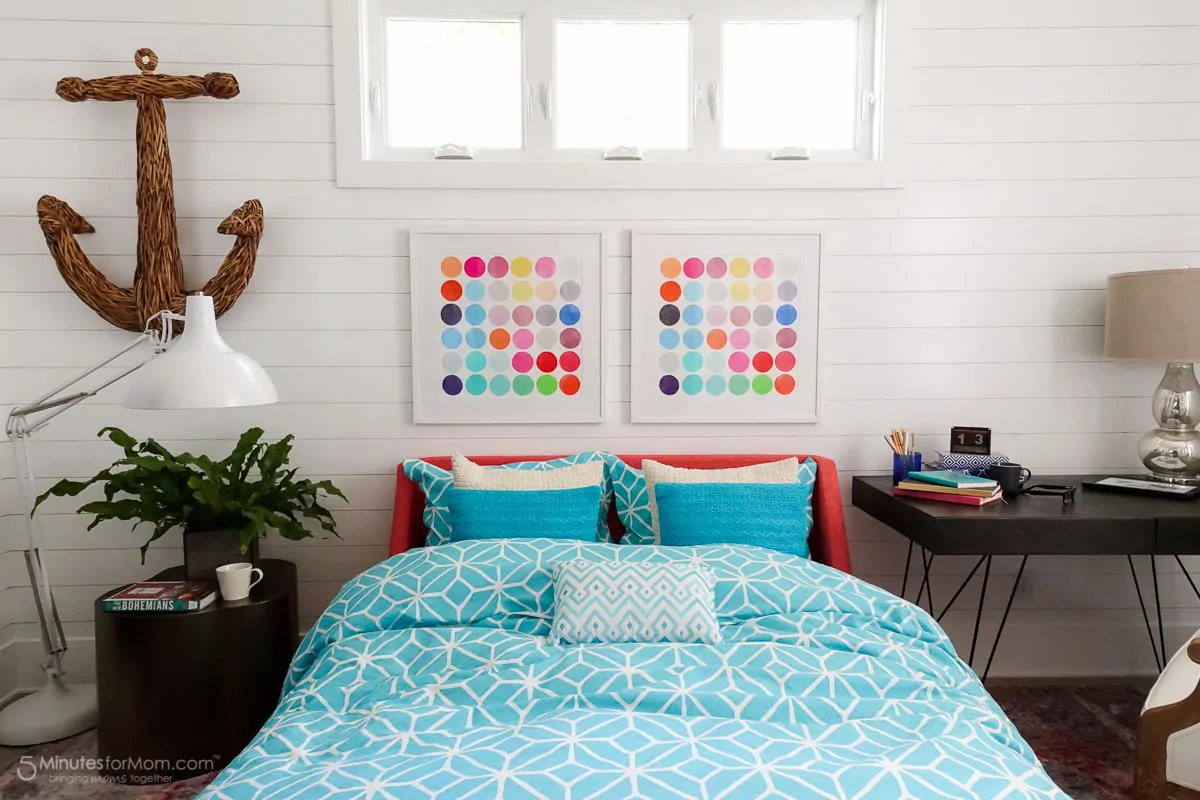 At first I thought the stack of books was an unstable pile only suitable for a staged home. But then I realized that they are actual bookshelves that are shockingly sturdy. How fun is that?!?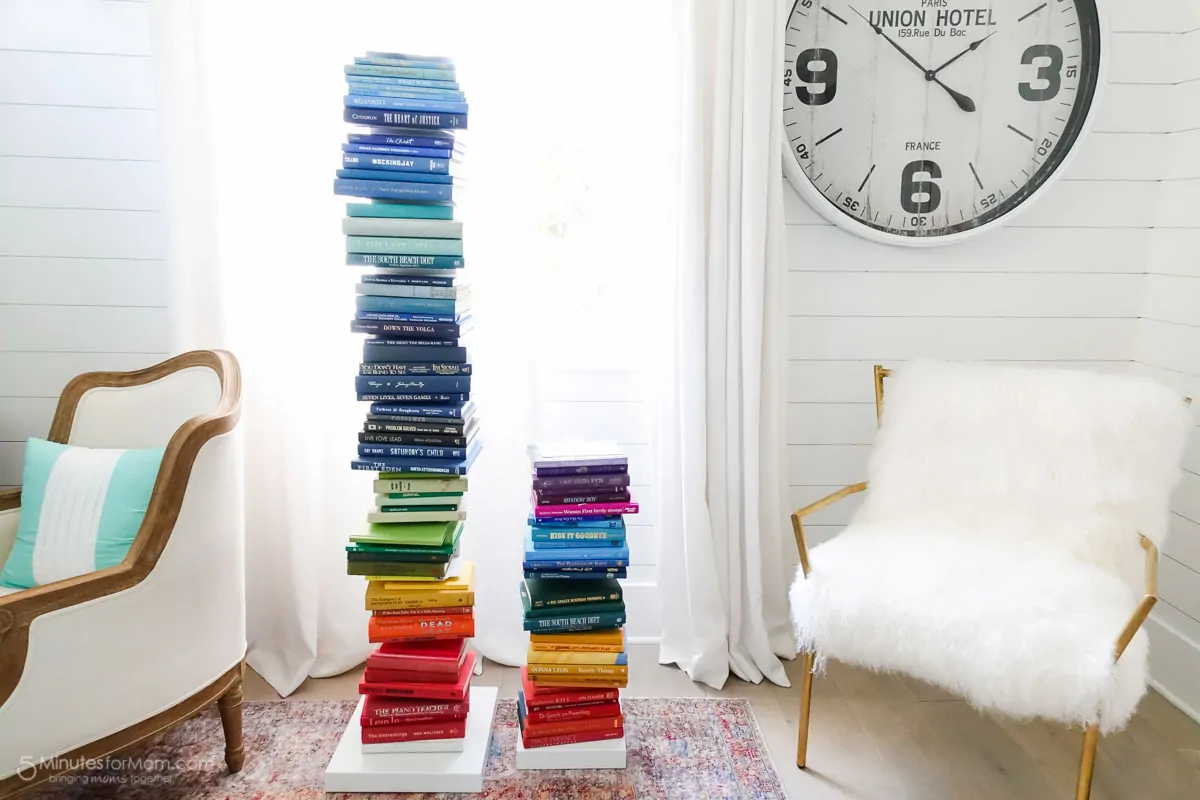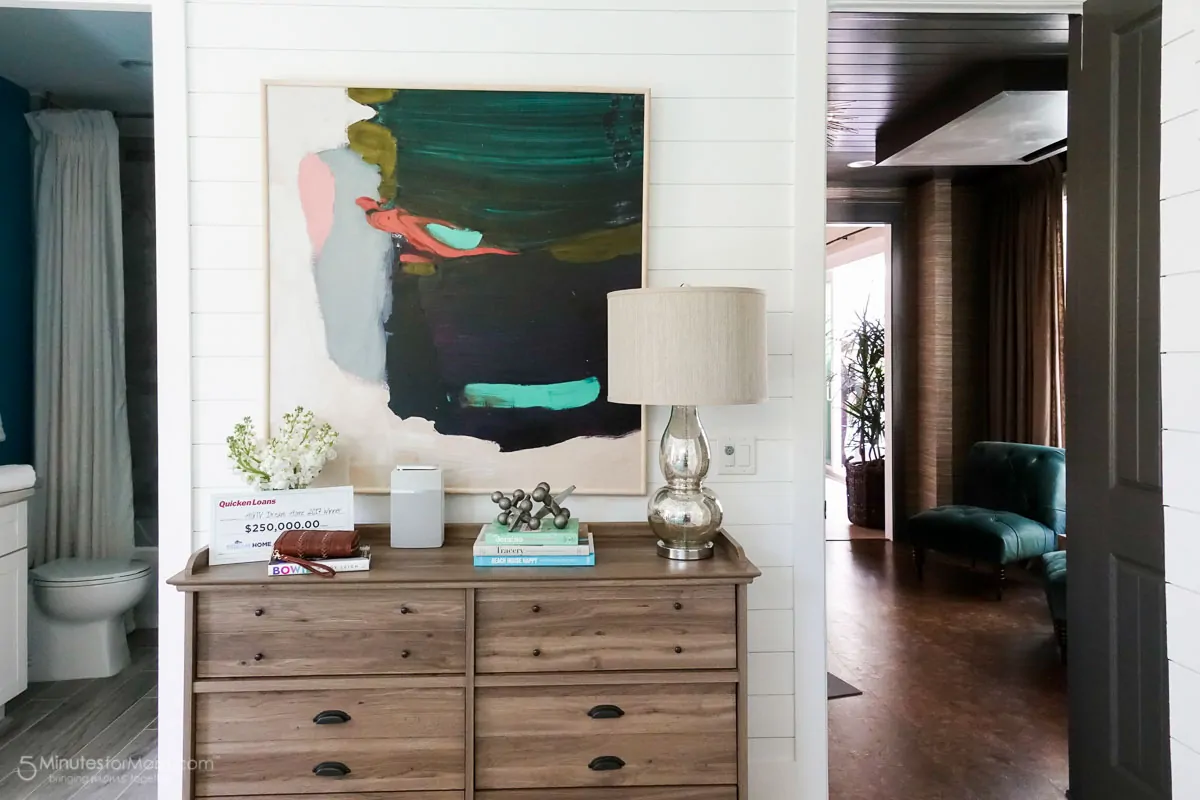 Finally, lets move into my favorite room of the house, the pool lounge, before we head outside.
This gorgeous room opens into the patio and backyard/pool area. It is about as fabulous as a room can get.
Brian has brought the bright blue southern sky inside, with blue walls and navy accent items.
The white curtains and trim help bounce all that gorgeous window light around the room to create a space so open and full of daylight, you almost feel like you are outside.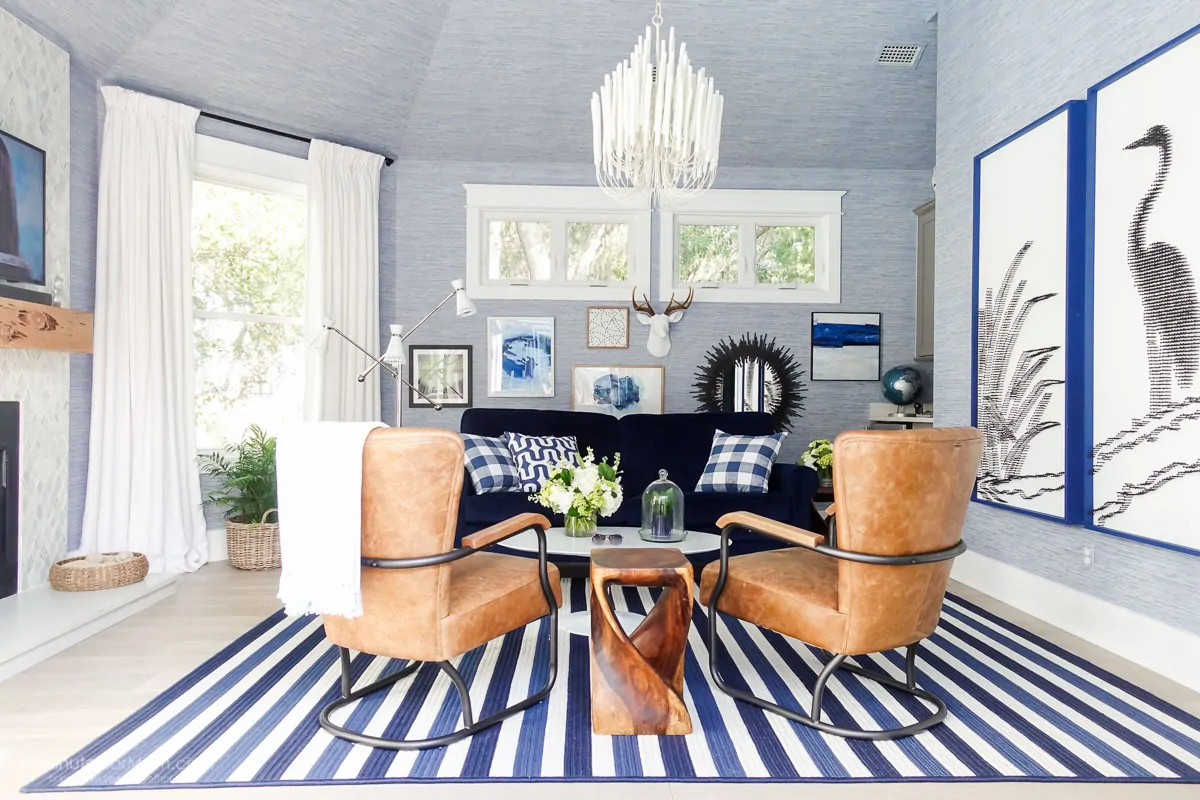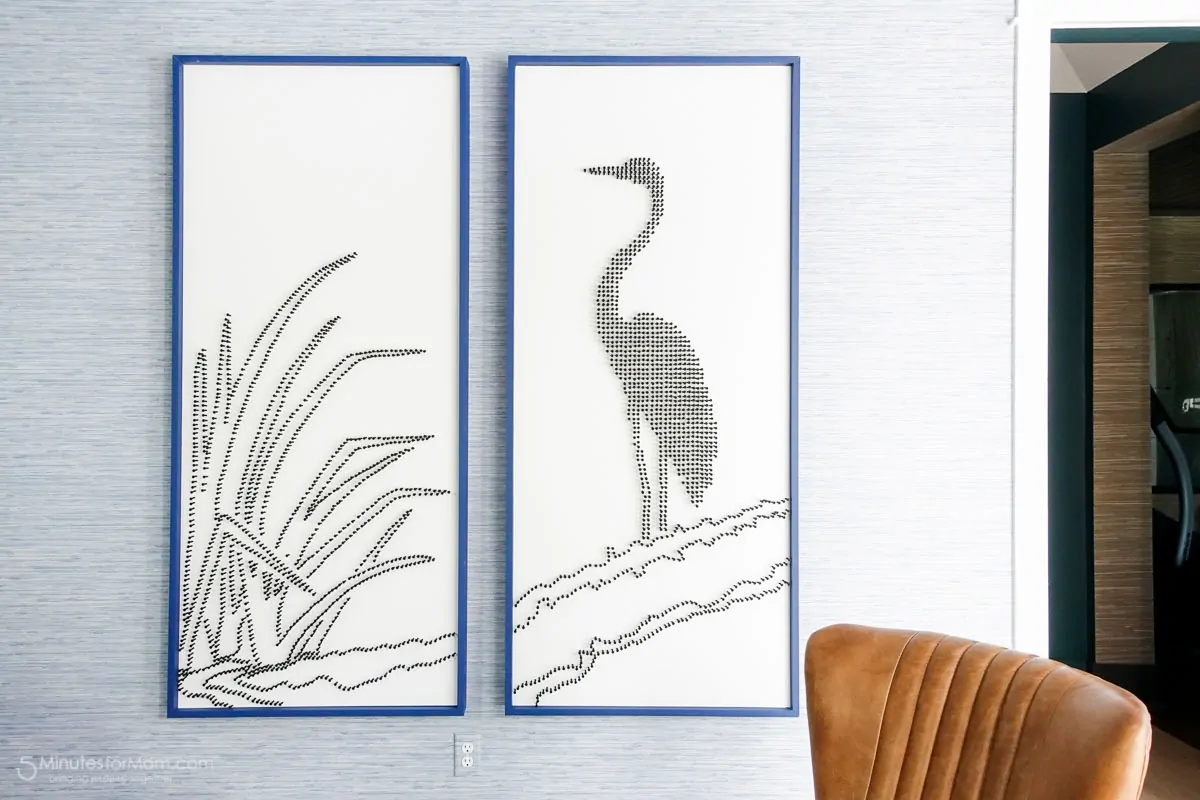 Brian's accent items for the win — again! I love these pieces. Fortunately, the HGTV Dream Home is sponsored by Wayfair.com and you can shop to bring your favorite pieces home to you.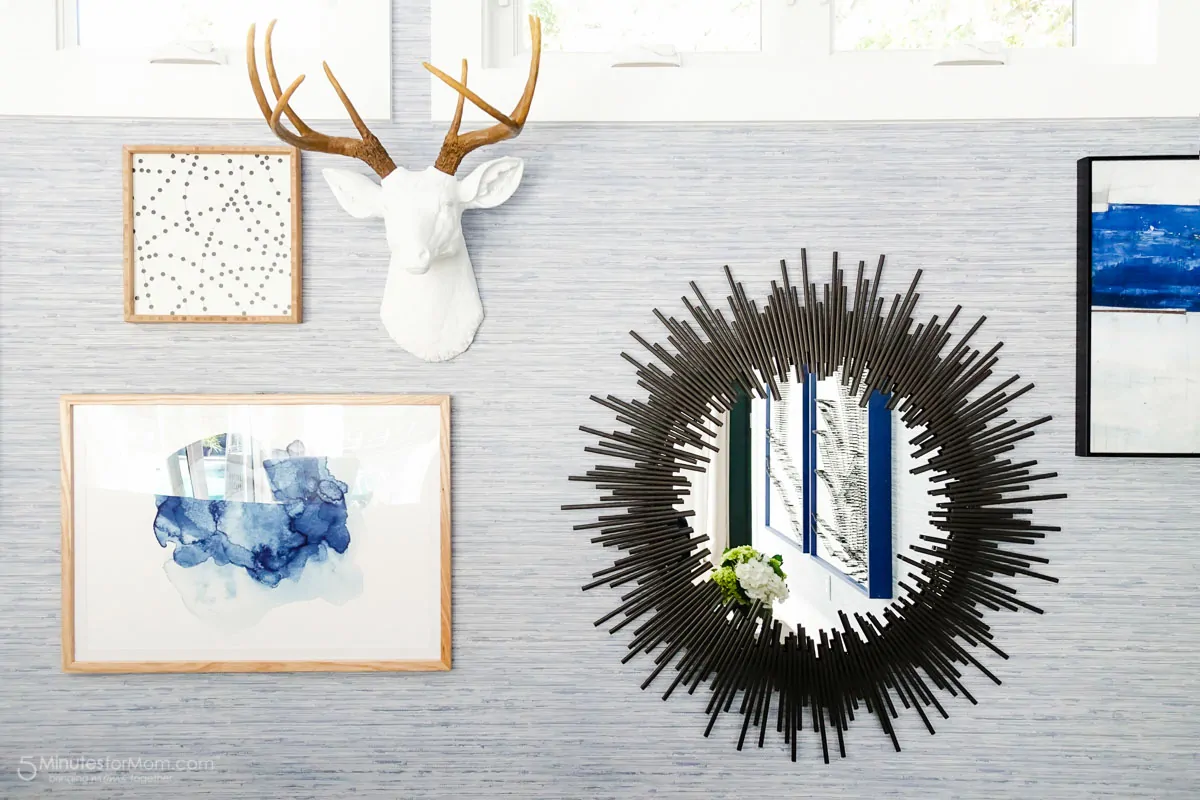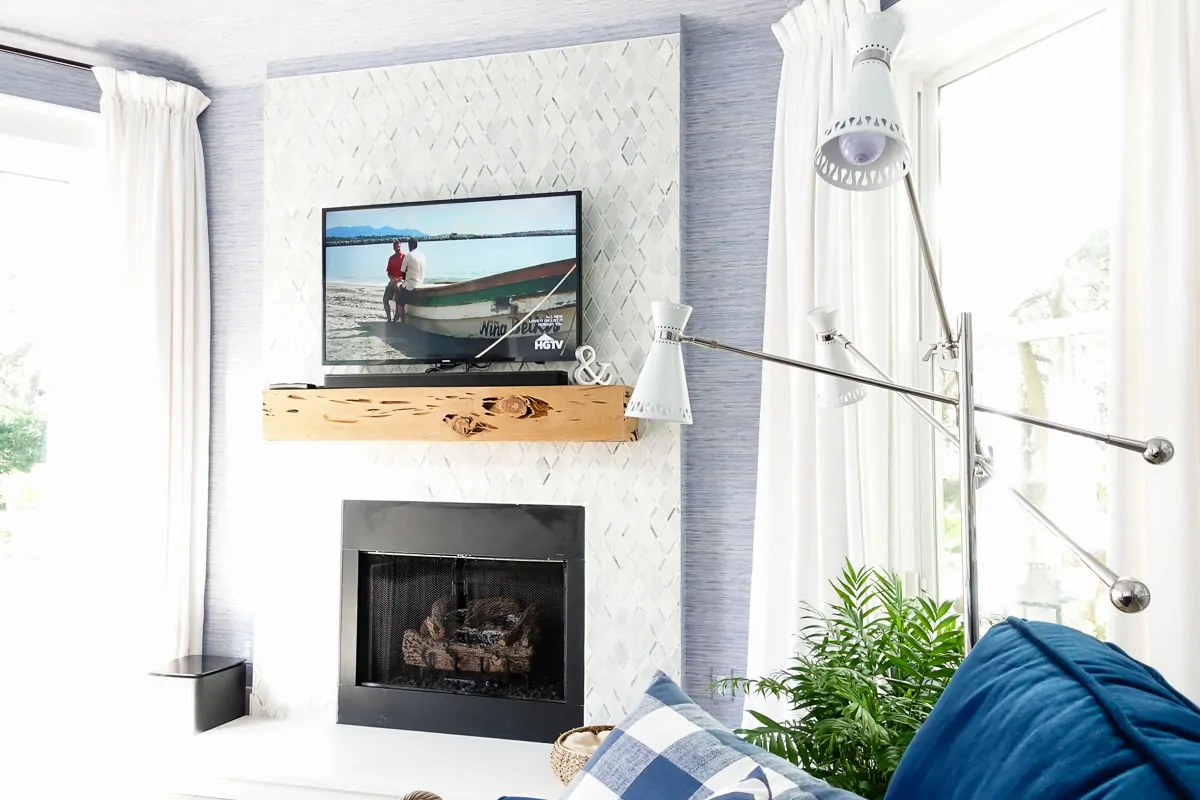 And now, let's step outside. Off of the outside dining area that connects to the pool lounge, is the fire pit that keeps you, your family and your guests warm on chilly evenings and sheltered with shade on hot afternoons.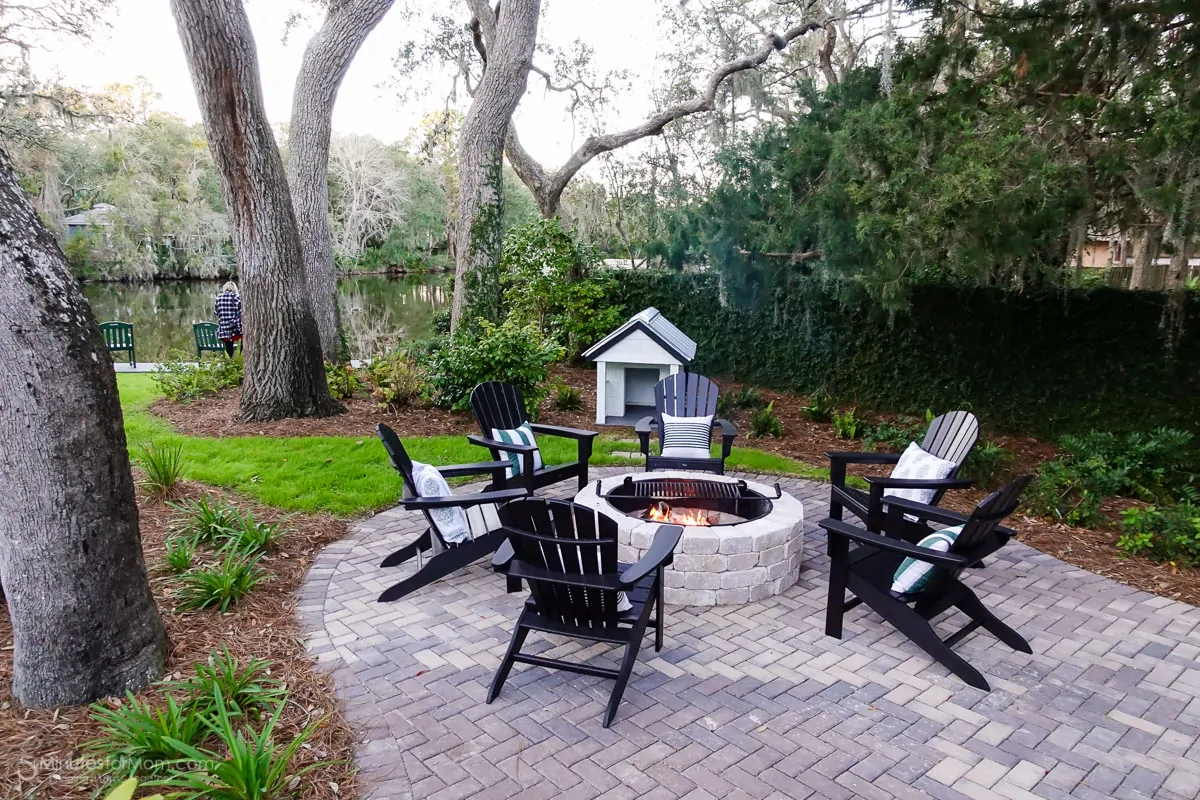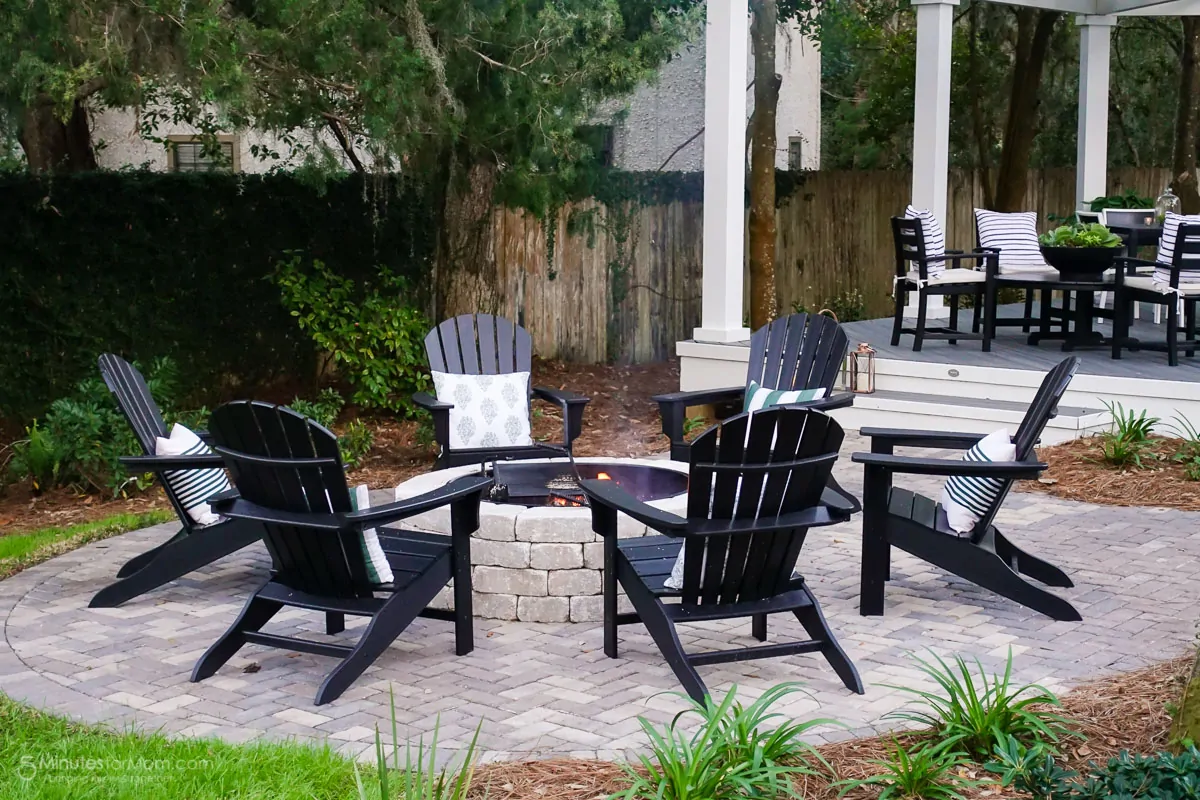 Chelsea from Someday I'll Learn used the shade to shoot some video of Brian…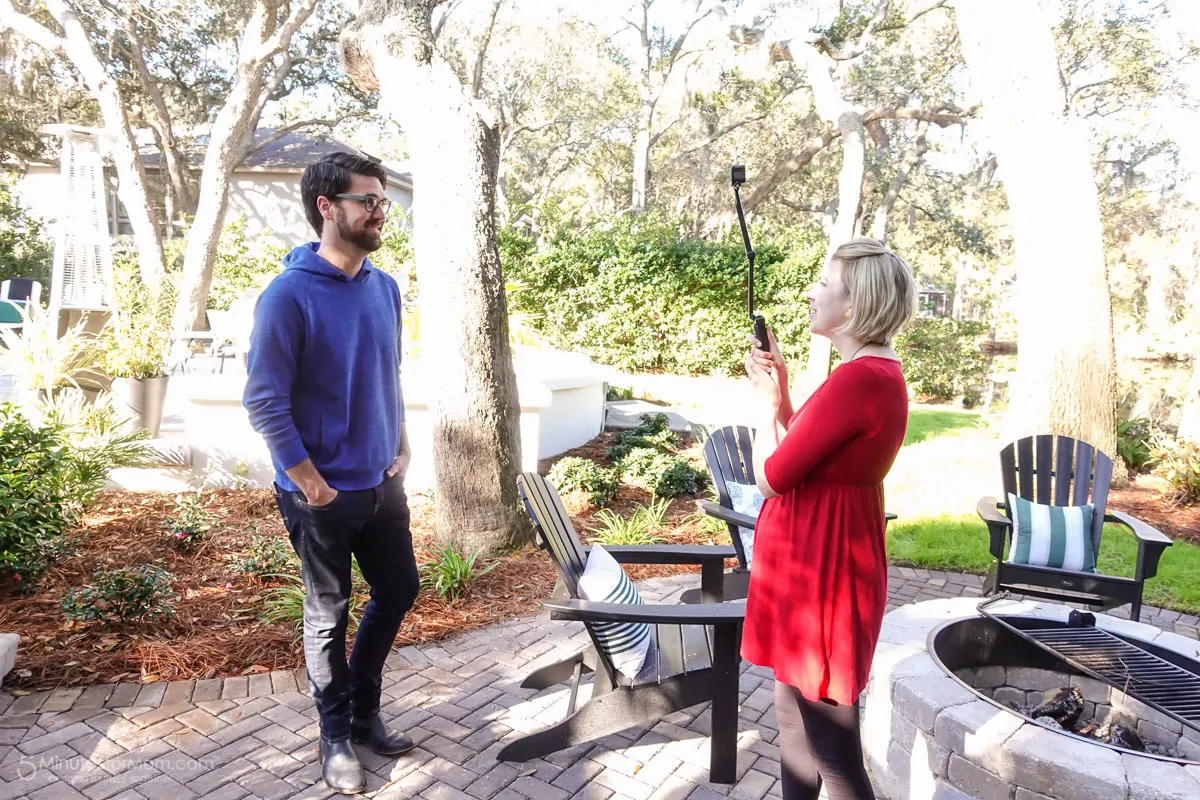 To get some perspective of the layout of the pool lounge, covered deck area and fire pit, here is a shot from the other side of the pool.
Since I am quickly shooting these photos while we all mingle around, please forgive the imperfect shots. These are real life, real time photos. I didn't have time for tripods and staging. So, in addition to bloggers walking about, you will also see the tables set up for our meals, etc.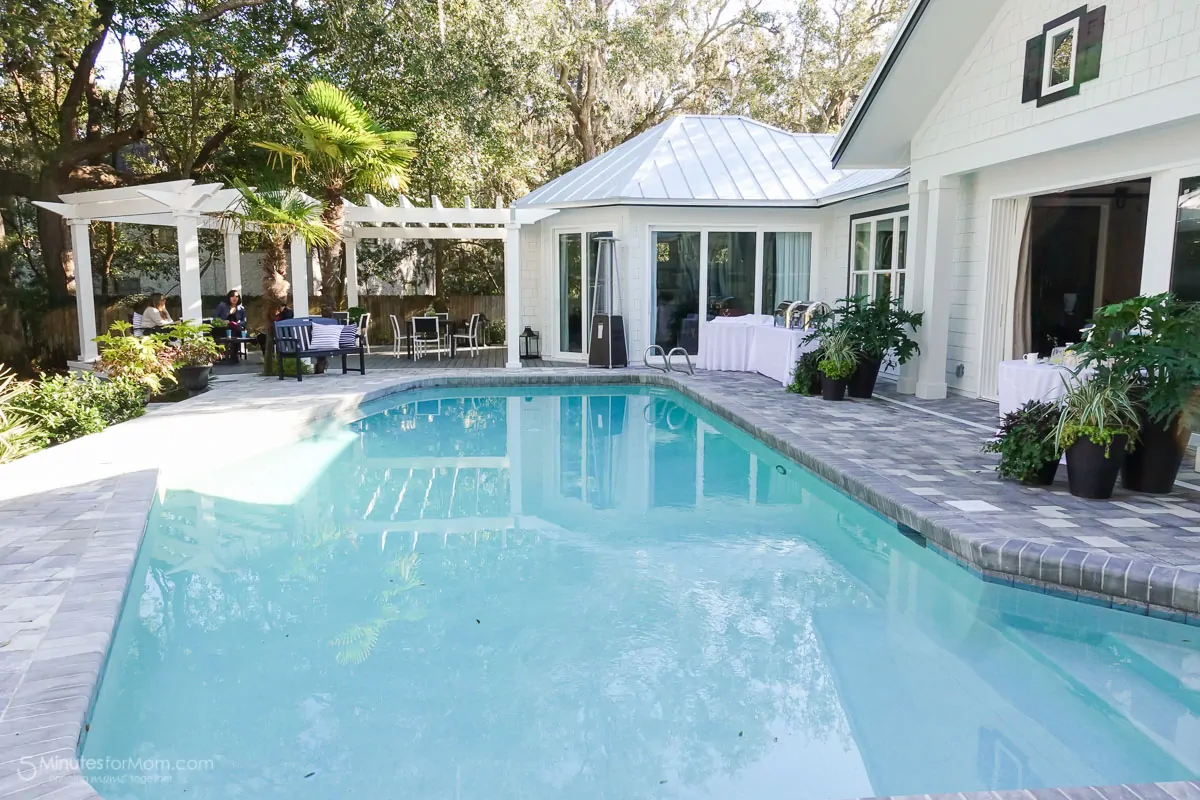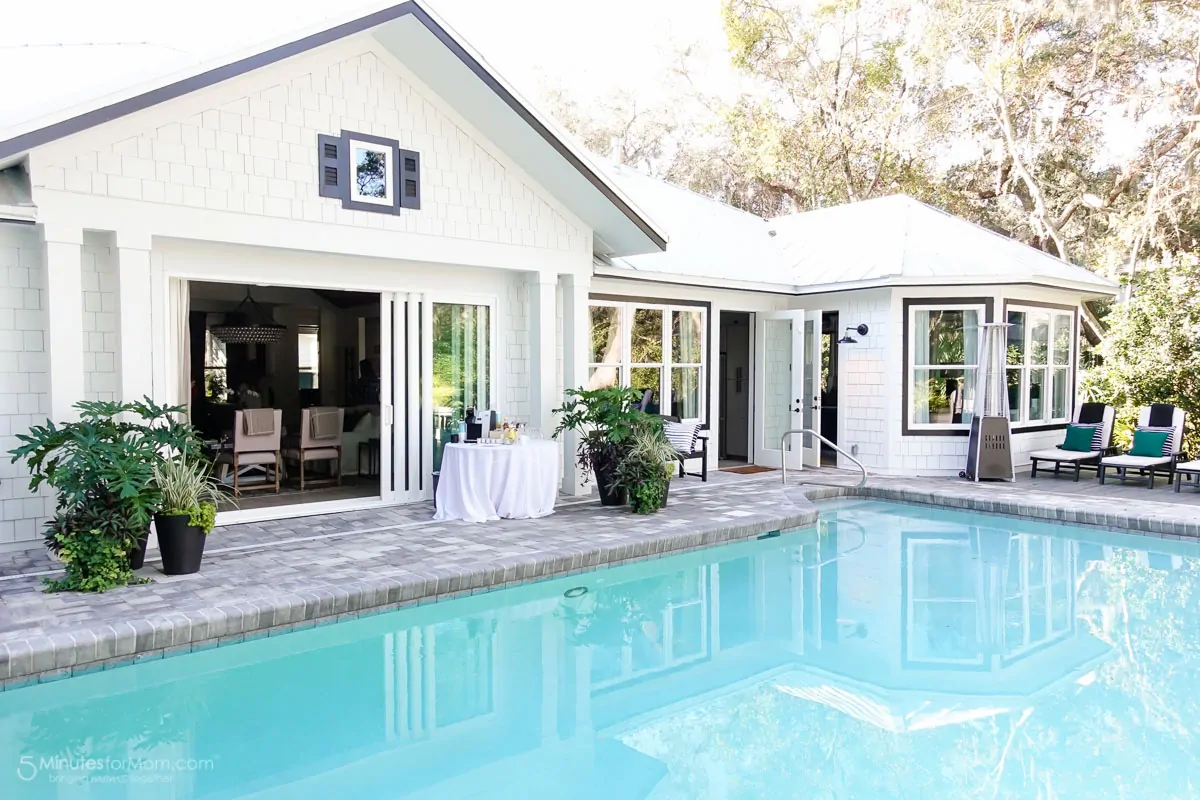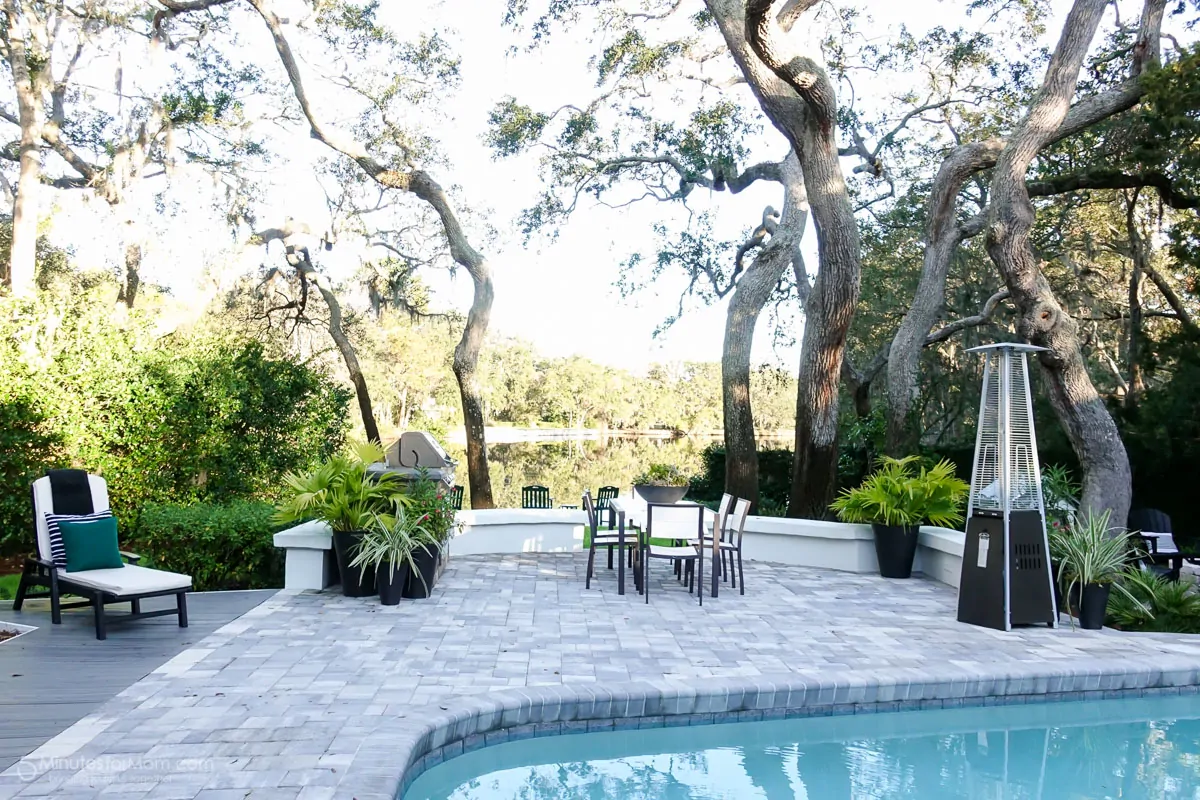 Isn't this view beyond dreamy?!? I want to spend every morning and every evening sitting on this dock, breathing in the perfect calm of this marsh lagoon.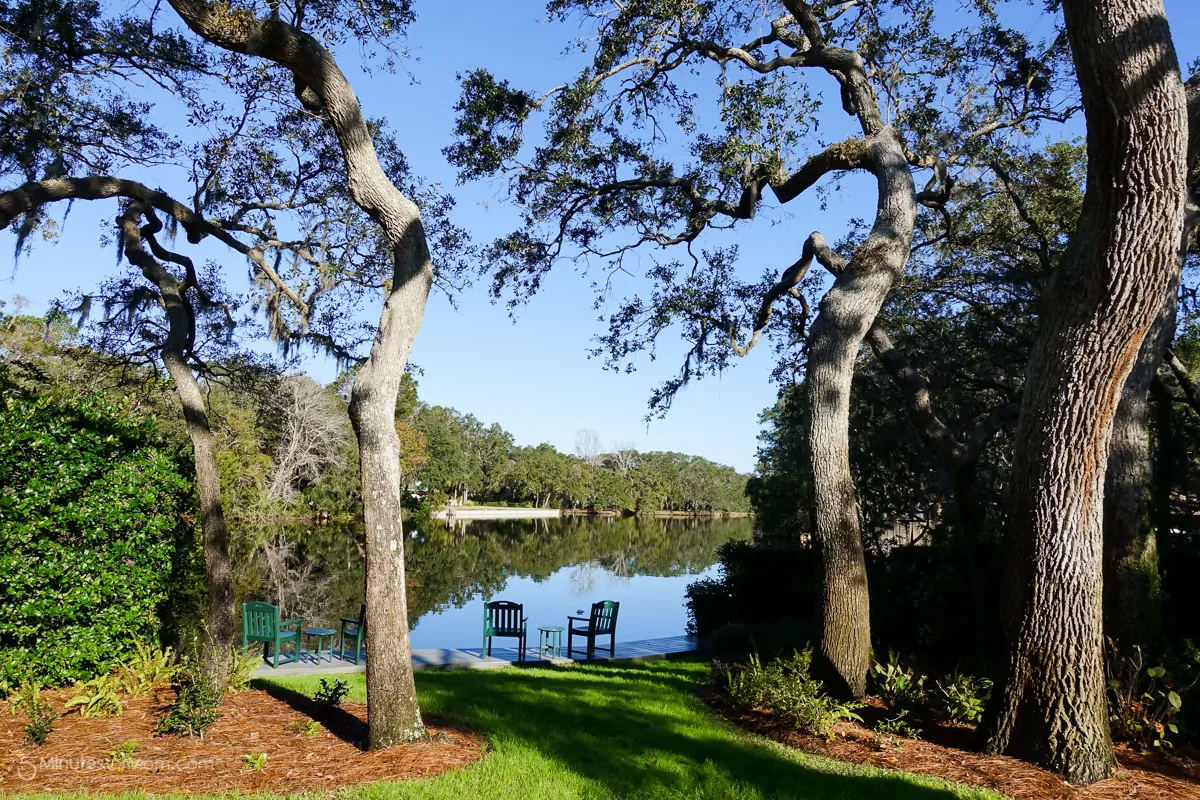 The sun is starting to set.
I hate that my time at the HGTV Dream Home has to end. If wishing could make something happen, this house would really be mine.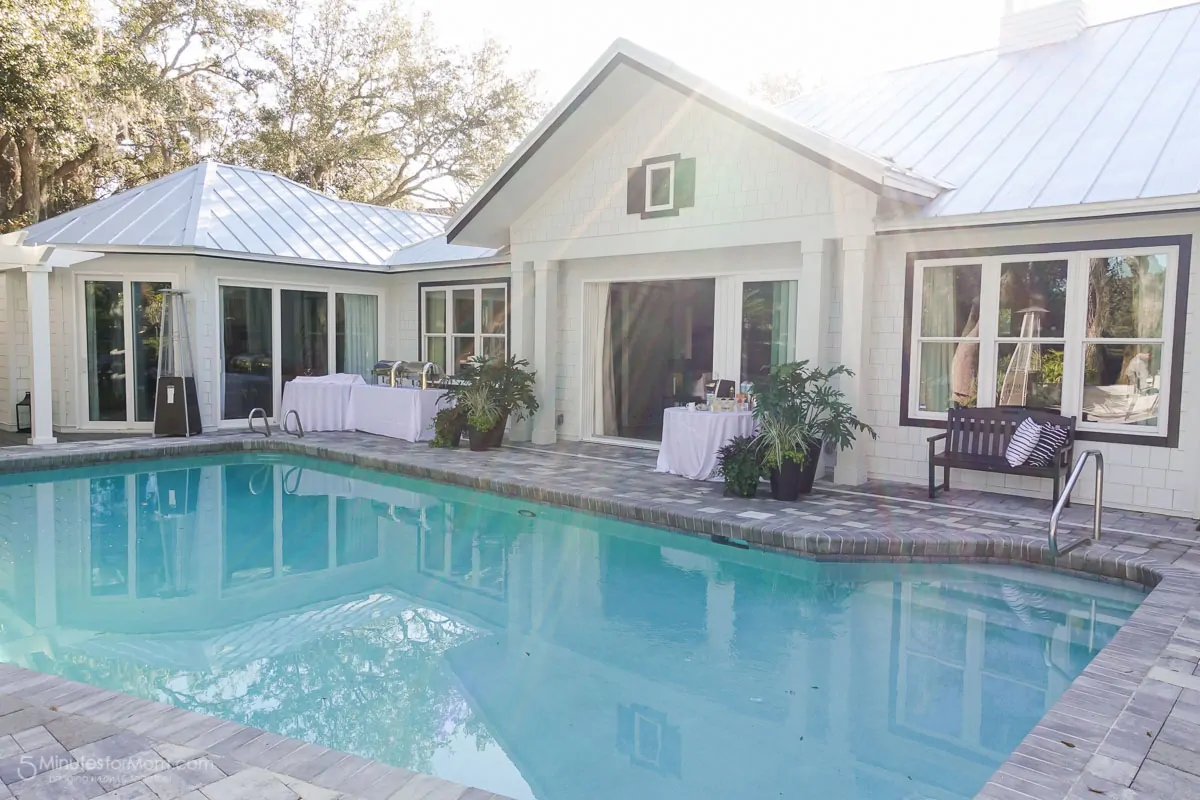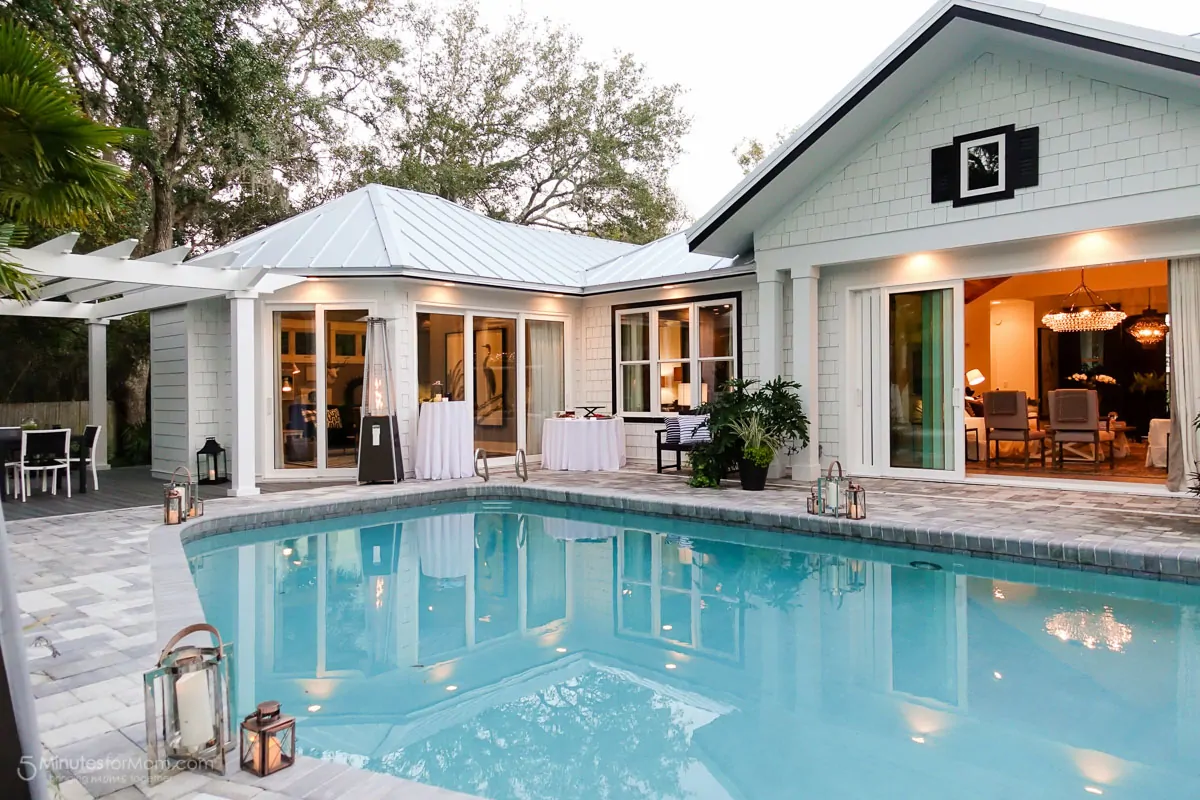 Okay, just one more shot to inspire each of us. Because I can guarantee, tonight I am dreaming about the HGTV Dream House…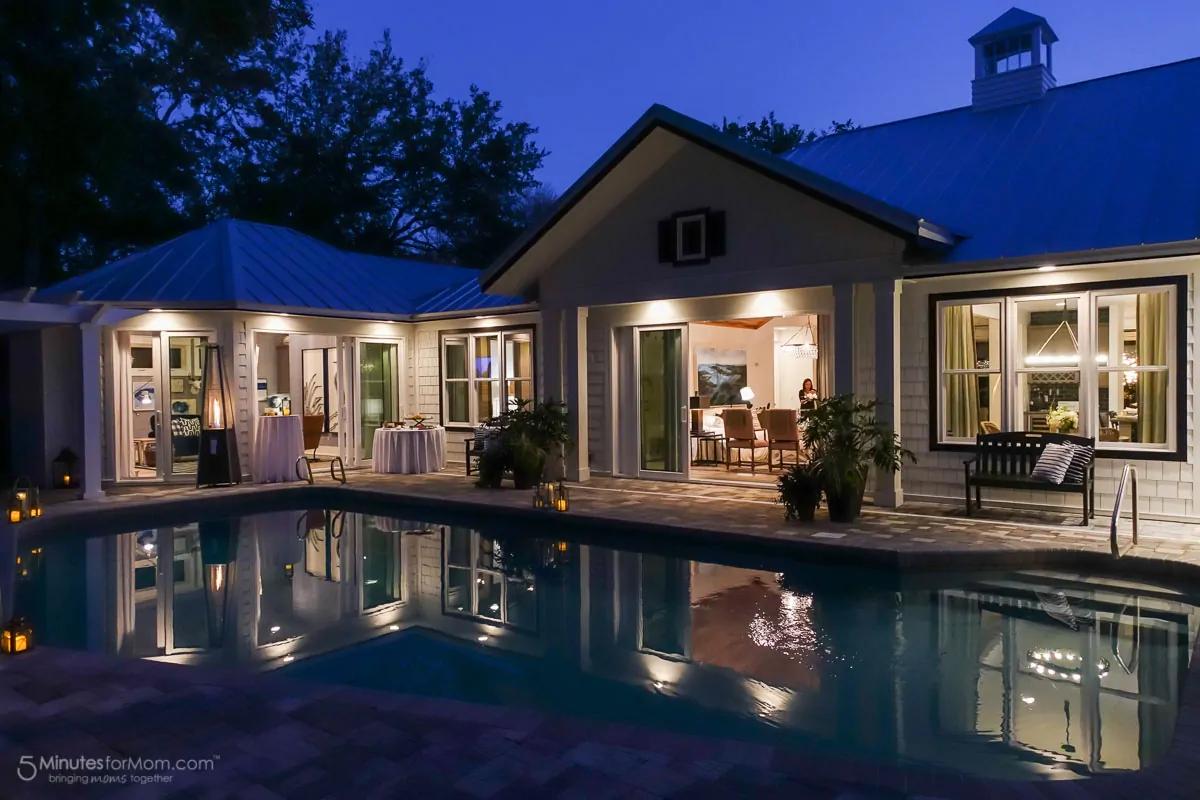 Read Part 1 of my trip — Welcome to St. Simons Island, Georgia
DON'T MISS IT — HAVE YOU ENTERED FOR YOUR CHANCE TO WIN!?!
The HGTV Dream Home 2017 grand prize package is valued at more than $1.7 million. And if that isn't amazing enough — in addition to the residence and all its furnishings, the grand prize package also includes a new Honda Pilot and $250,000 cash prize provided by national mortgage lender Quicken Loans®.
Hurry and enter — the HGTV Dream Home Giveaway® 2017 runs through Friday, February 17, 2017. Eligible individuals can enter twice per day — once via HGTV.com and once via DIYNetwork.com.
No purchase necessary. Open to legal residents of the U.S., age 21 or older. Void where prohibited. Sweepstakes ends at 5 p.m. ET on 2/17/17. Odds of winning depend on number of entries received. For full official rules, visit HGTV.comHGTVDreamHome or send a self-addressed stamped envelope to: "HGTV Dream Home Giveaway"- RR, P.O. Box 52915, Knoxville, TN 37950. Main Sponsor: Scripps Networks, LLC d/b/a Home and Garden Television.
More HGTV Dream Home Blog Posts
For more HGTV Dream Home insider photos and stories, visit the other bloggers on the trip:
Sandy, Reluctant Entertainer
Chelsea, Someday I'll Learn
Anita, Dessert First
Miryam, Eat Good 4 Life
Kristin, Dine and Dish
Brenda, A Farmgirl's Dabbles
Dorothy, Crazy for Crust
Jessica, Womanista
Jeana, Surf and Sunshine
Also, make sure to follow:
HGTV designer Brian Patrick Flynn
HGTV ambassador Bri Emery of DesignLoveFest
And, of course, don't forget to follow HGTV on Twitter, Facebook and Instagram and follow along with #HGTVdreamhome
Pin it for Later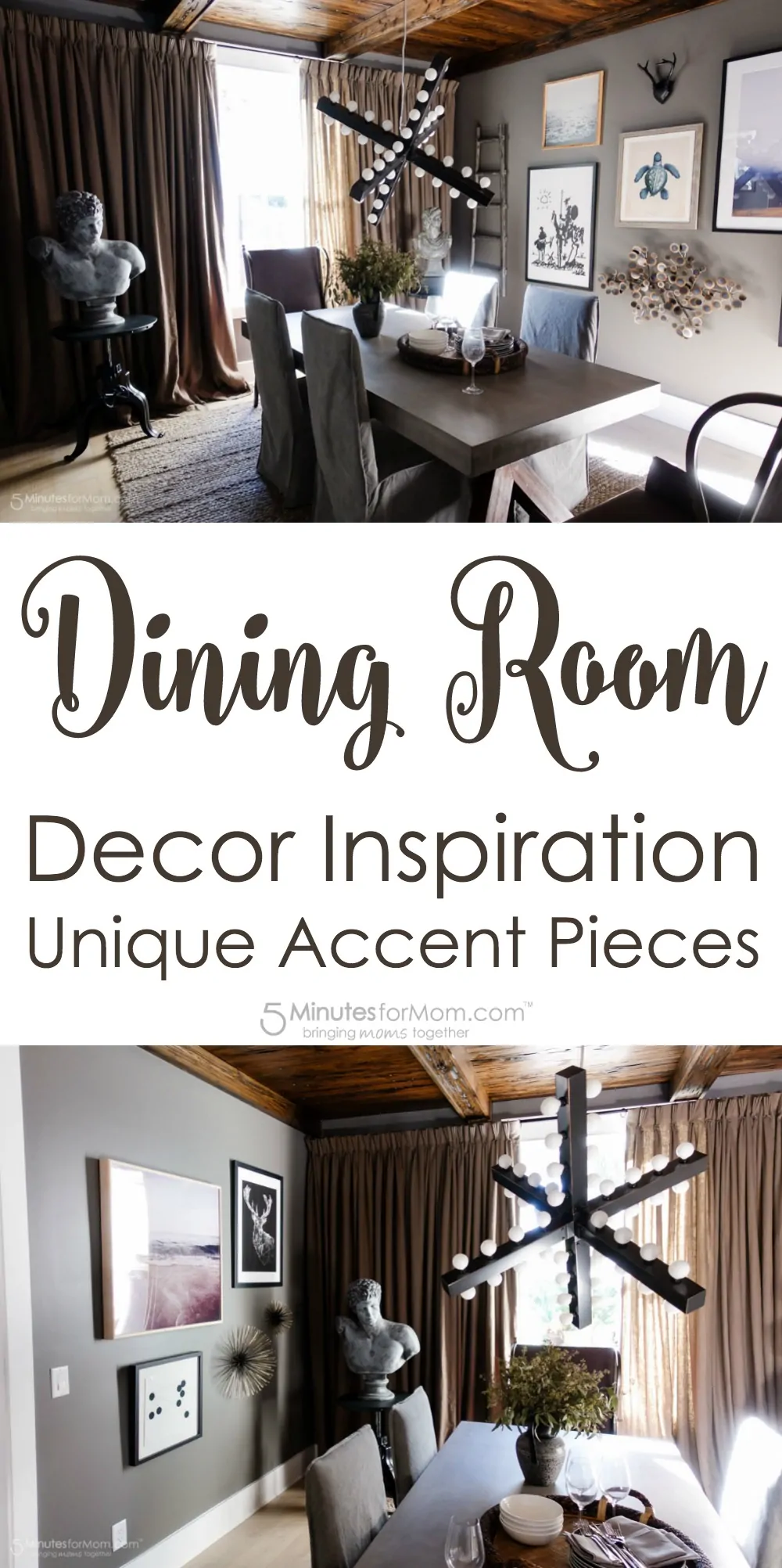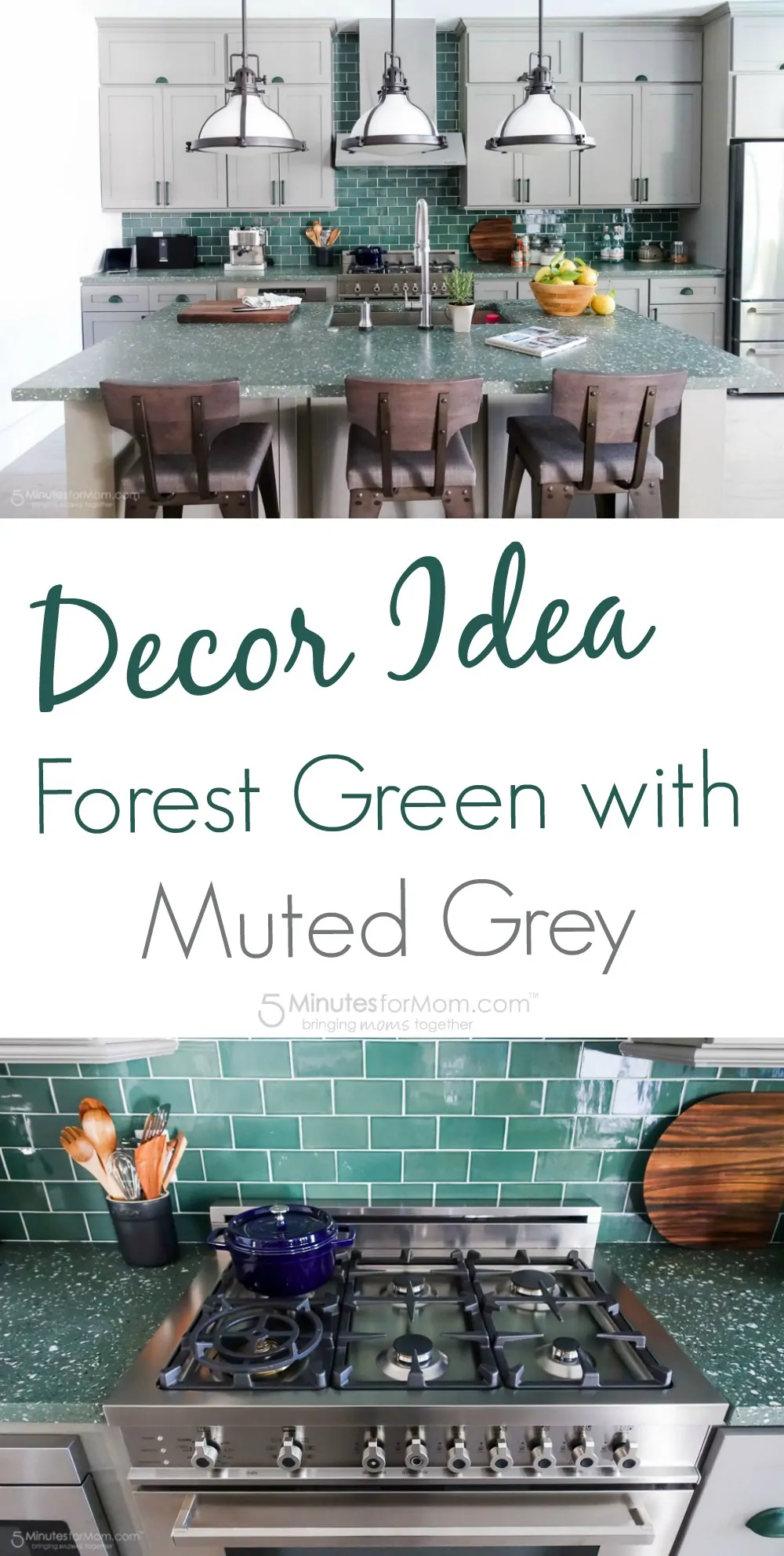 This post is sponsored by Scripps Networks, LLC. Travel and accommodations were paid for by Scripps Networks Interactive. All opinions are always 100% my own.
Written and photographed by Janice Croze, co-founder of 5 Minutes for Mom and owner of Janice Croze Photography
Talk with me: @5minutesformom and Facebook.com/5minutesformom
Pin with me at pinterest.com/5minutesformom