This post may contain affiliate links. Read my disclosure policy here.
These breakfast tacos are quick and easy, delicious, and loaded with protein!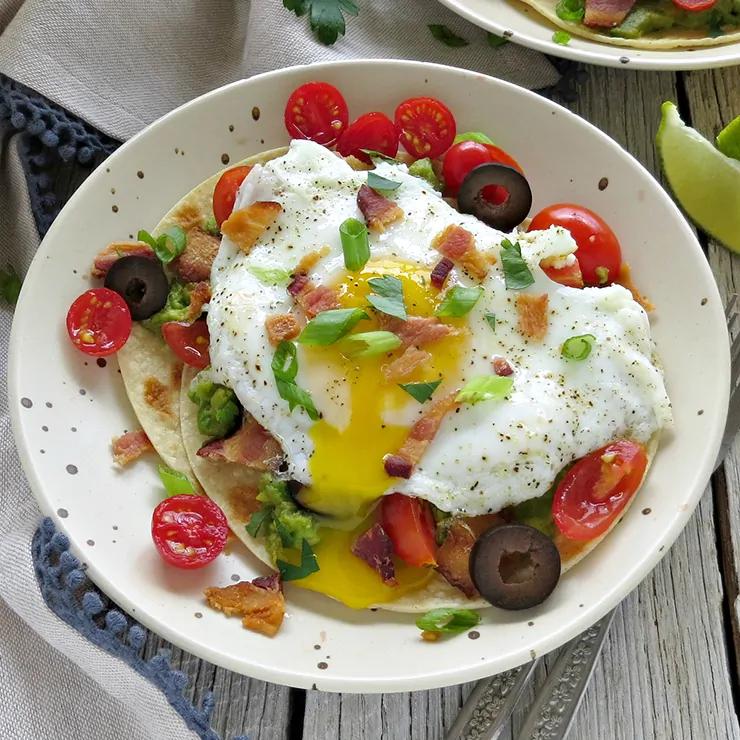 We like to use two tortillas per taco, but you could also make four smaller tacos. Just divide up all the ingredients among the four tortillas, and cook four eggs instead of two.
You'll be surprised how filling just one is. The protein from the avocado, egg, and bacon will satisfy you and give you the energy you need to start your day. And the corn tortillas keep these completely gluten-free!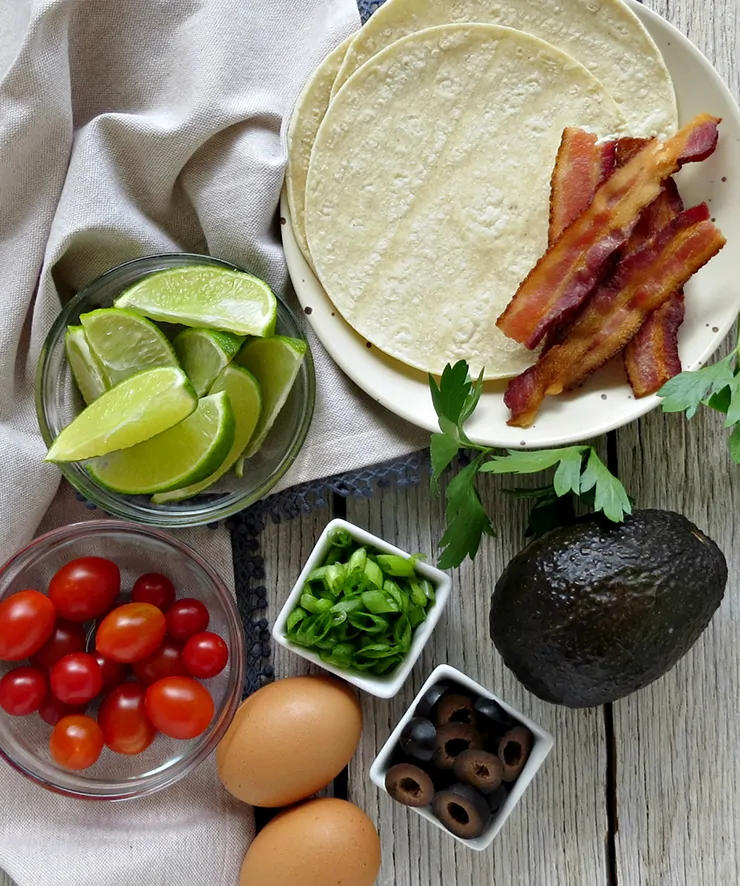 The fresh tomatoes and green onions add a pop of freshness that really make the dish!
Some yummy additions would be sausage instead of bacon, finely sliced red onions, fresh cilantro, or a few black beans for added protein.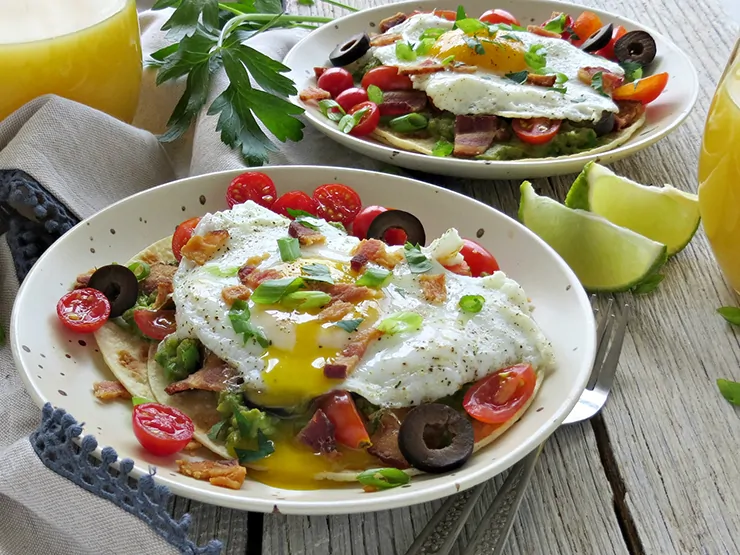 To warm the tortillas, you can use the oven or the stove. For the broiler method, preheat the oven to broil, and place the tortillas directly on the rack. Cook for 30 – 60 seconds per side, or until lightly browned. To cook them on top of the stove, place a large skillet over medium-high heat and lay the tortillas in a dry pan. Cook them on each side until they are warmed through and lightly browned. Note: If you get them too brown, they will be crisp and not pliable, so be sure to watch them closely.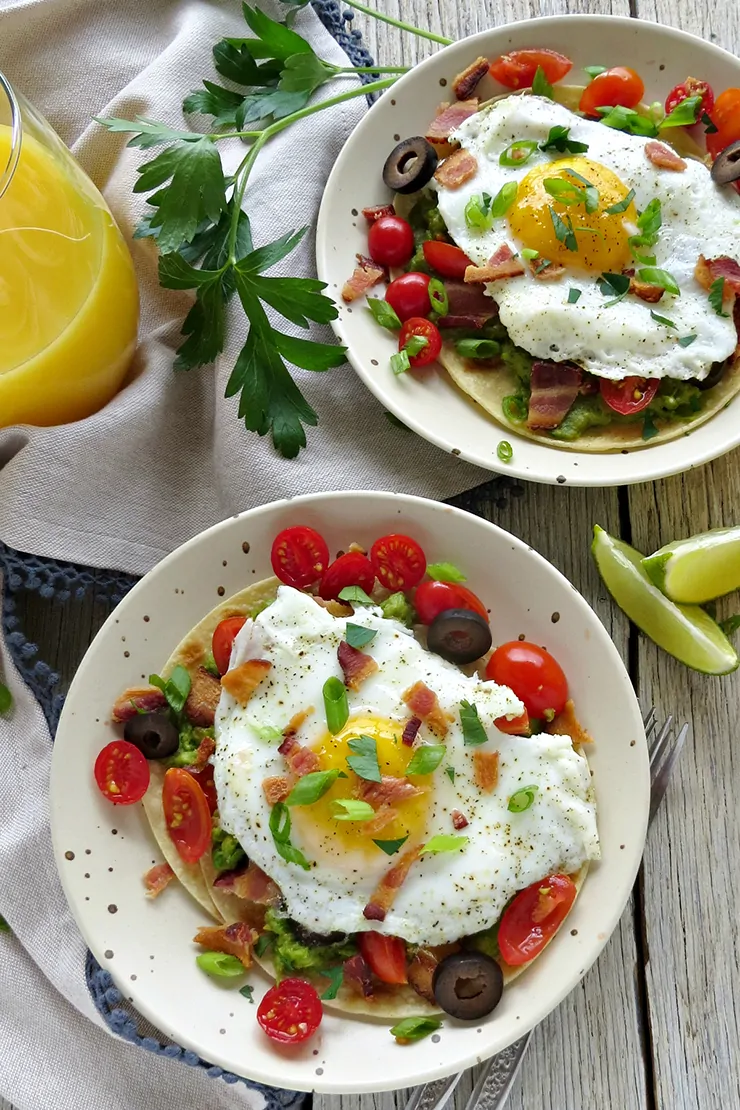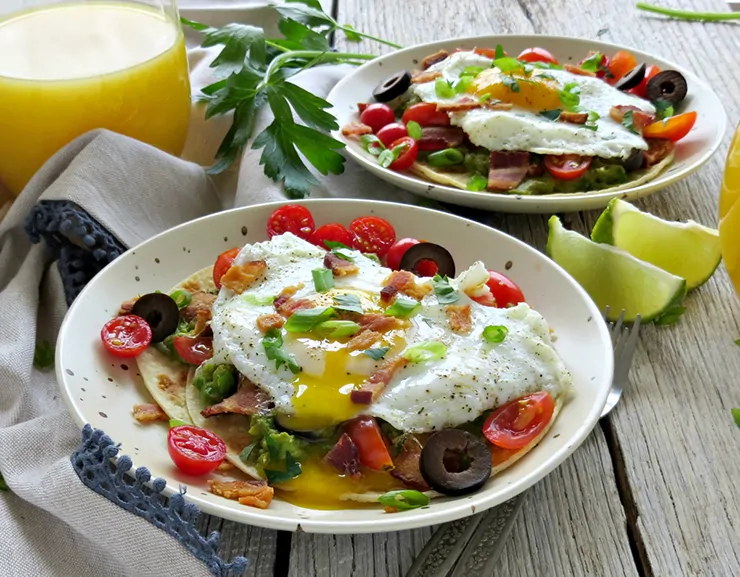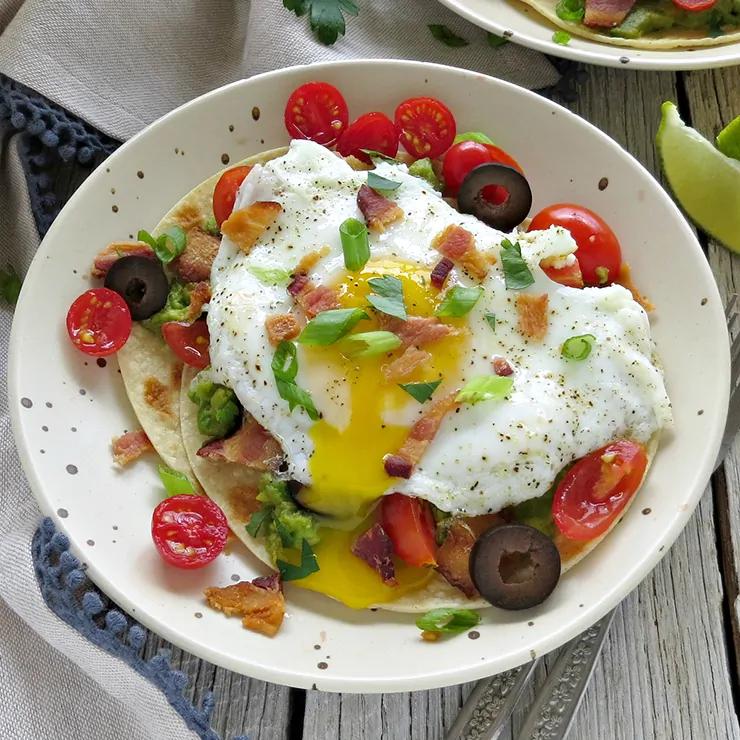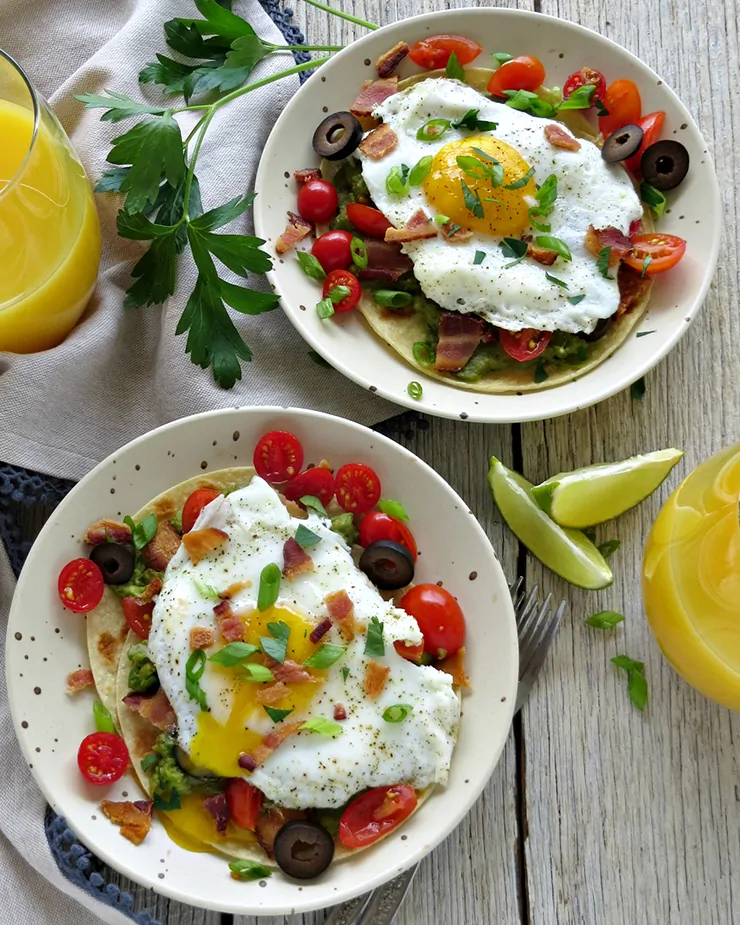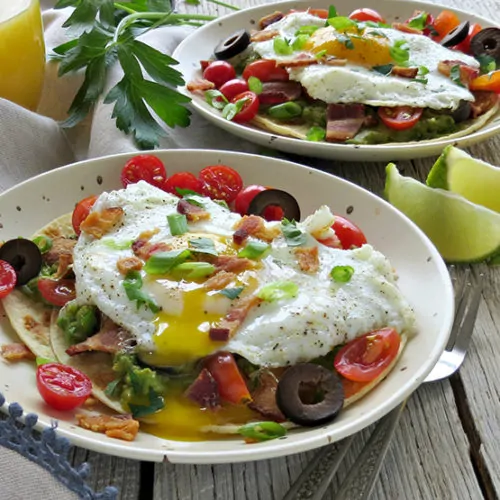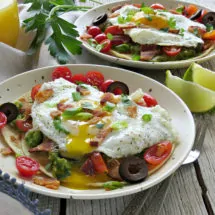 Avocado and Bacon Breakfast Tacos
These breakfast tacos are quick and easy delicious and loaded with protein!
Print
Pin
Rate
Ingredients
4 small corn tortillas appx. 6" wide
2 slices thick-cut bacon cooked
2 large eggs
1 small avocado
8 cherry tomatoes sliced
8 black olives sliced
2 green onions sliced
1 teaspoon fresh lime juice
Freshly chopped Italian parsley optional
Pinch of salt and pepper
Instructions
First, lightly toast your tortillas. You can do this in a dry skillet on the stove or under the broiler. See notes below for details.

Cut the avocado in half, remove the pit, and scoop the flesh into a bowl. Using a fork, lightly mash the avocado with the lime juice. Taste and add a pinch of salt and pepper, if desired.

Once the tortillas have cooled, stack one on top of the other, slightly overlapping them to make two tacos.

Spread the avocado mixture evenly over both tacos.

Sprinkle the crumbled bacon, sliced olives, and tomatoes on top of the avocado.

The last step is to cook the egg. We like ours over-medium for this recipe, but you can do over-easy, poached, or even scrambled.

To serve the tacos, place a cooked egg on top of each one, and sprinkle with green onions and Italian parsley, if desired.
Pin for later!
Pinning & sharing is SO appreciated!