This post may contain affiliate links. Read my disclosure policy here.
This gluten-free rice bowl is packed with flavor, texture, and nutrition. We love starting our day with it as a breakfast bowl, but it's wonderful at any time of day… brunch, lunch, or dinner.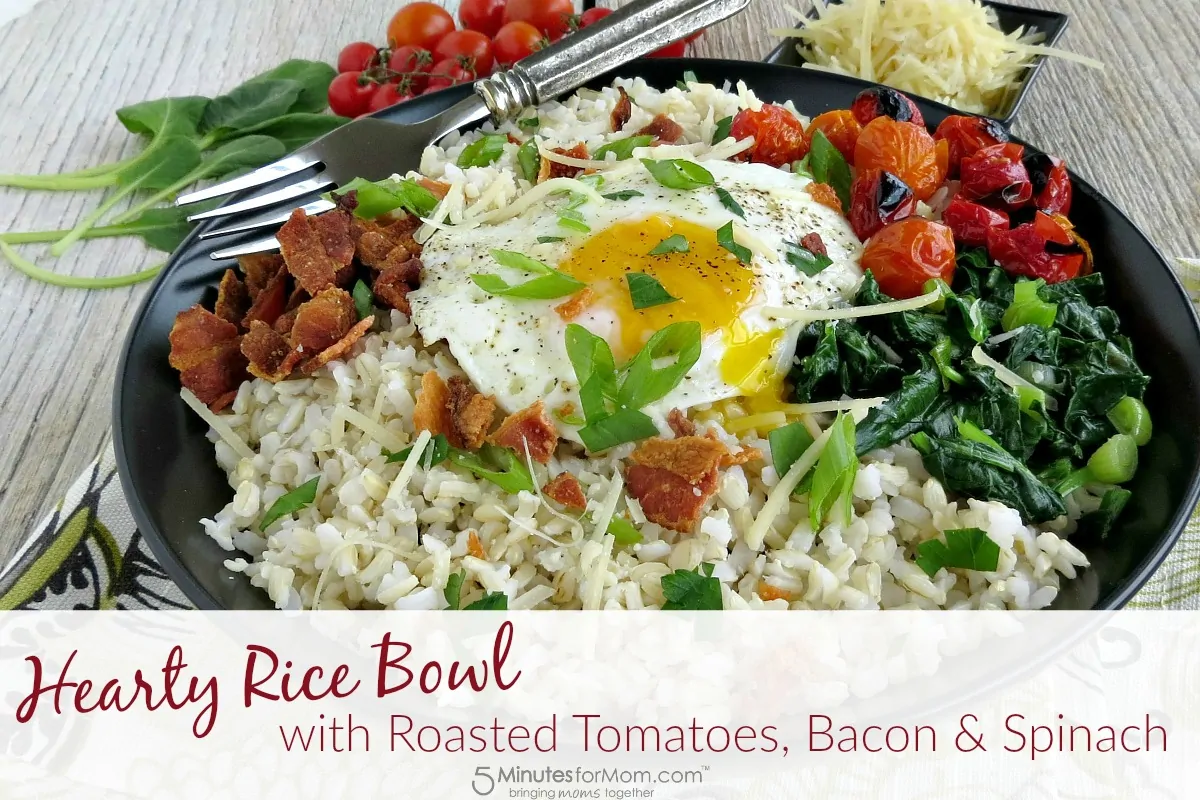 You can feel especially good about starting your day with this meal as a breakfast bowl because it's full of vitamins and minerals. The bacon is crunchy and salty, the tomatoes are sweet, smoky, and juicy, and the spinach is loaded with nutrition. A light sprinkling of green onions, fresh parsley, and Parmesan are the perfect finishing touch.

We start with already cooked brown rice, but you could use instant brown rice or any kind of rice you like. We like to cook our rice in vegetable broth to give it a little extra flavor, but that is optional. Just cook whatever rice you use according to the directions on the package.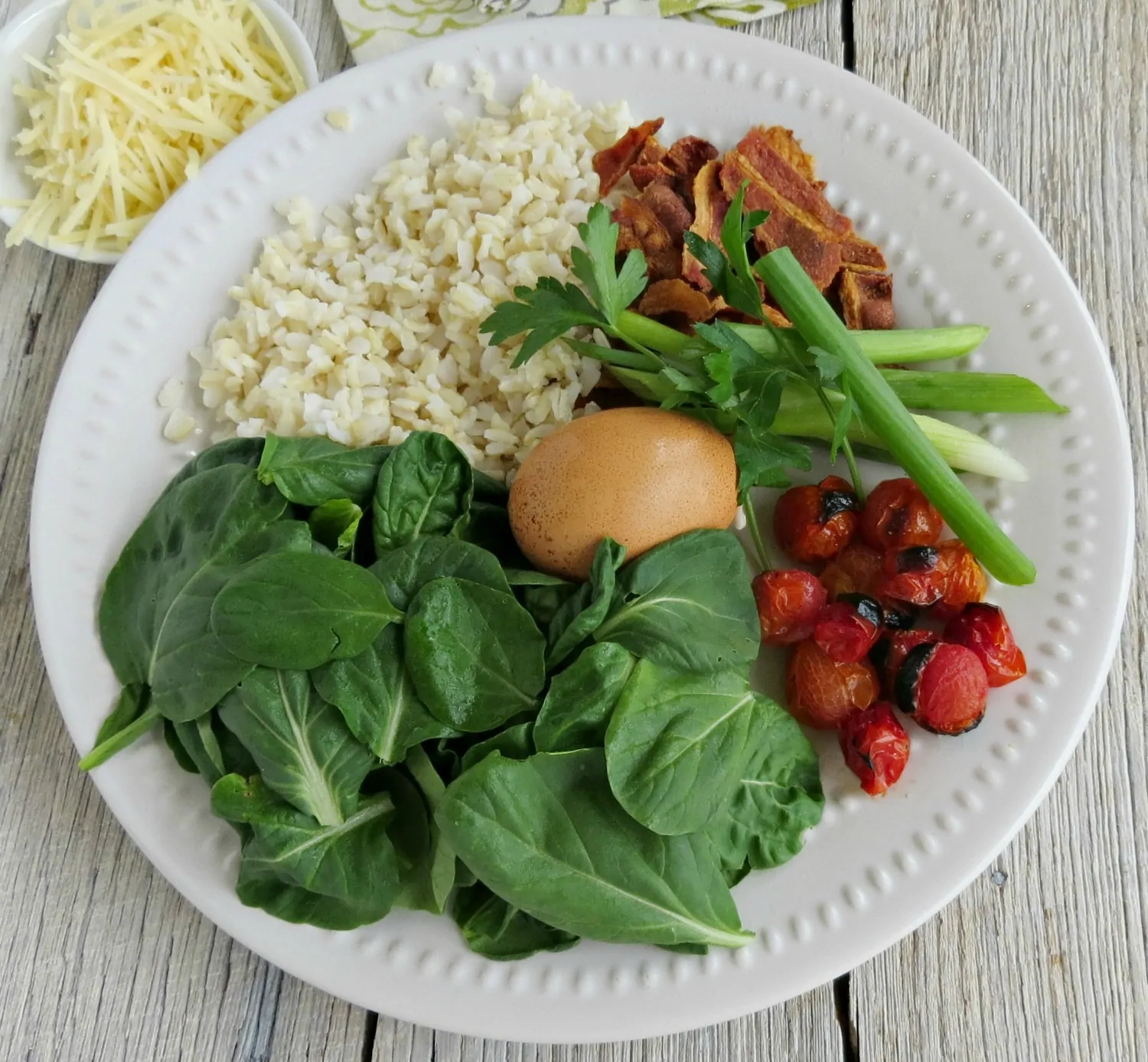 We like to roast our tomatoes, but that is completely optional too. That said, we encourage you to try it. Roasting them makes them even more delicious and adds another layer of flavor. Plus, it only takes a few minutes under the broiler.
You can swap out the spinach for any kind of green you want, or leave it off altogether. You can use sausage instead of bacon, a different kind of cheese, or whatever else sounds good. Breakfast bowls are totally customizable, which is one of the reasons why we love them.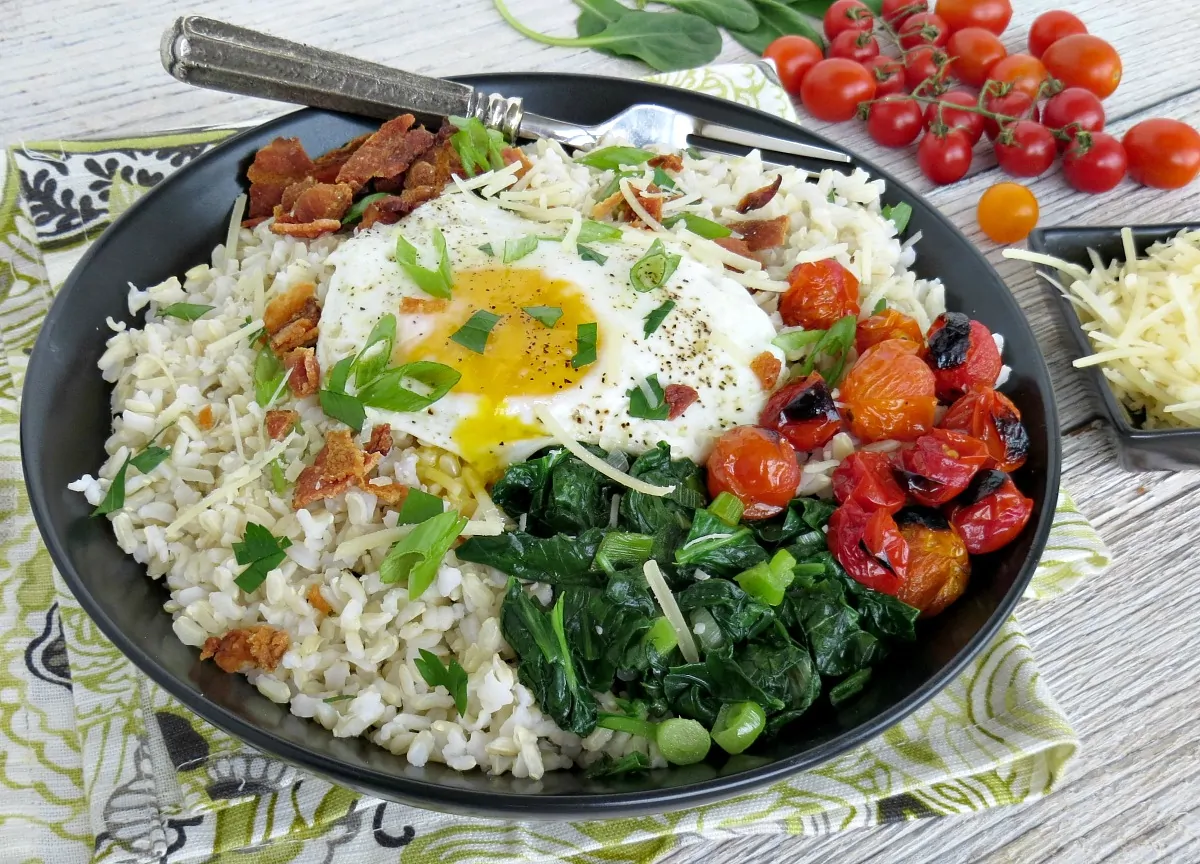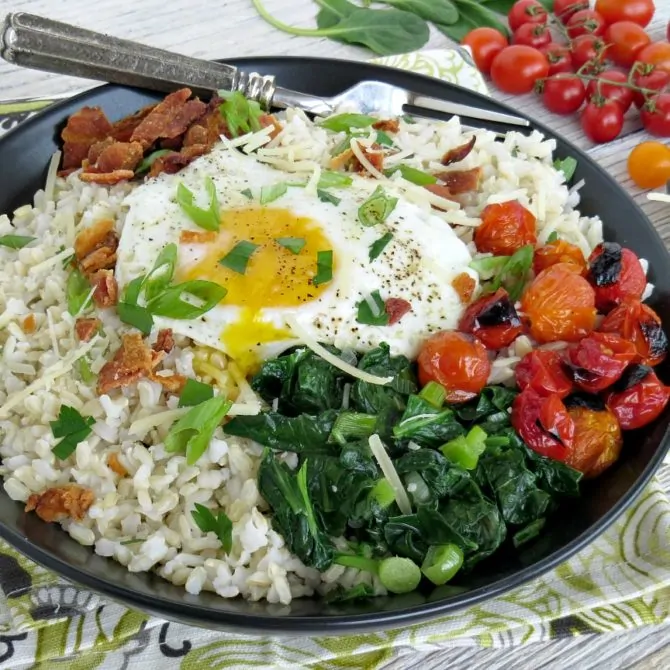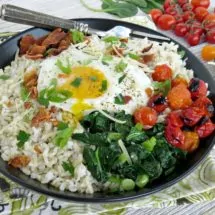 Hearty Rice Bowl with Roasted Tomatoes, Bacon & Spinach
This rice bowl is packed with flavor, texture, and nutrition. It's perfect for breakfast, lunch, or dinner.
Print
Pin
Rate
Ingredients
3/4 cup cooked brown rice
10 cherry or grape tomatoes
1 cup baby spinach leaves packed
1 green onion sliced
2 strips bacon cooked and crumbled
2 teaspoons olive oil divided
1 large egg
1 tablespoon Parmesan cheese
1 tablespoon chopped Italian parsley optional
Pinch of salt and pepper
Instructions
Preheat your oven to broil.

Pour the rice into a medium size bowl, and spread it out.

In a small bowl, toss the tomatoes in one teaspoon of the olive oil and a pinch of salt and pepper.

Line a small baking sheet with crumpled up foil, which helps the tomatoes not roll around.

Pour the tomatoes on top of the foil, and place the pan under the broiler.

Cook for 4-5 minutes or until the tomatoes are lightly charred. Be sure to rotate the pan every 60 seconds or so.

Remove the pan from the oven and set aside.

Add another teaspoon of olive oil to a small skillet over medium-high heat.

Add most of the green onion, reserving some for the top.

Saute the green onion for about 60 seconds, add the spinach, and cook until just wilted, which will only take about 60 seconds. Season with a pinch of salt and pepper.

Remove the greens from the pan and add them to the top of the rice.

Return the skillet to the heat, and cook your egg.

While the egg cooks, arrange the roasted tomatoes and bacon on top of the rice.

When the egg is cooked to your liking, slide it out of the pan and on top of the rice bowl.

Sprinkle the egg with a pinch of salt and pepper.

To finish the dish, sprinkle with the remaining green onion, Parmesan cheese, and chopped parsley.
Pin it for Later