This post may contain affiliate links. Read my disclosure policy here.
Whether you are having your 1st baby or your 5th, this packing list can help you know what to pack for the hospital and what you can do without until you get home.
Having a baby is an exciting time. Prepping for the baby is exciting too but can get a bit overwhelming when you start looking at all your options for just about everything. Midwife or doctor, home birth or hospital, pain medication or natural. And the gear! There are SO MANY choices to make when it comes to all the gear you "need" or want for your baby.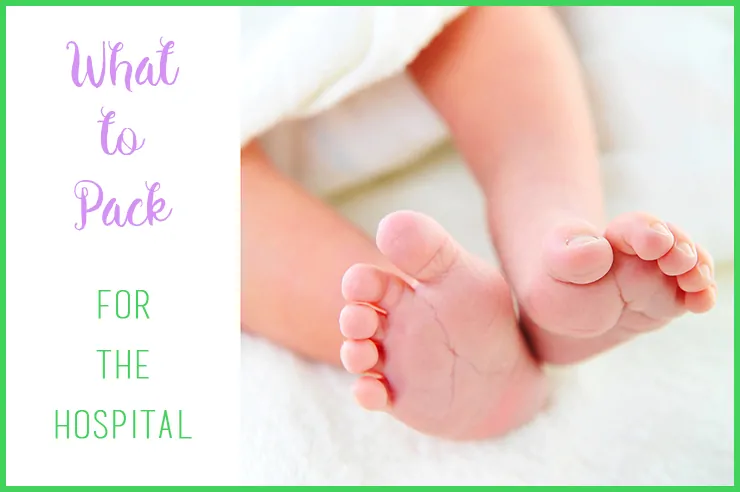 With all these options and decisions to make it isn't shocking that packing for the hospital might not be too high on your never ending baby prep list. I've made it easy for you by making a handy printable for you!
This list falls close to the minimalist side of things. I've had 2 babies already and I'm a little older now so I feel like I know what I need and what I don't need.
You always come home with more than you go to the hospital with… other than your new bundle of joy. Besides gifts from friends and family, the hospital usually lets you take home lots of extra goodies…. TAKE THEM. Bring an extra bag or make sure there is room in the bag you pack for yourself.

What to Pack for the Hospital
A pretty robe. I didn't have this for my first two but I always felt icky sitting around in an old thin uncomfortable hospital gown so I bought myself a pretty floral robe from Pink Blush. This is my one luxury item that I don't really need.
Nursing PJ's or Gown. If you aren't planning to breastfeed your baby then you can skip this part, just pack some comfy lounge wear. If you are planning to breastfeed then get yourself a nursing gown or pj set. I skipped this the first time around and regretted it. Take my word for it, you'll want this.
Nursing Bra. During the last 4-6 weeks your breasts will be about the size they are going to be after your milk comes in and supply is established, (they will swell a lot when your milk first comes in) so get a couple of comfortable no wire bras for the first few weeks and then you can get measured once your supply is established. Nursing bras are expensive and you don't want to waste your money until you know your size.
Nipple Cream. I used lanolin before but this time I plan to use organic coconut oil. I've read that lanolin can actually clog your milk ducts which can result in mastitis… I don't even want to know how painful that would be.
Nursing Cover. I will be using one of these because I am modest but don't want to have to ask everyone to leave the room every time I need to nurse the baby. Been there done that. This one is awesome, it has boning in the front so you can see the baby… nursing covers that lay flat against you are pointless because you can't see what you are doing.
Boppy or other nursing pillow. I am so very biased when it comes to nursing pillows. I have tried several and HATE them all except for the Boppy. I love this thing so much that I could leave everything else at home and if I had this I would be happy.
Warm Non-Skid Socks. Hospitals are cold. I am so hot right now since it's August and I'm 8 months pregnant I don't know what being cold means anymore but I'm throwing them in my bag just in case.
Hi-Waisted Panties. You will want something that covers everything and can keep big bulky pads in place. I personally think those mesh things from the hospital are a big ole joke.
Adult Diapers. Ok so I've never used these, but I going to this time. I used the biggest overnight pads I could find and old yucky panties with my other two kids. But since adult diapers are made to keep you from leaking thru, which can happen with pads and panties, I think these are a brilliant idea.
Make-Up Bag. You may not care or may not feel like putting on makeup but you also may feel better about all those photos being taken if you have some with you.
Hair Brush & Ties, Toiletries. If you have long hair you will definitely need something to keep your hair out of your way. And when you finally get to take a shower hospitals don't always provide you with shampoo or body wash so you'll want to take some.
Also included on the printable is a "survival kit" for dads and some things to bring if your older children will be there with you. I will also be taking my diaper bag but it will probably be in the car the whole time. Most hospitals provide everything you need for your baby.
BONUS, not included on the list but I am including this here: Be sure that you buy some Dermoplast (blue cap not red), Tucks Wipes, & plenty of overnight pads or adult diapers for when you get home, you will need these for several weeks.
Here is your handy printable. Simply click on the photo below and you can save or print your list.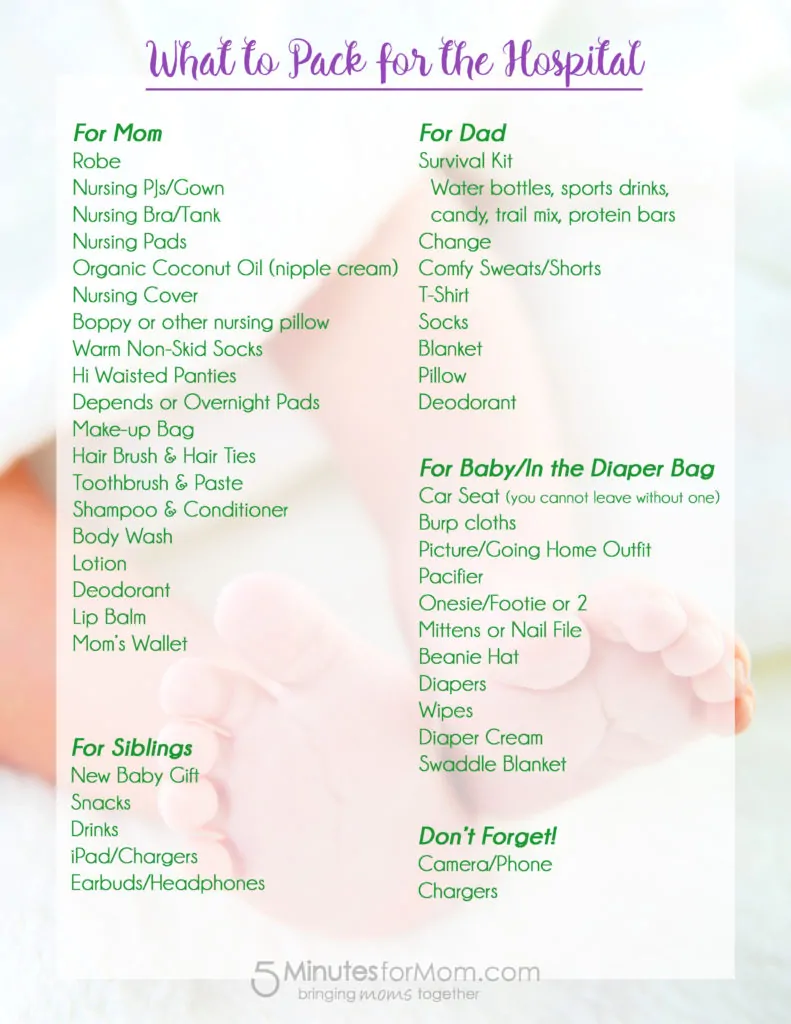 Pin for Later
Pinning and/or sharing is so appreciated!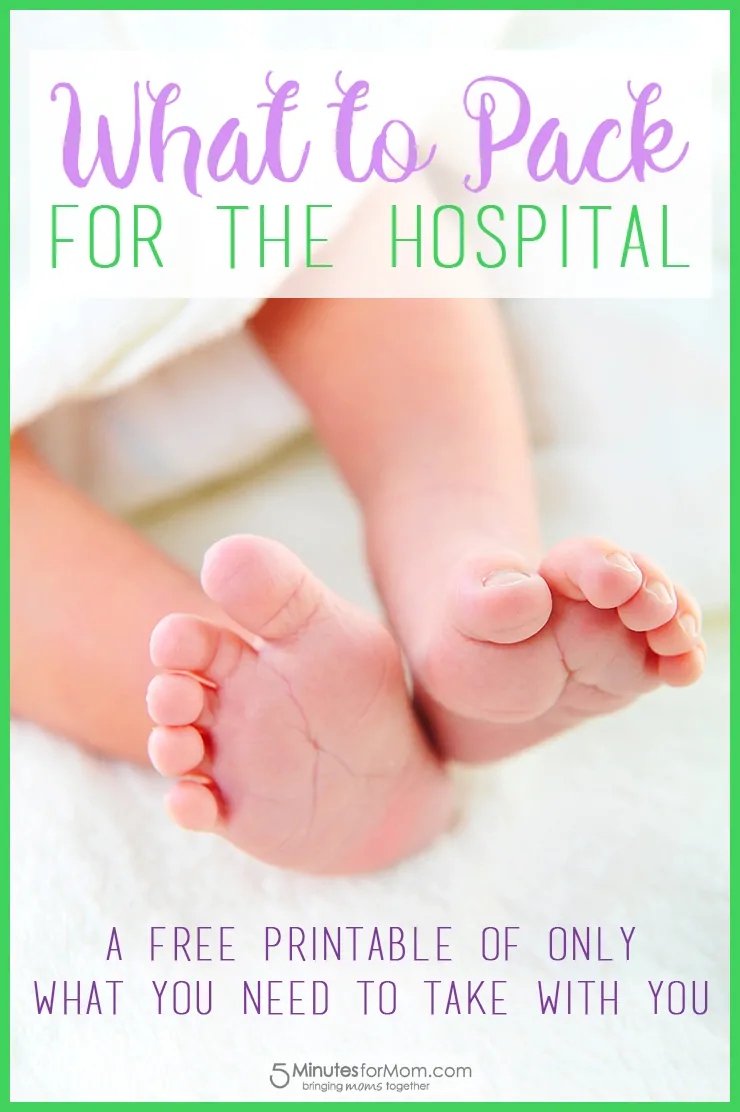 Written by Anna, who shares delicious recipes and a bit of DIY from the country on her blog Green Eyed Country Girl. See what she's pinning on Pinterest and "like" Green Eyed Country Girl on Facebook.