This post may contain affiliate links. Read my disclosure policy here.
Rachel here with a great new book recommendation to get your reluctant readers excited about reading this summer. Thanks to StoryArc Media for sponsoring today's post so we could share this great tip with you.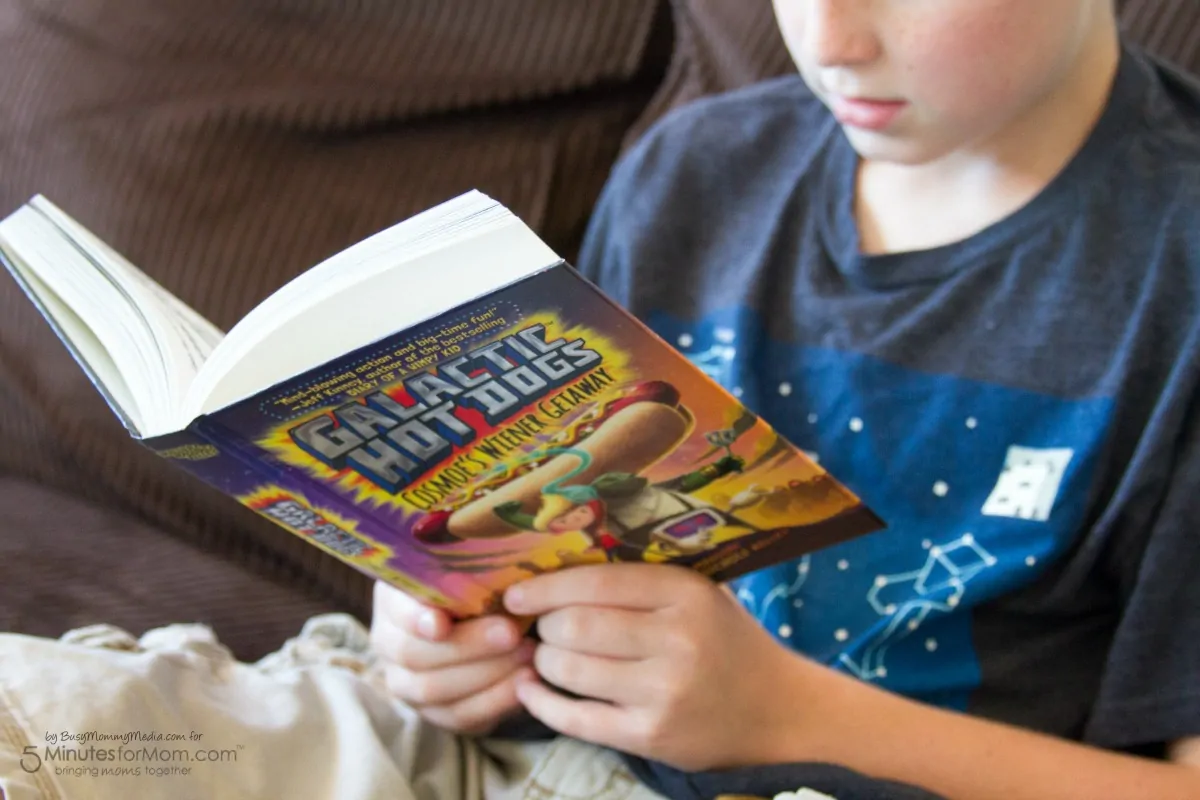 Do you have a reluctant reader in your house? As we move into summer, it's especially important to come up with some fun ways to help your kids get excited about reading. Fortunately, the latest book from StoryArc Media – under the creative direction of Jeff Kinney, author of the popular Diary of a Wimpy Kid series – has just come out and it's a serious page turner.
StoryArc Media has just released the second book in the Galactic Hot Dog series, Galactic Hot Dogs: The Wiener Strikes Back. After my experience with it, I'm sure it's going to be a huge hit with kids this summer.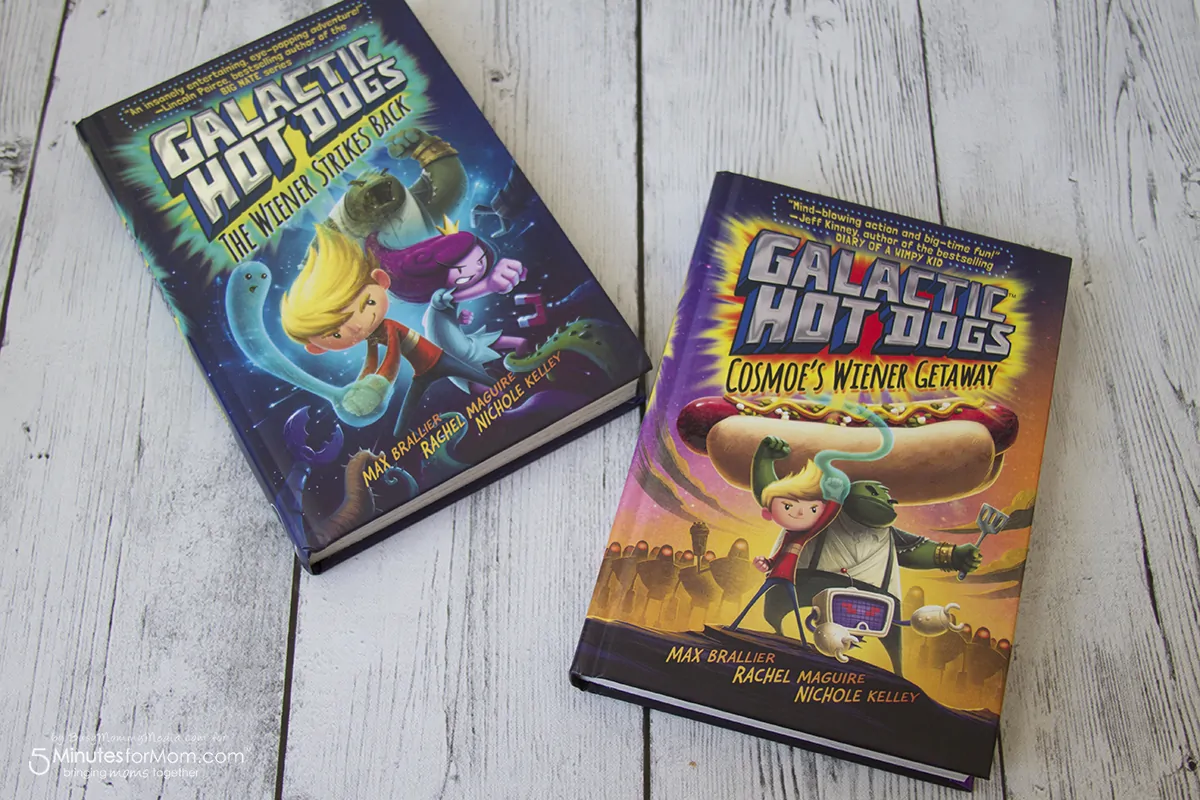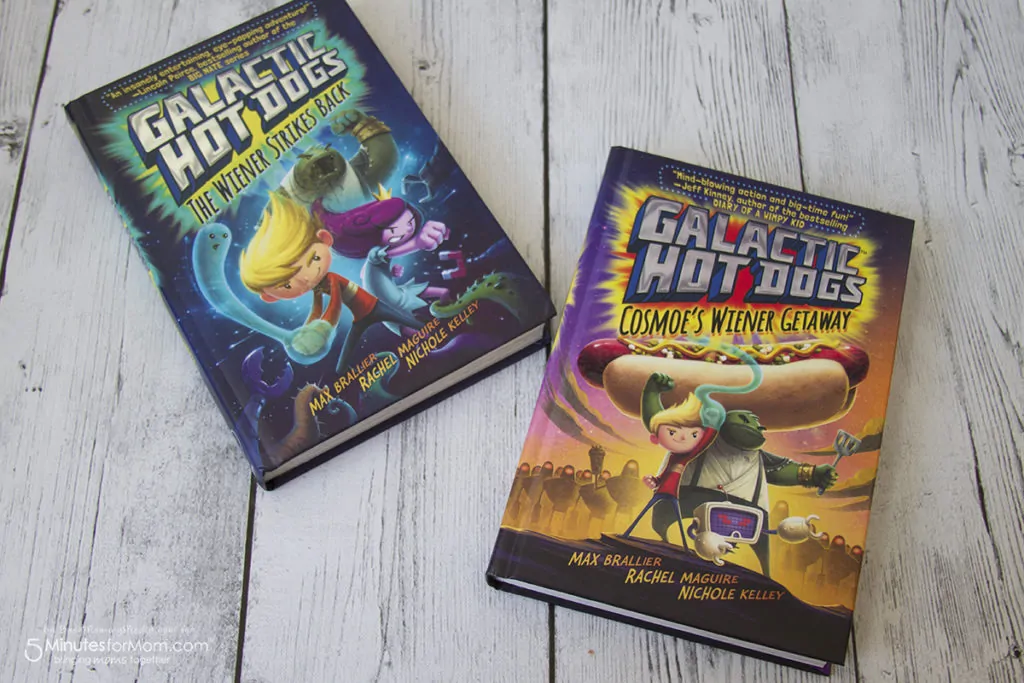 We had a slow weekend with no plans, which can often spell disaster for us — never put bored kids in a house together. I surprised my boys by pulling out Galactic Hot Dogs: The Weiner Strikes Back and saved the weekend.
First, some back story: it's been a while since my two younger sons have really gotten into a book. They like to read but they don't LOVE to read.
As an avid reader, I sometimes have a hard time understanding that.
Every once in a while they find a book they really love and I can't pull them away from it though. I love when I can find a book that really grabs them. Galactic Hot Dogs: The Wiener Strikes Back was a huge hit with them.
I set them lose on the book and didn't hear a peep out of them for most of the day. I had to pull them away from the book every few hours to do a quick chore (and make sure they weren't leaving a permanent imprint on the couch).
It made my day to see them really get drawn into the book and they can't stop talking about how much they love it. My 10 year old sat and read the entire book in a day and I think he already has plans to read it again.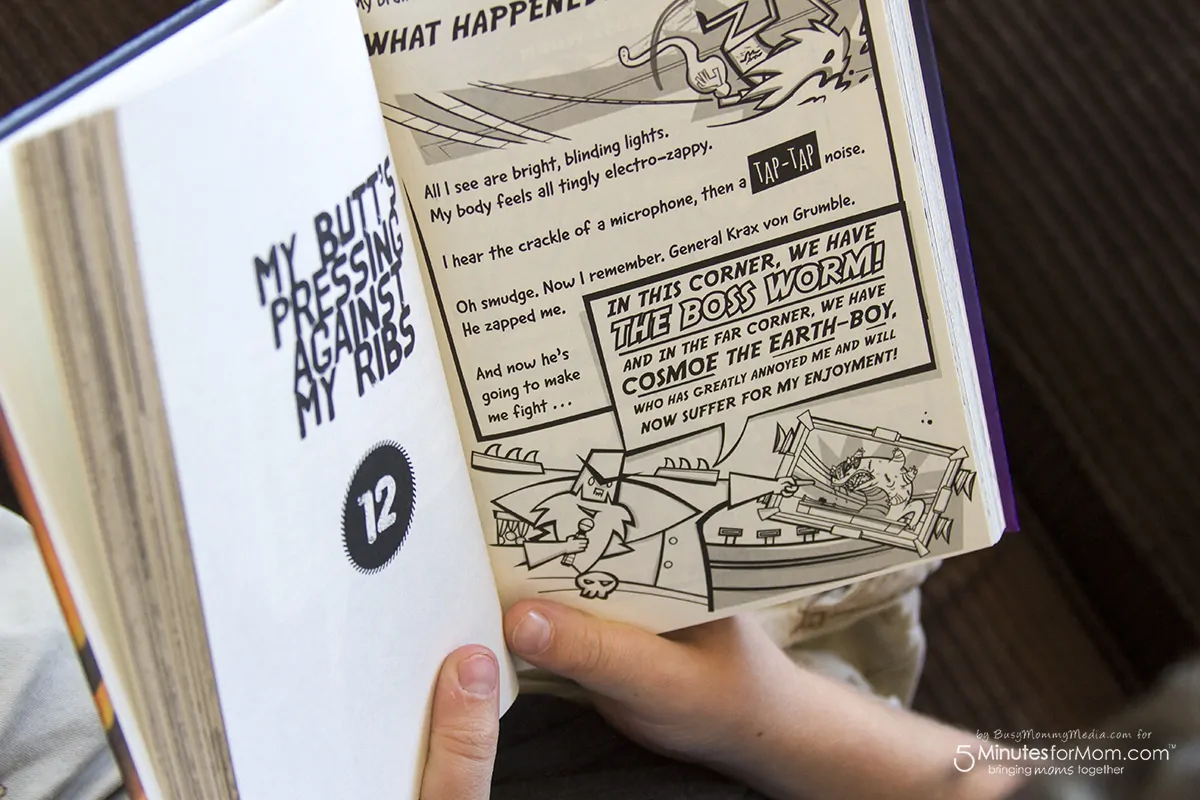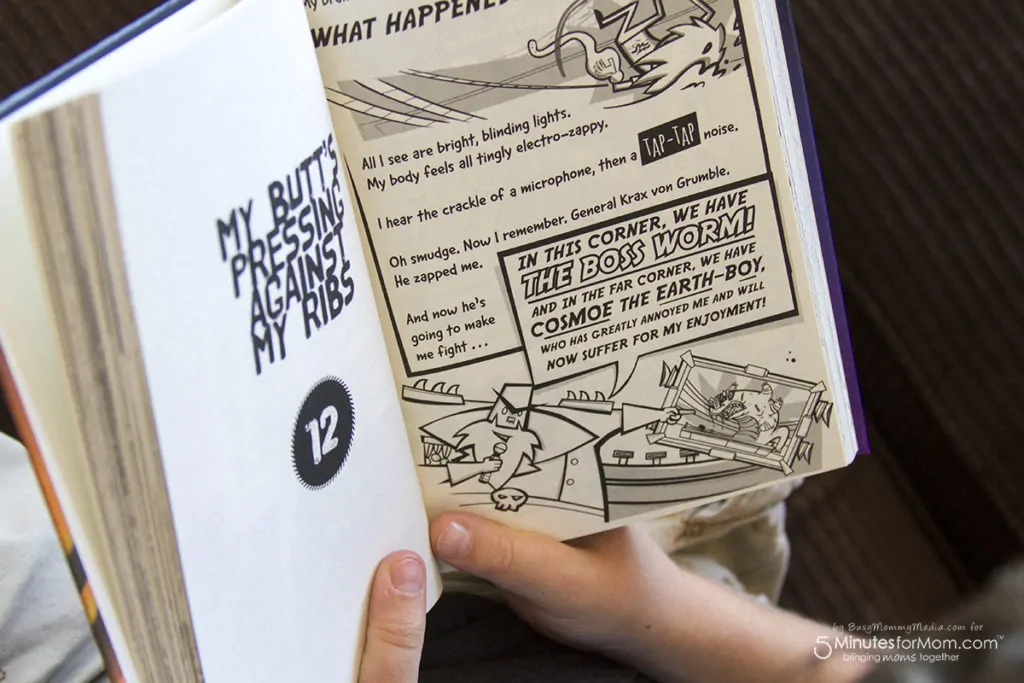 The book is set up in a graphic novel style, similar to Diary of a Wimpy Kid, and for my reluctant readers it was a low-pressure way to read and they really loved it.
In addition to the book, players can can also take their Galactic Hot Dogs zeal and head to Poptropica – the wildly popular online game played by more than 5 million kids around the world. It's also home to a dedicated Galactic Hot Dogs island where the player is the center of the story and the island is filled with mystery, challenges and familiar characters.
Giveaway
Enter to win a 6-month Poptropica subscription (value of $19.95) and the first two books in the series: Galactic Hot Dogs: Cosmoe's Wiener Getaway and Galactic Hot Dogs: The Weiner Strikes Back.
Open to US shipping addresses only.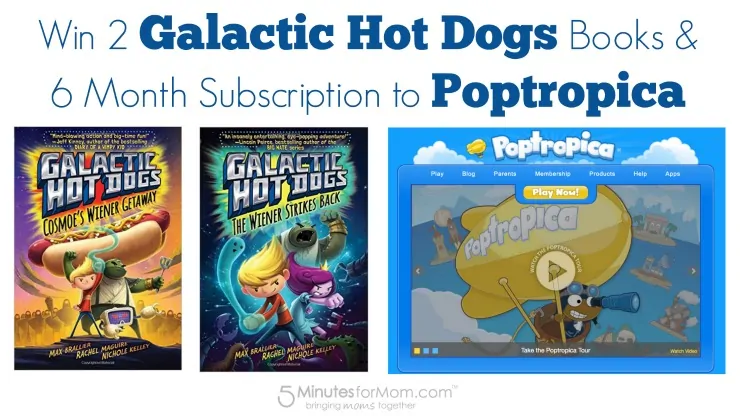 Pin it for Later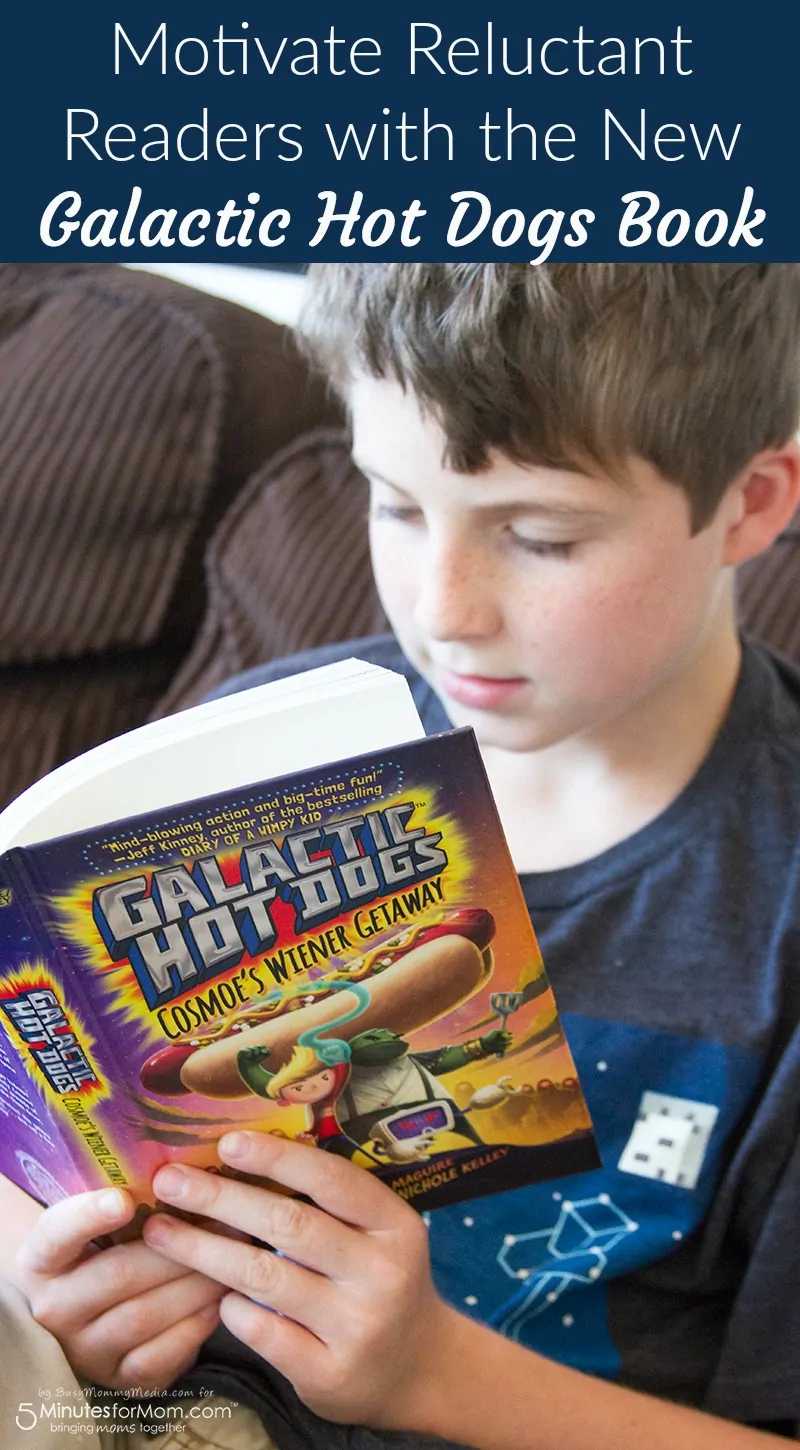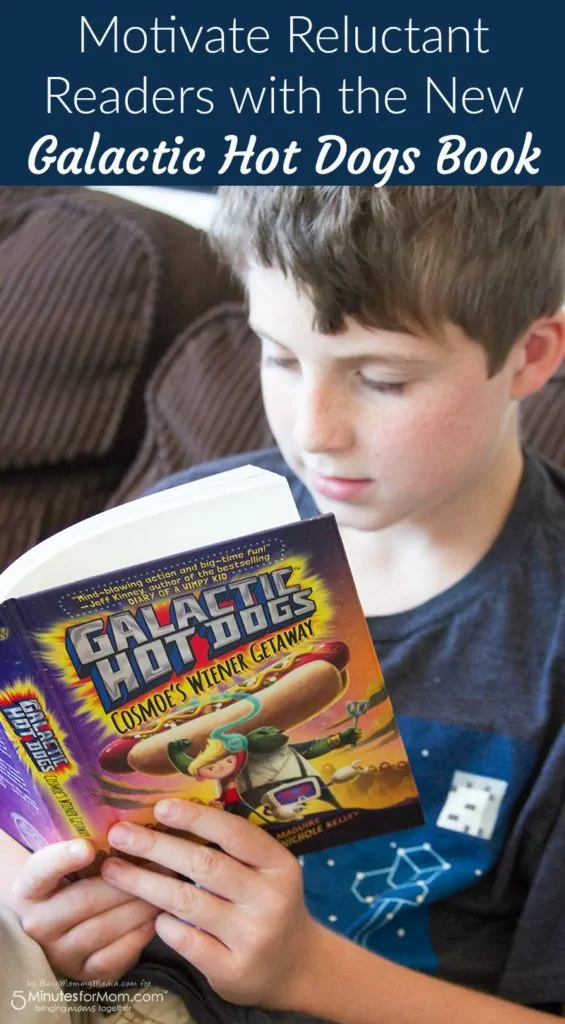 Disclosure: This post is sponsored by StoryArc Media
Written by 5 Minutes for Mom contributor Rachel Lister, who owns Busy Mommy Media.