This post may contain affiliate links. Read my disclosure policy here.
5 Minutes for Books reviewer Dawn shares her experiences following her own children's book recommendations, because it's hard to say no to an enthusiastic reader!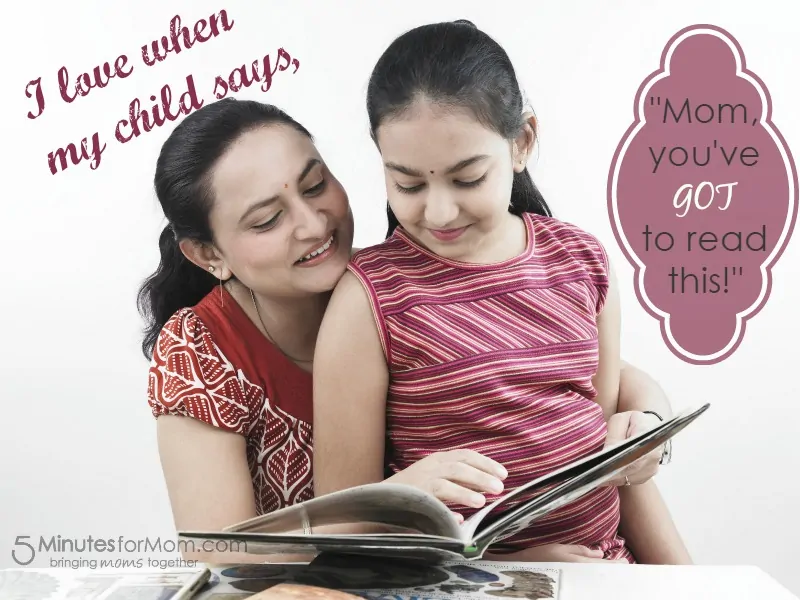 Long before I had children of my own, I had hopes that I would someday raise little ones to love books. When my son was only a few months old, I'd lie on the floor next to him and hold board books over our faces, watching him react to the images while I read the words in a sing-songy voice, as one does when speaking to an infant. By the time his sister was born, he was almost six, confidently and excitedly reading books independently. As our family came to what would be its maximum capacity with the arrival of our second son, I delighted in watching both older children try to engage the new baby with books. Now that the kids are 15, 9, and 8, they all have their own unique interests and reading styles, but I'm happy to say that they all do indeed love books!
My youngest most enjoys being read to, so we share children's novels together, usually with me reading a few chapters aloud before bedtime, a practice the other two seem to have grown out of. They will, however, still read just about any book I pass on to them, whether its one I've read myself or one that I've heard about and think they'll enjoy. While I enjoy passing books in that direction, I'm even more thrilled when they are the ones giving the recommendations.

"Mommy, you NEED to read this book. I'm serious. You'll just love it."
My daughter burst into the living room with this loud, intense announcement. In her hands was Kimberly Brubaker Bradley's The War That Saved My Life, a 2016 Newbery Honor Book that has received critical acclaim since its publication last year. She had been reading the book for maybe two weeks, grabbing it for a car ride or taking time after homework to read a few more pages. I knew she was truly engaged and thinking about the story, for she had asked me several questions during her reading, some about unfamiliar words and also for help sorting out an event told in the book. She was trying very hard to make sure she understood everything.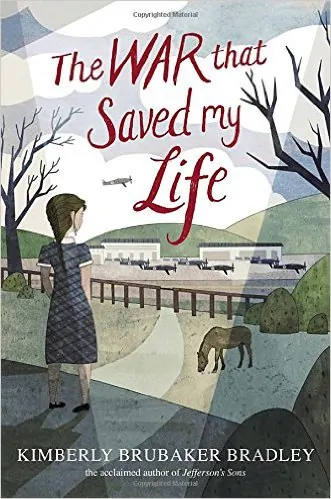 When she finished and came to me with her enthusiastic recommendation, I knew that I was a little behind on my own reading of books intended for review, and I guess my initial expression indicated my reserve. She told me that I "always" read what her older brother recommends (emphasis totally hers), and I stopped to think about that. As a teenager, my son reads mostly YA fiction, and he is judicious about his recommendations to me, knowing that I'm not terrribly into the sci-fi or fantasy stuff that he sometimes enjoys, but usually bringing me a piece of contemporary fiction every month or two.
So she was right, I do usually read what my oldest recommends, and I realized that I owed her the same treatment. I asked her to explain to me why she thought I'd like it, and she talked a bit about the characters and their strengths, especially the incredible protagonist, as well as the historical setting during World War II. Hearing her explain what she loved about the book really showed me her level of comprehension of the story, and her emotional reaction indicated something even more important– the level of empathy that she learned from this story.
Though it took me a couple weeks to finally be able to pick up the book and give it my full reading attention, once I did, I read it quickly, impressed at the complexity of the story and the characters' emotional development. Though intended for children, this was a book that made my 40-year-old heart sing. My daughter came over to me just as I was finishing it, tears streaming down my face and said, "See? I knew you'd love it. Wasn't it perfect?"
I couldn't help but to take to Facebook to publicly extol the virtues of the book, and to thank author Kimberly Brubaker Bradley for writing a story that undoubtedly changed something in my almost-ten year old daughter's heart and mind. She absolutely grew as a person after reading this story, even if she cannot clearly articulate it now.
I'm so glad I listened to my daughter's recommendation, because I'm pretty sure I'm changed now, too.