This post may contain affiliate links. Read my disclosure policy here.
5 Minutes for Books Managing Editor Jennifer is here to help you set and meet reading goals for 2016.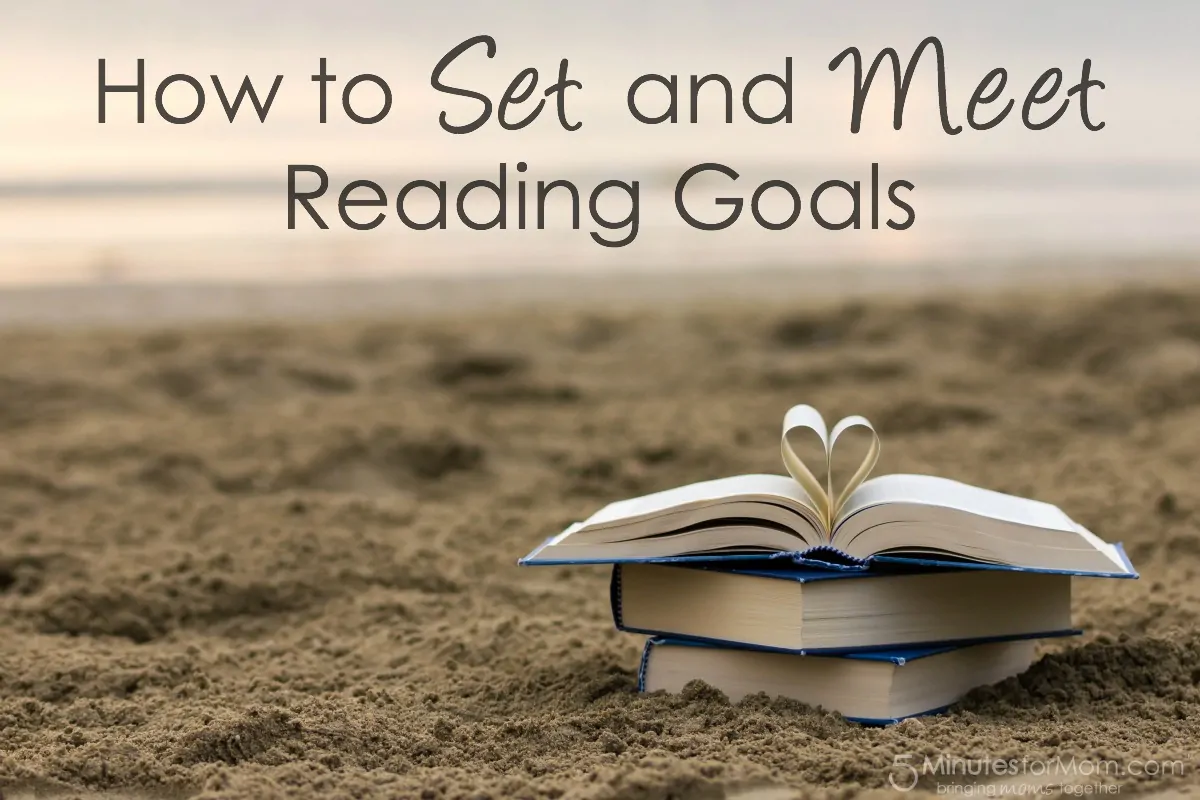 Yes, I'm a semi-professional book reviewer. Yes, I love it. Yes, I was a bookworm as a kid and young adult. But, no, I haven't always read avidly as an adult. For about my first ten years of my life after college, I read sporadically. When a favorite author came out with a new book, I'd read it. If I was going on vacation or a long road trip, I'd stock up to make sure I had enough books to while away that free time, and I'd love it!
I still considered myself a reader, but reading wasn't a regular party of my everyday life. All of that changed about 11 years ago when I joined a friend's online reading challenge. I was encouraged to make a list of the books I wanted to read in the Fall. I did it, thinking about specific titles and types of books that I wanted to read. I met that goal, and I haven't looked back since!
Here are a few tips to guide you in making your 2016 reading resolutions:
YOU decide your end goal
Yes, you might have friends who read 100 books a year, but you should not be striving to make a numerical goal that will impress others. By that same token, perhaps you want to re-read some classics, or read some you missed. If so, great! But if your goal is pure escape, and you like romance or murder mysteries, read those.

The key is to make a goal. Decide on a number of books you want to read this year. Maybe it's 12, or maybe it's 80 — the goal is up to you.
Give some thought to WHAT you want to read
A friend of mine makes a specific list at the beginning of each year. It could consist of the books on your shelf that you keep meaning to read. It could include books that other people keep raving about.
It's also very popular now to create diverse lists. People challenge themselves to read A through Z, either by title or author, or to hit certain goals a little outside one's comfort zone. Last year Dawn wrote about her Diversity Reading Challenge, if you'd like some ideas of what this might look like.
Another thing that got me reading more is when I began reading more middle grade novels to help my daughter — and later my son — find books that might appeal to them. The same thing happened when my daughter hit that middle ground of not-quite-mature-enough for typical Young Adult fare and I wanted to find books that I thought were appropriate, and honestly to use books as a springboard of conversation. My son will be in that category soon himself.
Make a plan to make that happen
A friend of mine who knows I'm a reader asked to borrow some books to take on a family camping trip. She read one or two on the trip and another when she got home. When she returned them, she said, "I'd take some more. I remembered how much I enjoyed reading, and I figured out when I can read more."
We are all busy, but we all have downtime. I don't really care if you don't want to read, but if you say you want to read, but don't have time, I take exception to that idea.
My favorite times to read are first thing in the morning, or in the late afternoon before my kids get home or when they are busy with other things. I am not a big nighttime reader, but going to bed with a book half an hour early is a great way to start a habit.
I also upped my book intake when I started listening to audiobooks. I'll listen to an audiobook in my headphones while I'm cooking dinner, or in my car, or on a walk or run. Audiobooks "count" too if your goal is to ingest more good stories or information.
If you feel like you miss reading, please take a few of these steps to bring back a habit you once loved! Some people enjoy the accountability of a book group, so consider starting or joining one with people who are like-minded.
Pin for Later