This post may contain affiliate links. Read my disclosure policy here.
How do you choose what you will read next? Do you solicit recommendations from friends? Do you grab what catches your eye at the library (or on the Kindle recommendations page)? Do you have a particular genre or type of story that you reach for most often? In between reading for reviews on 5 Minutes for Books, I've been making an effort this year to be intentional about some of my book choices, focusing on selections with diverse characters.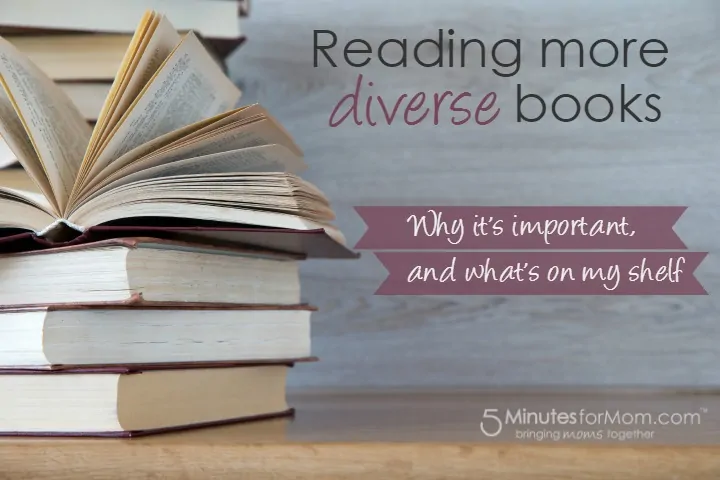 Thanks to the We Need Diverse Books movement, the conversation about diversity in children's literature has increased in recent months. I've loved observing how the conversation among many book bloggers has extended beyond just kid lit and into their own adult reading habits. Why does it matter what we read? For me, books have served many purposes– an escape, a reassurance, a mirror, and a window. I've always loved that metaphor– books as mirrors and windows. When I pick up a book about a middle-aged mother trying to balance work, marriage, and parenting, I know I've found a mirror. There will be much with which I can relate, and I will likely see a lot of myself in that character. Odds are, when I pick up a contemporary novel in that genre, the protagonist will also likely be white and living in the United States, just like me.
Now, if I only ever choose books that serve as mirrors, all I'm doing is surrounding myself with familiar characters in familiar situations, and while that might be reassuring, it need not be my only literary experience. When I grab a book that features a character from a background that differs from my own, or one who resides in a different country than me, then I'm using that book as a window onto experiences, cultures, and day-to-day lives that may not look just like mine. Perhaps I'll hear a new perspective on family relationships or parenting that will get me thinking. Or maybe I'll learn about a part of the world I've never seen with my own eyes but will come to life on the page in the words of a talented storyteller. I just might find connections I never expected.
When my social media wanderings led me to An Unconventional Librarian's 2015 Diversity Reading Challenge early this year, I welcomed Pam's structure as a way to organize some intentional reading. Some of my choices have been for my own personal reading, while others reflect books I've shared with my children. The year is quickly approaching the halfway mark, and so far, I've read books that fit into six of the suggested categories.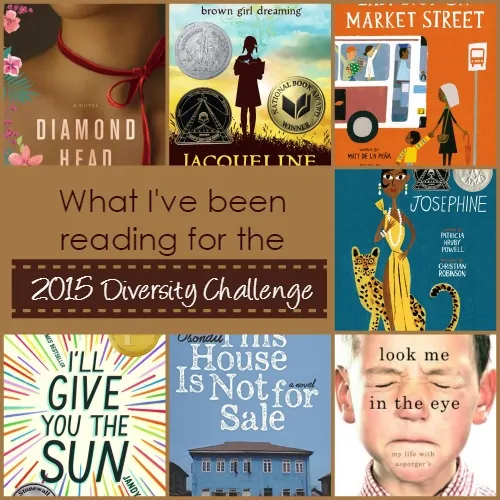 1. A book written by an author of color: This House is Not for Sale by E.C. Osondu
I was excited to review this back in March, because I had quite enjoyed Osondu's 2010 collection of short stories, Voice of America. In his recent novel, the individual chapters could stand alone as separate short stories, but they are all linked (sometimes in surprising ways) through their connection to the Family House, a communal living space in an unspecified African country. Overseen by Grandfather, the community both takes in and shuns a wide cast of characters, and serious issues like poverty, mental illness, and inequalities are addressed, though sometimes with significant humor.
2. A book with a person of color on the cover: Diamond Head by Cecily Wong
Spanning three generations, beginning in China and then moving to Oahu, Hawaii, this family saga delves into family secrets and how they relate to honor, tradition, and Chinese legend. Wong drew upon some of her own family's stories for her novel, and the relationships within the families depicted reflect a variety of cultural expectations. My full review also includes a short video of the author sharing her thoughts.
3. A book about coming out: I'll Give You the Sun by Jandy Nelson
I had purchased this as a gift for my teenage son last year, based on the fact that it was on just about every end of the year recommendation list, and its collection of honors and awards is beyond impressive. I was blown away. Simply put. The character development is incredible, and the story itself left me holding my breath for pages. It's a YA book, but it has complexity and depth, emotion and compassion, and literary beauty that transcends age groupings.
4. A nonfiction or biography about someone of diverse background: Brown Girl Dreaming by Jacqueline Woodson
I took this category to mean a background that differed from mine, and though Woodson and I are only about ten years apart in age, her experiences growing up in the South and in New York City are quite different than my childhood spent in a rural, overwhelmingly white New England town. This was another holiday gift, and my daughter was thrilled when she opened it, because its honors and awards have been plentiful. As my nine year old daughter and I read this book of autobiographical poems, we continued to find themes that we could relate to, and others that sparked thoughtful conversations, especially as my daughter has only known our much more diverse suburban/urban neighborhood as home.
I reviewed Josephine last year, a picture book of great length and intended for slightly older picture book readers that gives glimpses into Baker's personal and professional lives. Last Stop on Market Street was a book I was longing to read from the first time I read about it before publication. Both are books I've returned to on my own, not with my children, and a huge reason for that draw is Christian Robinson's illustrations. His distinctive style always catches my eye, but I think these two books might be my favorites of his for they bring these characters and worlds to vivid life.
Published back in 2007, I've long meant to read this book, especially because I have enjoyed the memoirs written by Robison's brother Augusten Burroughs. I found it interesting to read one individual's experience growing up with Asperger's, though he went undiagnosed as a child. Robison writes honestly (and sometimes quite frankly) about his challenges connecting with people socially and his difficulty understanding the emotions and experiences of others. I was slightly disappointed by some aspects of the book, as the storytelling was not as strong or engaging to me as I had expected from the praise the book has received, but I appreciated the opportunity to read one person's account of his experience with the autism spectrum.
If you click over to the Diversity Reading Challenge, you'll see that I still have six more categories to fulfill, including ones that address same-sex parent families, child soldiers, and any book written by one of my son's favorite authors, Walter Dean Myers, among other suggestions. I'm committed to keep reading, even outside of this challenge, with an intentionality toward diversity in characters, settings, and stories.
Have you thought about diversity in your own reading habits?