This post may contain affiliate links. Read my disclosure policy here.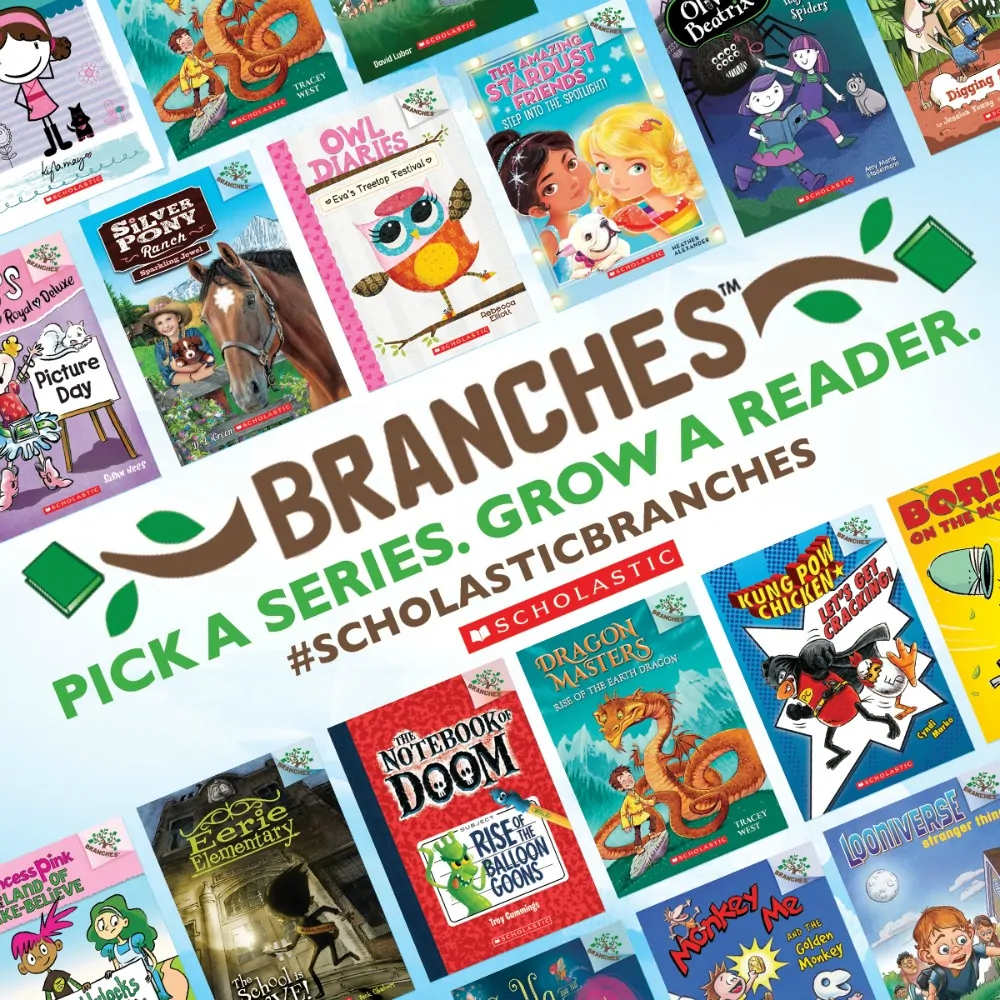 Dawn is here to tell you more about a new series from Scholastic for growing readers.
Your child has mastered the leveled readers from the library and from school, but the longer chapter books on the shelves are still a little overwhelming for her with longer text and few, if any, illustrations to assist in storytelling. What she needs is collection of books to get her engaged in fun story arcs with language that will challenge her but not to the point of frustration. She's a "growing reader," and she needs just the right books for her stage.
Who better than Scholastic to help bridge that gap? We're happy to help spread the word about the new line of early chapter books, Scholastic Branches. Branches is a unique line of books specifically designed for newly independent readers, typically kids ages 5 to 8.
We know that newly independent readers need books that strike the right balance to match their needs. Scholastic Branches does just that with 14 series that appeal to readers in the kindergarten to second grade range (with two more series debuting in Spring 2016!). Parents and educators can feel confident in both the attention that Scholastic Branches has paid to the educational values of the series as well as the quality of the stories themselves, so that children are growing their skills while also enjoying a variety of fun story lines and a whole bunch of different kinds of characters.
Each book in the different series features a page of questions and activities to encourage children to think further about the story they've read. These guides help parents and teachers start conversations with their young readers to help gauge understanding of key concepts, vocabulary, and story structure. The Reading Level Guide, available on Scholastic's website, helps adults get an idea of which series best fit their young readers' current levels based on word count, guided reading level, and lexile score. But the early childhood educator in me wants to emphasize, especially to parents, that it's perfectly okay for newly independent readers to enjoy stories even if they're below their current reading levels. Learning to enjoy reading and having plenty of opportunities to practice reading independently are most important!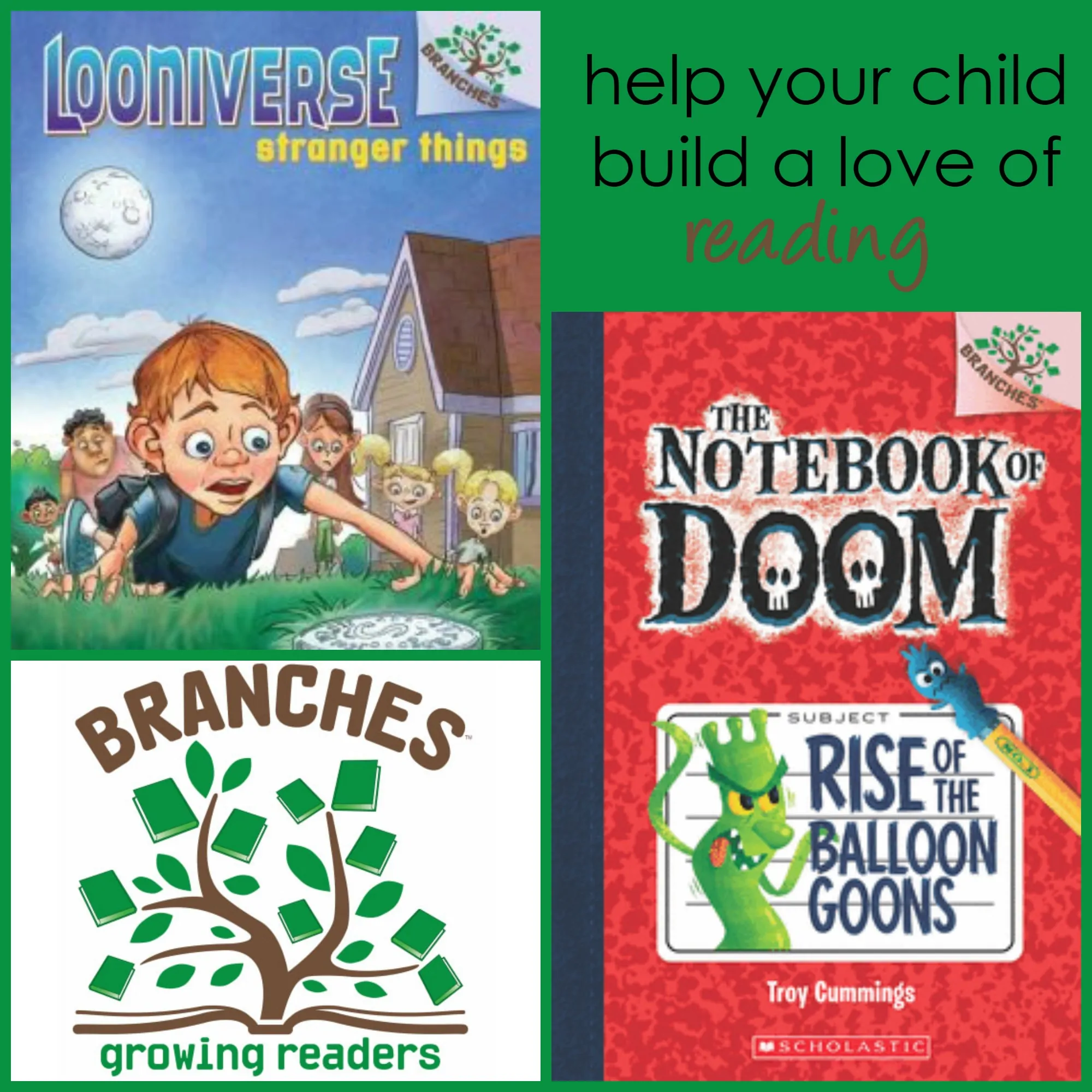 Here's how Scholastic describes their unique line of Branches series:
Branches books help your child get a head-start on his or her reading career! Each book includes: easy-to-read text, simple plot lines, plenty of context cues, cliffhanger chapter endings, and purposeful illustrations (on every page!) that aid in reading comprehension. Feeling like a successful reader will bolster your child's self-confidence, which will lead to an increased interest in reading.
The Branches line is solely made up of series. We want young readers to return to their favorite characters again and again—because that is how they build reading stamina and confidence!
There is a Branches book for every kid! According the Kids and Parents Reading Report™: Fifth Edition 73% of kids believe that they would read more if they could find more books that they like. With 14 different series and counting Branches delivers on providing kids with plenty of choices, so every reader can find the perfect book for them. Does your kid love to laugh? Perfect! There is the zany and hilarious Kung Pow Chicken. Does your reader love a fantastical adventure? Dragon Masters has it all: Dragons, a Dragon Stone, a king, a wizard, and magic! How about a spooky story? Eerie Elementary will have your young readers on the edge of their seats!
I just happen to have a second grader myself, and while he is reading above grade level when tested at school, he is still learning to see reading as an enjoyable activity and not a task. Though we love to read more complex children's novels together, with me reading a chapter aloud each night, I definitely want him to come to love independent reading, as well. As a result, I'm always on the lookout for books that will appeal to him and not leave him feeling bored or frustrated. When I showed him the first book in the 14 current Branches series, he excitedly exclaimed that he already "love, love, loved" the Kung Pow Chicken series from seeing them in his school library, and he also grabbed The Notebook of Doom and Looniverse to explore on his own. The verdict? He's been excitedly reading during breakfast or afternoon snack, and he's finished these, along with starting a couple others, too!
Be sure to check out the different Branches series available, for their varied stories and characters are sure to include ones that will appeal to your newly independent reader!