This post may contain affiliate links. Read my disclosure policy here.
There is a new e-store for organic shoppers – Petal & Post – a Canadian online boutique that offers customers a hand picked collection of the world's finest organic, natural, small-batch and ethically crafted products. This post is part of a campaign with Petal & Post. As always, our opinions are 100% our own.
For the past four months, we have been featuring the new, mom-owned online boutique, Petal & Post.

We have been thrilled to tell you all about Petal & Post because, not only is it a beautiful online destination for your organic shopping needs, we love helping you find mom-owned online shopping solutions.
As I told you last month, Susan and I started our online careers as online store owners. We owned and operated two online toy stores for almost ten years. 5 Minutes for Mom grew out of our desire to help promote fellow family owned online businesses.
So, as we continue to help moms find each other online, let's visit Petal & Post again…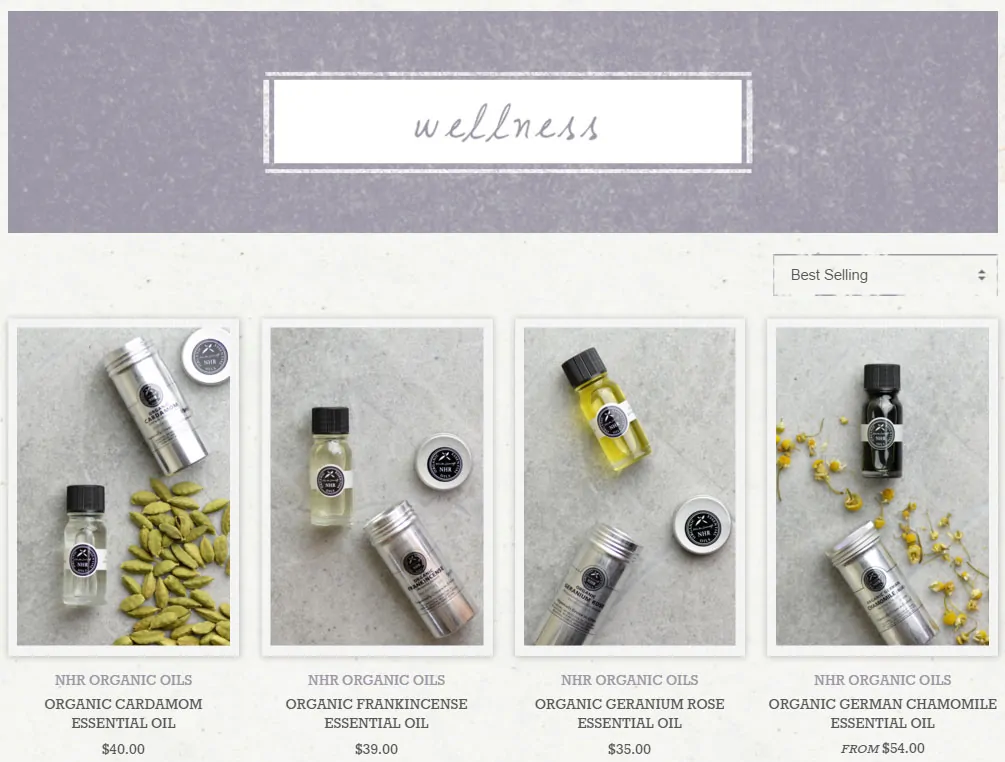 Petal & Post is a chic, "mom-owned" e-boutique that offers luxury and purity, hand selected and shipped directly to you.
If you are concerned about the companies and brands you support, you will love the peace of mind you have shopping at Petal & Post. All of the products in the store adhere to Petal & Post's strict commitment to purity and ethical manufacturing and "conform to Our Strict 'Free From' Ingredients Policy; a comprehensive list of ingredients found on government watch lists around the world."
One of my favourite features at Petal & Post is that the brands represented have a "Meet the Brand" page so customers can get to know the companies behind the products.
Apple & Bears
Apple & Bears is a family owned and operated British company that is committed to producing products of the highest quality that consumers can trust to be made from the finest organic and natural ingredients.
With formulas that are developed by specialists in the field of natural and ecological products, Apple & Bears says that with each new product they design they "strive to improve the quality, the ingredients, the purpose for use and impact on the environment."
The Grapefruit & Seaweed Body Wash by Apple & Bears that I tested out is just as luxurious and wonderful as the company promises. And with a scent so real, I can almost taste the grapefruit.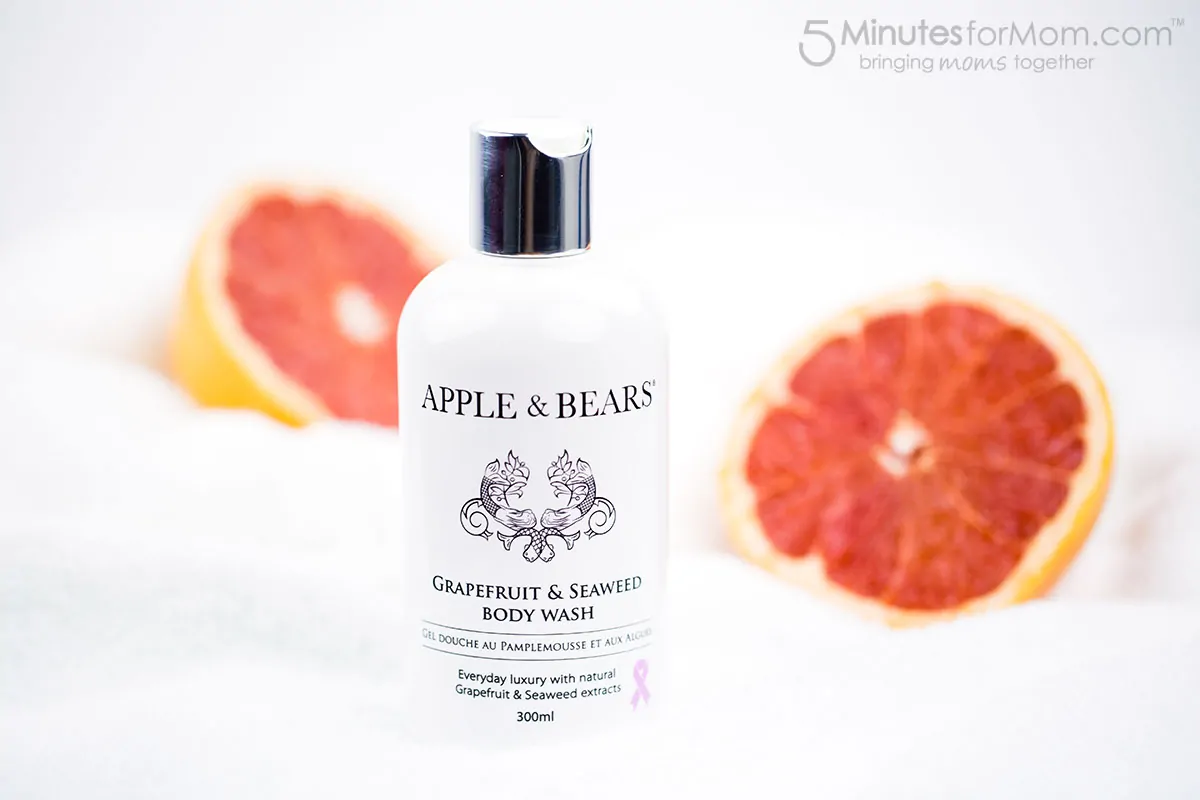 Pure Grapefruit extracts boast vitamin A and C renowned for producing healthy skin. Detoxifying Seaweed improves skin texture and is known to reduce cellulite, whilst nourishing and restoring your body with essential minerals and anti-oxidants. Get ready for a re-generating and detoxifying bath and shower experience.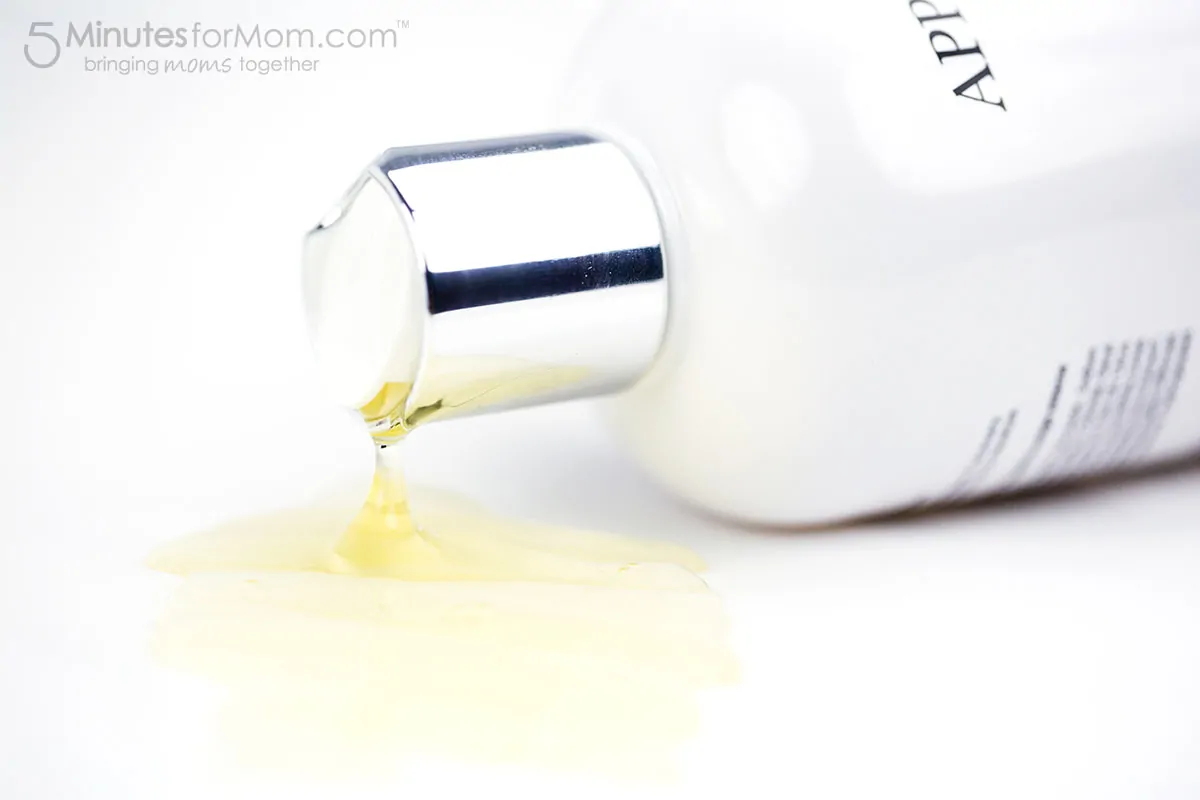 Apple & Bears – Natural Organic Luxury Body Wash Collection from Petal & Post on Vimeo.
An Extra Treat from Petal & Post
Oh and don't miss out on a Petal & Post Sample Discovery Box.
This fun extra is a selection of Petal & Post samples that Petal & Post sends to customers with purchases of $125 or more.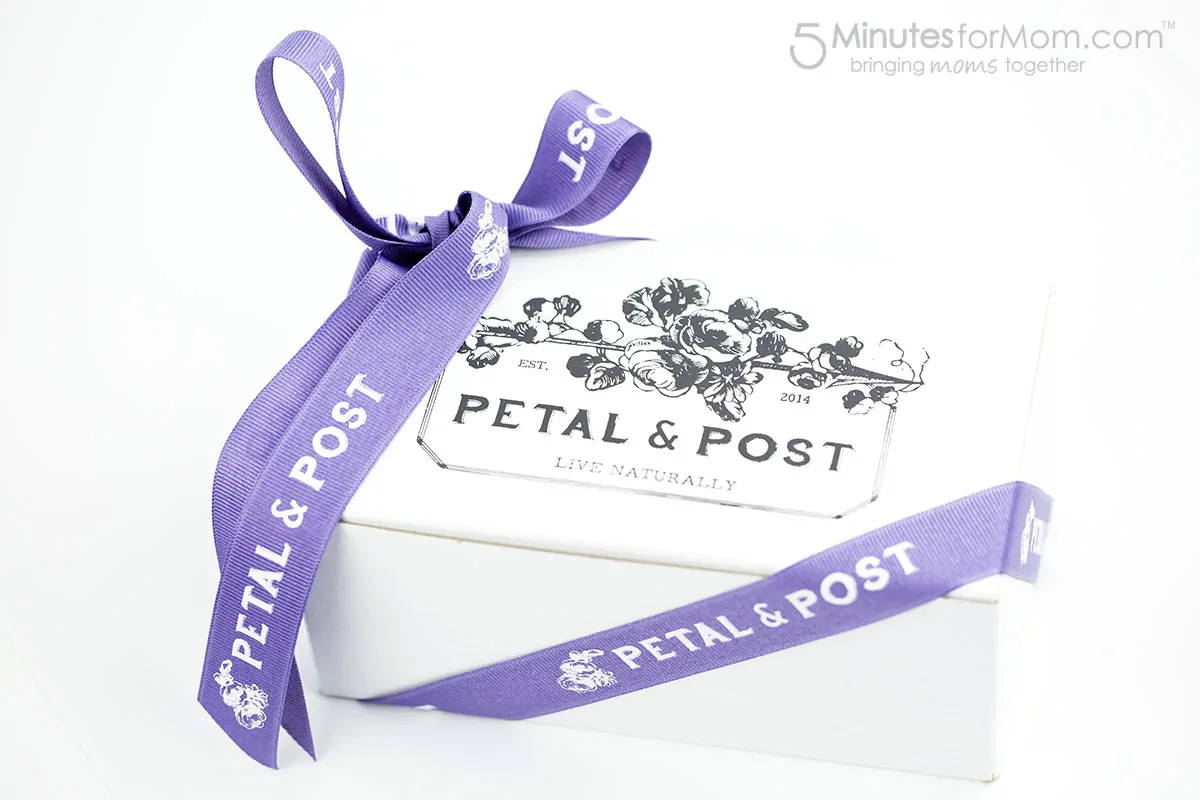 Don't you just love the bow? There is nothing like a ribbon wrapped box to add a bit of whimsy to a girl's day.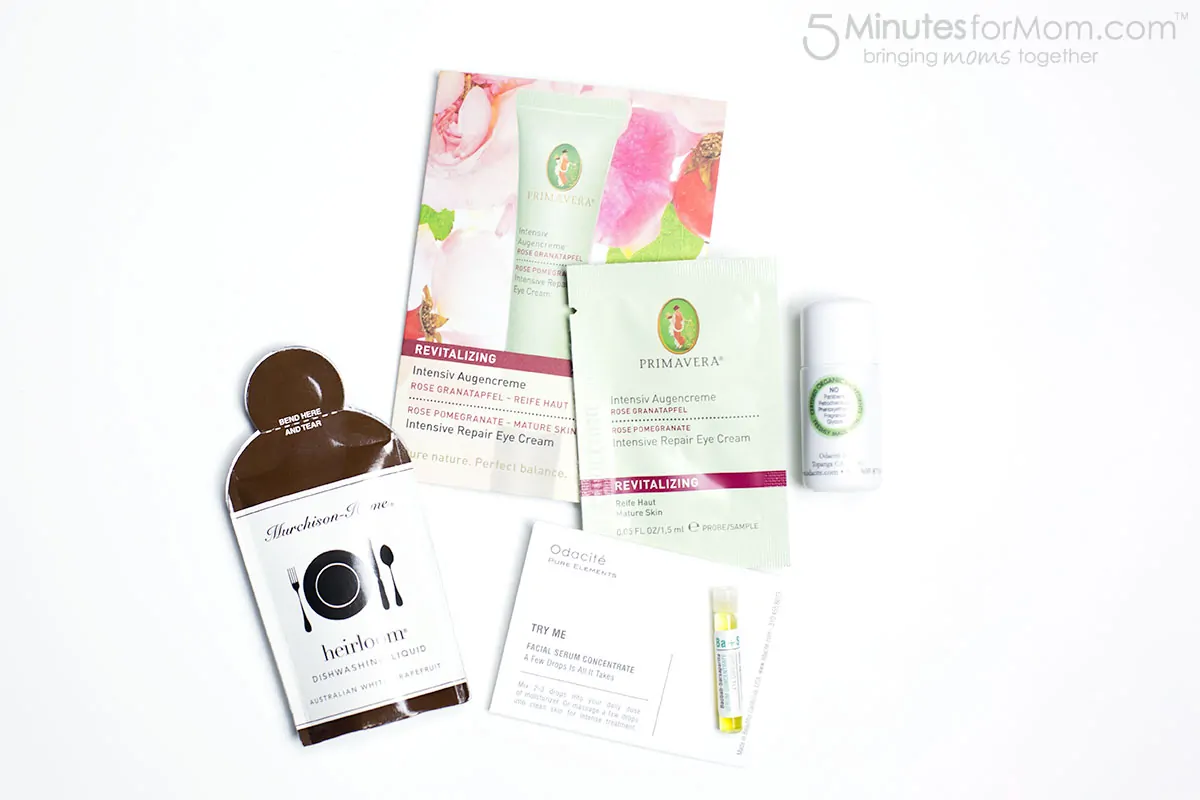 DISCOUNT Coupon Code
We have an exclusive coupon code for you to try out some of the wonderful offerings available at Petal and Post…
Receive 15% off your Petal & Post offer with discount code: 5MinforMOM-15forYOU-summer
Good now thru midnight October 31, 2015.
Happy Shopping!
Share With Your Friends
We'd love, love, love a tweet or a pin… Thanks so much! 🙂
[Tweet "Treat yourself to organic luxury with Apple & Bears @PetalAndPost"]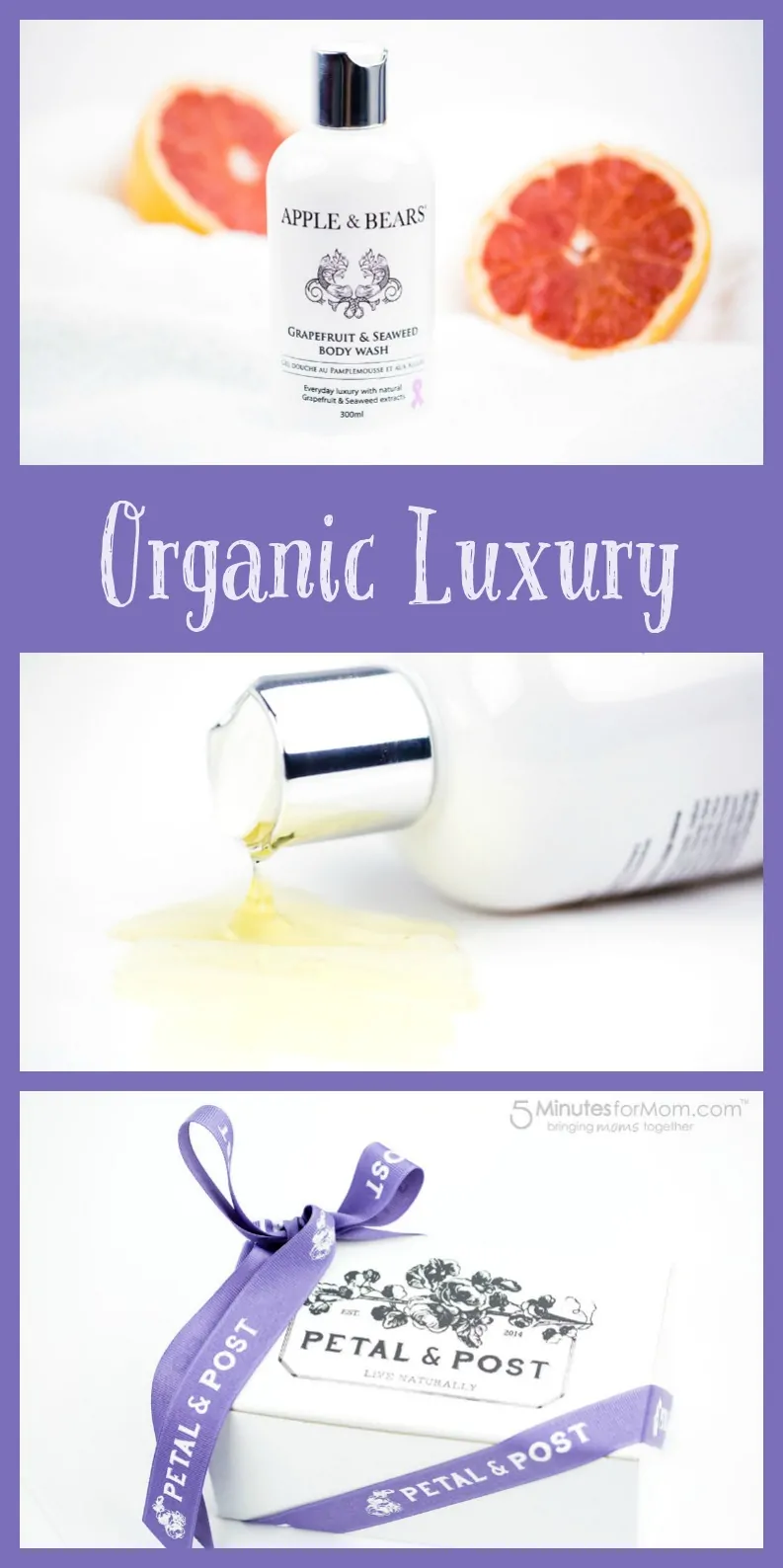 Written by Janice Croze, co-founder of 5 Minutes for Mom
Talk with me: @5minutesformom and Facebook.com/5minutesformom
Pin with me at pinterest.com/5minutesformom