This post may contain affiliate links. Read my disclosure policy here.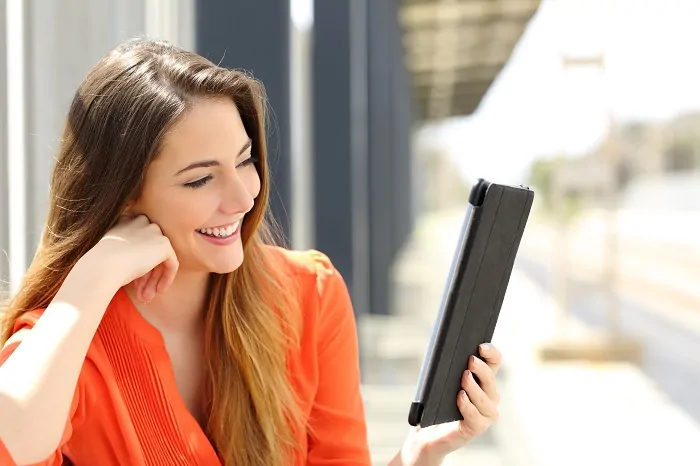 Nancy, 5 Minutes for Books staff reviewer, is here to share why she much prefers her e-reader over a paper book. Read on and let us know why you agree or disagree in the comments below.
I was intrigued by a recent report by the New York Times that digital book sales are down for the first time in 5 years, invalidating the prediction that e-books would overtake print books by the year 2015. Higher prices for digital books, along with smartphones and tablets replacing e-readers, are mentioned as reasons for the reverse migration back to print.
I've had a Kindle for several years now, but contrary to the article's declaration, this is the first year that my reading has been predominantly digital books. A big part of this is because many publishers are now making review books available in digital format, as well as programs like Amazon's Kindle First and the continuously increasing library catalog of digital books.
Recently, as part of the reading challenge I'm participating in, I decided to read A Little Princess by Francis Hodgson Burnett, a much beloved book from my childhood. I still have that paperback copy I read over and over, and when I pulled it off the shelf it was the first time I've picked up a print book since May.


While reading, I remembered the many reasons I prefer to read on my Kindle:
It's difficult to read a print book while eating, especially if you need 2 hands to do so. I can just prop up my Kindle, use a single finger to push the Next button, and happily eat and read.
There's no built-in dictionary in a print book. And I'm lazy. I love being able to quickly access the dictionary in the Kindle to learn the meaning of a word.
If I fall asleep reading a print book and it falls out of my hand, I lose my page. My Kindle will turn itself off after a few minutes, and my place is saved. I also don't need to find a bookmark to hold my place.
While my paperback copy of A Little Princess is small, larger books don't fit in my purse. My Kindle doesn't take up much room and can come with me everywhere. It weighs less than most books so doesn't add much to my bag's heft.
If I do forget my Kindle, the books sync across devices, and I always have my smart phone with me. If I forget my print book at home, I'm just out of luck.
If I'm traveling, I don't need to bring a pile of books, taking up space and making the bags heavier. My Kindle has a list of books waiting to be read, not to mention the Kindle Owners' Lending Library.
Some arguments against the Kindle (and my rebuttals):
If you are an underliner or margin note-taker (which I am not) you can't do that with a Kindle. Au contraire, you can both underline and make notes in a Kindle book, and use the handy search function to find your notes.
You can't flip through a Kindle easily if you need to re-read a passage or remind yourself of some forgotten details. True, but again you can search on a word or phrase and find just the right spot in the book.
It has to be charged. Yes, but my Kindle Keyboard battery lasts several weeks before it needs to be plugged in. Turning the wifi off will further extend the battery.
You can't easily share Kindle books. This is true, and a definite negative in my book (no pun intended). However, the important word there is "easily," as sharing can be done, both through the Amazon Kindle store, and by other means.
Reading on a device just isn't the same as holding a print book, and takes away from the experience. This may be true for some, but how I take in the words doesn't change my ability to get lost in a good story.
I don't know that I'll ever fully convert to digital books, but who knows. If I have the choice between digital and print, it's digital every time. I'll never give up some of my beloved books like A Little Princess. And I won't turn away a review book if it's only available in print. But for me, the convenience of digital books far outweighs the nostalgia of print books.
Are you a die-hard print reader?  Have you converted to the digital world?  Or do you read a combination of print and e-books?