This post may contain affiliate links. Read my disclosure policy here.
Elizabeth, 5 Minutes for Books reviewer, is here to share how feeling comfortable leaving her daughter across the country at college involved making sure she had the right books.
When you're preparing to send a kid off to college, there are tons of helpful lists full of "essentials" she doesn't actually need, like under-bed storage trays (which wouldn't even be possible in my daughter's room, since her bed is on top of drawers), or a social media shower curtain (don't most students still share bathrooms? I've got 2 kids in college and neither could even use this), or a mattress pad (nice, but hardly essential).
Oddly enough, none of these "helpful" lists even mentioned the one true essential, past the towels/sheets/clothes. What one needs when setting out anywhere are books to read to for fun and edification.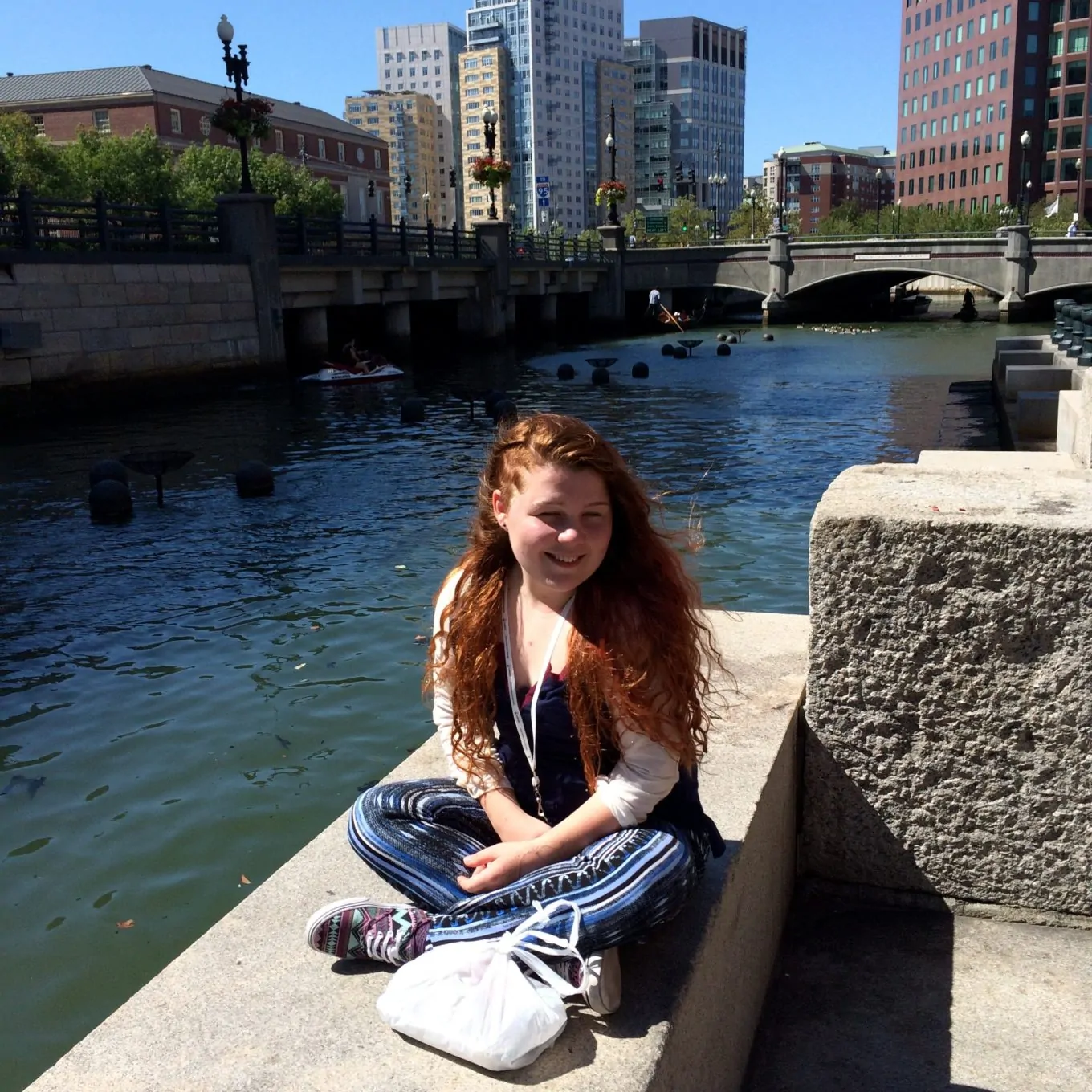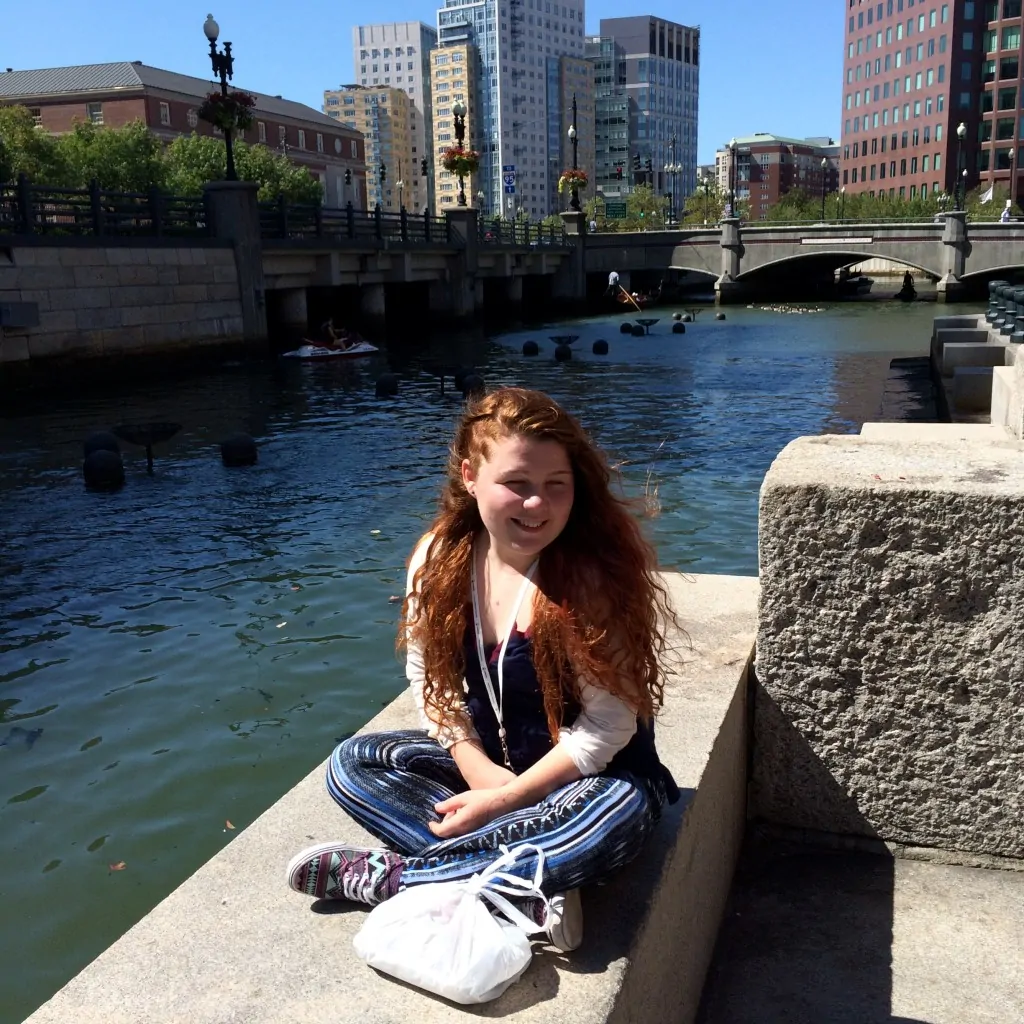 Ilsa sitting at side of canal which is on the edge of her college campus.
I live in Oregon and my daughter managed to get into a school in Rhode Island. Look at the map. It's about as far as you can go and still be on the same continent. Like many of you, we don't have great wads of extra cash just lying around, and the few we had (ha!) were so quickly snapped up by the college, we just passed up those lists of "essentials" and bought her 2 sets of sheets, 2 sets of towels, and some new undies and called it good.
We were, as always, amused by people who asked her if she was packed a week before she was leaving. No, of course not. We are people who are being super-organized if we pack 2 days early. We flew separately, because her grandpa used frequent flyer miles to buy her ticket. Her dad and I each took a case for her, so she arrived for the year with 3 cases total, plus her laptop. None of them were even full. She is doing fine. Seriously, those lists are crazy.
Dorm check-in was on a Sunday, so we went a day early and spent a day exploring the area. She wasn't interested in knowing her new town–"I'm going to be spending lots of time there," she pointed out–so instead we hit Lexington, Concord and Boston, taking a quick visit to each place. In accord with our plan to give to the college all of our wads of cash and keep nothing for ourselves, we cleverly wandered round the outside of the historic buildings and read the free signs, rather than paying for admission, and we had a fine time. We did buy some excellent iced coffee in Concord though. I'm pretty sure it was better than what the Founding Fathers drank.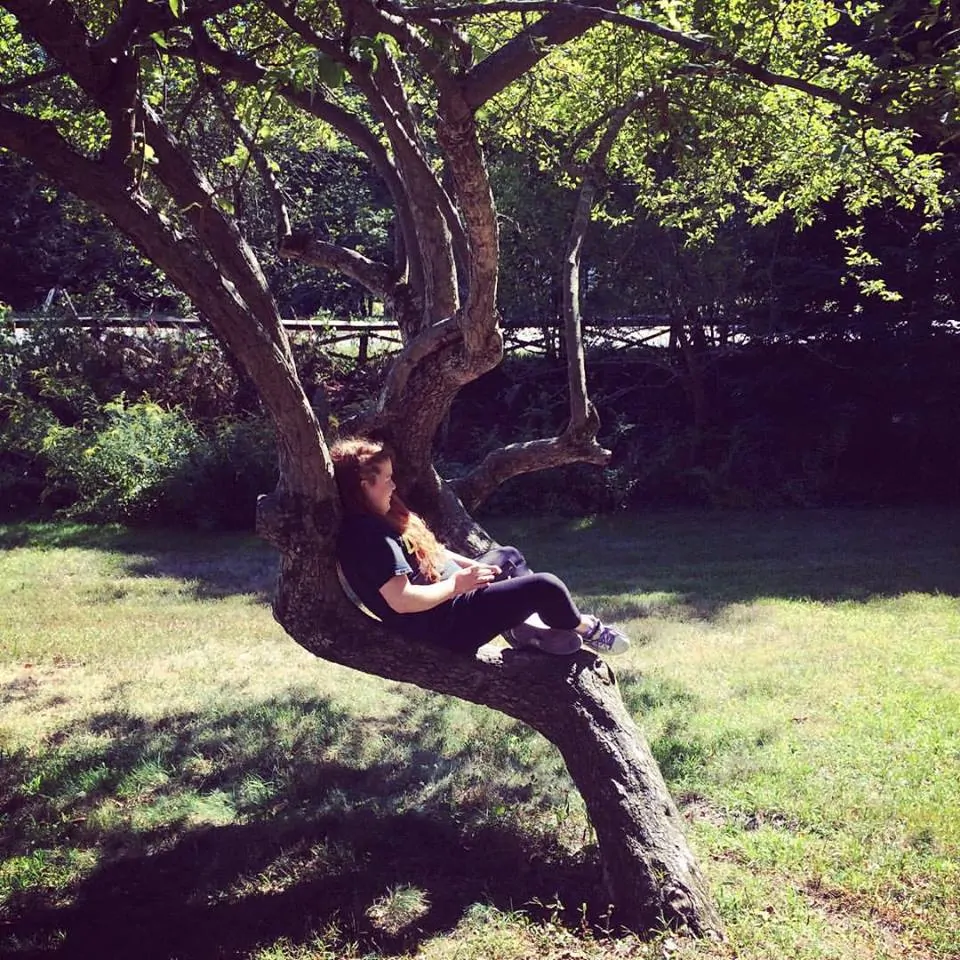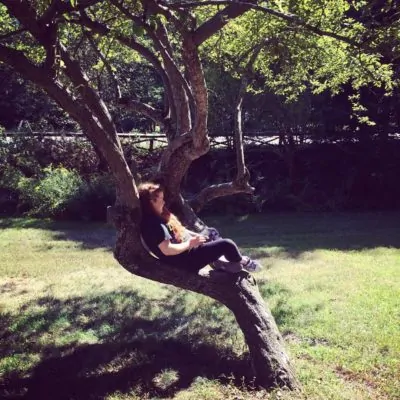 Ilsa sitting in a perfect tree — one of many we saw back East– outside of Louisa May Alcott's former home, now a museum. Can't you just picture Jo from Little Women sitting here, reading and eating apples?
I am concerned with her spiritual needs, not only her physical ones. I know the college will take care of her food and shelter, and that new friends will help her find a nearby store to purchase shampoo and laundry soap and tampons and other necessities. But it's nerve-wracking to send your daughter 3000 miles away to a town where you know no one. Yes, this is her time to make her faith her own–or not, whatever she decides. But I want to do all I can to help.
I googled "churches in Providence" and found one that looked good. We visited it together on that first week, before we lugged her cases up the 4 flights of stairs (true confession: young men wearing shirts that said "RISD Muscles" actually did the lugging). It was a good church, only a mile from campus so easy walking distance. I wanted to go round meeting people afterwards and making sure they knew who she was but I restrained myself.
And, like I said, I sent certain books along with her. She loves CS Lewis, so he figures heavily, but I put in some light reading too.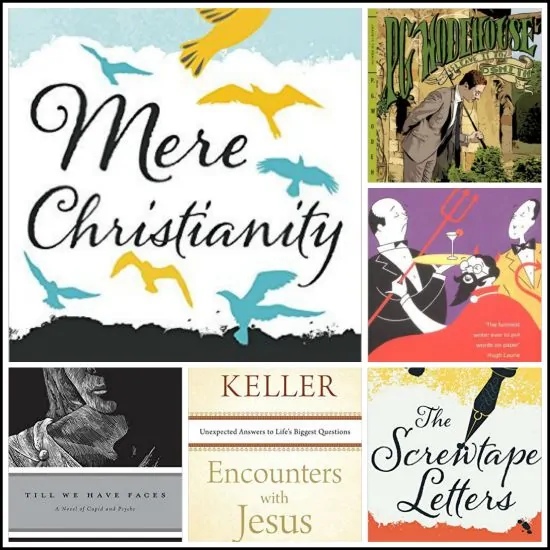 Mere Christianity
: This one is a classic. I read it when I was in college and probably you did too, unless you read it in high school. (In high school, all I read was PG Wodehouse and Alaistair Maclean.) It steadily presents the case for Christianity in a clear, logical and calm way and in Lewis' own style.
The Screwtape Letters
: Another Lewis. These purport to be letters from an older Devil to a younger Tempter, and they are fun and convicting at the same time. To be read, re-read and savored.
Till We Have Faces
: I told you we had a lot of Lewis represented here! This is his retelling of the classical myth of Psyche, but it's told from the point of view of her older sister. This fits different categories; it's encouraging to your faith, like the previous two, but it's also a novel and relaxing to read.
Encounters with Jesus: Unexpected Answers to Life's Biggest Questions
: I haven't actually read this one yet, but I went to Powell's to buy her Mere Christianity and found this one instead. I'm basically a Tim Keller fan-girl, so I'm confident it's good. The title is pretty self-explanatory.
Leave It to Psmith
: Everyone should have some "comfort" reading, a familiar book that will cheer you up and make you laugh when you're stressed, something to read when you're sick in bed and your mum is too far away to bring you cups of tea and ginger ale. Who better to do that than Psmith (the P is silent as in ptarmigan), especially in this classic where he visits Blandings Castle? If you have never read Wodehouse, get thee to a bookstore immediately (or stop by if you're close to me). He will brighten your life.
Right Ho, Jeeves
: Same as above, except with Bertie and Wooster.
Of course she took some of her own books too. And I know she doesn't have a lot of extra time. But sending with her some classics of the faith is comforting to me, reminds me that I've done all I could to prepare her, and have sent with her the words of those who can guide her in dark times to the One who gives peace.