This post may contain affiliate links. Read my disclosure policy here.
Ever since blogs started competing with traditional media several years ago, some journalists have been trying to minimize and disrespect mothers who blog.
In fact, their very use of the term "mommy blogger" is often said with a mocking tone of voice. I prefer the terms "Mom Blog" and "Mom Blogger".
Yesterday, the Atlantic published a post using Dooce's "semi-retirement" as proof of "the challenges of earning money as an individual blogger today" and implying an end to the "Mommy Blogging" era.
My short answer to The Atlantic's question, "Can Mommy Bloggers Still Make a Living?" is…
"YES, Mom Bloggers CAN still make a living."
But if you are sincerely interested in the earning potential of mom bloggers, here's the full story…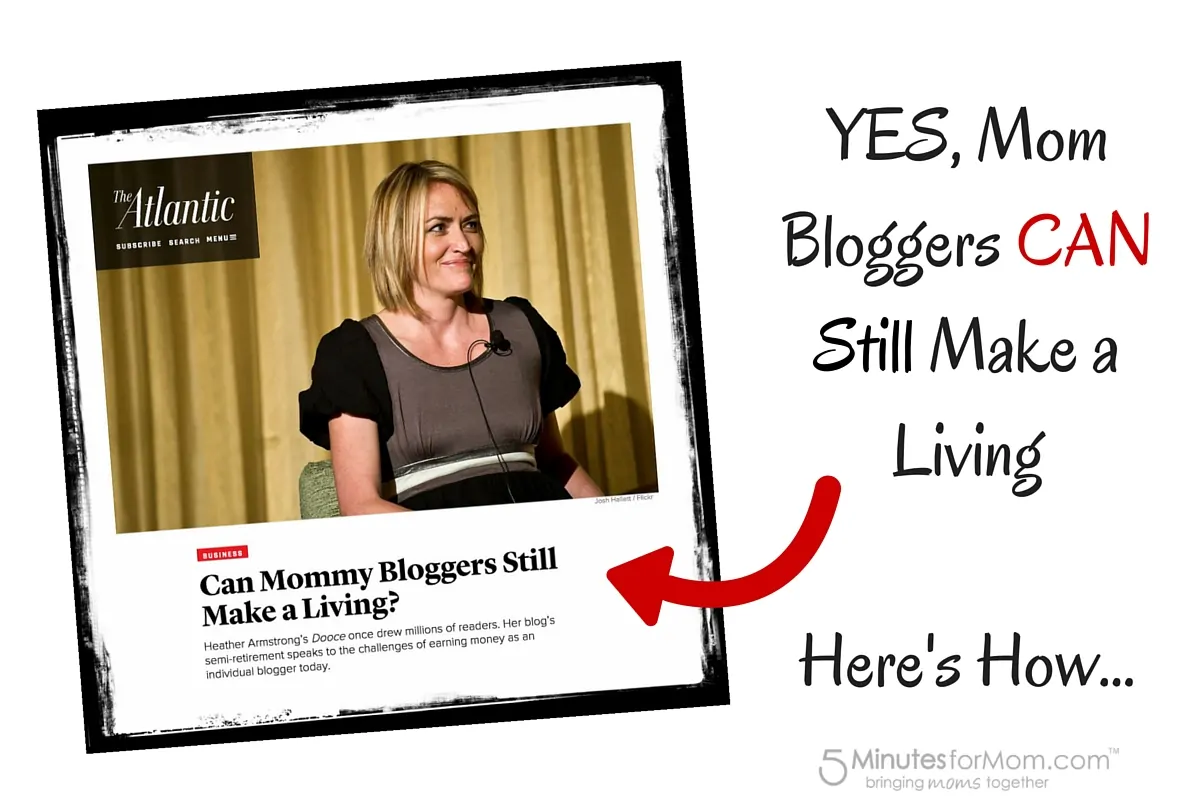 Blogging is NOT Dying — It is EVOLVING
If you're in the business of New Media, you'd better be ready for it to change.
There is no point in hanging on to the past. If you've elected to build a business based on pushing boundaries and creating income opportunities where none used to exist, you need to be ready to lay ground on the next road.

The blogging business is NOT easy and it IS getting harder every day.
[Tweet "Blogging is NOT Dying. It is EVOLVING."]
Heather Armstrong says she wouldn't recommend blogging to make money — and neither would I. There are easier ways to make a living.
BUT, if you are determined to making a living as a mom blogger, you CAN do it.
In fact, I'd say you have a better chance of earning a full time income as a mom blogger today than when we started in 2006.
It wasn't until about 2010 that many mom bloggers started making significant incomes. Now in some ways making money blogging seems to be be getting HARDER and you have to push and stretch yourself.
You need to learn to shoot and edit better photos. You need to take time to create compelling visual elements for your posts. You have to grow several social channels. Once you press publish on a post, the work doesn't stop.
It is HARD.
And I wouldn't blame anyone for quitting.
(In fact, I actually share many of our personal secrets and strategies in a weekly email for bloggers who are trying to build a business.)
Dooce was never representative of Mom Bloggers
Yes, Heather may have been awarded the title of the most popular "Mommy Blogger in the World", but she never actually represented the group.
[Tweet "Heather Armstrong aka @Dooce was more of a 'Blogging Rockstar' than a 'Queen of Mommy Blogging'."]
First of all, let me say, I have tons of respect for Heather and the blog and business she created. One of our first blog posts in March 2006 was actually about how funny and talented we thought Dooce was.
Dooce was unique.
Heather wrote publicly about topics no one else would have. She created an audience that craved her irreverent, honest voice.
But that audience was also the type that fought back when she put ads in her sidebars.
It's no wonder that her particular audience didn't embrace her writing sponsored posts.
However, just because Dooce doesn't like writing sponsored posts and some of her readers didn't like reading sponsored posts, it does NOT mean that sponsored content doesn't work for other bloggers.
Sponsored Content Can Be Awesome – But It Takes Work
Yes, as the article points out, banner ads are dying.
But I'd venture to say, the fact that banner ads aren't generating as much revenue is worse news for The Atlantic and other media sites than it is for mom bloggers.
[Tweet "The death of banner ads is worse for big media sites than it is for bloggers."]
The mom bloggers that are successfully generating full time incomes are creative writers, talented photographers, and smart business women who know how to create content that serves both their audience and their advertisers.
Again I say, it isn't easy. Managing that difficult balance day in and out, gave Heather panic attacks.
I am not surprised she quit.
Heather can make more money speaking and consulting to brands, so it makes sense for her to do that rather than write blog posts.
But don't make the mistake of thinking that sponsored content is subpar or inferior to posts penned on a whim.
Most professional mom bloggers spend FAR longer crafting a post when it is sponsored.
Mom Bloggers Who ARE Making FABULOUS Livings
This article asks, "Can Mommy Bloggers Still Make a Living?"
The answer is YES and here are 10 examples of women who are running very successful businesses with their "Mom Blogs" as the enterprise foundation.
Each of these blogs has evolved dramatically from their early days, but none are at risk of closing… instead they are flourishing. And YES, they all publish high quality, engaging sponsored content that their readers love.
Here are 10 women who prove "Mom Bloggers" can make fabulous livings…
And yes, Janice and I are both single moms who support our families through this blog and our social influence.
We work incredibly hard and many days we might wish we could quit. But the blessings of this creative challenge are beyond anything we could have imagined when we started "mom blogging" in 2006.
What Do You Say?
Are you a "mom blogger"? What's your response to The Atlantic article? Please share it in a comment.
Also…
It was difficult to select ONLY 10 successful mom bloggers for this post. The list could go on and on for pages. We personally know so many women who earn their incomes from "Mom Blogs", but we selected a group of ten that we feel show quite a variety of blogging styles.
If you'd like to mention another mom blogger who is making her living blogging, please tell us in a comment…
UPDATE: This is an interesting article about Dooce's interview on stage at the 2015 Problogger conference.
Share With Your Friends
We'd love, love, love a tweet or a pin… Thanks so much! 🙂
[Tweet "Here are 10 Mom Bloggers who answer @TheAtlantic article's question about @Dooce…"]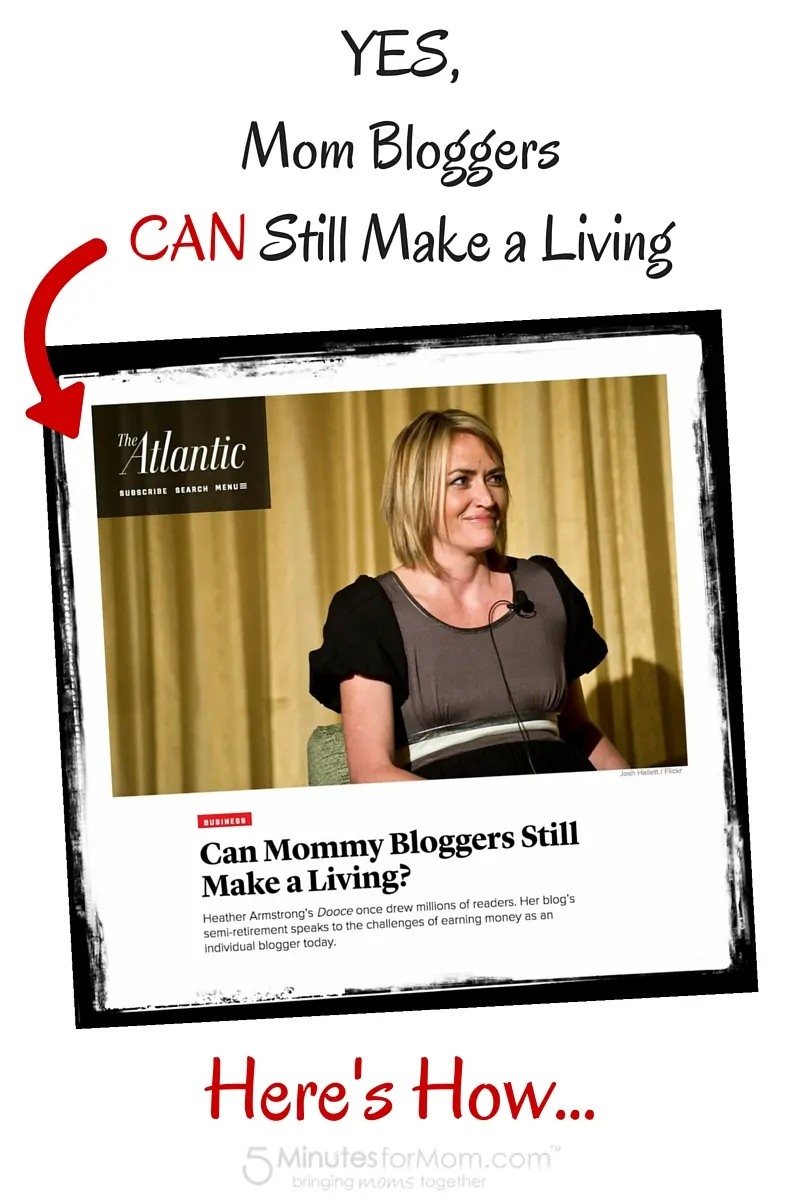 Want To Know More About What We Actually Do?
Janice and I have been blogging and making our living online since 2006. It's not always easy, but we've learned tons over the years and we keep learning everyday.
As a way to give back to our loyal readers, we created a weekly email series called "Become a Better Blogger". In each edition, you will learn something from our 8 years of full-time blogging experience.
Get Become a Better Blogger delivered FREE to your Inbox every Monday…
Written by Susan Carraretto, co-founder of 5 Minutes for Mom
Talk with me: @5minutesformom and Facebook.com/5minutesformom
Pin with me at pinterest.com/5minutesformom