This post may contain affiliate links. Read my disclosure policy here.
We're excited to introduce our newest writer, Jen Haas from Plain Vanilla Mom. She and her two boys are here to share a look at the new Blaze and the Monster Machine toys from Target that help encourage STEM (Science, Technology, Engineering and Math) inspired play. This post is sponsored and Jen was provided sample toys to review from Nickelodeon, but Jen's opinions are her own.
My boys were beyond thrilled to have the chance to review a whole host of Blaze and the Monster Machine toys from Target.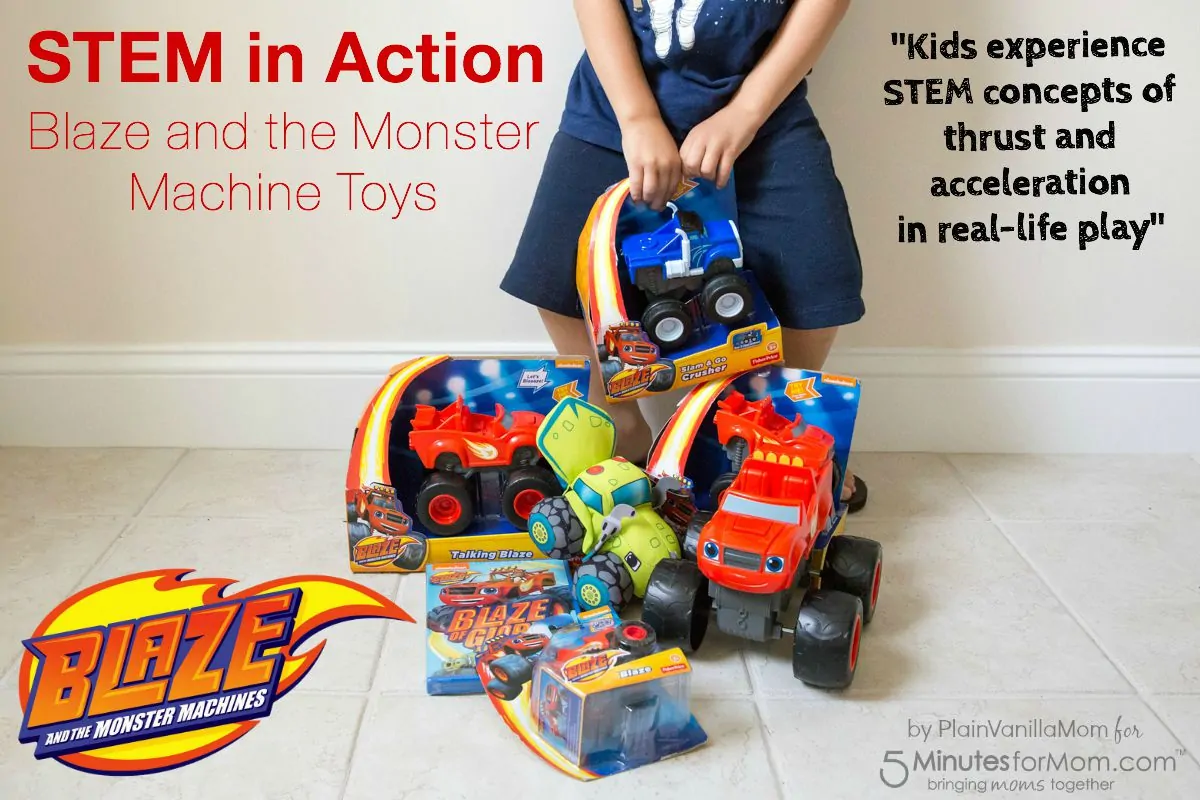 After watching Blaze on TV, they were more than excited to bring the action into our living room. And I was thrilled to have the boys bring the STEM (Science, Technology, Engineering and Math) lessons about thrust and acceleration that they learn on the show into real-life play.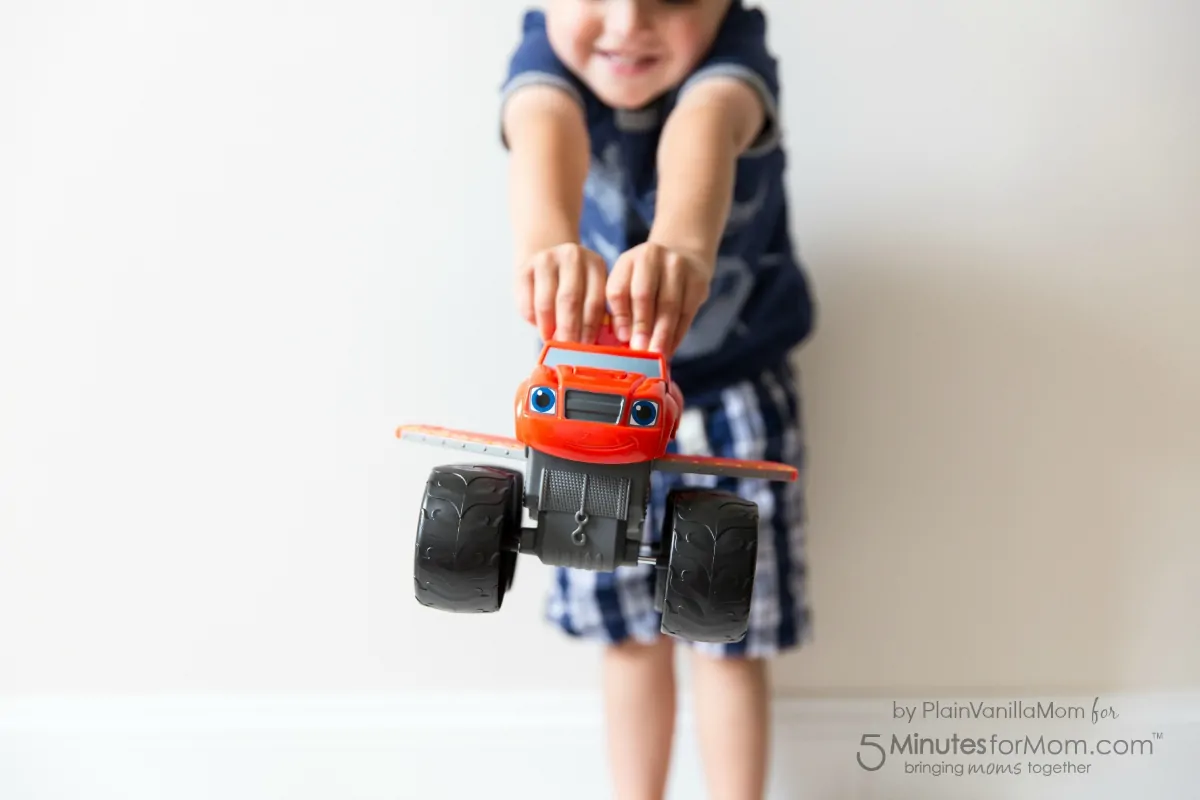 Did I mention they were over the moon excited?
Here's a look at all the toys we got to try out…

Talking Blaze, Transforming Jet Blaze, Slam & Go Blaze & Crusher (big hits by the way). There was even a Blaze die cast figure, a Blaze mini movie and a Zeg plush toy.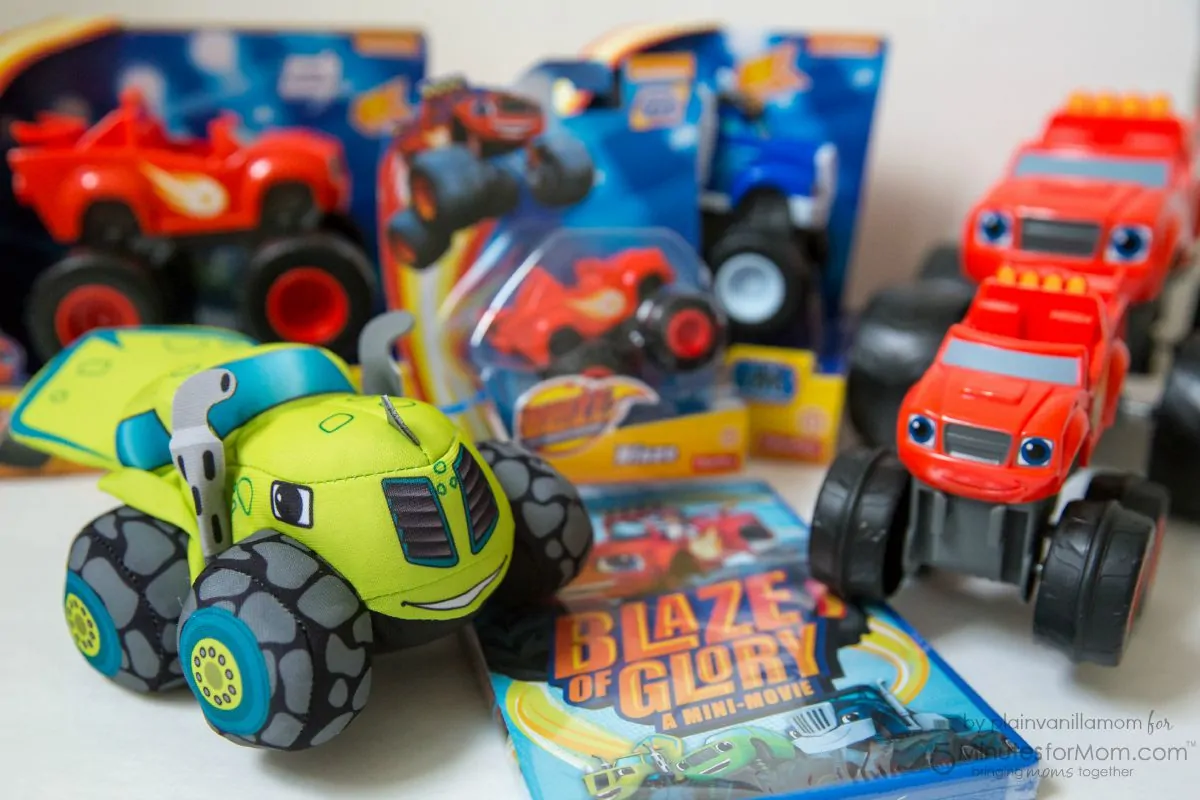 You can find these fun Blaze and the Monster Machine toys in store at Target and all major retailers now and online at Target.com/Blaze.
My youngest just loved to listen to and repeat Talking Blaze phrases while driving him around the house.
It was fun to see him take concepts from the show and act them out with talking Blaze. His imagination was hard at work and he was "ready for action" (his words).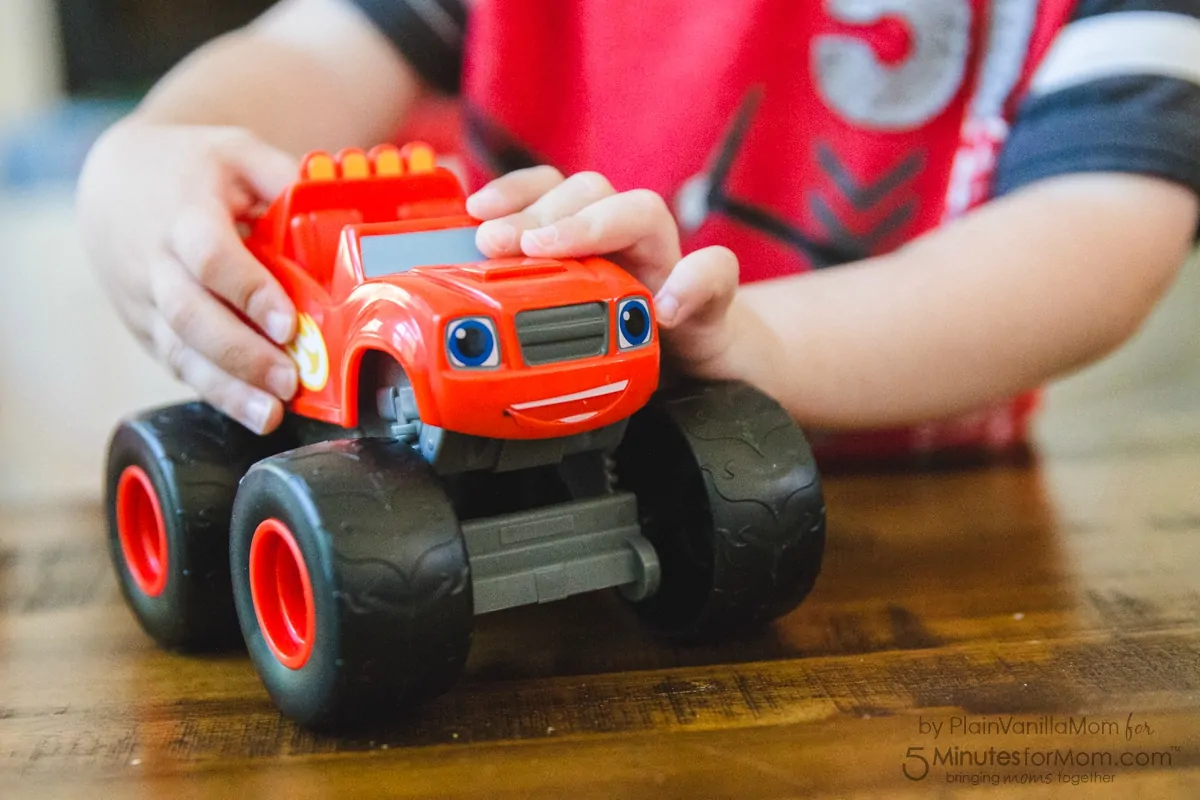 Every single truck was a hit!
They (and I) especially love the Blaze die cast figure. I like how solid and well built it feels. Being it's a smaller sized truck, there were lots of places we could play with the Blaze die cast toy.
The boys had a great time exploring with Blaze in the rock & sand pit we built just for him. I can honestly said I would love to get my hands on some more of the die cast characters to expand on the play set-up we built here.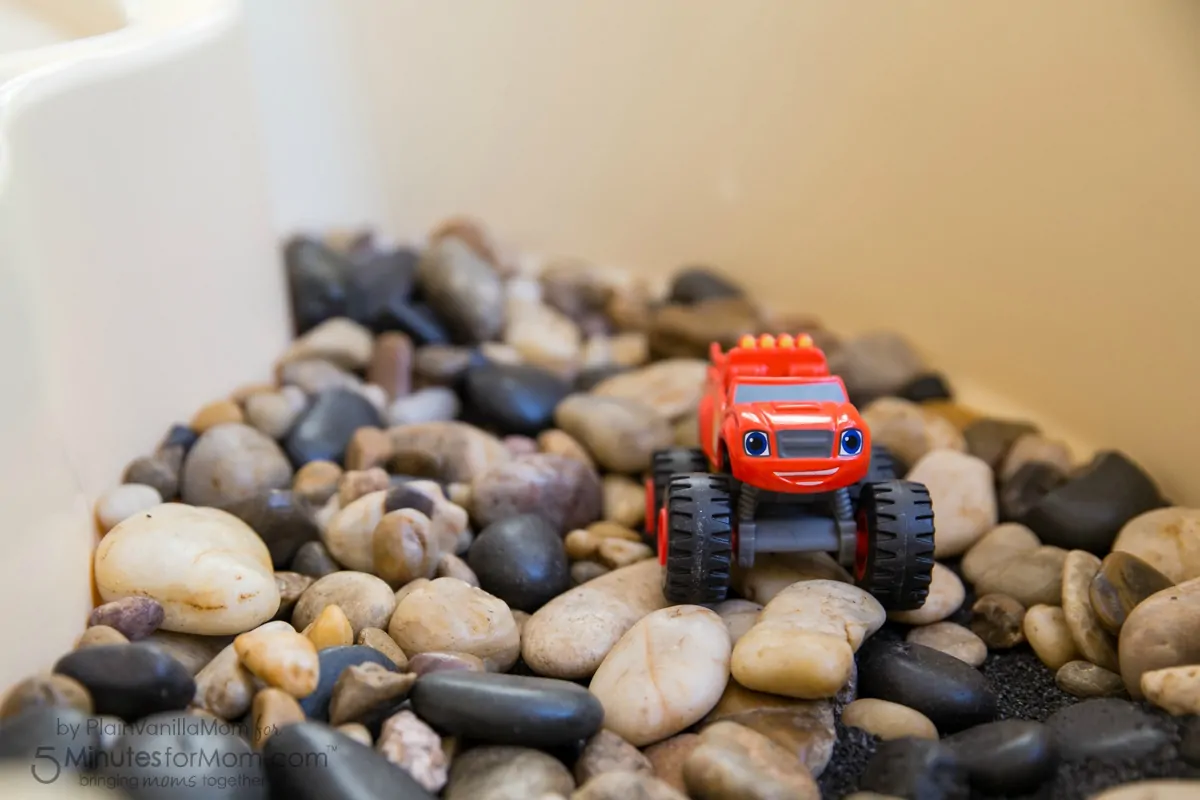 Transforming Jet Blaze was the largest truck we were sent. I probably don't have to tell you that because of his size he was the first one the boys wanted to play with. Later he became a coveted toy for an entirely different reason.
You see, Transforming Jet Blaze is really cool.
Every time you lift Transforming Jet Blaze off the ground, his wings open, and the minute he's back on four wheels he transforms back a truck.
When kids play with Transforming Blaze Jet, they learn about the STEM (Science, Technology, Engineering and Math) concept of thrust. When Blaze transforms into a jet, he uses thrust — the power an engine makes to push a plane through the air.
The boys were captivated by it. And the fact that he also says a really cool phrase or two doesn't hurt either.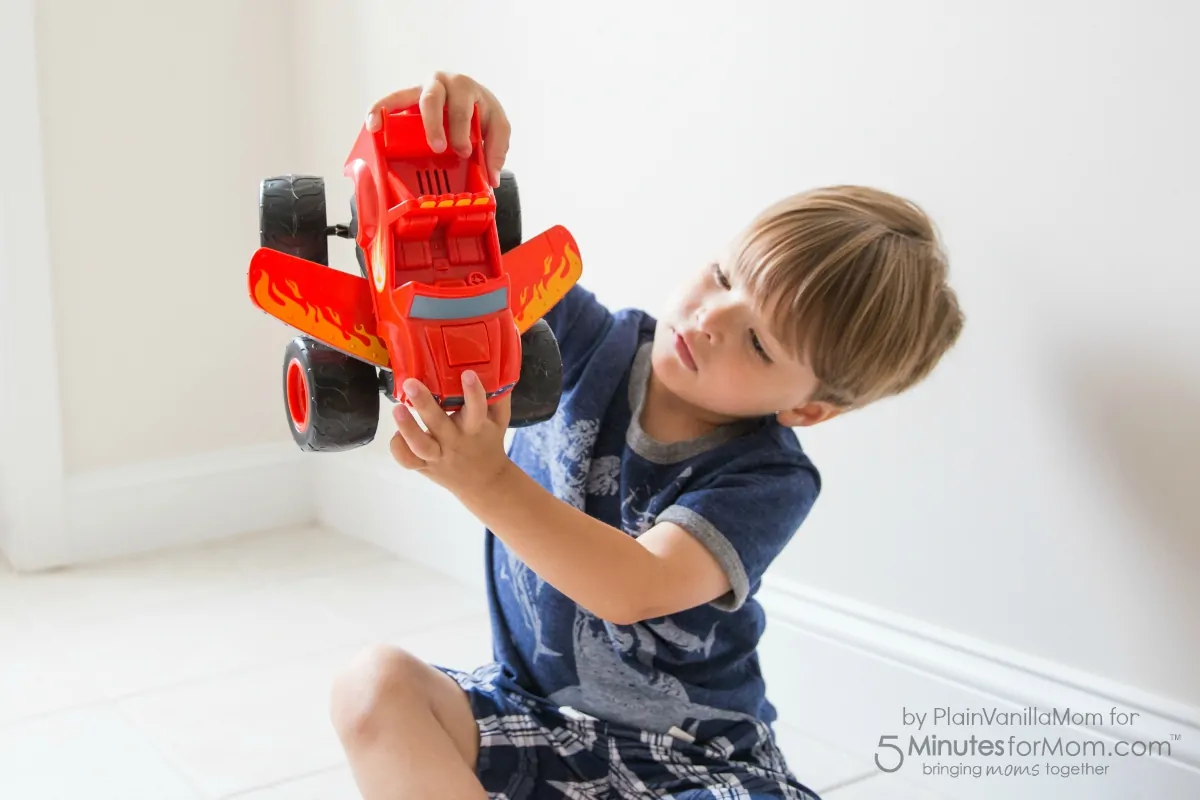 My preschooler thought an experiment was in order to see if he could "launch" Transforming Jet Blaze off our coffee table (he even built a "bridge" to launch him from).
What he really wanted to see was if his wings would come out at the point he caught air before hitting the ground? Pretty good hypothesizing for a 3 year old right? I actually rather like the fact that this toy has my son hypothesizing and setting up experiments at all.
I must say I was rather impressed. Not to mention the way they were tossing and crashing these trucks around I thought for sure we'd break at least one. I'm happy to report after a significant amount of test crashing they are in fact still all intact.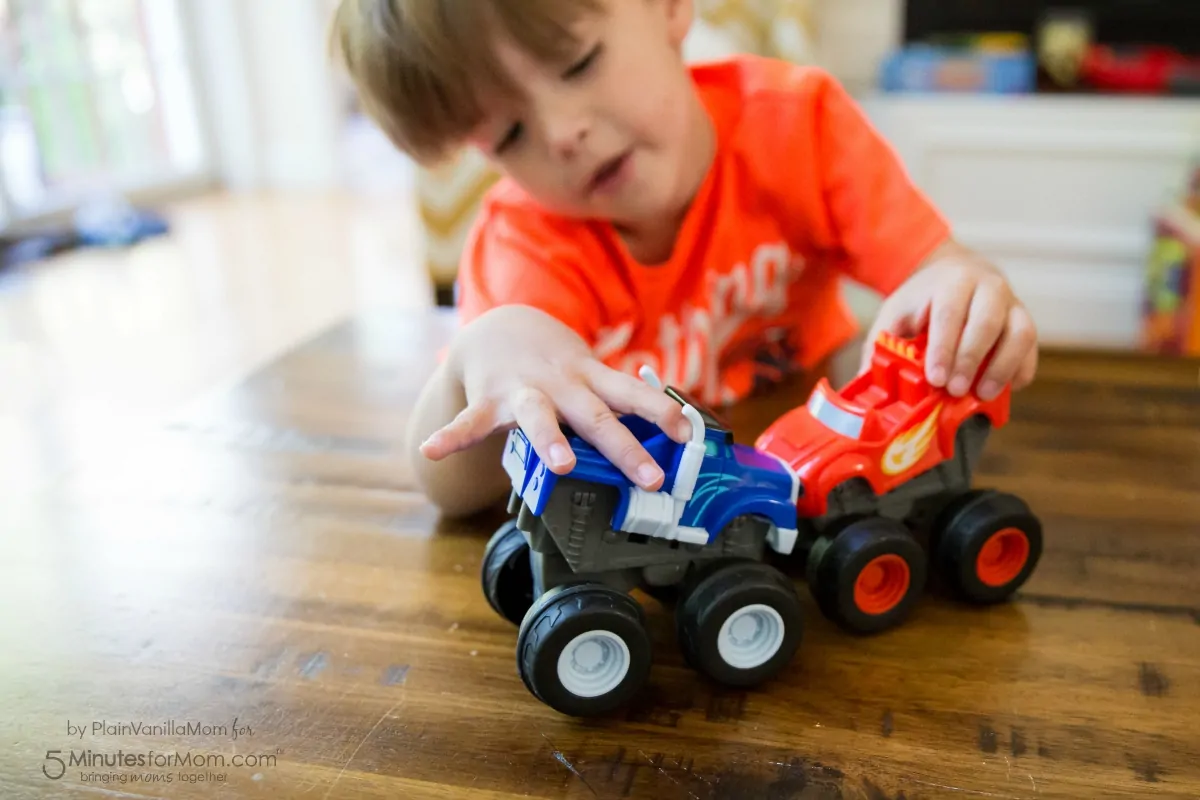 Slam & Go Blaze and Crusher were hands down our absolute favorite trucks in the set because they were the best for racing. I can't wait to share with you the awesome set up we had for them in a future post.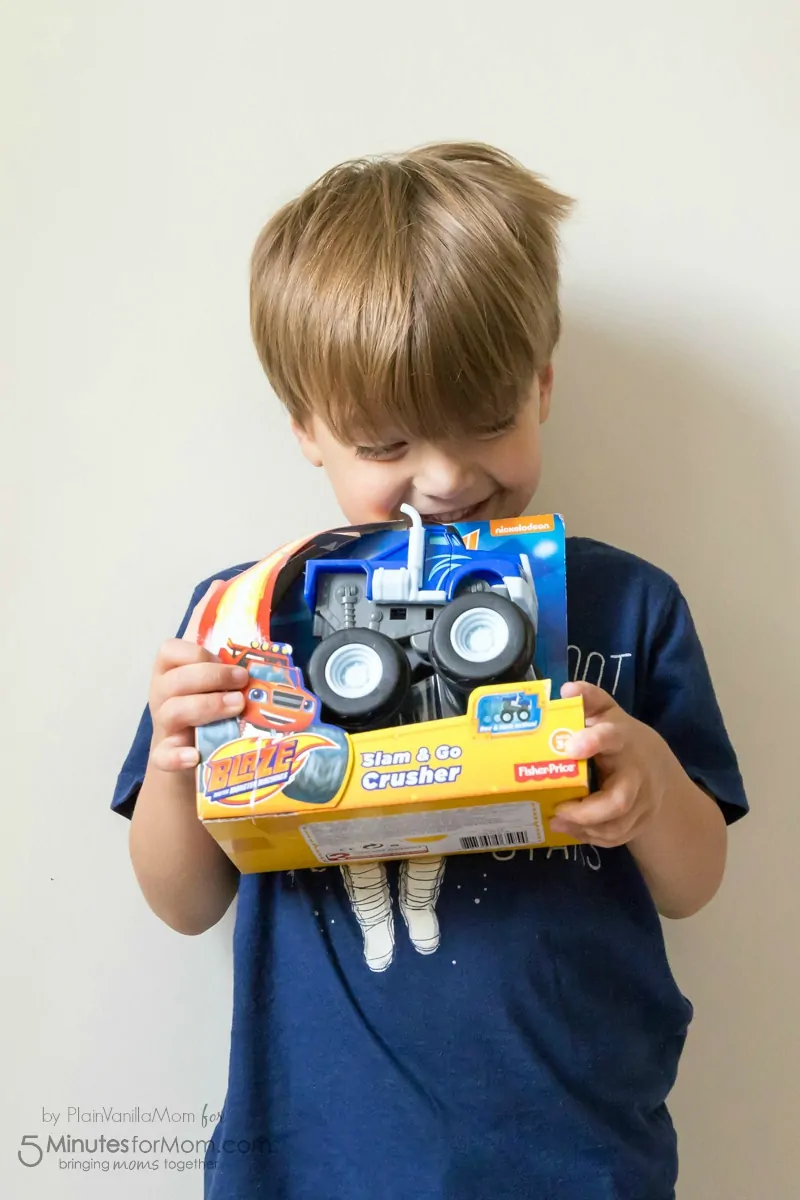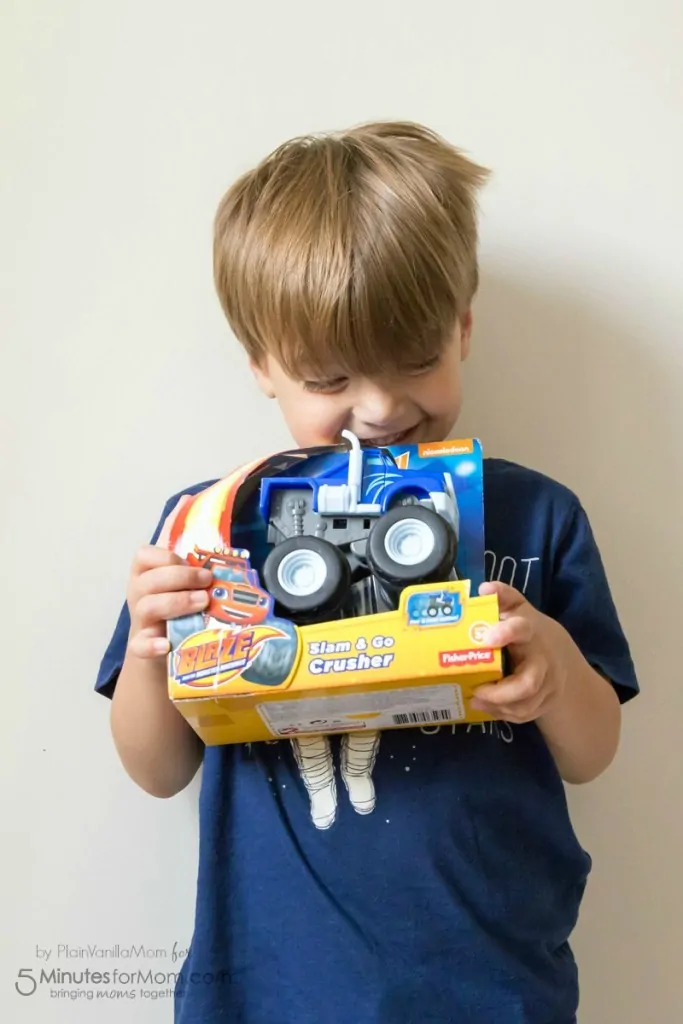 When kids play with Slam & Go Blaze and Crusher they are experiencing the STEM principle of acceleration. You can use these trucks to explain and demonstrate the concept of acceleration with your kids… When Blaze is going one speed and then starts going faster, that's acceleration. Pressing down on Blaze makes him accelerate.
What was my favorite part of testing out all these toys you might ask? 
Abandoned play scenes all throughout the house! That and all these Blaze Monster Machine toys have allowed for some really creative and imaginative opened ended play.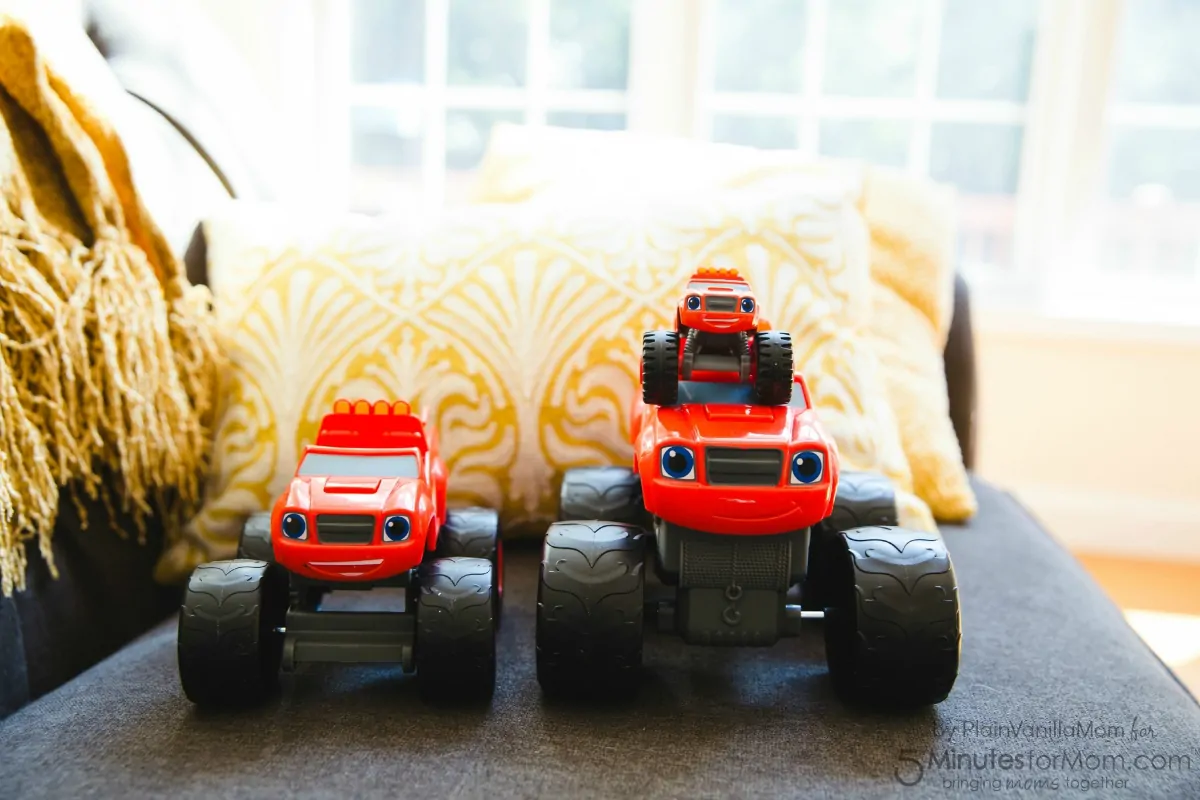 If your kids love cars and action, they will love Blaze and the Monster Machine Toys. If they've also seen the Blaze TV show, they'll be over the top thrilled.
Blaze and The Monster Machine toys are available at all major retailers and in store at Target as well as online at Target.com/Blaze.
Host a Blaze Playdate

Here's another fun way for your kids to experience the fun of Blaze with their friends…
Host a Blaze Play Date.
Begin your adventure with a free play date pack from Target.com/Blaze. Get games, crafts & recipes to host a fabulous Blaze inspired play date.
(Hint… I'll be sharing photos from our Blaze Play Date soon.)
Share With Your Friends
If you enjoyed this post, we'd love, love, love a tweet or a pin… Thanks so much! 🙂
[Tweet "See how these Blaze and the Monster Machine Toys help kids put STEM concepts into action…"]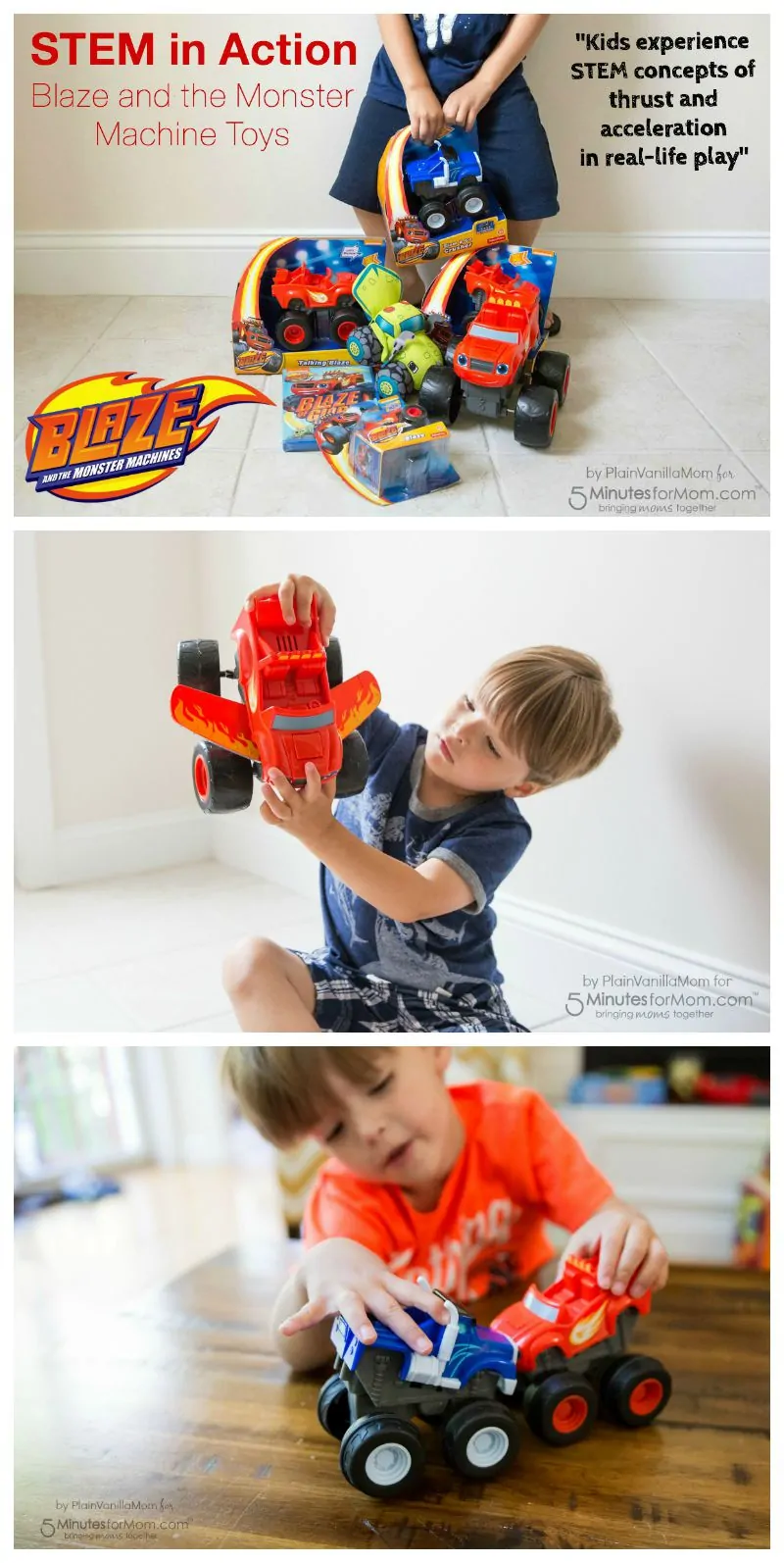 Written by 5 Minutes for Mom contributor Jen Haas, who blogs at Plain Vanilla Mom
Disclosure: Thanks to Nickelodeon for sponsoring this post and providing Jen and her boys with sample toys.