This post may contain affiliate links. Read my disclosure policy here.
If you didn't win during our #BTSTech Twitter Party, you still have another chance to win a year's worth of school uniforms from our sponsor @FrenchToastcom. (Prizing open to US only.)
Whether or not your child's school requires uniforms, you'll still love these clothes for stocking up on essential school wardrobe items.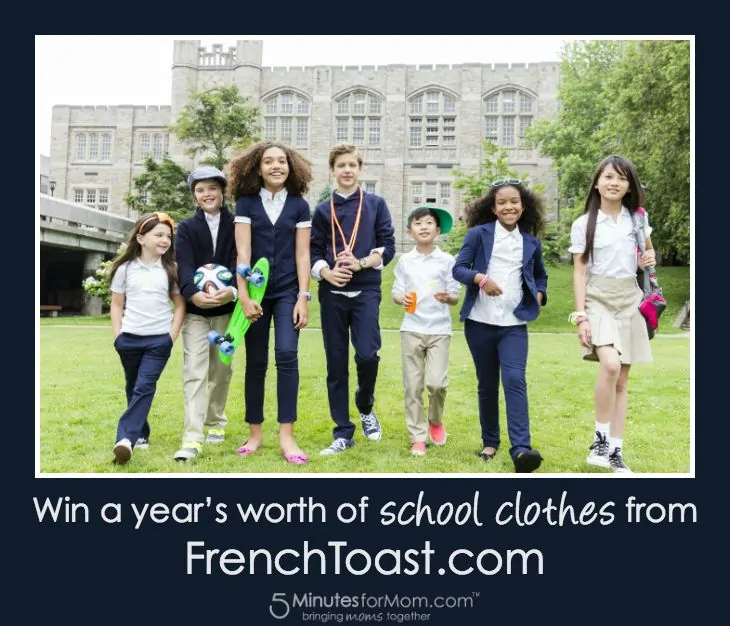 We had such a fabulous time chatting about how technology helps (and hinders) parenting, how you can use apps and websites to get organized, help keep your kids safe online, supplement their learning, and lots more during the #BTSTech Twitter Party. And we especially loved giving out so many prizes to lucky winners.
But we want to give you another chance to win…
Read on… and at the the bottom of this post you can enter to win a year's worth of school uniforms from our sponsor @FrenchToastcom
The back to school season is busy!
When we're trying to stock up on school clothes, school supplies and keep our kids off of the "summer slide", we can use all the help we can get.
Smart apps that help us put technology to use as parents can give our families a step up.
And when you add smart online shopping for school clothes that meet school dress codes and uniform standards while saving you money… you're really on the road to a great school year!
Affordable School Clothes for Dress Codes and Uniforms
When I saw the huge variety of styles of school clothes on the French Toast website, I was shocked.
Since my girls go to a school that doesn't use uniforms and doesn't have a dress code, I hadn't looked at FrenchToast.com.
And I was blown away at what affordable prices and cute options they have.
Many of the French Toast items would be great for kids attending ANY school… even one without a dress code.
They have awesome wardrobe basics like polo shirts, pants, skirts, etc. All kids need a basic white polo shirt!
I thought of how kids usually require a white top and black bottom for choir and band performances. What a smart way to stock up on such basics!
Get Special Offers from French Toast
Don't miss out on special offers, click through to French Toast's Facebook page…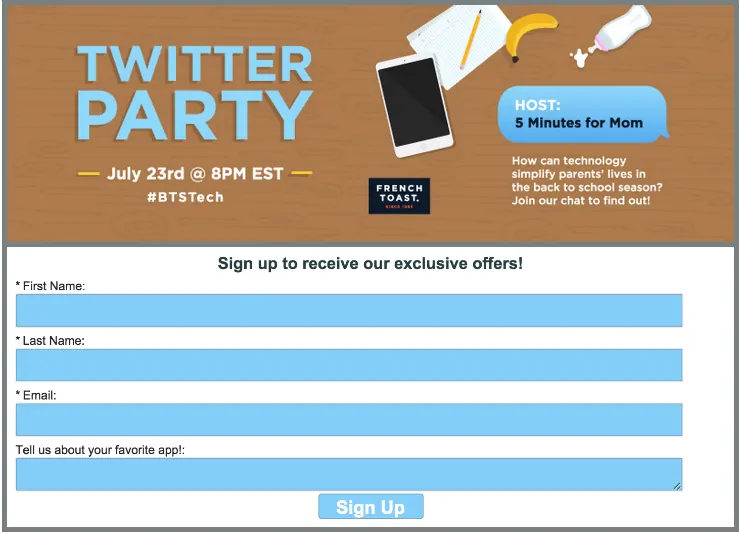 Find them on…
Website: FrenchToast.com
Twitter: @FrenchToastcom
Facebook: www.facebook.com/frenchtoastuniforms
#BTSTech Twitter Party
Thanks to everyone who joined us and our sponsors @FrenchToastcom at the #BTSTech Twitter Party July 23, 8pm ET where we talked about…
How technology can simplify parents' lives in the back to school season.
Hashtag: #BTSTech
Party hosts:
@FrenchToastcom
@5minutesformom
Panelists:
@TeachMama
@TechSavvyMama
Some Tweets from The Twitter Party
Welcome to #BTSTech Smart Apps for Busy Families Twitter Party w @FrenchToastcom. RSVP http://t.co/x1Nv7KNlRx #ad pic.twitter.com/gBnVGo0bO4

— 5minutesformom (@5minutesformom) July 24, 2015
Our sponsor @FrenchToastcom is America's most trusted brand of school uniforms. #BTSTech http://t.co/Xlks12jI9x #ad pic.twitter.com/iwh6PNk5Df

— 5minutesformom (@5minutesformom) July 24, 2015
Please follow @FrenchToastcom & panelists @TeachMama @TechSavvyMama #BTSTech #TwitterParty pic.twitter.com/a3WUc2MY9T

— 5minutesformom (@5minutesformom) July 24, 2015
Apps, info, community, online shopping 😉 …there are so many ways tech has changed parenting! #BTSTech

— French Toast (@FrenchToastcom) July 24, 2015
TIP: Follow our Stop Bullying Pinterest Board for help with cyber bullying http://t.co/BOAfYbzn44 #BTSTech #CyberBullying

— 5minutesformom (@5minutesformom) July 24, 2015
@5minutesformom A1. Lots of ways… I for one use apps with my baby and my toddler! Sensory and letter recognotion! We love it! #BTSTech

— Trish Watts (@TrishAnita) July 24, 2015
I rely on the website and mobile #app @teuxdeux for my to-do list. I use it for work and personal tasks http://t.co/Jtc34EFPz1 #BTSTech

— 5minutesformom (@5minutesformom) July 24, 2015
I'm also a fan of the @getflipp app – Use it for #BTS shopping. It's great for shopping lists, price matching & finding #deals #BTSTech

— 5minutesformom (@5minutesformom) July 24, 2015
Kids on #Instagram? Must-read: The Very Public Side of Private Instagram Accounts on my site by @Daily_Pinch http://t.co/fCbdIIk8uk #BTSTech

— Leticia Barr (@techsavvymama) July 24, 2015
@5minutesformom A2: I am a HUGE fan of @googlecalendar to keep our family organized—each person gets his or her own color! #btstech

— amy mascott (@teachmama) July 24, 2015
LIVE on #Periscope: behind the scenes twitter party #BTSTech take 2 | http://t.co/0Jk4dZ3hkL https://t.co/9SSZIl81Pj

— amy mascott (@teachmama) July 24, 2015
I make a point of unplugging daily! I unplug when my kids get home from school and am not on devices again until they're in bed! #BTSTech

— Leticia Barr (@techsavvymama) July 24, 2015
@techsavvymama @5minutesformom there's no way I could have this vibrant career AND be an engaged mother without technology. #BTSTech

— nicole feliciano (@Momtrends) July 24, 2015
Janice wrote a post "Why You Should Tell Your Kids You are Spying on their Phones" #BTSTech http://t.co/TxSagsy47D pic.twitter.com/qvtcd88VFQ

— 5minutesformom (@5minutesformom) July 24, 2015
We love @MasterLockUS Master Lock Vault! Great for passwords, documents, etc. because it's secure! #BTSTech https://t.co/BRl4W95CFE

— Leticia Barr (@techsavvymama) July 24, 2015
@5minutesformom A6: Great resources like @PBSLrnMedia provide TONS of resources for kids too!! #BTSTech

— amy mascott (@teachmama) July 24, 2015
Q7: my kids like garage band, kindle, mr crab, crossy road #BTSTech

— Noreen (@sillymommy) July 24, 2015
Have your kids ever been on a #VirtualFieldTrip? Have them explore #Turkey with me! http://t.co/JxnTsxNhfl #BTSTech

— Leticia Barr (@techsavvymama) July 24, 2015
@teachmama @EchoGoodner – We love Stack the States! Great for geography and a fun memory game! #apps #BTSTech

— Leticia Barr (@techsavvymama) July 24, 2015
@FrenchToastcom @5minutesformom QCards for Quizlet it helps my niece in so many areas #BTSTech

— Rita (@TommiesMommy14) July 24, 2015
@5minutesformom A8: With @googlekeep I can create lists, share them, and check things off as they are completed! #BTSTech

— amy mascott (@teachmama) July 24, 2015
Thanks everyone for joining us! Get ahead of BTS shopping! Visit http://t.co/ANhRwXk22k for affordable, comfortable uniforms. #BTSTech

— French Toast (@FrenchToastcom) July 24, 2015
Enter to Win
Do your kids wear uniforms at school or does their school have a dress code? Leave us a comment letting us know and use the form below to enter to win a year's worth of French Toast school uniforms for one child. (Five tops and three bottoms with an approximate retail value of $125.)

Disclosure: This Twitter Party is sponsored by French Toast.
Written by Susan Carraretto, co-founder of 5 Minutes for Mom
Talk with me: @5minutesformom and Facebook.com/5minutesformom
Pin with me at http://pinterest.com/5minutesformom/