This post may contain affiliate links. Read my disclosure policy here.
Tonya here, and I'm going to show you how blooom is going to take the worry about retirement investments off your to-do list with their easy tool that manages your 401k for you.

As a single, self-employed mom there are a lot of things I worry about – from my kids, to health, to juggling it all day-to-day.
Of course it's the day-to-day that tends to take the priority, and on the seemingly never-ending to-do list is to worry about the future – retirement plans, savings and ensuring that my kids will always be taken care of.
This is where blooom comes in.
What is blooom?
Blooom is the Nation's only fully automated web based tool built exclusively to fix and manage individual participant accounts at an employer sponsored retirement plan such as a 401k, 403b, or TSP.
It's an elegantly simple, easy to sign up for, do-it-for-you, on-line retirement management tool that is perfect for busy women. It gives you ultimate control over your 401k while helping you secure your financial future. You are not required to open a new account or move your existing account. It doesn't matter where you work, where your 401k is held, or the size of your account. All you need to use Blooom is a 401k and login credentials.
Research shows that while women are earning more and holding more high-level positions, we also remain responsible for the day-to-day activities of our families, finances and households. So, important decisions such as financial investments and planning for retirement usually take a back seat to our daily "to-do" list. With that in mind, blooom created an application that takes this responsibility off us, and with just a few minutes on blooom you can check the "worry about retirement investments" off your "to do" list.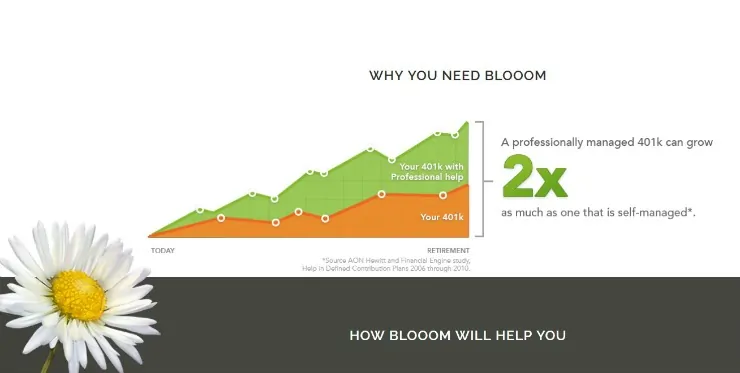 How much does blooom cost?
You can access the blooom app and have your 401k analyzed for free, and if you choose to hire blooom to take over management of your account then the price structure works as follows: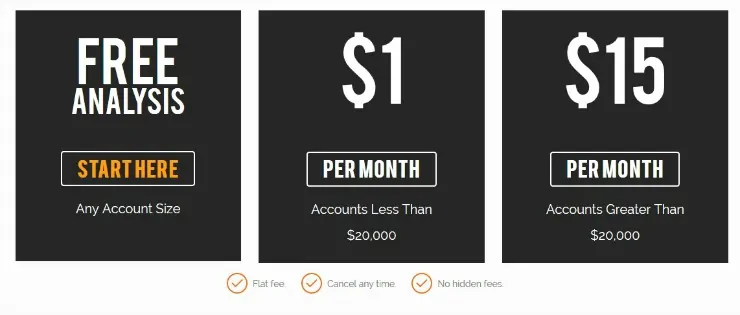 Learn more about blooom and how they can help you manage your 401k here:
Blooom>Website | LinkedIn | Facebook | Twitter

 "One of the best online tools for retirement planning."

Wall Street Journal (1/19/15)

"The World's Top 10 Most Innovative Companies of 2015 in Personal Finance."

Fast Company Magazine (March 2015)
I was surprised to hear that blooom finds over 80% of accounts it analyzes are invested incorrectly! Therefore, there is a high likelihood your 401k may be incorrectly invested as well… and it's a great idea to get a free analysis.
It's also good to know that clients can cancel at anytime and blooom rebalances your account every 90 days.
How do you currently manage your 401k plan, and would you consider trying blooom?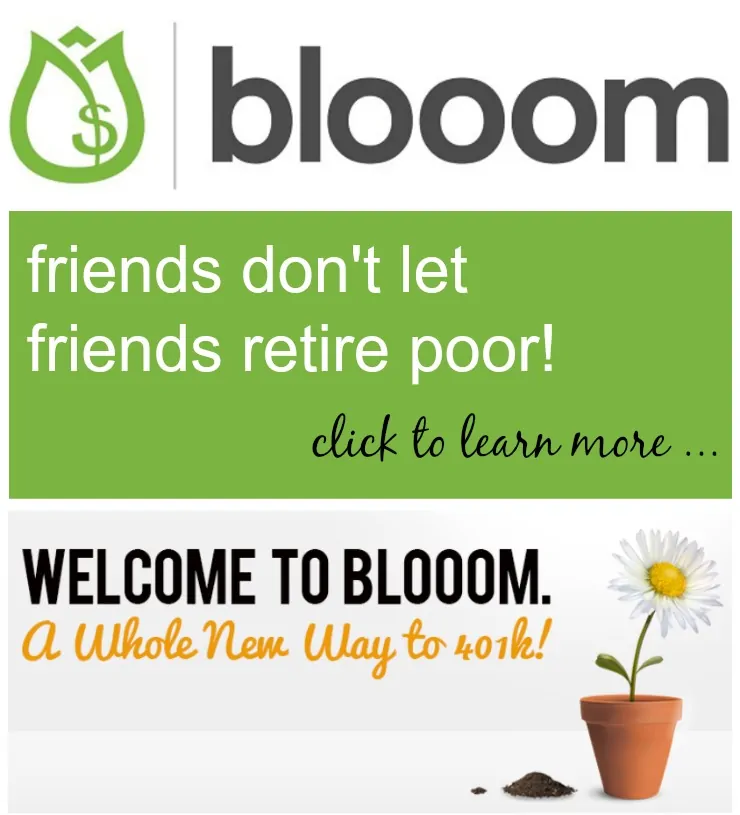 Written by Tonya Staab, lifestyle blogger at Create-Celebrate-Explore.
I received compensation from bloom in exchange for writing this review. Although this is a sponsored post, all opinions are my own.