This post may contain affiliate links. Read my disclosure policy here.
Guest contributor Corina Semph shares with you a way to "escape" and rejuvenate without the cost of a trip to the spa.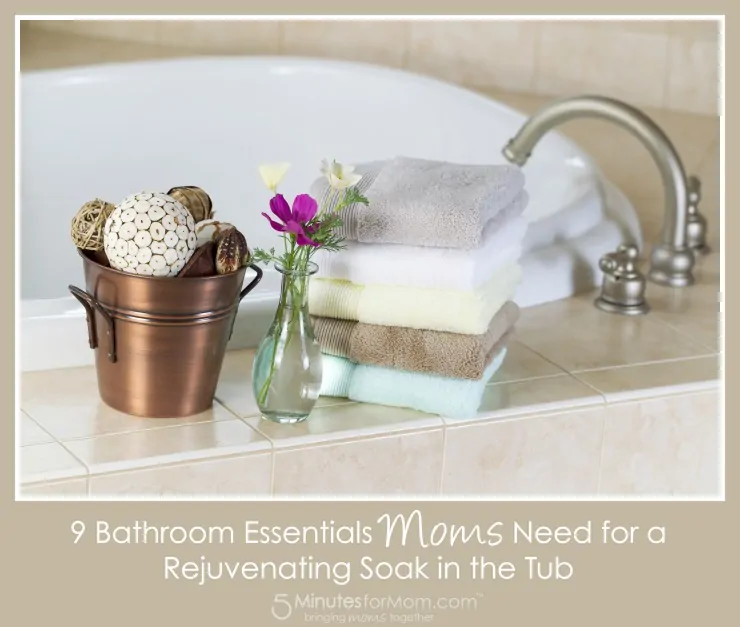 I know, you are stressed.
Your to-do list never ends.
And by the time you finished folding the laundry, the hamper is already half full.
You finish making dinner, and a pile of dishes is waiting for you.
Your days are packed. And you are in charge of groceries, taking the kids to soccer practice, dance lessons, birthday parties, you name it.
It seems like you never have time for yourself anymore.
You feel like you are in a downward spiral. The chores, kids activities, and house upkeep never cease to pile up.
And you are too tired and powerless to put things back in order.
If only you had enough energy to tame that to-do list.
What if I told you that you could fully relax, recharge, and regroup in just 30 minutes, tonight?
Yes, all it takes is 30 minutes.

But you have to use that limited time wisely. Forget about watching your favorite show or movie. Do you honestly think TV will help you recharge?
What you need is a soothing, warm bath that feels like a sanctuary, and eight uninterrupted hours of wrinkle-erasing sleep.
How to Transform Your Bathroom from Chaos to Sanctuary
I know what you're thinking. My bathroom doesn't exactly look like a spa.
Good news — you don't need a $50,000, nine-month renovation to create your much-needed sanctuary.
Even better, you can enjoy your almost-ideal version of a home spa tonight!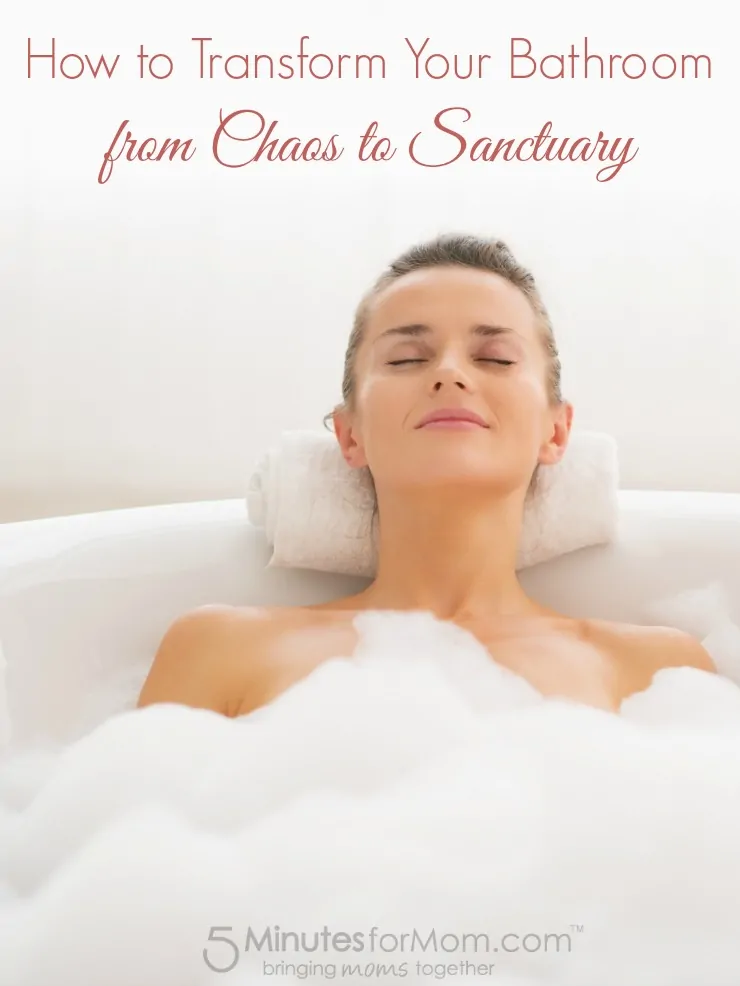 Let's get started.
Control the Chaos

When you enter your bathroom, are clothes usually dumped on the floor? Are countertops full of stuff? Is the hairdryer always plugged in and sitting on top of that cluttered counter?

Clutter is your number-one enemy. If your bathroom is always full of stuff, not even the Dalai Lama can help you relax there.

If you are anything like me, you'll start putting everything away, and the water in the tub will turn ice-cold before you are able to jump in.

So start by organizing your bathroom and eliminating clutter.

Forget about the candles

I know. About 98% of pictures of relaxing bathrooms have candles all over. Yes, I noticed this and it's very romantic.

But, how many of those precious 30 minutes will you waste lighting all those candles? Moreover, the candles will drip and then guess who will be cleaning up the mess? Candles around your tub will also collect a lot of dust. I'm all about simplifying the house clean-up, so I usually stay away from candles.

As an alternative, you could have flameless candles. I'm an old fashion sort of girl, so I'd rather have no candles at all.

Set the mood

It is no secret. Blazing bright lights are a mood killer.

If you have a dimmer in your bathroom, you're on the right track. Dimmers will help you get the lighting just right; set the lights a little brighter if you plan to read a book or darker for complete relaxation.

If you don't have a dimmer, you could bring one of your kid's nightlights or use the light in the next room and leave the door more or less open for light control.

Unplug your music devices

We are surrounded by sound — the music in the car, TV at home, your kids fighting in the background. For only 30 minutes, you have the opportunity to just hear your thoughts. Take it!

Use a headrest

Nothing's worse than getting into your dream soak and feeling neck pains. That will ruin any relaxation. All that time prepping the bath will have been wasted.

Don't let that happen to you.

If you don't have a head rest handy, improvise one by folding a soft towel before jumping in that tub.

Pile up the salts, bubbles and scents

Try to picture it. Wouldn't it be a total mood killer to get into a tub full with crystal clear water? One without any bubbles? It would for me.

After all, there's always a 5% chance of your kid running into your bathroom for whatever reason.

Just pick up your favorite bubbles and salts and make your bath a bubble-filled, aromatherapy experience.

Don't underestimate the power of art

Art can transport you. There's a reason people spend tens of thousands of dollars on art.

Of course I'm not saying you should invest your next mortgage payment on art, but you can find a beautiful piece within your budget.

Next time you visit your favorite art store, be on the lookout for a beautifully inspiring piece. When you find it, buy it and hung it by your tub. It will help you relax in the morning, when you are rushing out of the house, and when you decide to take a 30-minute bath.

Chose comfortable towels

They are all the rage now.

But who dreams about getting out of a relaxing bath and being wrapped up in a paper-thin Turkish towel?

Not me. Have a soft and fluffy towel, preferably warm, waiting for you when you exit the tub.

Keeping the Zen even when you get out of the tub

The purpose of your soak was to get you relaxed. Not so you can go back to making endless to-do lists, but so you can stay relaxed as long as possible. At least until the next temper tantrum.

So keep a stool or chair ( or whatever fits your bathroom best) by the tub to sit on after your bath, and finish drying off peacefully.
Have a better day tomorrow by investing 30 minutes tonight.
Refuse to start tomorrow already stressed.  You owe it to yourself and your family to let go of stress and start being in control.
You are the heart of the family. They need you full of energy and happiness.
So get that bathroom as relaxing as you can in the next 10 minutes, and take that bath.
You deserve it.
Tweet It Out
[Tweet "Refuse to start tomorrow already stressed… "]
Pin It For Later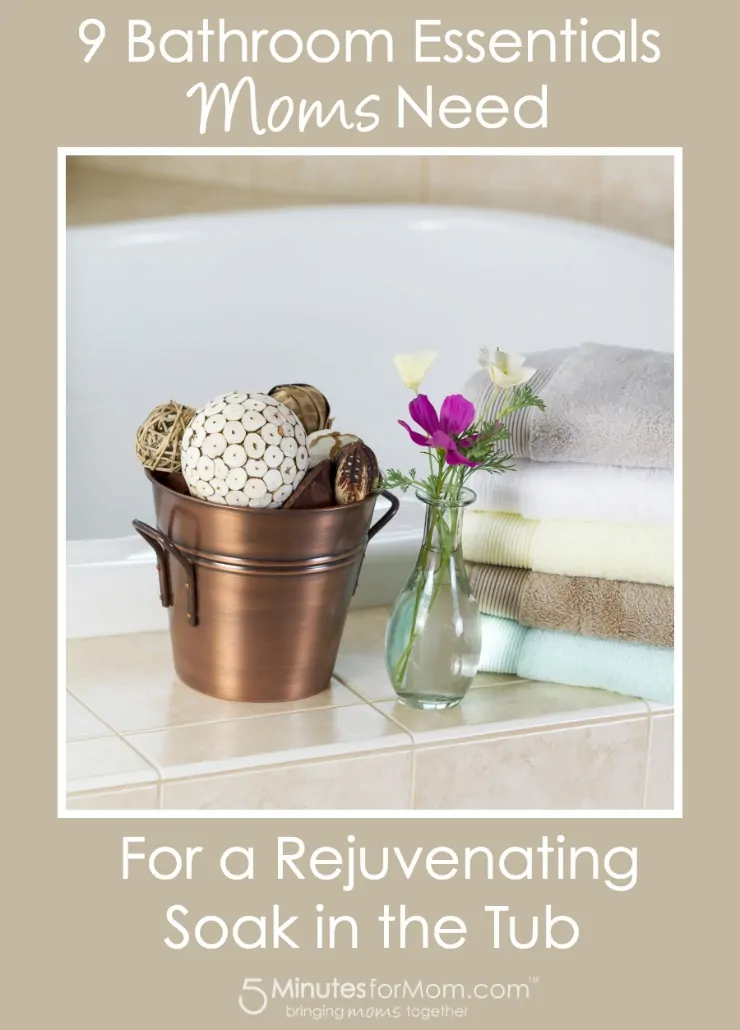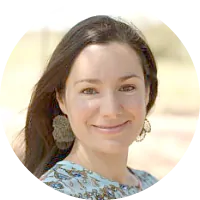 Written by Corina Semph, a Project Manager turned Interior Designer and Blogger at CollectedHouse.com. She was born and raised in Buenos Aires, Argentina and now lives in Austin, TX with her family.