This post may contain affiliate links. Read my disclosure policy here.
Susan here with a fabulously fun and unique party idea specifically for families in Greater Vancouver or anywhere within driving distance of the Creativ Music Centre in North Vancouver. This post is sponsored but all opinions are our own.
I love this idea…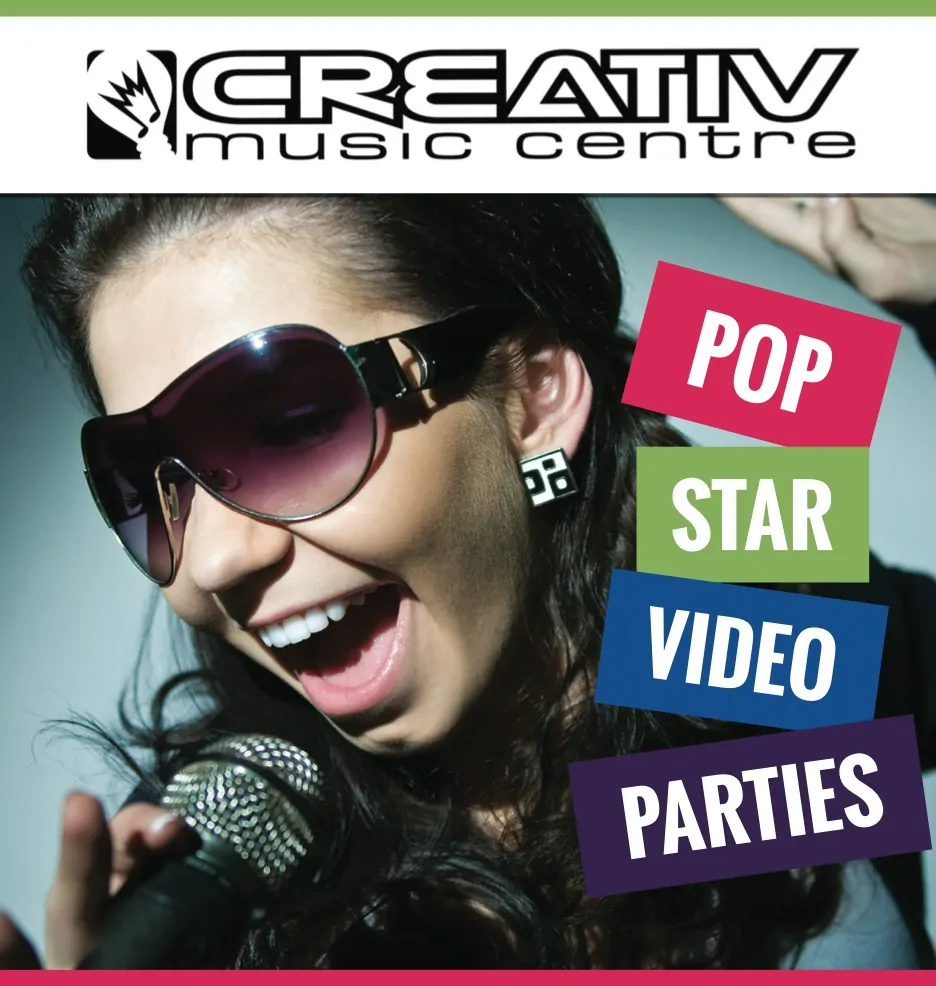 Can you imagine how much fun your tween or teen kids would have hosting a Pop Star Video Party with their friends?
At a "Pop Star Video Party" at the Creativ Music Centre in North Vancouver, a group of friends come in to record and star in their very own music video!
Your kids will definitely rank you as the coolest mom for booking (or winning) one of these parties where they lip-sync to their favourite song and shoot their very own music video, complete with the latest video technology including a chroma green screen that changes to show different awesome backgrounds.
To complete the party, you can book a Party Room to have cake, food & drinks, and open gifts.
Here's how a "Pop Star Video Party" works…
Your child invites up to 7 friends to form a music group with a maximum of 8 kids.
At the party, the group picks a favourite song and gets ready to perform.
A choreographer works with the group to help plan their pop star moves and dance steps for the shoot.
Creativ Music Centre's make-up artist adds a bit of glitz and glam to each of the group members.
The group performs and the Creativ Music Centre videographer uses digital video cameras, lighting and sophisticated video editing to shoot and produce a professional looking music video.
Using chroma green screen technology, the Creativ Music Centre videographer can place the kids in almost any setting from live on stage in a stadium concert, to flying over mountains.
Each group member receives his/her own DVD copy of the music video, complete with on-set interview and out-takes.
While these "Pop Star Parties" are perfect for tweens and teens, they're not just for kids. All types of groups from families to sports teams can come in to record CDs or videos for various special occasions like Christmas, retirement or stagettes and different themed videos such as Hip Hop, Disco, '80s, Country, etc.
The party is sure to be a blast and your kids will have an ultra special keepsake.
Find out more about Pop Star Video Parties on the Creativ Music Centre website at www.creativ.ca and on Facebook at Creativ Music Centre and Twitter @gocreativmusic.
Disclosure: This post is sponsored, but all opinions are our own.
Written by Susan Carraretto, co-founder of 5 Minutes for Mom
Talk with me: @5minutesformom and Facebook.com/5minutesformom
Pin with me at http://pinterest.com/5minutesformom/