When you're shopping for Christmas presents this year, consider shopping first at Mom Owned Stores — your gift will give twice. Browse through our directory of Mom-Owned stores.
Here our some of my favorite gift ideas from our very own Mom Owned Stores — Pedal Cars and Retro Collectibles and A Rocking Horse To Love.
Gifts for Babies and Toddlers…
You may want to choose one of our popular toddler rockers. Here are a few of my personal favorites…
Or maybe your Baby or Toddler want to really get a move on with one of these Foot-to-Floor Ride on Toys.
Since all those baby/toddler gifts ONLY cost between $79 and $89 and the prize gift certificate is for $150, you can keep shopping and choose another item…
For 2 or 3 year olds…
One of my top gift suggestions for a 2 or 3 year old is…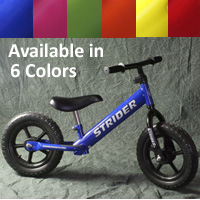 A Strider Run Bike is the perfect gift for a 2 or 3 year old. If you've never seen a Strider Run Bike or any other type of Balance Bike, you've got to watch Julia show you how they work.
A Balance bike or Running bike is a small bicycle without pedals that kids can ride before they are able to ride a traditional two-wheel pedal bike. Kids learn amazing balance and have so much fun!
Watch Julia when she was 3 years old show off her balance bike.
Since a Strider Run Bike is only $94.99, you can keep shopping…
For 2 to 4 year olds…
Another great gift idea for a 2, 3 or 4 year old is a pedal car. Different styles of pedal cars work well for 2 to 3 year olds and others for 3 to 4 year olds.
The Jalopy pedal cars are great for younger children – we suggest these as gifts for 2 or young 3 year olds.
The Roadsters and Pedal Planes are a little bigger and work well for older 3 and 4 year olds.
For 3 to 5 year olds…
Don't all little boys and girls love to play pretend store. I know my girls love it and I still remember playing store when I was a little girl.
You can encourage hours of creative play with a beautiful classic, wooden Market Stall.
Okay, yes the Market Stall does sneak a little over the $150 gift certificate price, but if you're our winner and it would thrill your child on Christmas morning, we'll give it to you!!!
If your little artist doesn't yet have a Kids Art Easel, I recommend this Deluxe Wood Kids Art Easel. Julia has this exact one and loves it.
For a child of any age…
Inspiring Kids Costumes and Dress Up Gear are perfect for imaginative play all year round.
A Unique Gift for Your Husband or Dad
Men can be so hard to shop for! Well, don't despair… we have some unique gift ideas that will surprise the man in your life.
One of my top suggestions is a Lighted Wall Clock. We have tons of designs so you can pick the perfect one.
Or perhaps put a retro record player or a Coke Classic Picnic Cooler under the tree.
For Your Sister or Your Mother…
What about a retro phone or a beautiful music box?
Between our two stores Pedal Cars and Retro Collectibles and A Rocking Horse To Love you'll find there is something for everyone on your list!