This post may contain affiliate links. Read my disclosure policy here.
Happy Holidays, y'all, it's Danielle again from Busy Mom's Helper! As we're scurrying to get ready for Christmas next week, I thought I'd share a super simple idea for these adorable Penguin 2 Liter Gift Boxes to help with your holiday giving!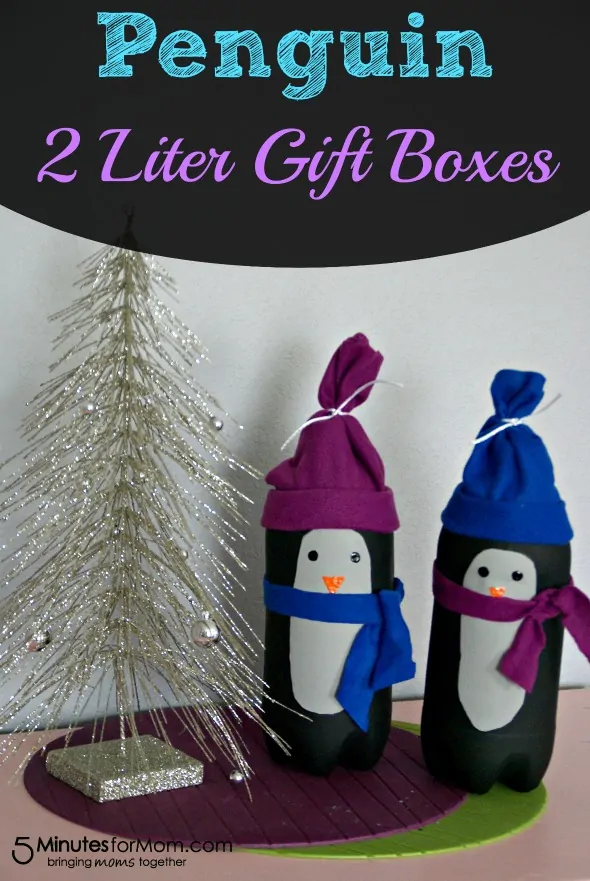 My hubby is so in love with penguins, it's pretty funny! Half of our holiday decorations are penguin, we often choose the penguin gift wrapping for him, and guess what his tags usually are? That's right, more penguins! This man is crazy, but in a fun and lovable way! So I thought giving away some cute penguins as some of our neighbor gifts this year was right on the dot.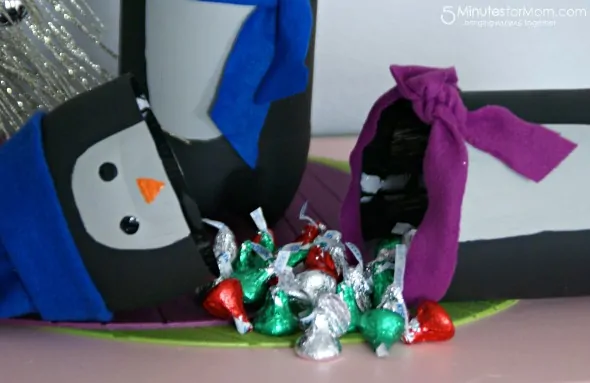 Supplies
Empty 2 Liter bottles, washed and dried with labels removed
Scissors
Paint – black, white or silver/grey
Puffy paint – Black and orange
Felt or fleece scraps
Hot glue/gun
Tape
Ribbon
Directions
Cut your bottles. It can be exactly in half, or have the head shorter, or the bottom. It's up to you! If you fold the bottle where you want to cut, normal scissors can go through more easily.

 

Cut any sharp edges off.

Paint your 'belly' with silver/grey or white and allow to dry. Then paint all around and on the bottom with black. I chose to do 2 coats on mine.  Use the puffy paint to add little eyes and a beak.

 

Let the paint dry completely.

Take your fabric scraps and cut out a square-ish shape and a long, skinny strip (per penguin).

 Roll the square hat piece up a little on the bottom and hot glue in place.

 

Then hot glue the sides together in the back so the hat is a bit triangle shape.

Hot glue it to the penguin's head so it stays in place. Use ribbon to tie off the top of the hat. 

Fill your penguins with candies or other desired gifts.

Use tape to secure the head onto the body (line up their bellies).

Use the fabric strip to cover the seam and tie like a scarf. 
Now Hubby's asking if we can keep 'just one' for decoration instead of giving it away. He even tried bribing me by saying I could eat all the chocolate candies inside the one we keep. Well….maybe we will keep just one. For him, of course 😉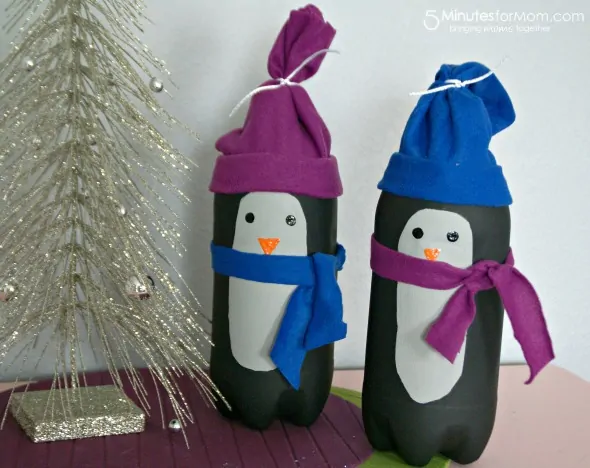 For more great DIY ideas be sure to visit our DIY Pinterest board.