This post may contain affiliate links. Read my disclosure policy here.
Jennifer D., managing editor of 5 Minutes for Books, shares about the books that almost got away.
You might assume that as a book reviewer, I read all the books that interest me. In reality, the opposite is true. I rekindled my love of reading ten years ago and went from reading only a few books a year to a couple each month, and before I started reviewing books, I actively sought out the books that interested me.
Now a bounty arrives unsolicited on my doorstep or in my inbox each week, and I am able to select books from favorite authors or new ones who sound promising. I'm under no obligation, and I still read only what I want to read, but because I'm so excited by these offerings, I end up with very little time to read non-review books. Even though I've read over 120 books this year according to my Goodreads account (feel free to follow me!), there are still so many that I'd like to read when I find the time.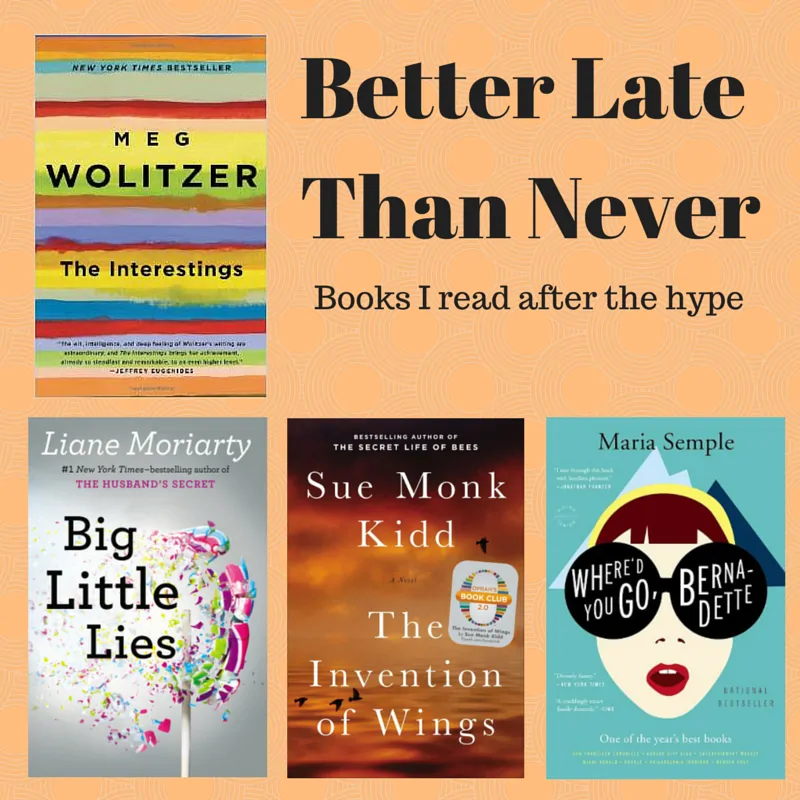 This year, I had several lulls where I took the opportunity to read one of those books about which I had heard so many good things, and I'm glad I did. Here are some of the books that I finally read in 2014 after hearing about them for a while:
I'm not sure why I skipped over Big Little Lies by Liane Moriarty, because I'm sure that the audiobook was offered for review, but seeing it on so many year-end best lists convinced me that I had to get to it soon. This book was funny, culturally relevant, and a page-turning read. Click through to my review to find out more.
The Interestings by Meg Wolitzer came out in 2013 and had all the book bloggers buzzing. Dawn reviewed it on our site when it came out and liked it so much that she included it on our 2013 list of Most Memorable Reads. The paperback came out in 2014 and people were still talking about it, and I thought I might get to it, but it's a hefty tome, so I still never did. However when I was in between audiobooks, I decided to download it. I enjoyed the audiobook listen, and the book has stuck with me, but I didn't love it as much as I wanted to. I think part of it was the detriment of overly high expectations. Check out Dawn's review for more details.
Where'd You Go, Bernadette came out in 2013, but whenever my Facebook friends put out a crowdsourcing call for a great book to pick up, or I heard people talking about fun easy reads, it inevitably made the list.`I liked it and even laughed out loud a good book as I read through it quickly on a lazy weekend. But I think that it too suffered from the lavish praise. It might have just been the mood I was in as well, but I found it a little dark and sad.
The Invention of Wings by Sue Monk Kidd just came out in early 2014, but I've loved all of her books that I've read, both fiction and nonfiction, so it was bothering me that I hadn't read it yet. When I was given the chance to review it as a year-end holiday gift recommendation, I didn't let the opportunity pass by twice. I just finished this one, and my full review is over at 5 Minutes for Books.
Have you read a book lately that everyone else has been recommending for months–or years?