This post may contain affiliate links. Read my disclosure policy here.

Prayer. As Christians, we want to pray more, and we feel we should pray more, but if you're anything like me, you can find it hard to pull off sometimes. It's so much easier to read a Bible chapter or two in the morning and then rush into my day after a quick "bless my plans for the day and may I please you" than it is to really spend the time listening, meditating and truly enjoying the presence of God. And yet, I long for more. Some days I can but some days I can't, don't even want to. Some days it's easy to move into prayer, and some days it's the hardest thing in the world.
I'm thankful for others who have gone before me, who tell me that this up-and-down is normal while we are still imperfect people in a fallen and broken world. Others have wrestled in prayer and with praying, pondered the theological implications of how our prayer can make a difference to an eternal being who knows the end from the beginning, devised practical steps for us who follow behind, and addressed the various errors of their times as best they can.
Two books on prayer that have really impacted me this year and helped me move along in my own prayer life are Prayer
by Tim Keller and A Praying Life
by Paul Miller. They are complementary but quite different. While both address theological underpinnings, Keller's book is more scholarly and Miller's more personal. However, don't misunderstand me–Keller's writing style is very approachable, and thanks to him you'll end up feeling as if you too have read Augustine, Luther, Calvin and Owens on prayer, to name a few of the sources he draws on.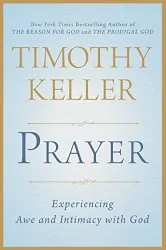 Well-known pastor and author Tim Keller writes in the forward that he realized several years ago that he didn't have one book that summed up all aspects of theology, experience and methodology, written in modern language and idiom, that he could give to give those wanting to understand Christian prayer. I am very happy that he decided to write one himself. I must admit that I'm a big fan of Keller's–I've read most of his books and listened to quite a few of his sermons, and I appreciate his ability to combine sound and insightful Bible teaching with relevant applications that hit home.
It's hard to sum up this book because there's so much in it. This is a book to be savored. It addresses everything from the necessity and greatness of prayer to practical ways to practice daily prayer and meditation. I recently received my copy of the book and had to read it right through in order to be able to tell you about it,  but I'm planning going through it again more slowly, incorporating it into my daily quiet time and putting into practice some of the various methods he suggests.
Keller addresses the question of whether peaceful adoration or assertive supplication is the ultimate form of prayer, and points out the value of both. He does not shy away from mystical experiences, as long as they are firmly grounded in the Word and in meditative contemplation of it. He's very well-read, and I enjoy his lengthy discussions on others' writings on prayer; he quotes everyone from St. Augustine to the Puritans, from Thomas Cranmer to Flannery O'Connor. This gives breadth to his own thoughts, and grounds them firmly in both the Bible itself and those who have studied it extensively in other times. Read my full review today over at 5 Minutes for Books.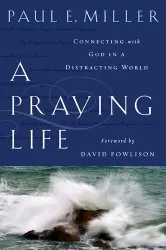 I received a copy of Paul Miller's book on prayer years ago when I was living overseas. Both the country where we lived and our own family were in crisis, and I found Miller's honest and reflective look at prayer incredibly helpful. Since that time, I've reread it twice.
Miller's style of writing is very personal and yet somehow really convicting. (My Home Group is currently going through another of his books, Love Walked among Us
, and we've all commented on this.) His stories of interactions with his family, his colleagues and strangers cut right to the heart of the matter. His first section is titled "What Good Does it Do?" He addresses the cynicism of our times and, most definitely, of my own heart and maybe yours too. His book is saturated with scripture, and he points out examples of prayers throughout the Bible.
Miller is also well-read, and pulls examples from modern philosophers and journalists to talk about how we reflect so well our own time and culture in our attitude to prayer and about prayer. Prayer must be interwoven into our days, he says, so that we begin to see how God is weaving our story into his own. Prayer is being and doing, he suggests, and can't be easily divided into one or the other of the two main types of prayer.
He also includes practical suggestions on how to pray for those we care about, and shares examples from his own personal prayer times. I actually have a journal full of quotes from this book, and some are very convicting–what I call squirmy, which is when you know what you need to change so clearly, and you want to change it so badly, that you practically squirm in your seat.
***
My father used to get up at 4:30 a.m. and spent 2 hours in prayer before getting the rest of us up. I still remember the weird concoction of instant coffee and unsweetened cocoa he would mix up in those enormous Tupperware glasses (this was the 70s and early 80s), and how strange I found it that he could get up that early. He died when I was 15 so I never asked him if his prayer times were always satisfying, but from my current adult vantage point I'm sure they weren't. But his faithfulness to spending that time every morning really impacted me when I was a child, although I admit I am far more likely to hit the snooze button until about 10 minutes past the last possible moment. However, the older I get and the longer I've been a follower of Jesus, the more I long for the communion experienced in deep times of prayer. I've been doing better at setting aside chunks of time for this, but I still can't always focus like I want to. That's part of why I like reading books on the subject; they both move me towards meditation and give me practical insights and tips that can guide me.
I'd like to say that now that I've read both books I've got it down, but of course I don't. I imagine that both authors would say the same thing though. It's a journey, but both authors made me feel that progress is achievable and exciting too, that I want to keep going forward.
What about you? Is prayer something you struggle with? Do you have any books or resources or ideas that have helped you, that you'd like to share with the rest of us?