This post may contain affiliate links. Read my disclosure policy here.
Jenny, 5 Minutes for Mom contributor, is here to share with you a new way to sit while working. This post is sponsored, but all opinions remain those of the writer.
Today, more and more jobs involve computer use and sitting at a desk for long periods of time. As a blogger, online teacher, and an internet user I often find myself leaning over a keyboard. Hours of bad posture often leads to an aching back, especially on days when I teach for a total of almost five hours.
However, teaching an online class in bed or blogging from an easy chair aren't conducive to good posture either. That's why I was thrilled to receive an ergonomic Swopper stool. I put it together immediately, which was easy since it came in two pieces that assembled quickly.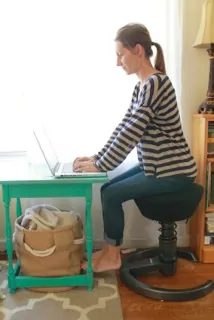 I immediately loved the bounciness of the seat. The spring allows for movement – a natural necessity for our bodies – and really helped to relax the tension in my body. In addition to allowing up and down movement, the Swopper can tilt forward, backward and to the sides in order to allow you to lean toward your work surface rather than hunching. Even when using it with a low table instead of a traditional height desk, I didn't feel my usual back pain.
Since you can adjust the Swopper's height and weight, you can personalize it your own body and preferences. We had a get together with friends and everyone tried out the chair. They were impressed at how it instantly encouraged their bodies into perfect alignment. This would be the best office chair for those who work predominantly while sitting. It is also fun to use!
While sitting on a Swopper chair you can:
strengthen your back
train your muscles
breathe deeper
improve your concentration
stimulate your circulation
have fun sitting and working
At first I thought that not having a back to my chair would be frustrating, but the design of the Swopper made me forget about needing a back and instead I sat properly and felt the relief in my back.
Here are some of the benefits of using the Swopper:
1. Always sitting properly.
Keeping balance spring seat allows your body to move and change postures. It encourages sitting up straight by allowing your back retain its natural S shape.
2. Good for the intervertebral discs.
Sitting straight  and changing posture allows your intervertebral discs to not be squashed for too long. This aidesr the elasticity, resilience and health of the intervertebral discs.
3. Training for the muscles.
Due to your body's on the Swopper chair, most muscle groups remain active and well supplied with blood. Your musculoskeletal or locomotor system is strengthened to keep your back upright. Keeping the back active prevents pain.
4. Avoid vein problems.
The Swopper chair fights vein problems in two ways. The arched seat relieves pressure points and stimulates movement of blood to the heart through the muscles of the calf pump.
5. Keeping ligaments and joints fit.
Movement helps lubricate your joints whereas hours of rigid sitting or standing puts pressure on the joints. The active features of the Swopper keep joints fit and healthy.
6. Stimulation of circulation and mood.
Using the Swopper chair encourages you to straighten your upper body and breathe deeper. This improves your circulation and, as a result, your concentration.
To learn more about Swopper and the styles and colors available visit their website, "like" Swopper on Facebook, follow them on Twitter at @SocialSwopper, and connect on LinkedIn.
Enter to Win:
Want to win a Swopper? Use the entry form below and leave us a comment telling us why you want to win.
Disclosure: This post is sponsored.
Written by 5 Minutes for Mom contributor, Jenny Nanninga. Jenny blogs atlivingthesweetstuff.wordpress.com about her home, family (husband and sweet baby girl), being a mom, crafting, cooking, her faith in God, and more.