This post may contain affiliate links. Read my disclosure policy here.
Janice, co-founder of 5 Minutes for Mom, here with a #ThankFALL post and a great Target Canada giveaway for you. This post is sponsored by Target but, as always, our opinions and our addiction to Target is all our own.
Have you ever joined hands at your Thanksgiving table and tried to say what you are thankful for? It is challenging. How could we ever list all the incredible blessings of this life in one moment — or one blog post.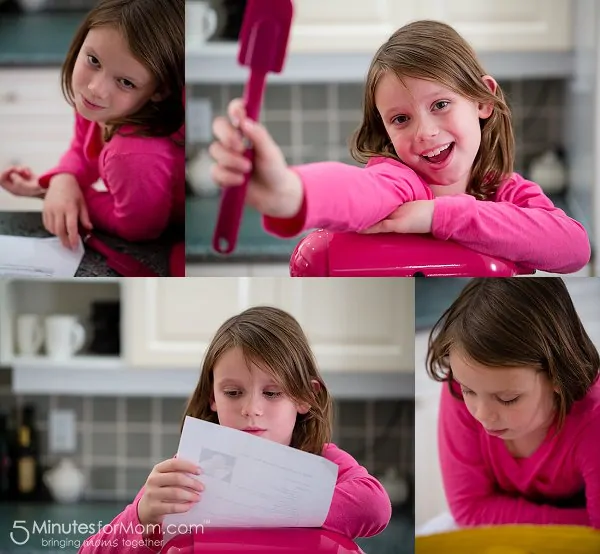 This past weekend, we Canadians had our annual Thanksgiving "head start" on our American friends. Yes, while Americans are just beginning to think about decorating for fall, we northern folk are elbow-deep in pumpkin pies.
But just days before our celebrations began, my daughter Olivia's blood test results came back positive for celiac disease.
Both of my kids and myself are having a range of tests done to try and understand what is causing our stomach and gut issues. We have been feeling somewhat better since reducing our fructose and sugar intake and trying to follow (loosely) a low-FODMAP diet. But I didn't expect any of us to test positive for celiac disease.
(We will be retesting Olivia in a few weeks to confirm the results and then we will decide whether we will have her undergo a biopsy for a definitive diagnosis or not. In the meantime, Olivia has to remain on some gluten for accurate test results.)
So, as we prepared for the holiday feast of the year, Olivia's future food fate was at the top of our minds. While my family and I try to limit the amount of wheat and gluten we eat, we sometimes indulge on the gluten side of the tracks.
Will Olivia never be able to eat gluten again? Will we have to send gluten-free snacks with her to birthday parties? Will she have to skip the pumpkin pie at friends' houses or her favourite restaurant?
I have to admit, after leaving the doctor's office, I was feeling pretty sorry for my little girl. No one wants to add a food intolerance or allergy to their child's life. Going gluten-free for better health was one thing — a diagnosis of celiac disease was much more than I wanted to hand over to my seven year old daughter.
Putting it All in Perspective
Fortunately, I wasn't left to my own devices for long. Susan, my twin sister and co-blogger here at 5 Minutes for Mom, quickly reminded me that, if anything, this will help Olivia to take control of her health and learn to fuel her body healthily at a young age — something we all need to learn at some point in life.
And on Facebook, my friends quickly chimed in to remind me of all the great gluten free recipes and resources we have nowadays online.
Within a few hours I was feeling more positive and ready to tackle whatever diagnosis comes our way.
Later that afternoon, Susan was at Target and told me about a great sale on a KitchenAid stand mixer.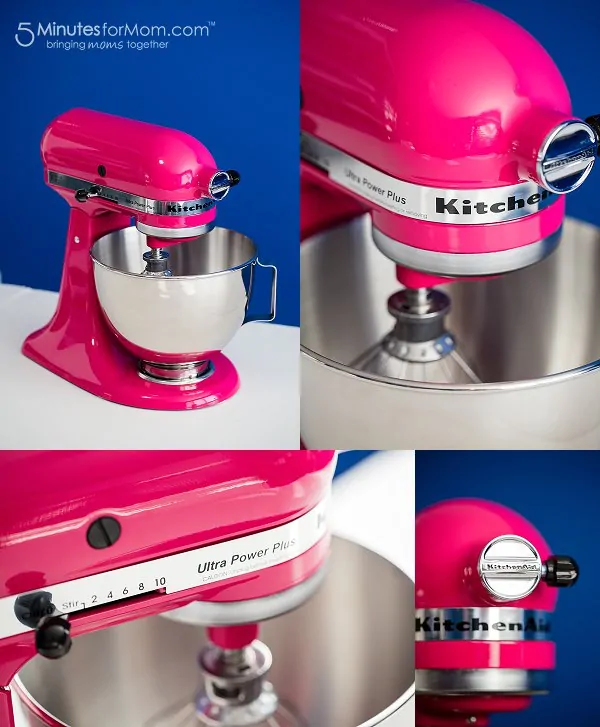 Wouldn't it be wonderful to have a fabulous new mixer to get excited about tackling all those gluten free recipes in our future?
Susan bought the KitchenAid mixer – in PINK (exclusive to Target) – and brought it home for Olivia and me.
Olivia loves to bake and so she was thrilled with the incredible new mixer. Never has anything quite so fabulous perched on our kitchen counter.
We christened our new mixer with a batch of Gluten-Free Oatmeal Chocolate Chip Cookies. Olivia was the top chef while I photographed the event.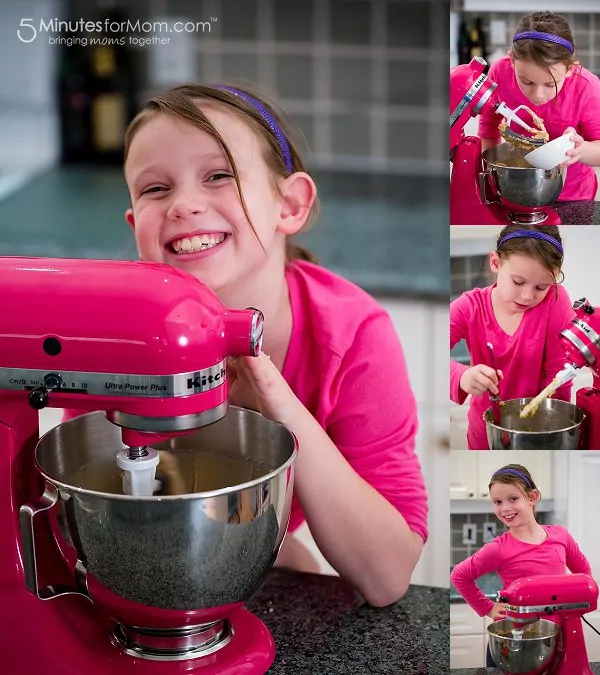 I must say, the KitchenAid mixer is so fantastic, it takes most of the work out of the cookie making process. So there was some time available for posing.
While Olivia must remain on gluten until we have finished her tests, we did have fun making these gluten free cookies and we all ate more than our fair share of them. I have been experimenting with gluten-free baking over the past six months, and I am so thankful for all the wonderful flours and recipes available.
In the late eighties, my mom, Susan, and I went gluten-free, dairy-free, and sugar-free for a year and it was much more difficult to find ingredients and resources than it is now.
#ThankFALL for it ALL
To say I am thankful for celiac disease would be a stretch for sure — but I AM thankful for the countless blessings in my life and in my children's lives.
While there are many difficult days in life and some days I want to hide under my covers from it all, I am beyond grateful for all the love, help, and support I have in my life — from my family members to my friends online.
I would not want to attempt this parenting gig without my family, my friends, and the Internet! From hugs to recipes, you all have me covered.
Time to Celebrate — Pass the Cookies
Yesterday, I posted the recipe for the Gluten-Free Oatmeal Chocolate Chip Cookies we made.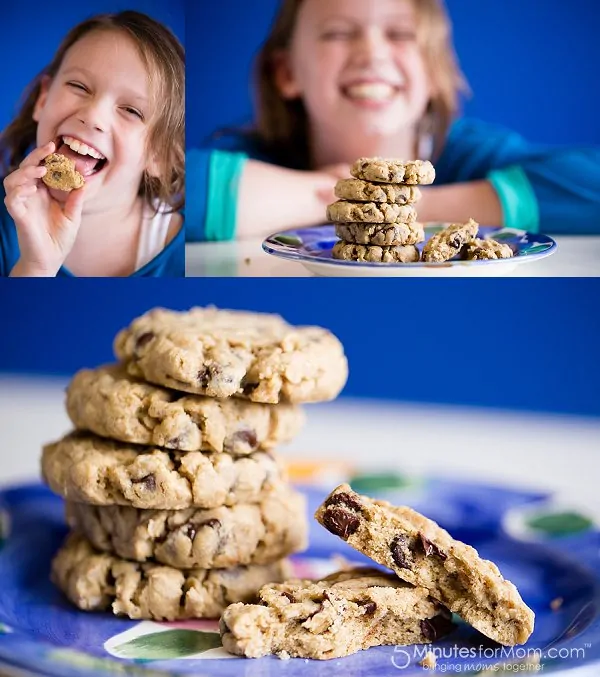 Our whole family loved the cookies — and they quickly disappeared. It was definitely a tasty and fun beginning to our gluten-free journey.
Oh Canada!
For years I moaned about our sad fate as Canadians — that we had to live a life without Target. Yes, I live close to the border and would do regular cross-border Target runs. But I wanted my own Target — a Target I didn't have to carry a passport to visit.
And then it happened. My dreams came true. Target came to Canada!!!
I still can't believe I can actually shop at Target whenever I want to. I don't have to time my trips to beat the line ups at the border. I don't have to admit to a border official on my way back into Canada how much I spent at Target. I can just go. Whenever. And come home. Whenever. And tell no one how much I spent.
For the gift of Target Canada, I am indeed VERY thankful.
Enter to Win
Hey Canadian Friends, here's a giveaway just for you! Leave us a comment letting us know three things you're thankful for and then enter to win a $100 Target Canada Gift Card.

Disclosure: We are part of the Target #ThankFALL influencer program run by The Influential Network. We were compensated for this post but opinions are our own.
Written by Janice Croze, co-founder of 5 Minutes for Mom
Talk with me: @5minutesformom and Facebook.com/5minutesformom
Pin with me at pinterest.com/5minutesformom