This post may contain affiliate links. Read my disclosure policy here.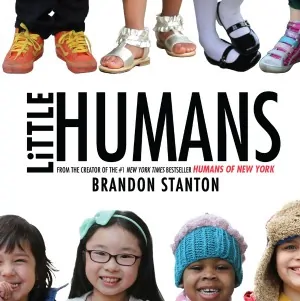 You're likely familiar with Brandon Stanton's incredible project, Humans of New York, and if not, then please stop what you're doing right now and head over to his blog or his Facebook page for a glimpse into this highly interesting catalog of images and stories of people Stanton has met on the streets of New York City. After a highly successful first book documenting his work, Humans of New York, Stanton decided to put the focus on some smaller subjects. The result is a photographic children's book, Little Humans, which is entertaining and inspiring, and a beautiful representation of childhood.
The text of this book celebrates the abilities of children, beginning with the opening line: "Little humans can do BIG things," and continuing with words of encouragement and respect for young children. Parents will likely hear their own words in the text at times, as the tone is loving and inspiring. Stanton's photographs wonderfully capture the positive emotions felt by the adorable subjects, from unadulterated joy to the warmth of friendship and the love of a parent's embrace. The diversity shown in these photos represents the natural diversity of New York City, so children reading this book will likely find other kids who look like them, always a plus. Because it is NYC, there are a few kids who looked a bit more adult-like to me in the nature of their clothing or poses, but I was pleased to see many more children who looked more childlike in their informal clothing.
I would call Little Humans a celebration and acknowledgment of childhood, and young readers will find enjoyment in looking at the photographs of kids just like them- hugging their friends, playing in the snow, and being with their families. If you're an adult fan of HONY, then you'll definitely want to introduce your own little humans to this beautiful picture book.
Enter to Win
We have a copy of this book and a Little Humans poster up for grabs in today's giveaway. Please follow the directions in the widget below to enter. Contest open to U.S. and Canadian residents only.