This post may contain affiliate links. Read my disclosure policy here.
Contributing writer Danielle Reeves has another delicious recipe for you today!
Wow, has life been busy lately or what?! I don't know about you, but dinner is often that last thing I worry about during the day, until it's about…an hour until we need to eat. Yup, that's how on-the-ball I am! Luckily, I've got a bunch of go-to meals that I can prep with little to no effort during the day, then just heat up really quick when dinnertime strikes. One of our new favorites is this delicious Spinach Tomato Pasta Bake!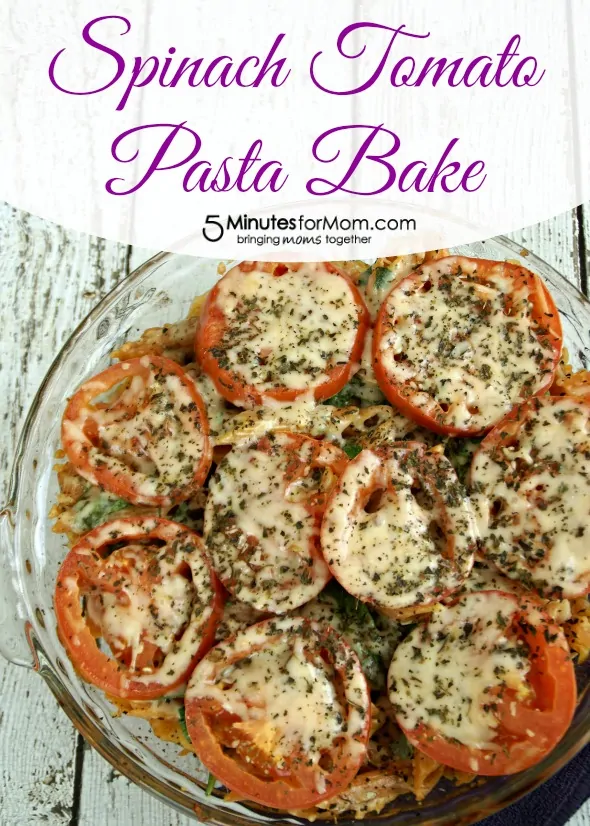 Our family is really into pasta, and one of the reasons is that it's so versatile. You can really mix up the flavor combinations! The same holds true for this dish, as you can adjust the ingredients to cater it to your own family's tastes! For example, when it's just Hubby and me, we add more Red Pepper Flakes (although not TONS, since I'm a bit of a wimp)…but we leave them out entirely for our even-more-wimpy children.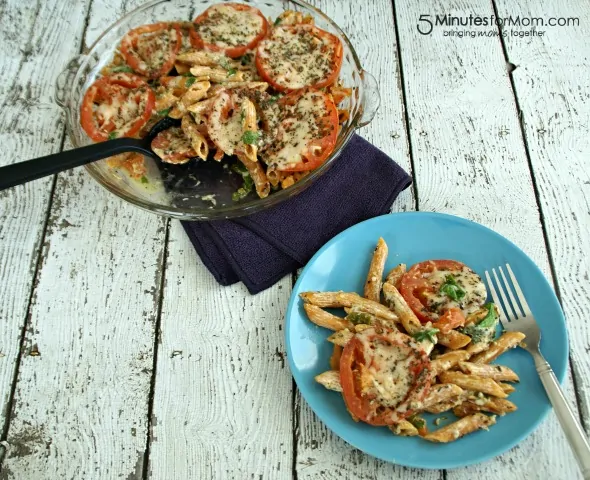 Ingredients
1 box Penne Pasta, cooked as per box instructions
Dash Olive Oil
2-3 Tomatoes (see below for prep instructions)
1-2 cups Spinach, shredded
1-2 tsp. Garlic, minced
1 tsp. Oregano
1 tsp. Basil
Dash Red Pepper Flakes (a little goes a long way!)
4 oz. Cream Cheese, really softened
1/3 cup Parmesan Cheese, shredded (plus on top)
1/3-1 cup Heavy Cream (more to make creamier)
For the tomatoes: I do 1-2 diced and stirred into the pasta bake, then the other Tomato sliced and put on top. Your choice!
Directions
Preheat oven to 350 Degrees F. Spray or line a deep 9×13 baking dish.
In a large bowl, mix the cooked pasta with all the ingredients EXCEPT spinach and tomatoes. Once it's all combined and creamy, then gently stir in the spinach and diced tomatoes.
Top with the sliced tomatoes (if desired). Top everything with more Parmesan cheese, oregano and basil.
Cook for about 30 minutes, or until heated through. Enjoy!