This post may contain affiliate links. Read my disclosure policy here.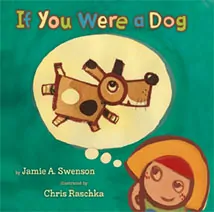 Little kids and imagination go together perfectly, and with the new picture book by Jamie A. Swenson, children can pretend while they read along. If You Were a Dog, with Chris Raschka's signature whimsical watercolors, is a delightfully fun read.
The text of this picture book talks directly to the reader, asking them to imagine themselves as a variety of animals and offering ideas of the ways in which they would act as those creatures.
If you were a dog, would you be a speedy-quick, lickety-sloppidy, scavenge-the-garbage, frisbee-catching, hot-dog-stealing, pillow-hogging, best-friend-ever sort of dog?
The characteristics offered for dogs, cats, birds, and even dinosaurs, are spot-on and use creatively descriptive language that is fun to read aloud, allowing for the adult reading this to young children to really bring the text to life. With an imaginative flair, this story would be perfect for a class read aloud, encouraging children to join in with the parts in which the animals howl, hiss, or swoosh through the skies.
Chris Raschka has been recognized with one Caldecott Honor and two Caldecott Medals, and his style's appeal to me lies in its use of vibrant colors and broad watercolor brushstrokes. He captures the cuteness of animals with his thick lines and colorfully engaging illustrations.
If You Were a Dog is rich in language and gorgeous in presentation, a perfect combination in a book for preschoolers and young elementary school aged children.
Enter to Win
Would you like to win a copy of this picture book for your child's collection? Please follow the directions in the widget below to enter. Contest open to U.S. residents only.