This post may contain affiliate links. Read my disclosure policy here.
When we were little and I needed Warren, I would rub my earlobe. And perhaps it was the alchemy of childhood, a magic that happened because I believed it could, but I swear it worked. He always came.
Jenna Parsons has managed to distance herself from her odd family — her twin brother, Warren, who was the weird kid in school, and her former beauty queen and shopaholic mother — and devotes her time to her career and her 4-year-old daughter, Rose.  But when Warren goes missing, Jenna finds herself back in her old neighborhood, drawn back in to the family dynamics she thought she had escaped.
When Jenna returns to Royal Court, she discovers a lot has changed in the time since she's been gone. Neighbors avoid her mother and her run-down house, many houses are for sale, listed by Jenna's step-mother, and a rash of burglaries in the neighborhood has everyone worried. Jenna also finds former classmate Bobby Vanni, a doctor and single dad living back with his parents.  When Bobby's daughter, Gabby, and Rose hit it off, Jenna spends more time with him, the first man she's dated since Rose's father left for Japan before she was born.
House of Wonder alternates Jenna's first person account with flashbacks to Priscilla, Jenna's mother, beginning in her childhood when her mother disappeared one day, through her career in beauty pageants and the birth of the twins.  Each of these flashback chapters is short, only a few pages, but provides just enough background to explain Priscilla's unwavering acceptance of her unusual son.
It's clear Warren is somewhere on the autism spectrum, a fact that's mentioned to Jenna by her best friend and business partner, but is undiagnosed, as is typical of many adults who grew up before such a diagnosis even existed. Priscilla refers to mental illness running in her family, the details of which are not revealed to Jenna until near the end of the story. The differences in h0w such behaviors were handled in the 50s and today are quite striking.
There's a tremendous amount of growth in both Jenna and Priscilla as the story progresses. Jenna learns to accept her family and to open her heart to Bobby. As Priscilla opens up to Jenna about her family history she also admits to favoring Warren due to his needs.
What's interesting about this novel is the different views of beauty – Priscilla's physical beauty as the standard in the 50s, the beauty in the airplanes that Warren builds from scratch, the majesty of the maple tree in the park that backs up to the houses on Royal Court, the simple beauty of two children playing together.
There's not a lot of action in House of Wonder but it's a beautiful story and one that I recommend.
Win it!
One of you (U.S. only) can enter to win a copy of this novel by Sarah Healy. Leave a comment and follow the instructions in the widget below.
Find More
Find more great book suggestions on our Books Pinterest Board.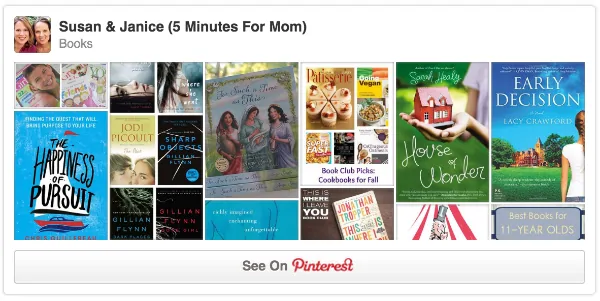 Follow all our Pinterest boards at pinterest.com/5minutesformom