This post may contain affiliate links. Read my disclosure policy here.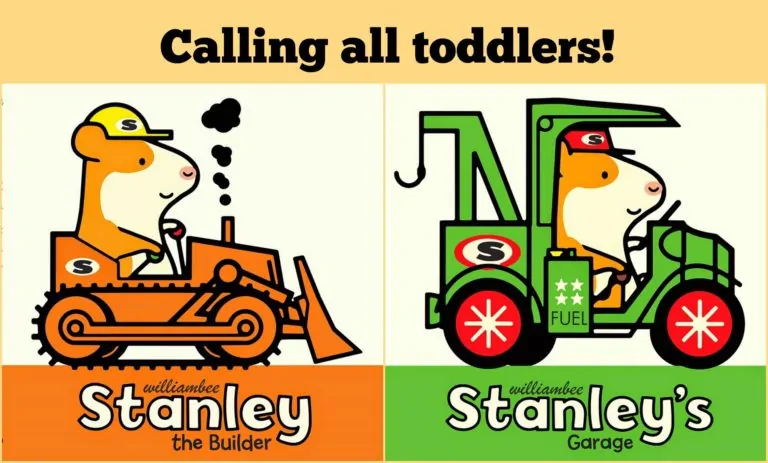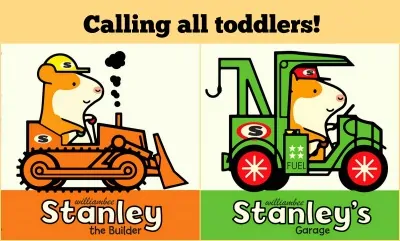 When selecting books for the toddlers in my care, I try to find books with easy-to-follow story lines, attractive and inviting illustrations, and concepts with which the kids can relate or that I know will interest them. A new set of books by William Bee have made it into our collection, and the adorable guinea pig Stanley has quickly become a new favorite. In Stanley the Builder and Stanley's Garage, I've found engaging stories that not only entertain but also introduce real-world concepts in an easy to understand manner.
Each book opens with its own two-page spread of illustrations showing a variety of tools and materials that will be used in these "handy" stories, for Stanley is a guinea pig who gets work done. Before we even began the stories, my toddler friends were pointing out tools that they recognized from the work they've seen their own parents do around their homes, and after we finished the books, it was fun to go back to these opening pages and point out how some of the tools were used.
In Stanley the Builder, Stanley takes on a job to build a house for Myrtle the mouse, and he pulls out several big construction vehicles for the job. I have yet to meet a toddler of either gender that wasn't interested in large vehicles that they've seen around their neighborhood, especially construction vehicles! As Stanley progresses through each step, all the way from clearing the site, to laying the bricks and placing in the roof, young readers can see the sequence and learn the process in a simplified manner.
With Stanley's Garage, the focus turns to caring for vehicles that come into his shop with various problems. Most toddlers have likely experienced a stop at a gas station with their parents, so conversations during the story can include referencing those personal experiences. Just as when he's building a house, Stanley works hard at his garage, being helpful to his customers and solving their automobile problems. Both stories end in the same way with Stanley returning to his own home at the end of the day, ready for dinner, bath, and (a reasonable 9:00 pm!) bedtime.
Stanley seems to be able to wear a lot of hats, as he will soon appear in more books including Stanley's Diner and Stanley the Farmer. With an emphasis on community helpers and working hard, these books introduce simple social studies-themed concepts in a fun and engaging way. Did I also mention the cute factor with Stanley? Just look at that little guy up there! I have to also say how pleased I was with the description I received from the publisher that emphasized the appeal these books held for both boys and girls. Too often, I feel that topics are gender segregated, with construction jobs and the like being sorted as "boy" concepts. These are real-world ideas that can be universally interesting and appealing to young children, if we choose to introduce them to both boys and girls!
Enter to Win
We have a copy of each of these fun toddler books up for today's giveaway. Please follow the directions in the widget below to enter. Contest open to U.S. residents only.