This post may contain affiliate links. Read my disclosure policy here.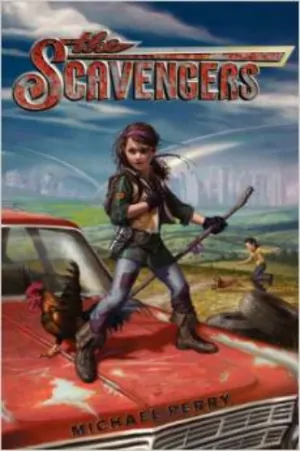 I've been reading this book aloud with my 10-year-old son. My intention was to read with him aloud for a few days, and then finish it quickly myself and turn it over to him to finish himself, so I could finish it in time for this review. Full disclosure, I haven't quite finished it, because enjoying this experience with my son is trumping my gig as a book reviewer, and that's how it should be, right? I'm enjoying his reactions and insightful comments so much that I decided not to stick to my original plan. Ultimately I think that's a pretty good testament to the strength of the novel. So unless author Michael Perry kills off all the beloved characters or they wake up and discover that it was all a dream, I feel confident in strongly recommending it, even though I haven't finished reading it yet.
The Scavengers is an imaginative novel for 9 – 12 year olds set in a dystopian future. If you aren't a fan of Young Adult fiction, you might not be familiar with this genre of fiction, but it's very popular (Think Divergent, The Hunger Games, etc). A dystopia is defined as "an imagined place or state in which everything is unpleasant or bad, typically a totalitarian or environmentally degraded one." What makes this novel so unique is that it is geared to younger readers and from the perspective of a girl their age.
Maggie and her family live outbubble. Those who live in the Bubble are taken care of (and controlled) by the government, whereas those like Maggie's family have chosen to live out on their own, even though there is no electricity and dangers like GreyDevil scavengers (a sort of human mutant) and Solar Bears (another mutant, bears crossed with wolves). Because they have to make due with what they have and Maggie and her brother Dookie can't be entertained like kids of today with electronic devices, there's a sort of Little House on the Prairie vibe, but the novelty and danger make pioneering definitely more exciting.
Michael Perry's writing is descriptive and the plot and situations are imaginative and unique to this age group. Many 4th and 5th graders are in a hurry to read some of the YA books I mentioned above, but this one has the same appealing theme but is targeted right to them.
Read his guest post at 5 Minutes for Books about 5 Ways My Mom Helped Me Become a Writer (leaving a comment over there will earn you an extra entry below).
Enter to win
Follow the instructions below to enter to win a copy. Start off by leaving a comment telling me with whom you'd like to share this wonderful book (and maybe it's just yourself. That's fine too!).
Find More
Find more great book suggestions on our Books Pinterest Board.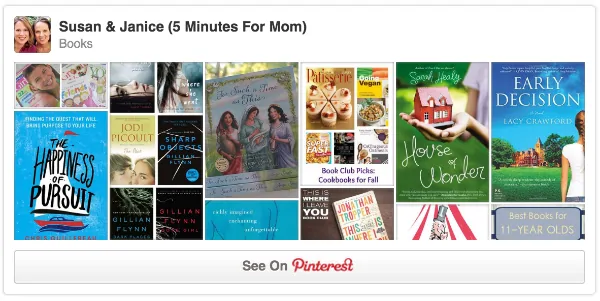 Follow all our Pinterest boards at pinterest.com/5minutesformom