This post may contain affiliate links. Read my disclosure policy here.
This is Janice here, co-founder of 5 Minutes for Mom. I was given a Target Gift Card to facilitate this review/giveaway post. But, gosh darn it, if you know me at all, you know I adore Target and get giddy every time I enter those magical red doors…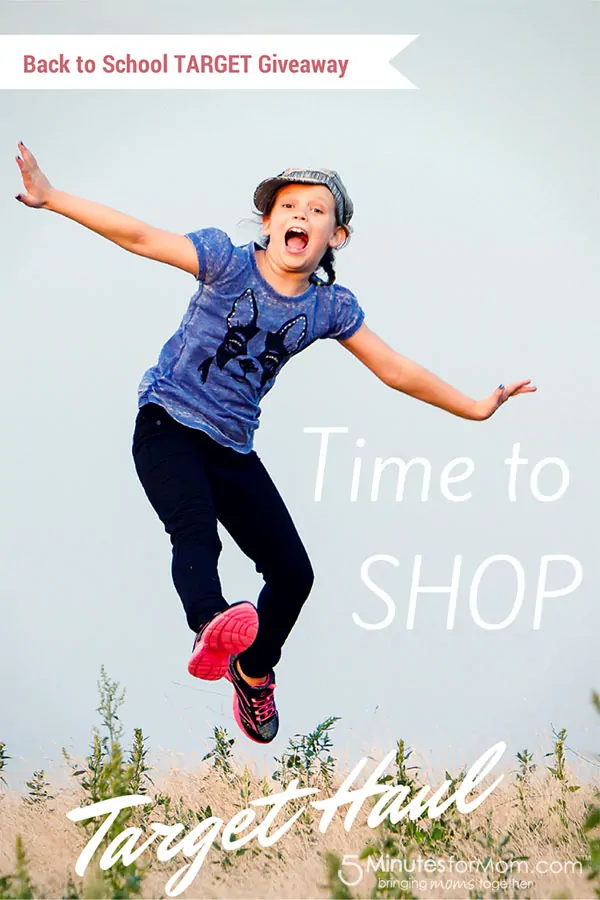 I asked for it.
I prayed for a daughter — a sweet, pink-loving girl to dress up and photograph. I dreamed she would be full of giggles and spunk, with a personality all her own.
And wow did I get her! My Olivia is a hoot and a holler.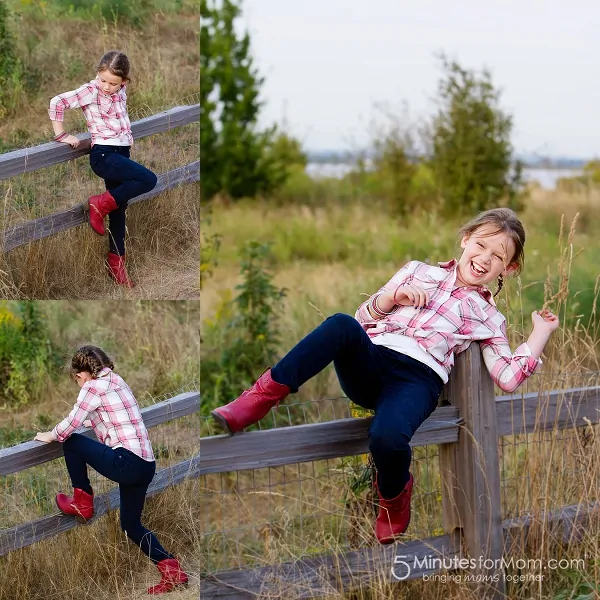 She came into this world looking for fun — and she finds it in every hour of every day.
She is happy, confident, and determined to do things her way — even down to what she wears and how she wears it.
But when I was dreaming about all those wonderful days of shopping and dressing my precious baby girl in all shades of pink, I didn't realize something:
The great thing about being a growing girl is every six months you need a new wardrobe.
The brutal thing about having a growing girl is every six months she needs a new wardrobe.
Yes, this shopping thing is an ongoing and very expensive blessing.
Enter our best friend: Target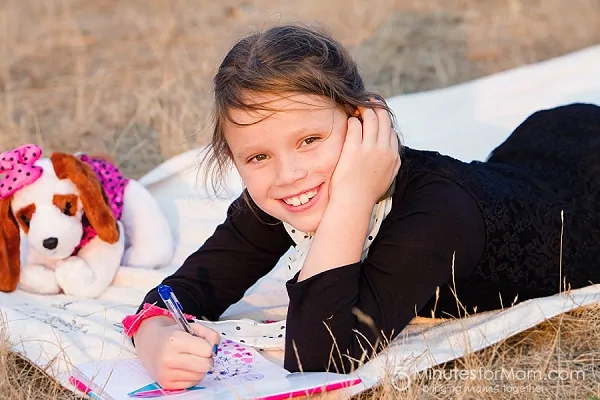 Yes, Olivia and I both adore our bestie Target.
Olivia gets all kinds of sparkle and spunk and I can keep my daughter dressed without going broke.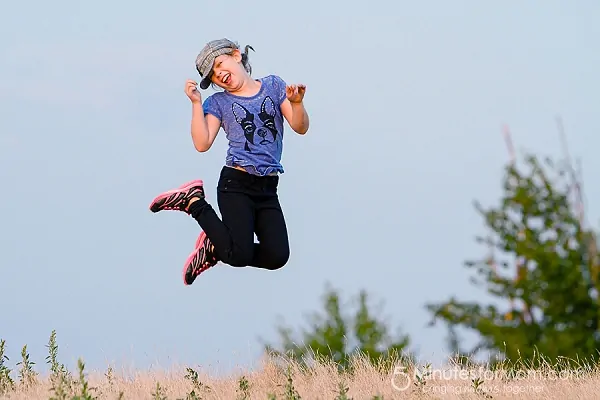 Olivia and I spent over four hours trying on almost all of Target's new Back to School fashions. Olivia would kick me out of the dressing room, put together an ensemble, and then come out to surprise me.
She did great — and I can't even admit to you HOW MUCH we bought! But I couldn't resist. The prices are so reasonable and the clothes are so fabulous.
Our Favorite Looks this Back to School Season
I can always count on finding our favorite basics at Target, but it is also fun to try out some of the new style trends each season.
This year, for boys the "Varsity Sport" looks is showing up with collegiate graphics, knit tops with football details, pull over sweatshirts, and knit joggers. As well, Target has the "Factory Made" look with denim, woven shirts, industrial inspired graphics, and knit bomber jackets.
For girls, the two big trends at Target are "Neo Traditional" with preppy kitsch, collegiate colors, classic plaids and stripes, and pins and patches, and "Vintage Romance" with Victorian influences, rich tones, cosmetic pastels, painterly florals, feminine fabrics and lace.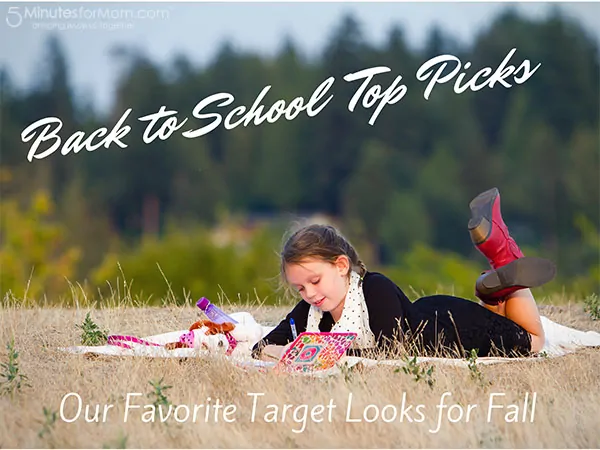 As I said, Olivia took full control of her styling during our Target haul. Here are a few of our favorite looks Olivia came up with for her second grade wardrobe…
Cowgirl – Pull on those Plaids and Don't Forget Some Cowboy Boots!
Olivia spotted the red cowboy boots immediately and they were the first item in our cart. (I actually love them as much as she does – I wish they had them in my size.)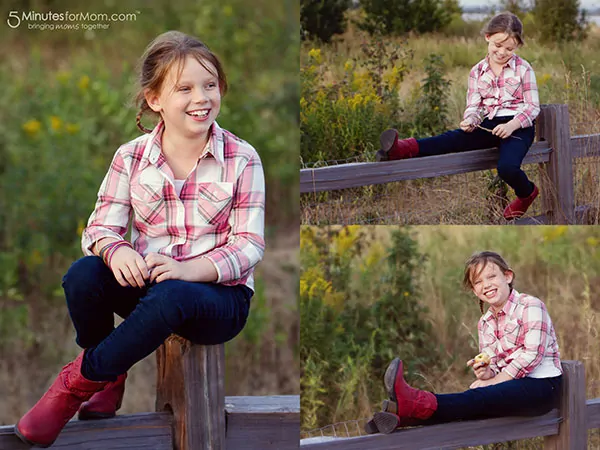 Olivia is obsessed with horses and the Canadian TV show, Heartland. So she had a blast putting together a cowgirl look for herself. The knotted plaid shirt is a ton of fun and the fabric is soft and comfy.
We added a white tank under the shirt and a pair of skinny jeans with plenty of stretch to keep Olivia comfortable for the long days in the saddle school desk.
A Little Lace is Always Lovely…
Olivia loves dresses. Her top goal for our shopping session was a new dress. She ended up buying a couple — but this black lace dress is both of our favorite.
The dress is actually a super comfy knit with a soft black lace overlay. It fits Olivia perfectly and feels as good as it looks.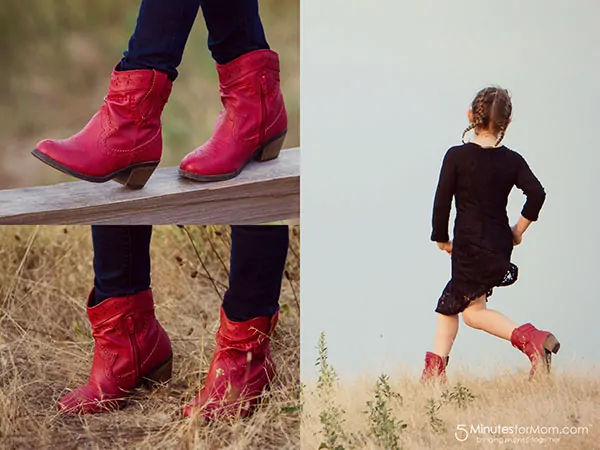 The red cowboy boots work just as well with the jeans as with the dress. In fact — I think I love them even more paired up with the black lace dress. I need to find myself some red cowboy boots!
Get Jumping with Jeggings, Tees, and S Sport by Skechers
Every kid needs a great pair of running shoes. I regularly buy Skechers for Olivia because they have nice support and can stand up to Olivia's very active lifestyle.
The new Girl's S Sport Designed by Skechers™ is fantastic – super light, with good support. I also appreciate that they have a S Sport in white so I can use them for Olivia's cheerleading uniform!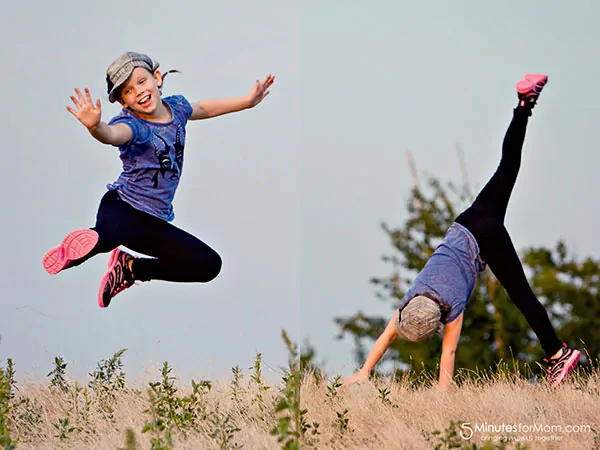 Olivia lives in leggings and jeggings. Under dresses, she always wears leggings or shorts so she can cartwheel and play on the playground. When she wears t-shirts, Olivia usually chooses jeggings so she can get the look of jeans with the comfort of leggings.
Last But Not Least, a Maxi Skirt…
Livvie choose this striped pink maxi skirt and paired it with a sparkly tank top and a flowing, open cardigan. (The cardigan isn't in the picture below.)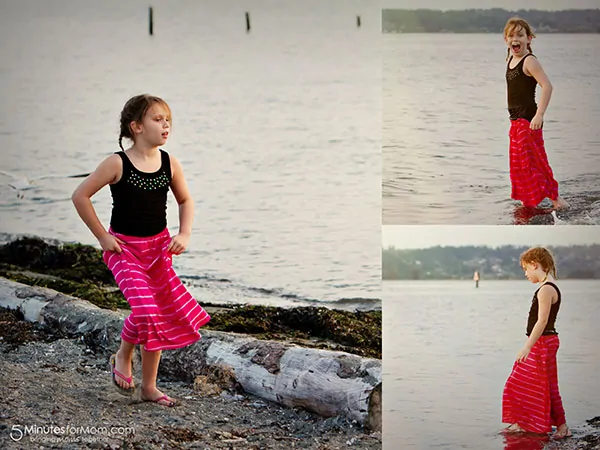 Yes, Olivia and I had a terrific time during our Target back to school shopping trip — and thanks to Target's prices, we were able to get so many awesome outfits.
So, thank you Target — going back to school would be so hard without you!
Do You Want to Win a $300 Target Gift Card?!?
We have a $300 Target Gift Card for one of YOU!
So — enter now and we really, really hope you win..
Please note that the Target Gift Card can only be used in US stores. (So if you're Canadian like us but live close enough to the border to shop in the US, go ahead and enter.)
Written by Janice Croze, co-founder of 5 Minutes for Mom
Talk with me: @5minutesformom and Facebook.com/5minutesformom
Pin with me at http://pinterest.com/5minutesformom/