This post may contain affiliate links. Read my disclosure policy here.
Nolie, 5 Minutes for Mom assistant, is here to share her insights into RoomMates Decor through this review. While we were compensated to write this post, our writers views and opinions remain her own.
Living in military housing can be a great thing. You live in a community where everyone "gets it". Yes we pay rent but it is cheaper than market rent which is another bonus. The downside though is you can't really decorate. The walls have fifty coats of the same off white beige colour and can be pretty depressing to look at.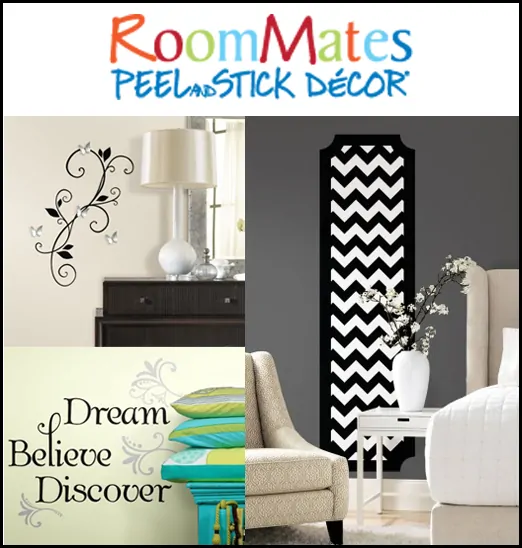 For the longest time I have wanted to do something with my walls but didn't know what. Then I was given the opportunity to review RoomMates Decor
wall decals
& wall stickers.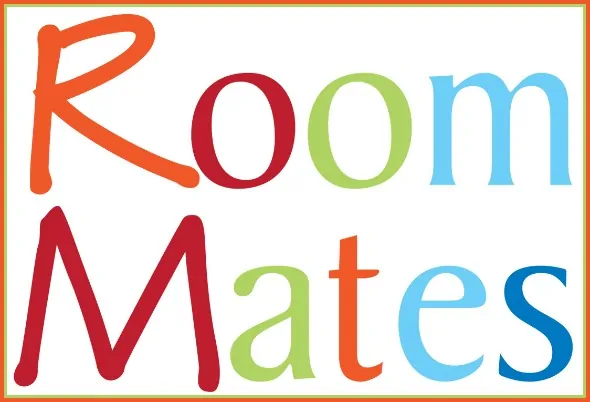 I am a huge lover of the quotes look so the very first thing I did was go scrolling through all the options they had for wall decal quotes. It took me a long time to narrow down my options as I loved so many of them. I finally decided to go with the following two quotes.
I chose Always Kiss Me Goodnight for two reasons. It is a beautiful quote and a motto that my husband and I live by. The second reason being we do not own bedroom furniture so the decal would be giving us a focus to our room and our bed since we do not have a headboard.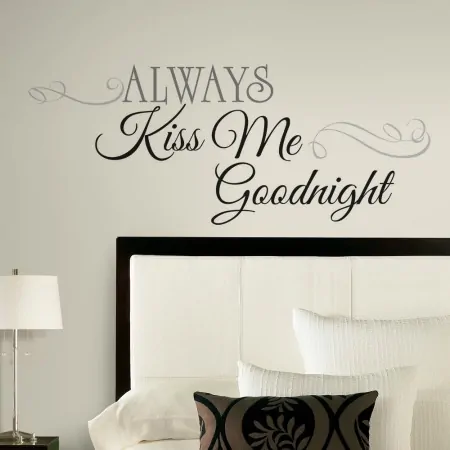 The second wall decal quote I chose was Welcome Friends. Our door is always open to our friends and we consider our friends family. We spend lots of time together and our home tends to be home base at holiday times as we open our doors to our friends to join us for meals during those special times. That is how military members get through holidays being far away from their families.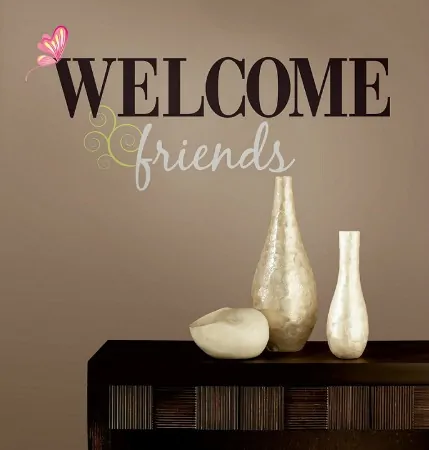 I set out to install these in their pre picked out places with a bit of worry. How hard would it be? How much time would it take? I was scared but I had a job to do. To my total surprise these feelings were for nothing. In less than 10 minutes I was done installing them. They are stickers for your walls. Sure the site said that but I needed to see it with my own two eyes to believe it.
Each word was it's own sticker which meant I could place the words where I wanted them and I did not have to worry about lining up the letters and ending up with a crooked word on my wall. The swirls and graphics were also their own stickers so I could place them as I pleased. I had installed one swirl and decided I didn't like it there. It was super simple to just remove the sticker and reapply in a new location. No damage to the wall either which is impressive with this many layers of paint on them.
I was amazed and impressed with the options, quality and ease of installation of RoomMates wall decals. I see myself buying many more products from them as I continue to make my house feel like a home.
Shop online at RoomMatesDecor.com
Follow on Twitter, Facebook and Pinterest.
Disclosure: This post is sponsored.
Written by 5 Minutes for Mom contributor, Nolie Smith.