This post may contain affiliate links. Read my disclosure policy here.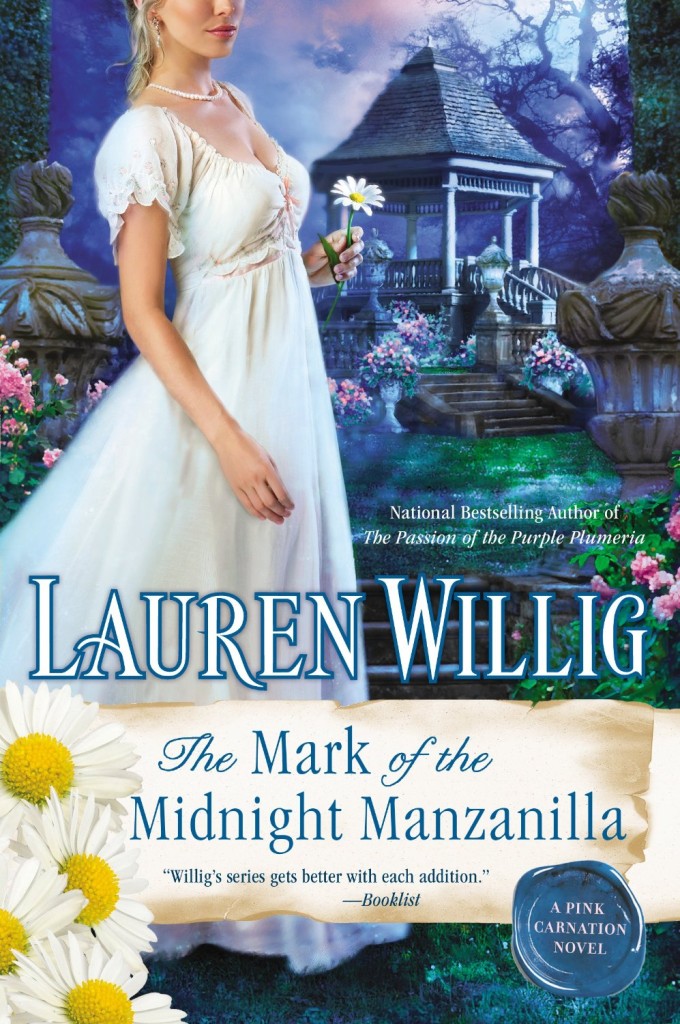 The Mark of the Midnight Manzanilla sounds like a campy fiction novel. It is, however, the 12th book by Lauren Willig in the Pink Carnation series (with the next to be the last as it finally tells the story of the actual Pink Carnation). While the book doesn't take itself too seriously, it is a highly entertaining read that moves along quickly.
It follows parallel paths, with Eloise doing research on early 19th century spy rings led by women for her PhD dissertation and her romance with Colin, the brooding Englishman she is dating across the Atlantic who has the archives Eloise used for her primary research in previous books. The main story, however, follows Sally Fitzhugh in 1806 as she works to uncover the mystery of the vampire who haunts Belliston House.
Sally is a pushy character who I initially didn't like all that much. She was jealous of her friends, full of herself and somewhat petty. As I got to know her more, she grew on me, and her heart shone through. I loved how she meddled in others' lives because she cared about them and just wanted to help, which is how she ends up in a fake betrothal with the Duke of Belliston to prove that not only is he not a vampire, but he is not a murderer either.
Miss Gwen and her sword parasol of course make an appearance, with Miss Gwen now married to Colonel Reid and with a young baby. Miss Gwen's fire and self-assuredness haven't been changed one iota by marriage or motherhood, and she joins Sally as her chaperone to ferret out the truth.
I have read (and reviewed) only the previous book, The Passion of the Purple Plumeria, which follows the same format and includes many of the same characters. Much like when I picked up the last book, you don't have to have read the entire series to follow the story. Willig does an excellent job of catching you up without making you feel like you reread entire books for those who are familiar with the series.
I did find several references in this book – more so than in the Purple Plumeria – to events that had happened in previous books from notes from spies in the pudding to Sally's brother's courtship to an extreme aversion to poultry that is never quite explained. As much as I enjoy this book – and the last – the entire Pink Carnation series is on my to read list.
The books are fun, and they're quick reads. They truly aren't meant to be taken seriously, but they don't go over the top with silliness either. The characters are well drawn and perfectly flawed. This is the epitome of a light read, perfect for this summer weather when we're all doing our best to spend time at the beach and pool, right?
Enter to win
Just follow the instructions below, starting off by leaving a comment telling us approximately how many books you've been able to read this summer. If this will be the first, that's okay too!
Written by Michelle who thinks a sword parasol would be enormously fun. Since she doesn't have one, she spends her time finding fun in other ways. See how on her blog Honest & Truly! and follow along with her on Twitter where she is also @HonestAndTruly.
Find More
Find more great book suggestions on our Books Pinterest Board.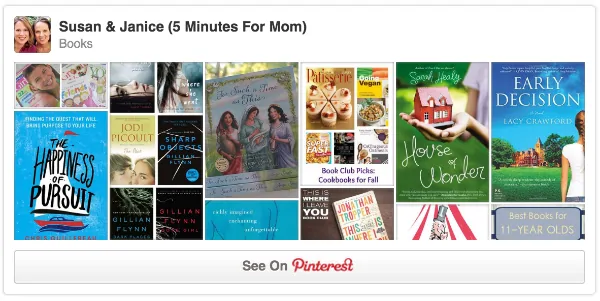 Follow all our Pinterest boards at pinterest.com/5minutesformom