This post may contain affiliate links. Read my disclosure policy here.
I was provided with a mystery box of chocolate to try. All opinions remain my own.
Subscription boxes are ALL. THE. RAGE. right now and I have to admit that the bug is biting me as well! I've seen a few that seemed a little far fetched but I've also seen some subscription boxes that I could drain my bank account for!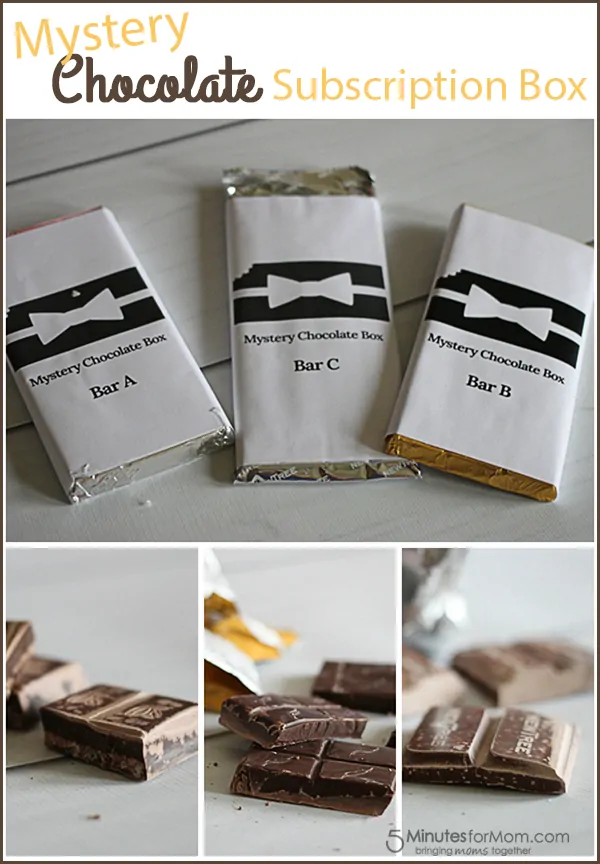 When Susan asked me if I wanted to review a Mystery Chocolate Box I said of course! We are huge chocolate fans in this house. Ok, well actually the kids and I are, my husband prefers salty snacks or fruity flavored candies.
The Mystery Chocolate Box is just that. When you subscribe, you get a box of chocolate bars each month that are completely sealed, but the outer wrappers have been removed. The fun is that you get to try each chocolate bar, then you can log on to http://mysterychocolatebox.com/guess to enter your guesses. At the end of each month, just before the next shipment is due, the chocolate bars are revealed on the website.
We enjoyed a chocolate tasting night in our house. Each one of us (myself, my husband, and our two kids) each took a bite of "Bar A". We all quickly wrinkled our noses, this one was not tasty at all. We thought that it tasted like VERY dark chocolate or possibly even bittersweet chocolate in it along with crisp rice or something similar.
Bar B. The kids wrinkled their noses again at this one but I didn't think it was too bad. It tasted like chocolate with mint.
Bar C was GOOD! At first taste I said peanut butter, but then my husband said it tasted like chocolate with cinnamon, he was right, it did taste like chocolate with cinnamon.
After we tried all the chocolate bars and wrote down our guesses I headed to Mystery Chocolate Box to enter our guesses. You can visit the site again toward the end of the month just before the newest boxes are set to ship out.
As it turns out Bar A was riotBar 70% Dark Chocolate with Quirky Quinoa by sweetriot . So interesting! I would have NEVER guessed those ingredients…..the quinoa were the "crisp rice" that we could taste.  Bar B was Mint by Green & Black's, so we got that one right!  And Bar C was Cinnamon by New Tree.
Wouldn't a Mystery Chocolate Box subscription be so fun?! You can sign up at Mystery Chocolate Box, "Like" them on Facebook, & follow them on Twitter @ChocolateBoxYum.