This post may contain affiliate links. Read my disclosure policy here.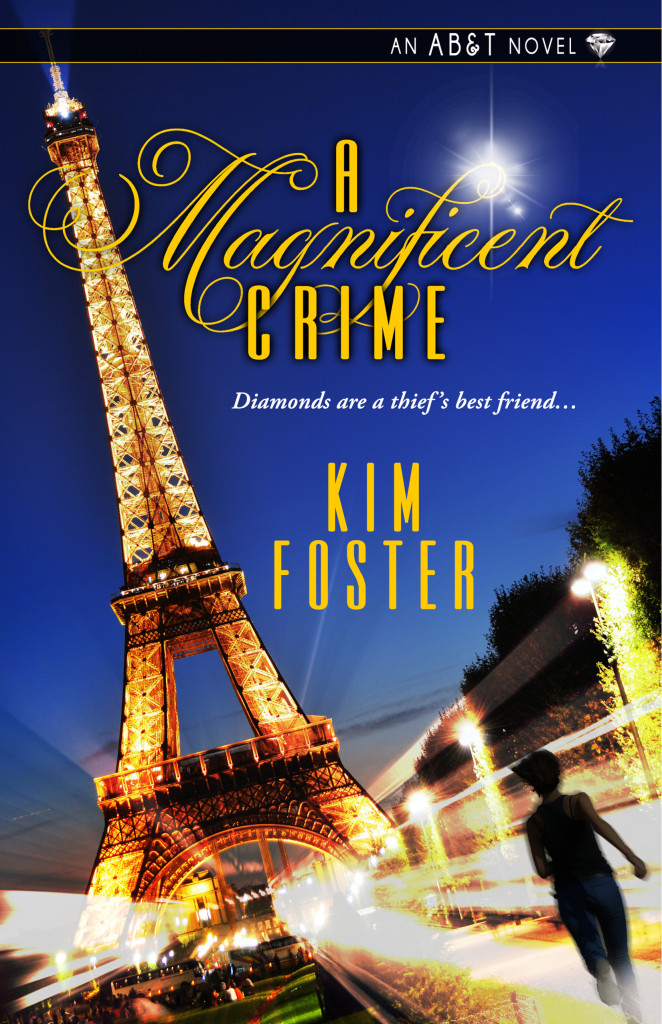 Cat Montgomery is a woman who believes you should do what you enjoy and are good at. However, her own particular set of skills are somewhat unusual. Cat is, well, a jewel thief, a cat burglar (ha!), and she's excellent at what she does. However, her last job–stealing a Faberge Egg containing the gifts of the Magi–left her feeling shaken and unsure. As A Magnificent Crime
opens, we find Cat scaling 47 stories of a posh hotel in search of a pair of magnificent emerald earrings. When she's hit with a panic attack while clinging to the side of the building, she begins to wonder if it's time to turn in her resignation to her employer–the Agency of Burglary and Theft.
Several years ago, Cat stole something from Albert Faulkner III and he's out for revenge. He grabs her off the street and offers her a choice–steal the Hope Diamond, on loan to the Louvre, or face the oldest punishment for thieves, the loss of her hands.
Cat finds herself in Paris, casing the highest security vault in the world. Complicating matters are other thieves with their eyes on the prize, plots against Cat herself, and her continuing panic attacks. To make things just that extra level of complex, there are still 2 men in the picture–Ethan, also a thief, devastatingly handsome, in love with Cat, and accepting of her specific calling in life, and her boyfriend, Jack, who actually works for the FBI and who has to tacitly close his eyes to his girlfriend's extracurricular activities. When Jack, chasing his own leads, actually shows up in Paris, their stories intertwine in dangerous ways. Can Cat pull this off, and save not only her hands but her life? Ah, that'd be telling.
One of the things I love about this series is how ordinary Cat is. She has friends who work normal jobs and meet her for Chinese food, where one cautions her about the curse that follows all who mess with the Hope Diamond. Her parents are average people, who worry about her, and with whom she has the same struggles of adult children around the world. Cat herself is a very likeable character–flawed and imperfect, but ultimately trying to do the right thing by her own lights.
A Magnificent Crime
is the second in the series, and if anything, it's even better than the first, A Beautiful Heist (linked to my review at 5 Minutes for Books). Characters are more complex, and the plot is tighter and more gripping. I really enjoyed both books. They're light-hearted and fun while at the same time managing to give satisfying amounts of character development and gripping action. And author Kim Foster has a fantastic flair for very apt metaphors. The books are really fun reads. You won't be disappointed.
Win it!
And I'm delighted to tell you that you can win a copy of both novels! Just follow the directions below and you'll be entered to win both A Beautiful Heist and A Magnificent Crime.