This post may contain affiliate links. Read my disclosure policy here.
Written by 5 Minutes for Mom contributor Michelle of Honest & Truly! who received a replacement Roomba lithium battery for review purposes from Lithium Power, Inc. We are compensated, but all opinions remain our own.
We moved this past week. With three floors to our house, two kids, two cats, a husband, and wood floors throughout most of it, I don't think I've cleaned this much in a long time. We cleaned before we moved in we cleaned once we got the furniture in and the movers were finished, and I feel like I've been cleaning almost every day since then.

To say that I'm grateful to have a Roomba that makes the vacuuming portion easier is putting it mildly, but poor Michelle (yes, my kids named her after me) is having a hard time keeping up. Her battery just isn't up to the amount of cleaning that I want to do. Fortunately, I just replaced her battery with a new litium Roomba replacement battery from Lithium Power, Inc., and the difference is significant.
Utilizing lithium batteries is becoming the norm in most electronics because they last longer and hold a charge better. They are pretty much par for the course now for most electronics from tablets to cameras to phones and more. For some reason, my not exactly cheap Roomba still comes with a Nickel cadmium battery, however. Lithium batteries last four times longer and hold a charge for nearly twice as long as traditional batteries. Michelle used to last for about an hour and a half or so before she headed back to her charging base due to a lack of batteries. As I used her more and more, her battery life started dropping off.

Lithium batteries have a much stronger recharging cycle. After 800 charges, they retain 80% of their battery power. I obviously haven't gotten that far with my charging yet, but given the experience I have with my phone, I fully expect to realize that difference. To me, the most important difference is that I can now use Michelle for well over 3 hours before she gives me that nasty red circle where she's crying for help. Less time charging means a cleaner house for me!
When I first opened up the package, I was a little taken aback. The Roomba replacement battery was carefully wrapped in bubble wrap, but when I unwrapped it, I was surprised by the almost homemade looking bright colors on the battery. Once I opened up the battery case on my Roomba, I realized that this was merely typical of the batteries, as the Lithium Power Inc lithium battery for Roomba is merely a mirror image of colors from the one that was in Michelle to start.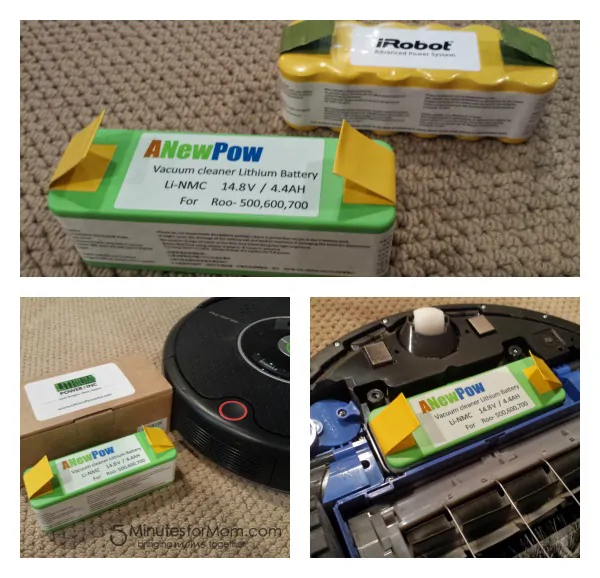 The most frustrating part of the process in replacing my Roomba battery was the utter lack of instructions from Lithium Power, Inc. I was told to "Please refer to iRobot Roomba's manual for battery installation." Although I understand that they may not want to void any warranties for the Roomba or have out of date instructions, I expect more from instructions than that. Fortunately, the iRobot site has an easy visual instruction guide to Roomba replacement battery installation. Using a Phillips head screwdriver and following the iRobot Roomba instructions, I was able to switch out the battery quickly and easily.
One awesome part about the lithium replacement battery is that I did not have to spend an entire day charging the battery before Michelle was ready to go. Although I did allow the battery to charge some, she was ready to go quickly – something that traditional batteries are unable to do. Personally, when I want to clean, I want to clean now, not in 16 hours! These Roomba replacement batteries work for the 500, 600, 700, and 800 series, which covers most of the Roombas out there now.
I can't be alone in my battery for Roomba declining in power, and the Lithium Power, Inc lithium Roomba battery works beautifully. It was quick and easy to install, and it is doing everything that it says it will. It isn't cheap – $69.99, which includes shipping – but given that my Roomba is now able to clean for more than twice as long before running out of batteries, it's a price I'm willing to pay for my sanity and peace of mind. And for more peace of mind, there is a second year warranty for the battery that you can purchase when you order for $10 more.

You get to win a Lithium Roomba Replacement Battery! That's a $70 value. Use the entry form below to enter!
Michelle may never stop running around Chicagoland, but she always makes time for the important things in her life – her wee ones, cooking, reading, and spending time with friends – and of course, writing. You can see what she's up to on her blog Honest & Truly! or on Twitter where she tweets as @HonestAndTruly.