This post may contain affiliate links. Read my disclosure policy here.
Written by Michelle of Honest & Truly!, a 5 Minutes for Mom contributor. She received a product sample to provide her opinions of Sunology. We are also compensated for our posts, though all opinions remain our own.
With summer essentially here, we are now spending as much time as possible outdoors. That means that we are constantly slathering on the sunscreen, whether we're playing in the park or hanging at the pool. We have used the physical block sunscreens for years for a variety of reasons, and I love how they've improved since we first started using them and how much more widely available they now are. Sunology has a revamped lines of natural sunscreen that is now the version my kids ask for.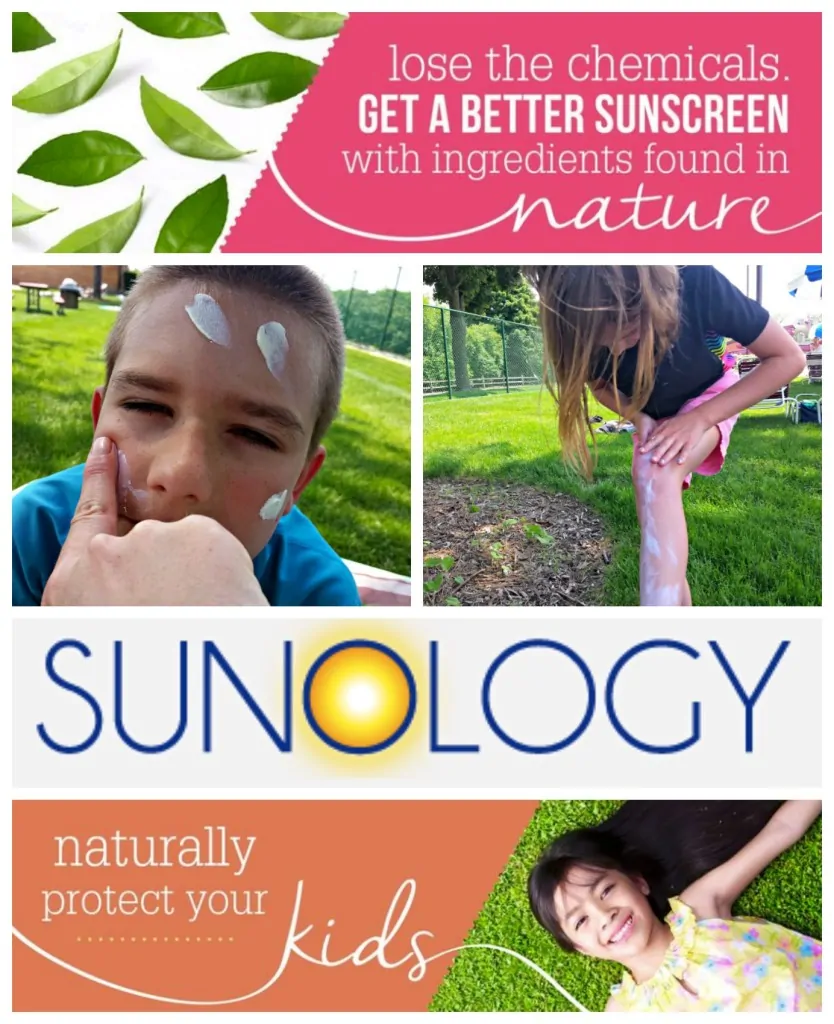 Traditional sunscreens use chemicals to block the sun's rays, and those chemicals are absorbed into your skin when you apply them. Physical blocks, however, reflect the sun's rays – and they don't contain potentially toxic chemicals like oxybenzone and retinyl palminate. The challenge with most physical block sunscreens is that they are thick and sometimes hard to spread on your skin. It definitely takes more effort to apply them, but for us, the benefit far outweighs the extra few minutes we aren't in the pool.
Sunology, however, we found to be much more lotion like. It was thinner than other natural sunscreens we have used in the past and was much easier to apply.


Even the wee ones were able to apply their own lotion much more easily. I found that the tell-tale white on their or my skin disappeared far faster when rubbing it in than any other physical block we have used in the past. The SPF 50 lotion also contains patented FSG Complex™, a proven skin nourishing agent, and has been shown in recent clinical studies to decrease wrinkles, hyper-pigmentation and dryness.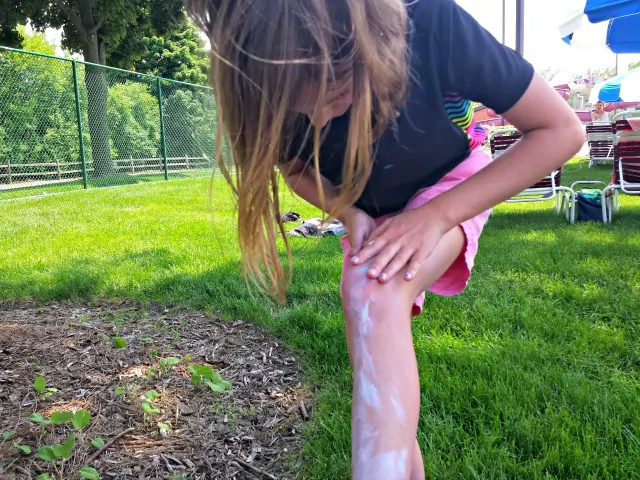 I love that the lotion protects against both UVA and UVB rays – a must in this day and age – and lasts for up to 80 minutes before you need to reapply, including when you're swimming in the pool.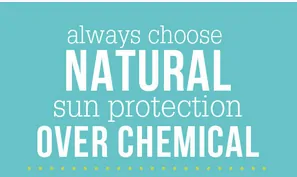 This natural sunscreen doesn't simply wash off when wet. That's good news for us since we spend so much time in the water where the sun's rays reflect up from the water in addition to shining down from above us.
We put this sunscreen to the test, and it certainly passed with flying colors. One day, Little Miss and I headed to Girl Scout camp where we trekked around in the sun from 11am to 4pm, peak sun hours. We applied as soon as we arrived at camp and a few times during the day. Neither of us burned at all, and with Little Miss we could hardly see any "tan lines" at the end of the day, proof that Sunology was doing its job.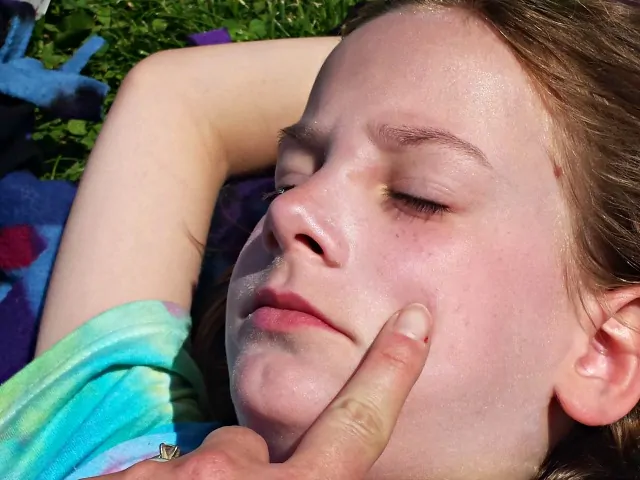 The next day, all of us headed to the pool for a day of fun, and in the five hours we were there, we applied the sunscreen during breaks from the water and no one ended up the slightest bit red. This is a major accomplishment because Little Miss usually ends up with slightly red cheeks from a combination of reaction to sunscreen, the pool water, and the sun. With the soothing ingredients in Sunology, this was not an issue for her at all.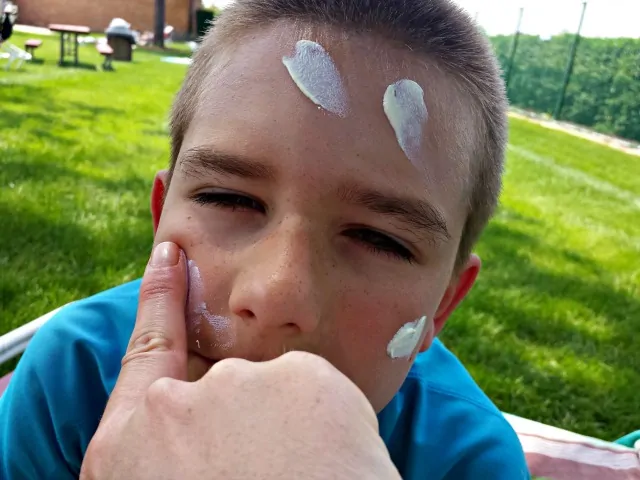 Hands down, we are fans of this natural sunscreen. With products available at SPF 50 designed for face, for body, and for kids, all at $14.99 for 2 ounce tubes, we're hooked. While I wish the product were available in larger sizes for family use throughout the summer, the small size of the tube does make it incredibly easy to stick in my purse or even stick in my pocket to carry with me and apply on a daily basis.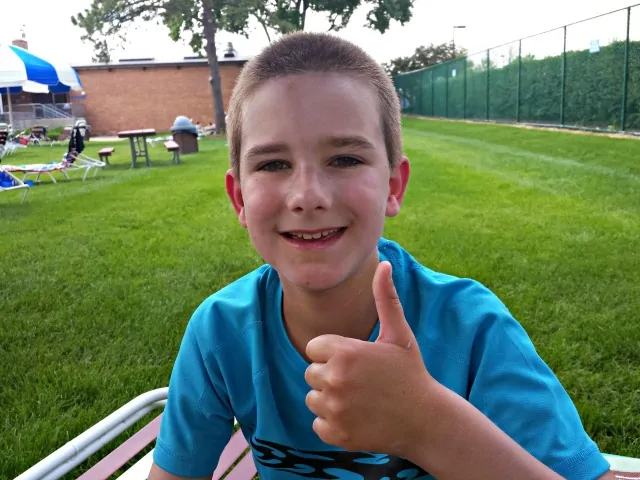 Enter to Win
You can enter to win one Sunology SPF 50 for Body, SPF 50 for Face, & SPF 50 for Kids, a total value of $44.97! Use the entry form below:
 
Michelle may never stop running around Chicagoland, but she always makes time for the important things in her life – her wee ones, cooking, reading, and spending time with friends – and of course, writing. You can see what she's up to on her blog Honest & Truly! or on Twitter where she tweets as @HonestAndTruly.