This post may contain affiliate links. Read my disclosure policy here.
Our writer Jennifer D. visited DreamWorks to learn more about the movie How to Train Your Dragon 2. She was a guest of 20th Century Fox & DreamWorks Animation, but her opinions are her own.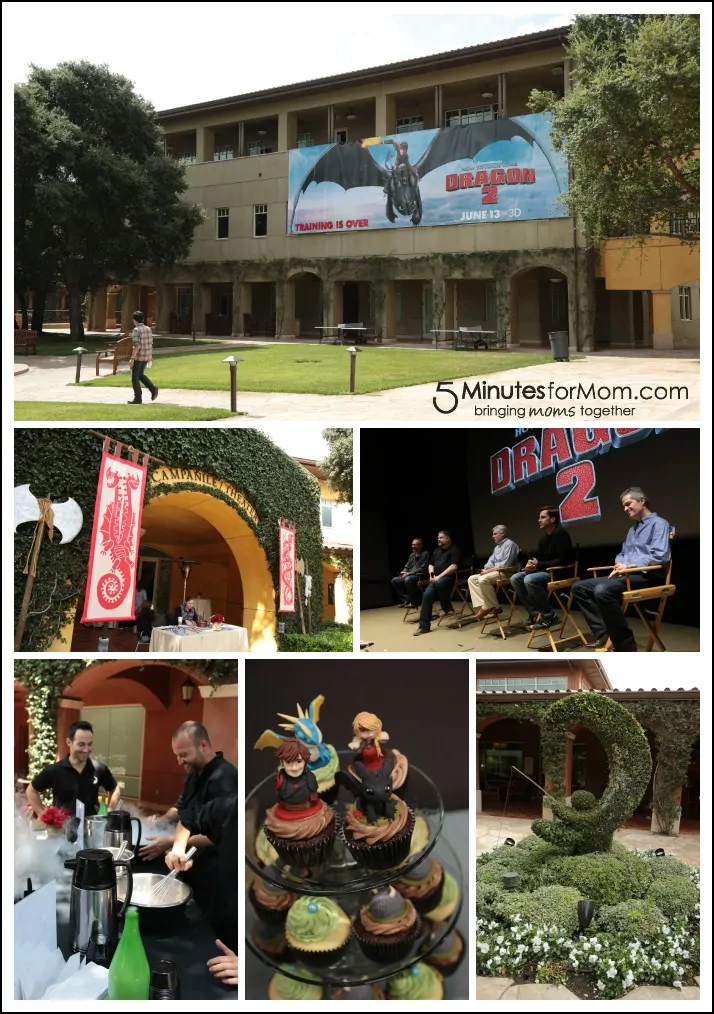 Yes, I was sprinkled with the magic DreamWorks dust. I'll admit that. You can check out the collage above to see the lovely hospitality we received, from a great breakfast and lunch to beautifully themed treats. The campus is absolutely beautiful. It's no wonder the people who work there are so creative. I can't imagine going to work somewhere like that every day.
So, that's my disclosure, and if you want to discount what I'm about to say, you can, but I'm being completely honest when I say that How to Train Your Dragon 2 is definitely one of my top 5 animated films ever, as well as a top film for family viewing. If you stick with me, I'll tell you why there's something for everyone. Actually, strike that. I don't believe that this is a film for everyone. I think that the subject matter (some death) and action is not something that is going to appeal to a young preschooler. That said, if she loved the first one and wants to go with the family, you might decide to take her.
This is a fantastically plotted movie that you as an adult are going to enjoy as much as your kids. My teenage daughter and her friends have been waiting for this movie, and that makes sense. When the first one came out, they were young tweens, and I think that tweens and teens are actually the perfect demographic for this movie. I know my 10 and 15 year olds are going to love this movie.
A Real Family Movie


After seeing the movie, I honestly wondered if the focus was a little narrow. I never took my young children to many movies, certainly not while they were preschoolers, and this movie is intense. There is emotional intensity as well as thematic intensity during the battle scenes. An outing to see a movie is a favorite activity for my school-aged son and my teenage daughter. There are some movies that I take them to see separately, but when there's a movie that can be enjoyed equally by all of us, I consider that a wonderful accomplishment. It helps that my daughter is very interested in animation, so she is probably more appreciative of animated films than some others her age. But this is a film that will be truly enjoyed by children, teens, and adults.
The battle scenes in this movie are more reminiscent of big-budget epic films than anything I've ever seen in an animated movie, and believe me when I say it matches them scene by scene. And when I heard writer and director Dean Dublois make the connection to the Star Wars franchise, I totally got the picture. The basic story and visuals appeal to kids, but of course there are parts that are very intense and probably too much for them to completely understand, which is what makes it a fantastic movie for adults.
I was able to interview writer and director Dean Dublois. I knew I liked the movie, but listening to him helped me understand why it was such a successful film.
To whom is the movie targeted?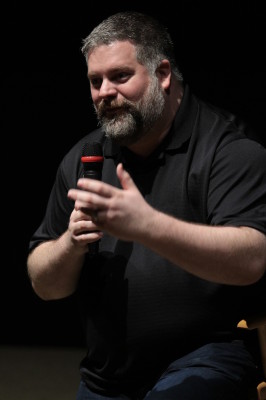 Dean Dublois: Well, I think for me, I never second guess an audience. That's my thing. I try to make the movie that I want to see or that I would have liked to have seen when I was 10 and that I would love to see now. There are examples of movies out there like that. And for me, The Empire Strikes Back was the ultimate one. Not only is it the best sequel I can think of, but it spoke to such a broad audience. And I think that's what we're doing here.
We're trying to make like a true four-quadrant that movie that speaks to the adults as much as the youngsters. So, I always feel like it's a bit of a mistake to consider it just a children's movie. We always try to entertain everyone in the audience, but not alienate or leave behind the kids. And I think an aspirational hero is a big part of that. Hiccup, we saw sort of rise to become the town hero in the first movie. and then he becomes the wise Viking chief by the end of the trilogy. This is sort of that middle step of you know kind of recognizing that he is kind of the sum of his parts. You know he's equal parts both his mother and his father, but he's also something else. And that hybrid is the discovery that he goes through in this movie.
Why it's not just a "sequel"
Dean Dublois: Shortly after the release of the first movie, like within a month of the release of the first movie, it was decided that we would be moving forward with a second, and I was approached about that. My pitch back was that too often sequels just feel a bit unnecessary. They're either recycling material, or they feel kind of random and inconsequential.
I was inspired by the idea of it becoming a trilogy, so that the first movie would serve as the first act. And this second movie is the second act. And there will be a third and conclusive act to complete the story, complete Hiccup's coming of age.
It actually takes three to four years to make an animated movie, and we got started right away, and now we're finishing. That's actually how long it takes. But it's nice because our audience that loved the first move have grown up with the characters, much like the Harry Potter movies, you know? So, it's nice to be able to age our characters up accordingly. But the nice thing is that by meeting Hiccup as a 20-year-old, it's a different problem. It's still a universal problem. But it's like another stage of his life.  If you look at Hiccup's problem in the first movie, he was yearning for the affection of his father and the acceptance of his community and the attention of the girl that he had the crush on.
And he managed to get all of those things, plus he got a really cool dragon. So, what's the problem? That's always an issue when you do a sequel. By meeting him as a 20-year-old, it means that now he's at a different stage in his life. He's kind of on that threshold of youth and adulthood and wondering where he really fits into it all, not feeling like he's a carbon copy of his father. He has a journey of discovery to go on.
Find out More