This post may contain affiliate links. Read my disclosure policy here.
Written by 5 Minutes for Mom contributor Michelle of Honest & Truly! We received product for review from Rich Vitamins for this sponsored post about alternaVites Kids, and we are also compensated, but our opinions remain our own.
Vitamins are tricky for us. While the wee ones tend to eat fairly healthy foods, I don't always feel like they are getting all the nutrition they need from their food. We like to supplement with vitamins, but we've run into a few roadblocks.
Most vitamins have dairy in them somewhere, which means my daughter can't have them. And kid vitamins tend to be chewy, which she can't have either due to the appliance in her mouth. Fortunately, we've found a neat alternative now with alternaVites that is a powder that dissolves on the tongue.

alternaVites Kids multivitamins and mineral has added benefits aside from just being a powder that my daughter can take. I don't have to worry about vitamins that contain all sorts of ingredients I don't want them to have — sugar, dyes, and artificial ingredients. alternaVites has 0 grams of sugar, but also has no artificial sweeteners either. That matters to me.
It also has no HFCS or artificial colors, flavors, or preservatives. For those with dietary restrictions, it is completely vegan, and contains no egg, milk, peanut, tree nuts, wheat, soy, fish, or shellfish. I like alternaVites just as much for what it doesn't have as for what it does.
And alternaVites does have a lot going for it, too. alternaVites has 100% of the RDA of 12 vitamins and minerals, ranging from Vitamin D to Zinc to Folic Acid and more. It's designed for children ages 4 and up and is formulated just for them.
This gluten free, sugar free children's multivitamin also has two great flavor choices, Strawberry Bubble Gum and Raspberry Cotton Candy. We received the Strawberry Bubble Gum flavor, and both the wee ones loved it. I tasted a bit of it, and I could definitely taste the strawberry, with the bubble gum coming on as a secondary taste that lasted a bit longer.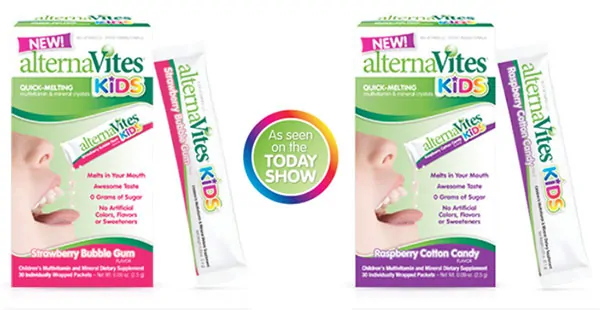 Taking alternaVites is as easy as opening the end of the packet and slowly pouring it onto your child's tongue. It takes a little bit of time, as you have to pour on just a bit at a time and then let it dissolve before pouring more. It requires just a bit of patience, and I don't know that I quite trust my children to do it themselves yet.
When the directions say to pour it on the front of the tongue, they really mean it. I accidentally got a bit towards the back of Litlte Miss's tongue one time, and the powder went down the wrong pipe. Pouring it on the front of the tongue ensures that it goes down easy.
One of the cooler things is that there are so many ways to administer alternaVites. So many children can't swallow pills, which is why this form was invented. There are plenty of others who have all sorts of texture issues where they can't do a powder on the tongue either.
alternaVites can easily be added to yogurt or smoothies or even as a topping for fruit. We added it to milk one day, and that worked just fine – and also meant less work and time for me to pour it slowly onto the wee ones' tongues.
alternaVites are $15.95 for a pack of 30, and can be ordered directly from the alternaVites website, as well as at Whole Foods, Wegmans, Bartell Drugs and many more. Want to know where they are sold near you? alternaVites has a handy product locator.
You can win a 3-Month supply! Use the entry form below.
Michelle may never stop running around Chicagoland, but she always makes time for the important things in her life – her wee ones, cooking, reading, and spending time with friends – and of course, writing. You can see what she's up to on her blog Honest & Truly! or on Twitter where she tweets as @HonestAndTruly.